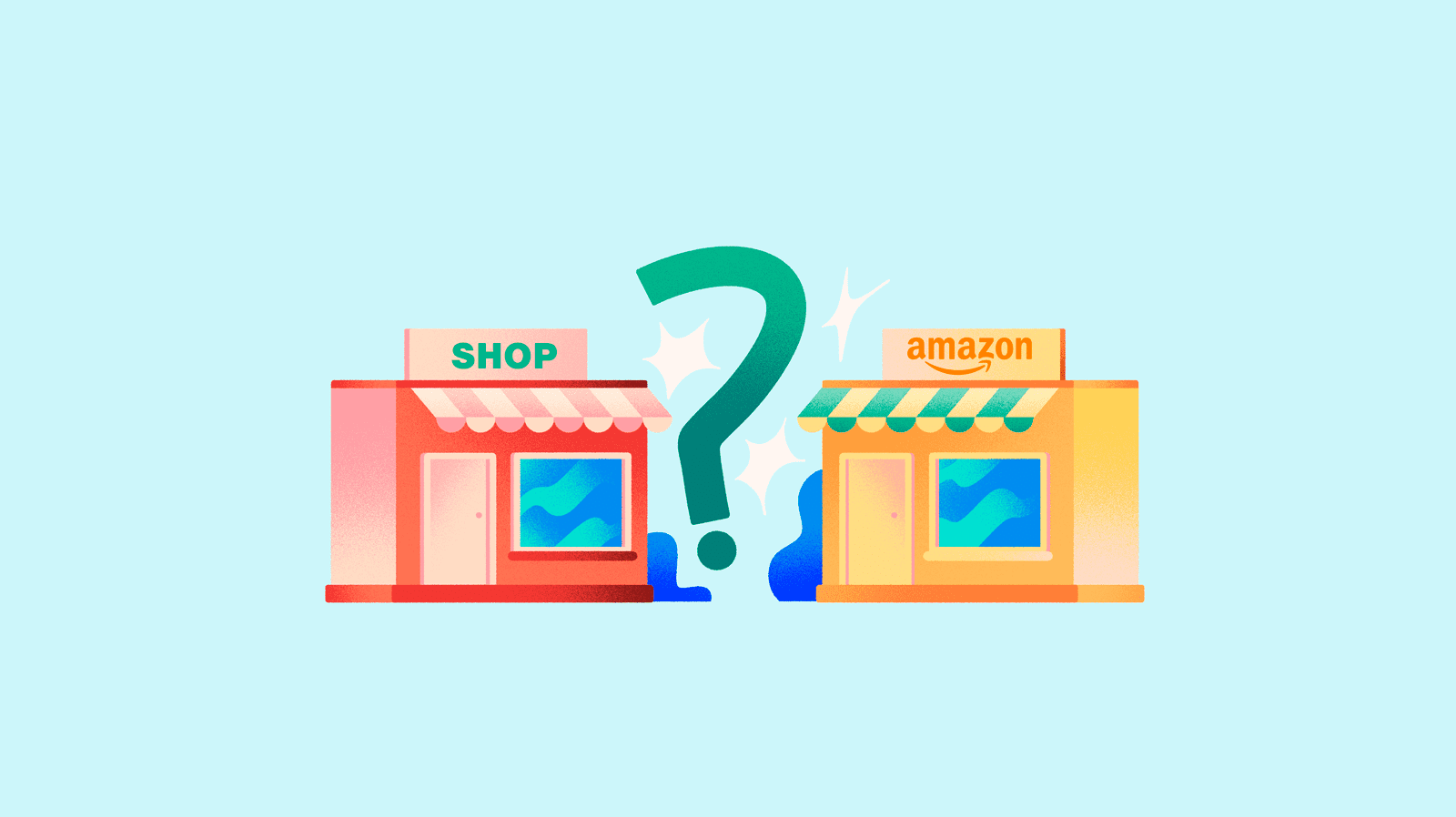 What is the difference between an ecommerce site and a marketplace?
When it comes to selling products on the Internet, the first thought that comes to mind is to open an online shop. But there are also many brands and sellers that resort to marketplaces, those large websites that bring together thousands of products. What is the difference between selling on an ecommerce store and a marketplace?
By publishing your online shop, a brand or seller is taking care of the whole process. Managing product information, setting up the website, tracking inventory and logistics, shipping orders and providing customer service.
That's a lot of effort, resources and time. Marketplaces seem to be an easier entry point into e-commerce: sellers or brands post their products on the marketplace and can forget about the rest, as many of them offer (for a fee) warehousing, logistics, shipping and customer service.
Therefore, in ecommerce, the brand or retailer has total control over its product catalogue, sales processes, brand image and the relationship with buyers. A marketplace saves a lot of paperwork, but it involves more costs and the relationship with buyers is indirect and cold.
In your online shop you control everything yourself, while in a marketplace you sell your products on a third party platform, you have to pay certain fees and there are some elements out of your control, such as customer service or return policy.
Now, you're probably wondering the million-dollar question: is it better to have your own ecommerce or develop an extensive presence in online marketplaces?
What is a marketplace and what types of marketplaces are there?
What do today's consumers prefer: ecommerce sites or marketplaces?
The current trend is that more consumers make their enquiries and product comparisons directly in a marketplace than in brand shops. However, the number of online shoppers who search via Google is also very high and they are more likely to visit an ecommerce site directly via an ad, snippet or featured link.
Undoubtedly, the favourite shopping and enquiry system of most online shoppers is Amazon. This is the main reason why so many original brands have shifted more effort to online marketplaces than to their website or mobile app.
Want to start selling on Amazon? Download this free step-by-step guide
Users' favourite online search sites
Multi-brand platforms, such as marketplaces.
The websites of large, well-known and prestigious brands (e.g. Nike).
Private sales websites (accessible only with permission or registration, such as a members-only club).
What is the reason for this increased use of and reliance on marketplaces? The same reason that led to the proliferation of "Everything a 100" shops in the 1990s.
Tracking products in a department store seems more cumbersome than in a specialised shop. But the shopper knows that such a large site offers a greater variety of choice and prices.
Don't miss out! Strategies and tricks to sell more on marketplaces
Advantages and disadvantages of selling on an ecommerce site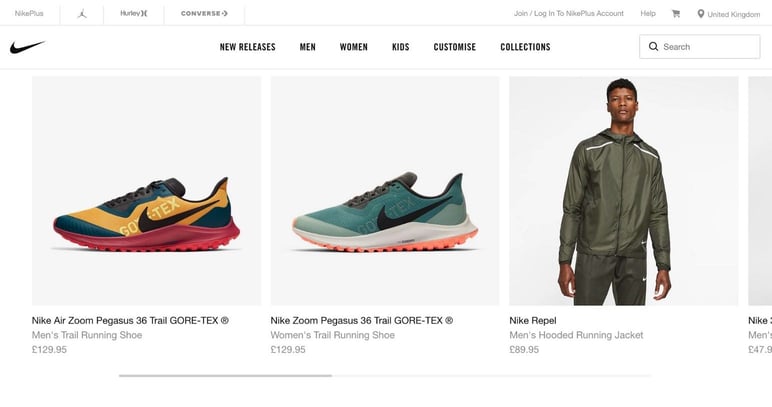 Advantages of an ecommerce site
Greater control over your platform.
More customisation, both regarding the style of the website and the UX (the type of shopping experience you offer the user: you can decide how the payment process is, notifications about products, wish lists, etc.).
Better visual representation of your brand.
Application of cross-sell and upsell strategies.
Control over discounts and sales periods.
Direct and personalised customer service.
Own list of customers and availability of their data for marketing actions.
Behaviour analysis (visits, clicks, shopping cart abandonment...).
More loyal shoppers.
Disadvantages of an ecommerce site
A bigger investment of resources and time.
Higher costs in software and security certificates.
Need for a team trained in maintenance and launch of ecommerce platforms and integrations with other channels.
Control and synchronisation of stock, distribution network and shipments.
Greater effort to attract traffic to the website.
You may be interested in: Top 10 online marketplaces in Europe
Advantages and disadvantages of selling on online marketplaces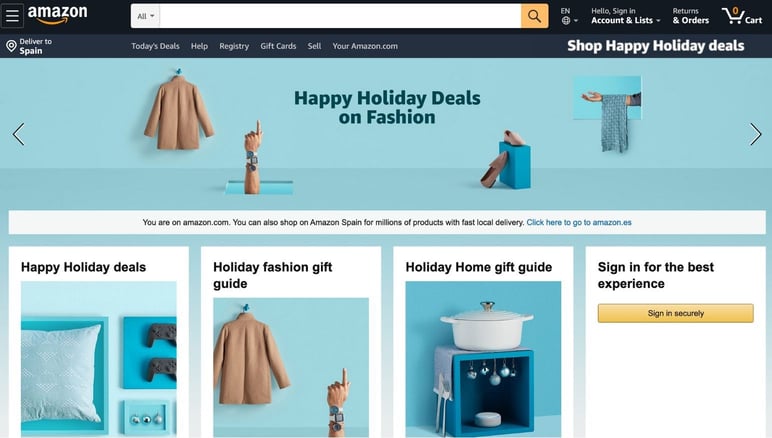 Advantages of marketplaces
Easy to set up.
Platforms with greater trust among buyers.
Possibility of standing out in categories among your direct competitors.
Higher incoming traffic.
Savings in administrative processes (the marketplace does the transactions and income for you).
Dropshipping option (the marketplace can manage stock, shipping and returns on your behalf).
Disadvantages of marketplaces
More competition (even with the marketplace's own products, which will always be given priority).
Less customisation.
Transaction fees (on listings, product categories and per sale, variable depending on the marketplace).
Limited promotions for each seller or periods set by the marketplace.
Need to set lower prices due to competitiveness.
Customer service in the hands of the marketplace.
No control over cross-sell and upsell suggestions.
The ecommerce of the future: marketplaces for specialised products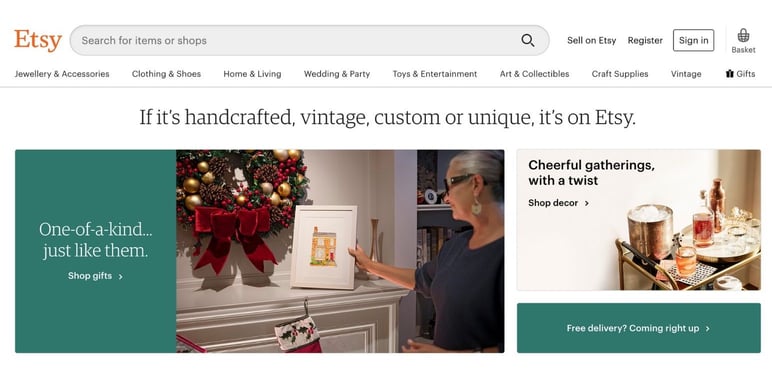 Amazon is the 'search, pay and run' of ecommerce. The most popular online marketplaces are used by shoppers to make quick purchases, for products they already know how to search for.
But there is another type of shopping that is gaining more and more presence: searching online calmly, with the intention of discovering new products or brands.
This online shopping trend happens more on specialised marketplaces than on generalist marketplaces such as AliExpress. These are the niche marketplaces, which you should pay close attention to if you are looking for platforms for your product catalogue.
They are marketplaces with their own community, interested in a product category (craft products, furniture, DIY, etc.).
They give more opportunities to independent or new brands.
Some give access to listings of premium buyers, whom you can contact directly.
They have a greater flow of users from the marketplace to the websites of each seller or brand.
They offer more thoughtful designs and more customisation options on your product or brand profile pages.
They can be international or national, and some of them encourage local trade (for example, by accepting only nationally sourced sellers).
So, what is better? an ecommerce shop or a marketplace?
Most online marketplaces bring together small and medium-sized brands and businesses, so they are excellent platforms for earning revenue if you are just starting your sales and want to save resources.
However, online marketplaces are not good tools for brand awareness. This is due to the buying habits of users, who use marketplaces to compare products quickly, and the design of the platforms, where your product pages will be the same as those of your competitors. This makes it difficult to stand out and draw attention to attract traffic to your own channels.
Do you want to have ecommerce and marketplaces at the same time? This is one of the most common decisions: a multichannel or omni-channel strategy that combines both your own sales channels and third-party platforms.
How to achieve this?
Add to your team a PIM system to centralise all your product information. From this platform that centralises all your product data, you can export it to any channel and keep it up to date. Whether in your online shop in Shopify, BigCommerce or Magento, or in your favourite marketplaces (Amazon, Google Shopping, Mercado Libre...).
Try PIM now for free for 30 days and get to know all our connectors to expand your ecommerce strategy.