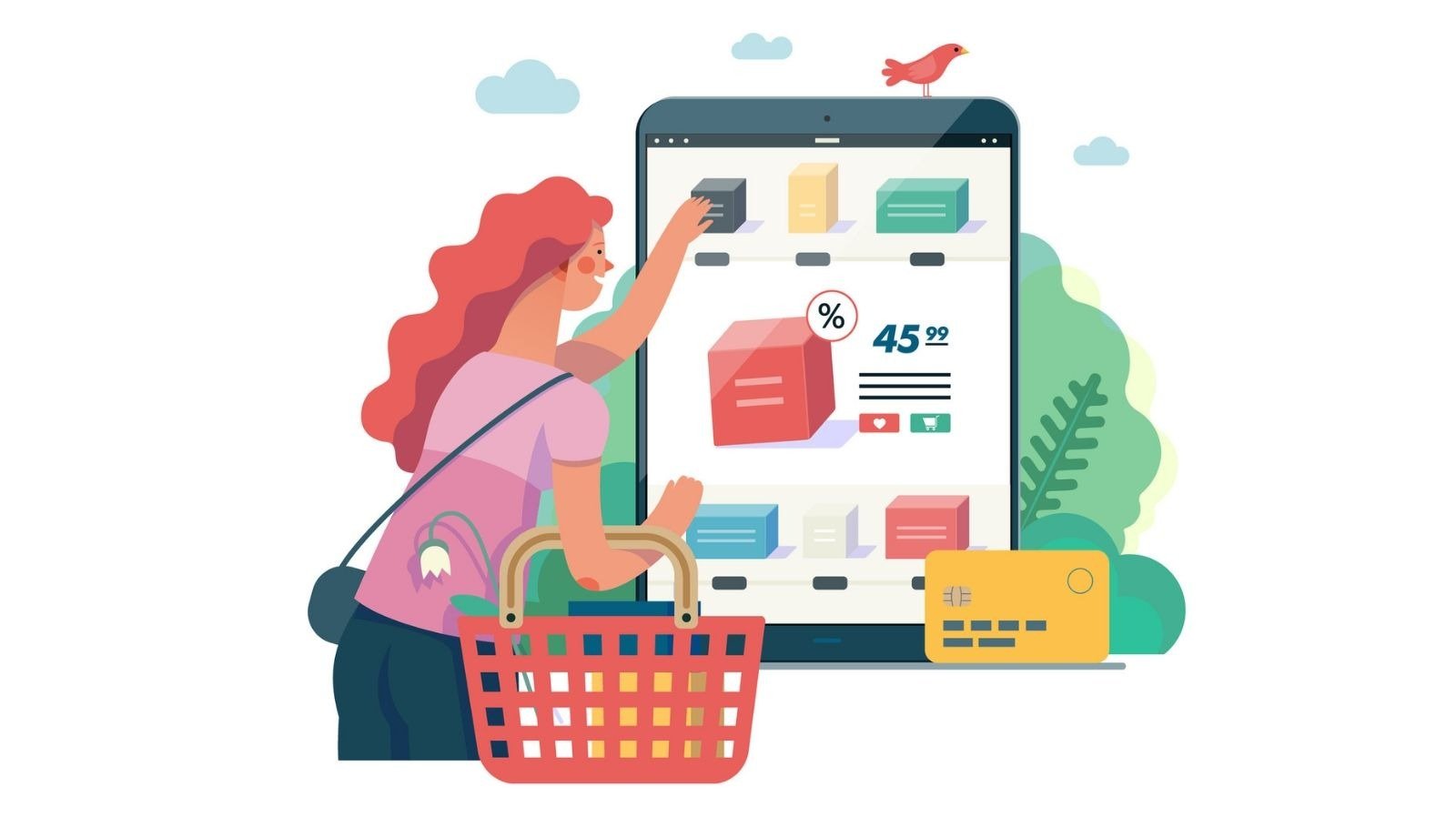 When you scan the top 10 online marketplaces with the highest volume of visits and sales in Europe, it's hardly surprising that Amazon reigns supreme.
However, if we confine our scope to marketplaces of European origin that operate internationally, the list becomes a good deal more interesting. Although a substantial portion of the European market is dominated by marketplaces from the United States and Asia, the share of 'made in Europe' marketplaces is growing steadily. This presents a great opportunity for manufacturers, brands and sellers who want to take advantage of platforms closer to home.
The total value of European marketplaces is 9 billion euros, and is expected to almost double to 15 billion euros by 2020. Even though Amazon continues to take the largest slice of the European pie (28 billion euros), it's a good time now for traders wishing to expand their European presence into new marketplaces.
The following are the 10 online marketplaces in Europe with the highest volume of sales and visits. All of them offer an international service and each focuses on a different sector; we'd hope a few of them might become a valuable piece of your European positioning strategy.
→ This might interest you: What is a marketplace and what are its benefits?
Top 10 European marketplaces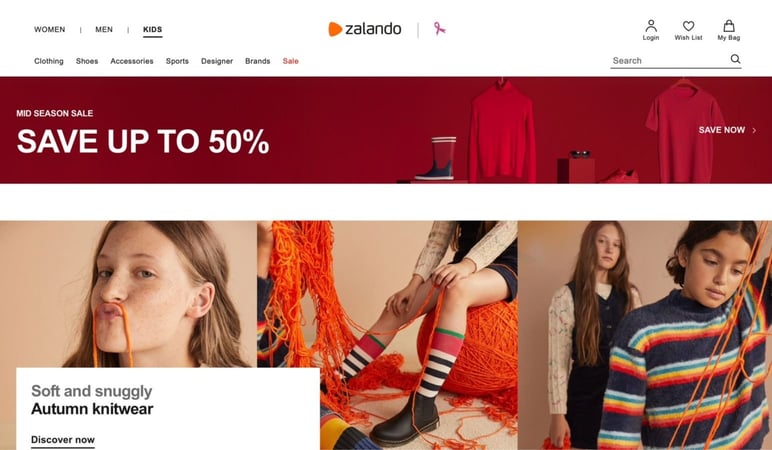 Zalando
Zalando, created in the United Kingdom, is a platform that focuses on fashion from various brands. We could describe it as the Amazon of clothing and accessories, these including such well-known brands as Levis, Topshop, Vans and Ray Ban. It also offers a discount section.
Among Zalando's merits is its interface (or front end), which is cleaner and clearer than Amazon's product pages; then there are other user-friendly features that enhance its online shopping experience, such as an option of "Try first, pay later" payments by instalment.
To sell products on Zalando you have to be part of its Partner Program, since it's based on brands selling directly and not via multiple retailers.
Features of selling products on Zalando
It specializes in brands selling clothing, shoes, sportswear and/or accessories
Presence in 15 European countries
Free returns
100-day returns policy
Shipping with Hermes Courier Service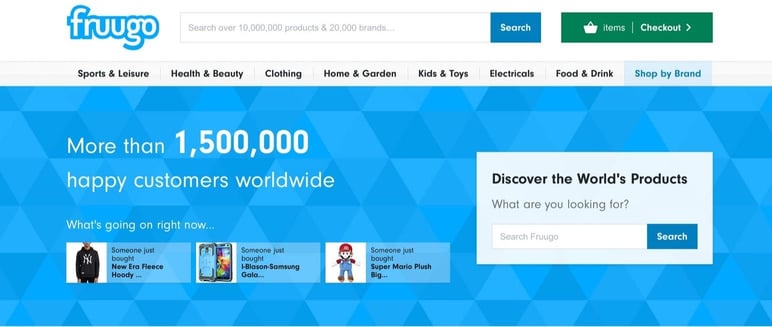 Fruugo
Fruugo is an online sales platform that is closer to the Amazon model, as it includes numerous product categories: such as fashion, DIY, toys, technology and food.
Like Zalando, it's also British in origin, whereas Fruugo's seller profile is more B2C retail than brand. Fruugo's international network is based on a single platform that adapts to each buyer's language and payment currency, without the sellers having to duplicate, translate or modify their product content to suit each country in turn.
Features of selling products on Fruugo
Fast product integration through Google Shopping
Access to partner services such as Channel Pilot or Visualsoft
No registration or recurring fees, just commissions on each sale
Presence in 30 countries worldwide
→ Also of interest: 7 marketplaces for your online strategy
ASOS
The ASOS marketplace has become the benchmark platform for buying fashion and accessories, and is very popular in the UK.
Its range includes both accessible and more expensive brands.
We offer a guide to selling specifically on the ASOS marketplace: find it here!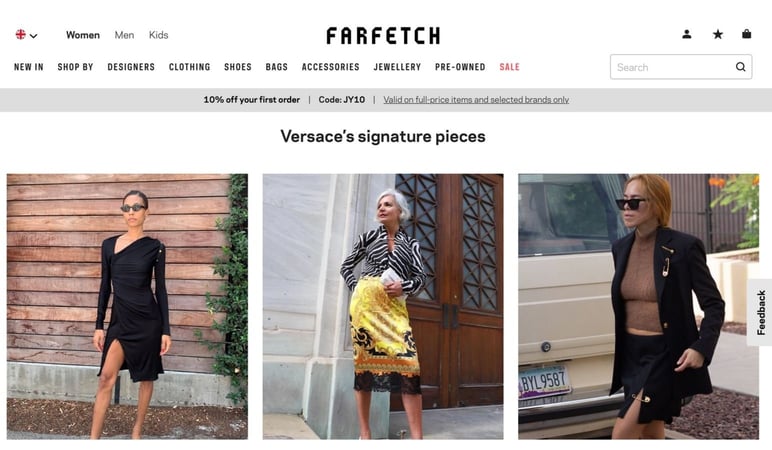 Farfetch
Farfetch is another British fashion marketplace, like Zalando and ASOS but focused on the luxury market. New and second-hand products from exclusive brands such as Stella McCartney, Balenciaga or Versace can be found on this platform.
Due to this more elitist profile, Farfetch only partners with luxury brands and boutiques that make up its worldwide network. The platform doesn't store its own stock but instead arranges shipping from major firms, independent brands and physical stores that sell the type of product in question, on behalf of the customer.
Features of selling products on Farfetch
Products include luxury clothing, jewelry and accessories
Presence in 190 countries
Commissions on each sale
→ Check this out: How to sell on Rakuten and Asian marketplaces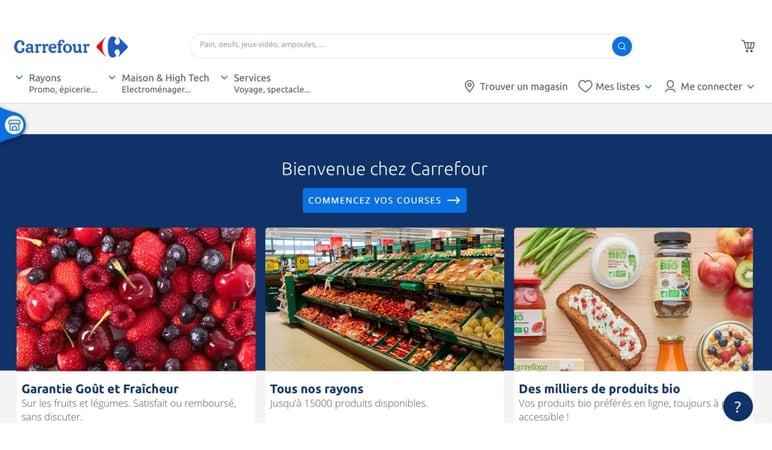 Carrefour
Carrefour shopping centres have become a flagship of the suburban landscape in hundreds of European cities, but this French giant has also already been investing in the digital world for years.
Carrefour's online marketplace allows any seller to offer their products on the web. Although they started with the sale of food products, many more categories can now be found, such as small household appliances or cleaning products. Carrefour's network now includes more than 1,000 online retailers and 2 million products.
Features of selling products on Carrefour
More than 170 million visits per year
More than 50 product categories
Payments to the seller made 2 or 3 times a month
No commitment to stay
Commissions on each sale
Option of adopting a multi-channel presence (on the web and in physical supermarkets)
Complementary logistics services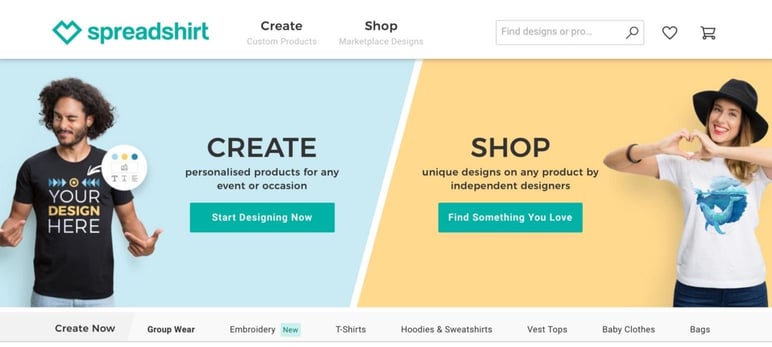 Spreadshirt
Spreadshirt is a marketplace of German origin specializing in the printing of t-shirts and other personalized accessories: a very different approach to all others seen in this list so far.
The range of sellers who will be interested in positioning themselves in the Spreadshirt marketplace is narrower, since it is quite a specific niche and its main partner profile is of designer or illustrator. But it can be very interesting for brands that create their own designs, because on the web customers can place individual orders or wholesale.
At Spreadshirt you can also choose whether to sell on its in-house platform (with free shipping and customer service) or create your own online shop.
Features of selling products on Spreadshirt
Its marketplace profile is very specialized
Over 100,000 visitors per day
Printing is carried out by the marketplace directly
In-house shipping management from 5 production points in Europe
Presence in 19 countries
→ You might also try: How to start your marketplaces marketing strategy

Helloprint (PB)
Helloprint is another marketplace specialized in print solutions, but encompassing a wide range of advertising products such as cloth bags, notebooks, brochures and wedding invitations, aimed at individuals, companies and events,.
This marketplace originated in the Netherlands and has since settled in Valencia to strengthen its European network. It's a very attractive model for companies and print service providers who want to receive orders from more European countries.
Features of selling products on Helloprint
Presence in 8 European countries
More than 500,000 customers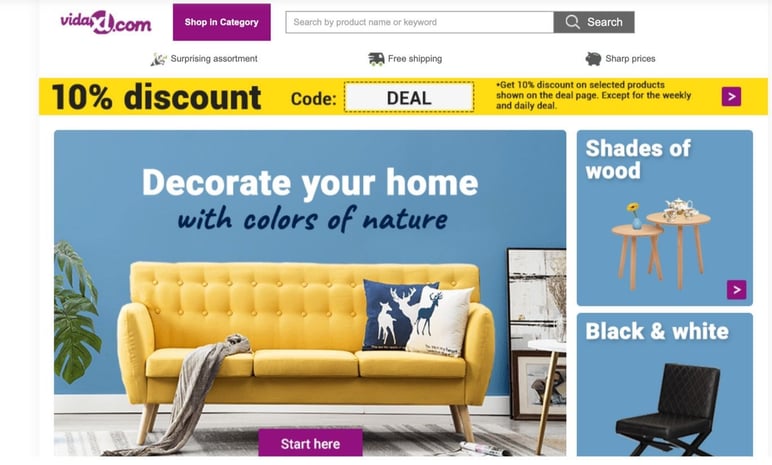 VidaXL
VidaXL is a Dutch marketplace focused on the sale of products for the home, from house and garden furniture to decorative objects and barbecues.
Features of selling products in VidaXL
Presence in 28 countries
Over 4 million visitors per month
Support service included
Access to marketing materials (banners, coupons...)
Payments to the seller made in monthly instalments
Variable commissions according to sales volume
→ Related content: How to sell on AliExpress marketplace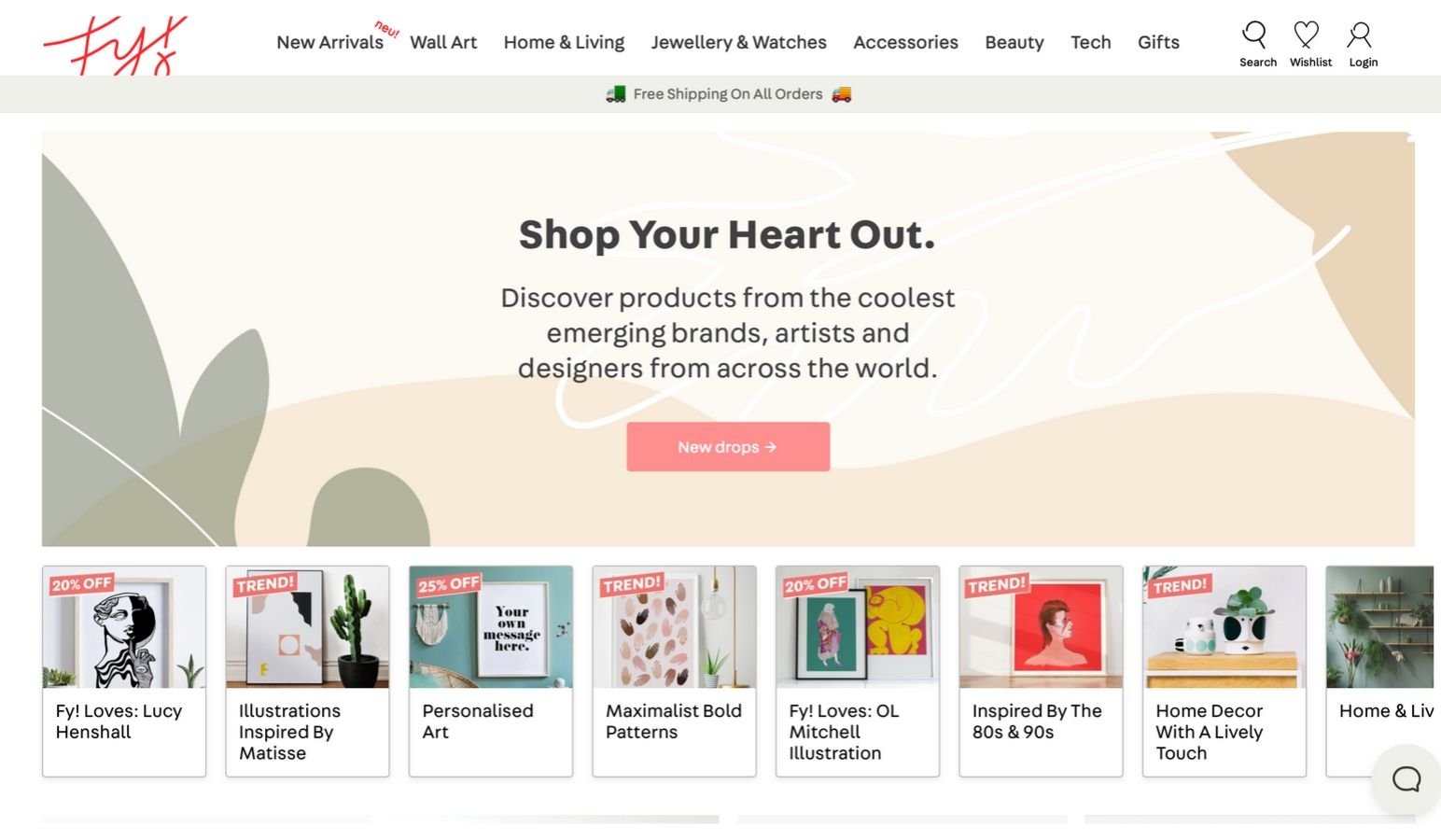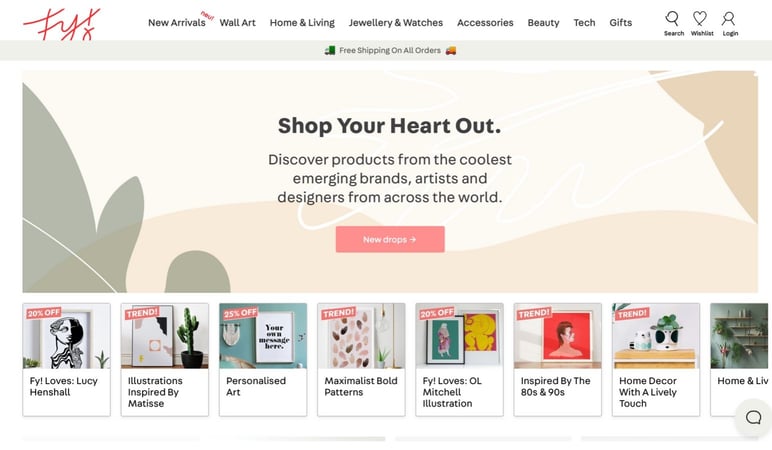 Fy!
Fy! is a German marketplace that takes the Etsy model to the next level: it showcases original and designer products, its website is easy to browse by category, and users can buy directly from the Fy! Platform.
Fy! is thus an attractive platform for brands offering, jewelry, watches, fashion accessories, cosmetics and electronic accessories (headphones and speakers), provided they have that small brand approach with marked attention to design. In addition, Fy! is proud to offer one of the best mobile ecommerce experiences, and excellent conversion figures for sellers.
Features of selling products on Fy!
No fees for product listings or registration
No commitment to stay
Access to the marketplace's promotions and special offers
10% commission on each sale
Payments made within 10 days of each sale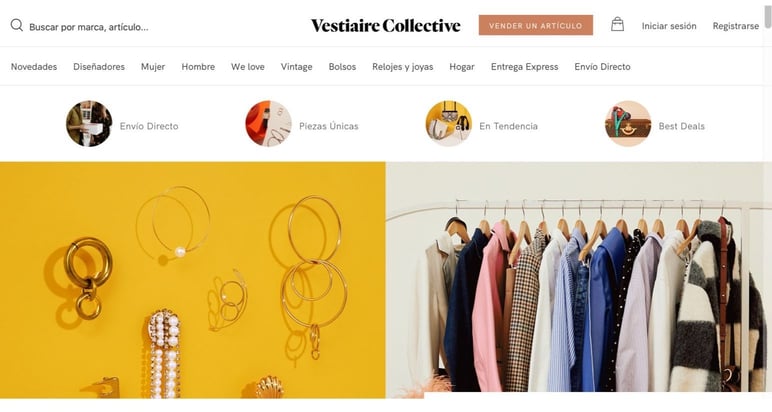 Vestiaire Collective
Vestiaire Collective looks like yet another fashion marketplace until you see its concept: buying and selling second-hand luxury products.
This online marketplace originated in France, and is obviously not very useful for brands or manufacturers of new products. However, the pull of the recent movement for recycling and exchange of clothing has made this platform one of the most widely used by European buyers.
→ Take a look: Why you should use marketplace connectors in your ecommerce
Conclusion
After these Top 10 European marketplaces with the largest online presence, other well-known platforms could be added to the list such as Deliveroo, of British origin, Fnac, the French chain of bookshops and leisure centres, and the Spanish Promofarma. All of them together prove that European marketplaces are in great shape and alert us to new opportunities of commercial models in popular demand.
In general, the more powerful European marketplaces focus on fashion, technology and services, while niche marketplaces are still fighting for their share of the market, although they are becoming increasingly numerous and popular.
To access these and all the new marketplaces that will surely emerge, a PIM system will make it easy for you to send your products to the marketplace of your choice, and in the Sales Layer PIM we have dozens of pre-configured connectors. Try it for free for 30 days and expand your European and global network.