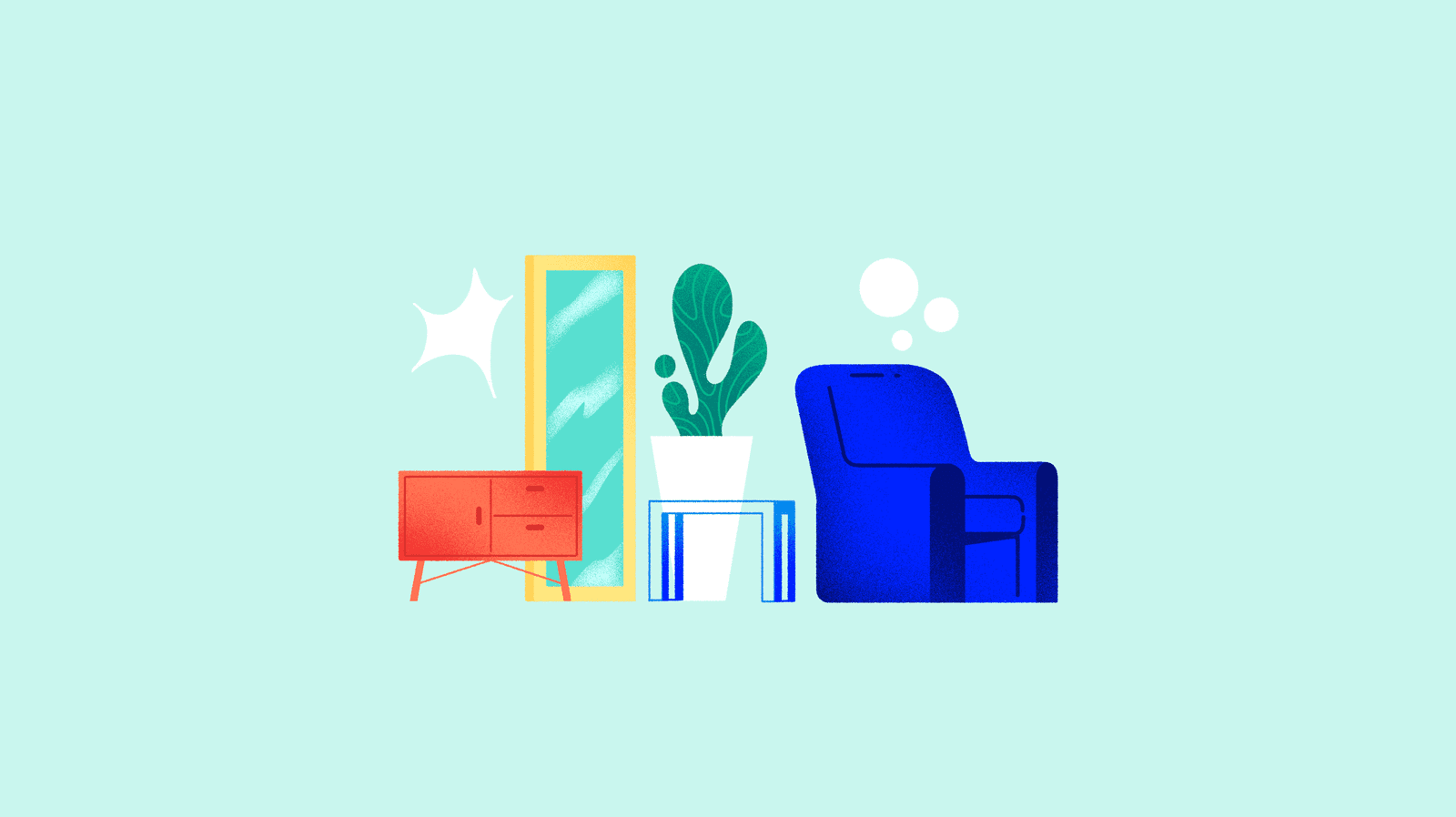 Online furniture sales: a booming channel
The furniture sector could have foreseen a certain stagnation last year in the face of physical shop closures. Most of the purchases of this type of product have traditionally been made in person, due to the ease of comparing products in exhibitions and appreciating the real measurements of pieces and furniture.
In addition, personalised attention has always been a strong point in the retail part of this industry, because many projects are custom-made and some furniture catalogues are so extensive that it is not possible to show the customer all the options in person.
However, the online channel has gained acceleration in the furniture sector in two ways: from the manufacturer to the seller and from the seller to the end customer. Both B2C (furniture for private use) and B2B (furniture for offices, restaurants, hotels, etc.).
For some years now, the digitisation of catalogues has been a key objective for furniture manufacturers. Providing information on hundreds of products, each with different variants, is much easier if this data is centralised on a digital platform from which to share the content with retailers, marketplaces, catalogue design programmes, brand websites, etc.
And likewise, retailers get a better image and sales if they offer the end customer accurate product data, with up-to-date stock and models. Exchanging or returning a product is always a bad experience for the buyer, even more so when it is a bulky piece of furniture that does not fit the original description and intended place or use.
Shoppers expect to consult, compare and purchase furniture on the Internet with all the possible facilities. Manufacturers and retailers also need platforms to share product data accurately and in real time.
The benefits of digitising catalogues for furniture manufacturers and retailers
Full control of hundreds of products and variants with 100% accuracy, with no manual errors.
Automated management of technical and marketing product data (images, videos, descriptions, guides...).
Adaptation of product data according to each market (metric systems, currencies, prices, collections, etc.).
Product information adapted to multiple languages.
Product content updated and ready to share on sales channels (website, app or ecommerce, marketplaces such as Google Shopping...), technical data sheets and catalogues for distributors, wholesalers and retailers, or through Google Manufacturer.
Mandatory certificates for each country or region in order.
Flexibility in the face of changing trends and seasonal collections.
More competitive and attractive brand in an increasingly competitive environment, also in online marketplaces such as Amazon.
The product data centralisation platform that fits the furniture industry: PIM
The most advanced and in vogue technology to manage all product information, create print and digital catalogues, and easily connect it with multiple channels is the Product Information Management (PIM) system.
At Sales Layer we provide this type of solution. We also have experience in furniture verticals and offer customised templates if you would like to try it for free or have a specialist show you a guided demo.
For example, the company emuca was able to easily manage more than 5000 furniture variants in 8 languages and connected to 16 channels via Sales Layer PIM, gaining agility, time and data accuracy.
"Sales Layer is an easy-to-use platform where we can update and export product information, and in the future it will allow us to implement new developments based on its information."
Manu Santana, Head of Marketing at Emuca
What are the advantages of PIM technology for furniture manufacturers and retailers?
It addresses the need to share accurate and up-to-date technical and marketing information.
Offers flexibility to respond to tight launch times.
Cultivates the loyalty of increasingly digital customers, who always find accurate and complete product data.
Includes quality analytics to enriched product information and stand out from competitors.
Facilitates access to product customisationin furniture catalogues with many variants.
How to stand out in furniture sales: everything your product catalogue should include
Technical specifications
This group of data is the most important for distributors and retailers, who need the catalogues of the brands they sell to be up to date in order to show the options to end customers.
In the case of the furniture sector, there are usually many technical specifications that multiply the volume of product information, since the same piece of furniture can be available in a wide range of finishes, materials, dimensions, combinations with accessories...
In this example of a Sandon chair, we can see all the product variants in the same product sheet. This facilitates the online buyer's consultation and decision, and is only possible if the manufacturer has all the data in order and communicates it correctly to its own platforms or other retailers.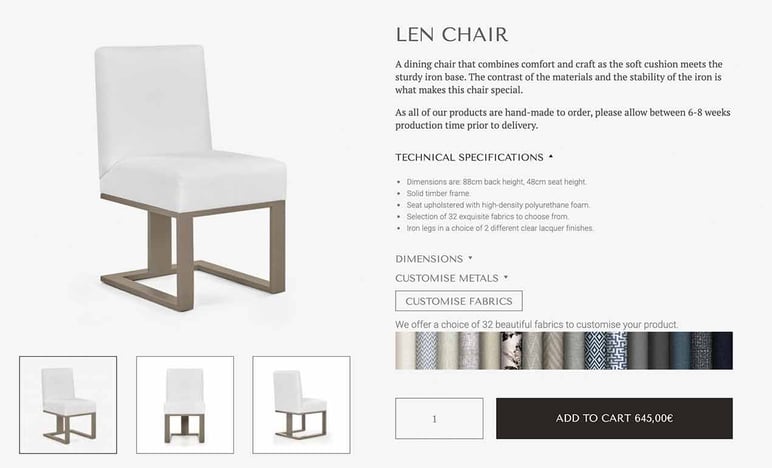 More technical data that can be included in a perfect furniture file and that you can manage from a PIM:
Identification codes (some are mandatory for distribution, others will be for internal use to facilitate your inventory management).
Surface treatment / protection advice
Structure
Included accessories
Special features
Weight and weight with packaging
Type of packaging (number and size of packages)
Sustainability certificates for materials and components
Discounts
Certifications and legal regulations
Product marketing content

Marketing content
For the furniture industry it is just as important to manage a large volume of technical information as it is to bring creativity to product content so that the furniture is attractive to view online, a more unusual channel.
There are more and more solutions to make shopping for furniture online easy and reliable for the consumer, and perhaps the clearest example is Ikea, with its augmented reality options to project any product in a home.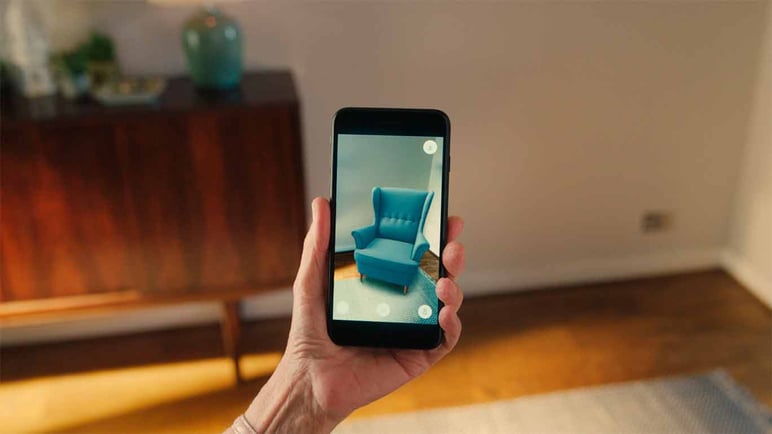 Other alternatives are digital space visualisers to give the user an idea of the options available, before contacting the manufacturer or retailer. For example, on the Weight Kitchen website it is possible to compare furniture modules for different kitchen sizes and layouts: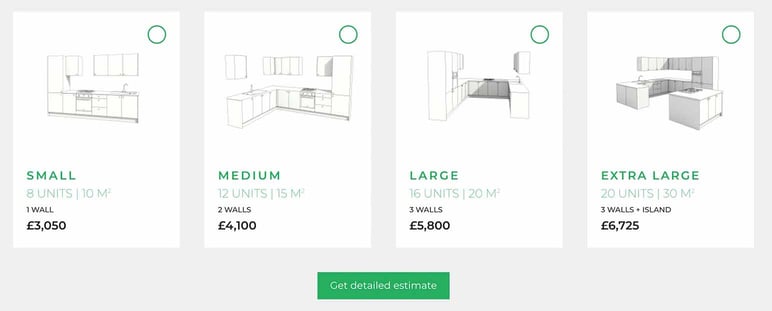 Also, sustainable certification of furniture is very important to many shoppers today, and brands such as Herman Miller emphasise this in their products: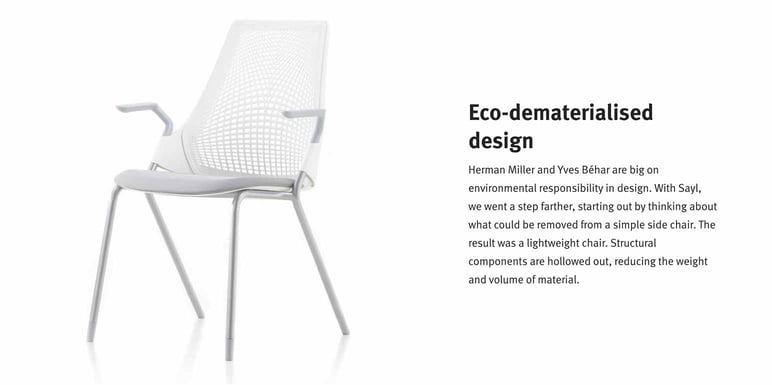 More content that digital furniture buyers expect and that you can centralise in a PIM:
Product descriptions (especially for each retailer to distinguish the standard description provided by the brand).
Images (including 360º views and augmented reality).
Videos and tutorials
Instructions
Warnings and maintenance tips
Frequently asked questions
Complements or accessories
Interested in expanding the multichannel strategy of your furniture sales? If you are a manufacturer or retailer in the sector, try Sales Layer PIM for yourself or contact us to receive a personalised presentation on the most effective and quickest to implement technology for managing complex product information.