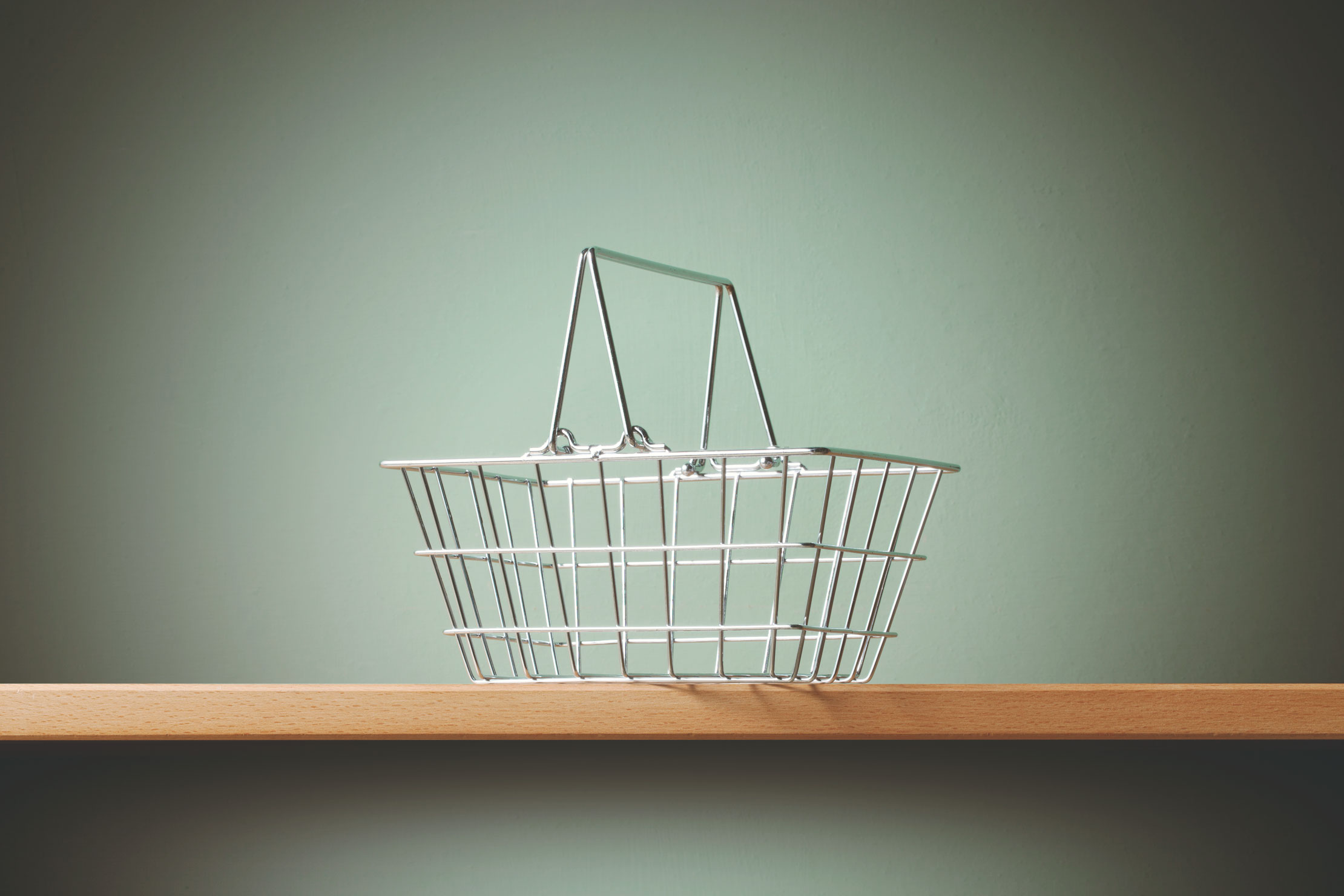 Table of contents
Like Heidi in the Alpine mountains, a marketer arrives at her new appointment on the promotion team for a brand catalogue. She feels full of excitement and grand plans – until along comes the governess with her cargo of rules and regulations.
To achieve positioning on Google is such a broad and complex project that many companies and marketers direct their efforts to optimizing the contents of their website and catalogue, in Google terms, without realizing that there's another way of gaining exposure which is more profitable than it might appear.
Google Shopping isn't your typical marketplace. Although not entirely free (and it does require spending a lot of time and effort as well as resources), the Google Shopping service can be a great accompaniment to your marketplace strategy, while boosting sales on your own channels, webpages and app. In addition, it promotes products with quality content (which manufacturers and vendors can easily manage and enrich with a PIM system like Sales Layer, an official Google partner).
Though it may turn out to be a steep learning curve, getting an education in the ways of Google is definitely worthwhile.
Miss Rottenmeier's rules: The strict guidelines of Google Shopping for retailers
Although it is usually listed as a marketplace, in reality Google Shopping works as an extension of its search engine. Simply, users can type in keywords and find items for sale on various websites, then buy them directly from the seller's shop. Unlike a marketplace, where products are shown alongside a seller's profile, Google Shopping is an exhibitor of third-party catalogues by means of links and images.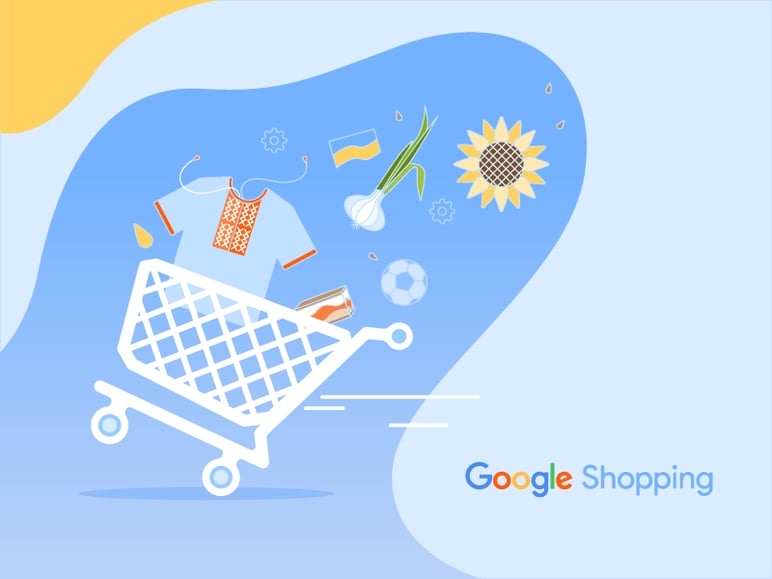 Even if the requirements set by Google Shopping for product data might not seem excessive, they are more numerous than in other systems, such as Amazon. If the number of different products involved is very great, the task of submitting this information can require a lot of preliminary work (as well as maintenance, given that Merchant Center requires manufacturers to get their information up to date at least every 30 days).
And don't forget that while some platforms may not include some of these data in their list of requirements, a more comprehensive labelling of each product will result in increased success in structured searches and sales, since customers' expectations are more likely to be satisfied.
Essential requirements for a product to be approved by Google Shopping:
ID or product code (SKU); with a maximum of 50 characters
Product title (identical with that of the original website); 1-50 characters
Description; 1-5000 characters
Category (from Google's ecosystem, and inform whether product contains adult content)
Notify whether the product is sold as a multipack or bundle
Link to the product page on the original website
Link to the product image
Condition (new, used, reconditioned)
Price (numeric or ISO 4217)
Taxes
Availability (in stock, out of stock or by advance order)
Brand; 1-70 characters
GTIN (Global Trade Item Number) identifier, such as UPC, EAN, ISBN, JAN or ITF-14; 1-50 characters
MPN (Manufacturer Part Number) identifier; 1-70 characters
Shipping (estimated delivery times and prices)
For fashion and accessories that require them: size, colour, recommended age, gender, material, design and variants
Apart from the data that are compulsory for every product being advertised through Google Shopping (which can vary between different markets, like Russia and US), eligible vendors should ensure that their policies of billing, exchanges and returns, contact routes and secure payment methods, are clearly specified on their own web pages.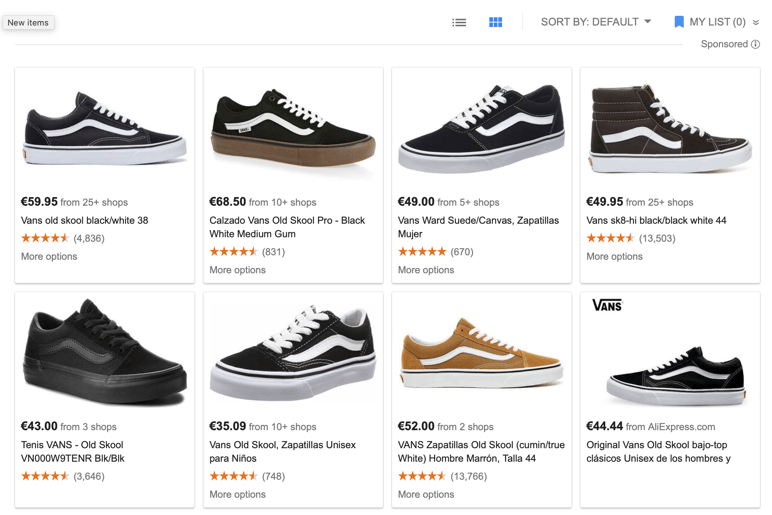 Keeping a straight back: Product content optimization on Google Shopping
Of course, submitting all the information as set out above is already a big step toward being approved on Google Shopping. Nevertheless, for Google some categories are more sensitive than others and can have a major effect on positioning and performance on that platform if guidelines are not duly followed.
Product title
Firstly, the product title on Google Shopping must match the title on the original webpage. For that reason you shouldn't cram your title with keywords and technical data, whereas the inclusion of at least one or two of the following key points will suffice:
Brand
Key search term
Product category
Model
Attributes
This is a fundamental detail on Google: for each product at least 10 attributes must be included; if fewer, you'll be penalized.
These attributes must be relevant and, if the products are being updated with new versions, kept up to date using automatic updating tools or schema.org.
For attributes of colour, standard terms must be used ("dark green"); while the exact hue or unique descriptor ("emerald") should be placed in the title.
The best way to begin with this task is by filling in those attributes that are essential, since there are so many to choose from; however the more attributes you add, the better the result on Google Shopping for each of your products. Some examples:
General attributes:
Product type
Link to mobile landing page
Links to additional images of the product
Price and availability:
Availability date (for reserved items)
Reduced sale price
Dates of sales reductions
Groups and details:
Size type
Size (metric) system
Shipping:
Shipping weight
Shipping dimensions
Shortest estimated delivery time
Maximum estimated delivery time
Images
On Google Shopping, in contrast to the usual marketplaces, images are not as important as having correctly submitted the title and attributes data.
Nevertheless, you still have to comply with the image requirements:
Supported file formats: Animated GIF, JPEG, PNG, BMP or TIFF
Size: Minimum 100 × 100 pixels (250 × 250 for clothing or 'apparel' products). Maximum 64 megapixels or 16 MB.
Style: White background, without borders, text or superimposed watermarks; no 'artistic' or catalogue-style photography using models.
Not admitted: Miniatures, graphics or illustrations, nor more than one image per product.
Categories
Even if you feel quite sure about the relevant category for your products, you'd be wise to study Google's taxonomy and follow it – because if they're wrongly assigned, you won't be able to carry out Ads campaigns satisfactorily later on. Moreover, establishing the product category is compulsory for fashion, accessories, software and media; and it's very important to check the correct term is being used in each language if it's being sold across different markets.
More than 6000 categories exist on Google, therefore it isn't a good idea to assign them too hastily. Choosing a product category that's as specific and close to the original description as possible, will increase the probability of it appearing in results along with similar products. For example, while in a normal catalogue the classification system might be 'Pets > Dog Bowls', in Google it should be 'Accessories for Animals and Pets > Accessories for Dogs > Bowls'.
Taxes
Some of this information on tax is only compulsory for the US market, but it never hurts to present detailed information to the user and thus boost your credibility.
The usual formula for taxes includes the following four subcategories:
Country
Region
Percentage
Whether tax on shipping is applicable or not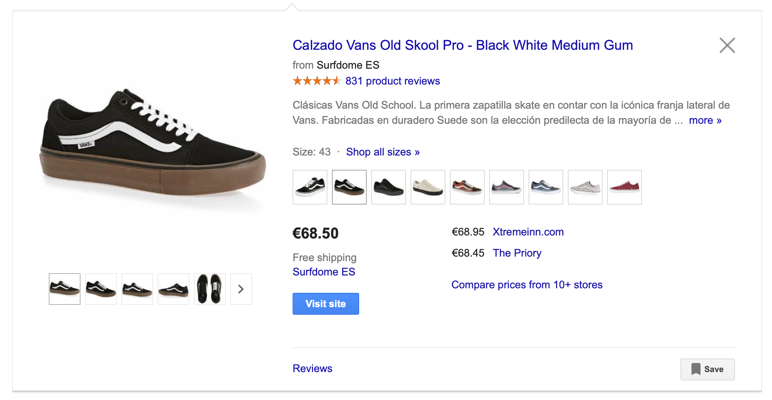 Don't cross your keywords: Some common errors made in Google Shopping
Duplicate titles
On Google Shopping, attaching the same title to more than one product in the hope of grabbing more positions in the same search criteria, is not valid. What's more, this ploy can generate a negative impression among buyers, who tend to suspect products which seem to be copied or duplicated, which in turn has negative repercussions on the ratio of clicks to sales.
Discrepancies between Google Shopping and the brand website.
Product titles and ad texts on Google Shopping should match those displayed on the landing pages of the links provided. Not ensuring this, is not only something Google penalises but is one of the biggest causes of user frustration and shopping cart abandonment, for example if there's a price difference between Google Shopping and the buying page.
But look on the bright side: by keeping the exact same feed between Google Shopping and the original webpage, it saves you the effort of re-writing.
Insufficient or incorrect attributes
Many sellers misinterpret the requirement of ten attributes per product as being an optional, maximum limit. That's not the case: each product must include a minimum of ten attributes and never fewer.
Moreover, this minimum set of attributes becomes even more extensive for fashion retailers, since in their case, further attributes such as colour and size are also required to describe clothes or accessories.
Keyword misuse
For attributes, as with titles, it's better to be minimalist, direct and avoid using keywords. Trying to insert keywords here will only result in penalisation by Google and even suspension of your account. Any additional or more specific information should be reserved for the description section.
Incorrect categories
Google taxonomy for categories is very extensive and can cause even the best marketers to lose their way. A common error is to leave categories empty, or assign an inaccurate one which will fail to place the product correctly on the Google Shopping map (and consequently on Google Ads results).
In Google Shopping, manually working through this aspect can be very tedious, which is why most teams use PIM systems that create quick-fix categories for products which haven't yet been assigned a specific category.
Product type and categories mix-up
Avoid confusing the fields of product category and product type. Categories follow a Google approved classification system, while the seller's usual classification may still be included within the 'product type' description.
Product type not being compulsory, many sellers omit filling out this field; but if you do opt to complete it, be careful not to make a mistake in selecting the appropriate Google product category. For example, in our example of 'Accessories for animals and pets > Accessories for dogs > Bowls', as a valid Google category you could keep it as "Dog bowls" in the product type.
Confused columns
Another common mistake is to confuse customised columns with customised tags. In each Google Shopping feed you can add up to five customised tags which link a given product with another data type such as price range, whether it's seasonal, or any other information the seller considers useful. You just have to pay attention not to create columns instead of the corresponding labels.
Also, in the link column you shouldn't add tracking or monitoring to the product URL, as each time Google crawls for it a false click will be generated, which will contaminate the analytics of real visits.
GTIN absent
You should only add GTIN if the product type has one; however if it does have one, not including it can create problems. Each country uses its own system of GTIN, which makes completing this field for each of your products rather complicated, but without it Google will be unable to identify and correctly display the product in each market.
In the case of broad catalogues, if you haven't enough time to carry out GTIN searches manually, there are services available that locate GTIN for companies. Like this, you'd only have to add that data into the primary source of product information and update the Google Shopping feed.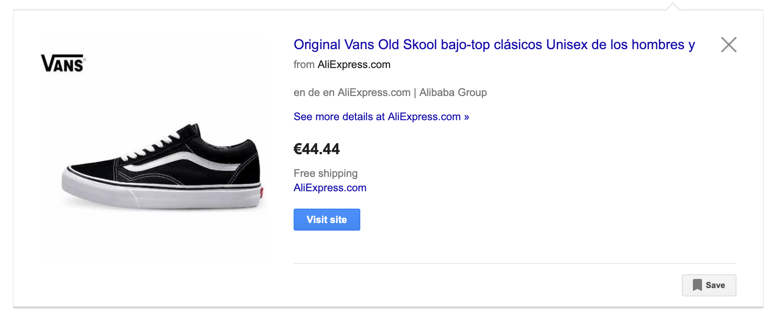 Conclusion
It's quite understandable that the objective of selling through Google may appear overwhelming. However, companies do have the option of resorting to a wide range of tools and extensions of e-commerce platforms, that will automate and streamline work on both Google Shopping and Google Merchant.
Did you know that here at Sales Layer, we are Google's official PIM partner and we have our own connector for Google Shopping? Why not try it now for 30 days – right here!