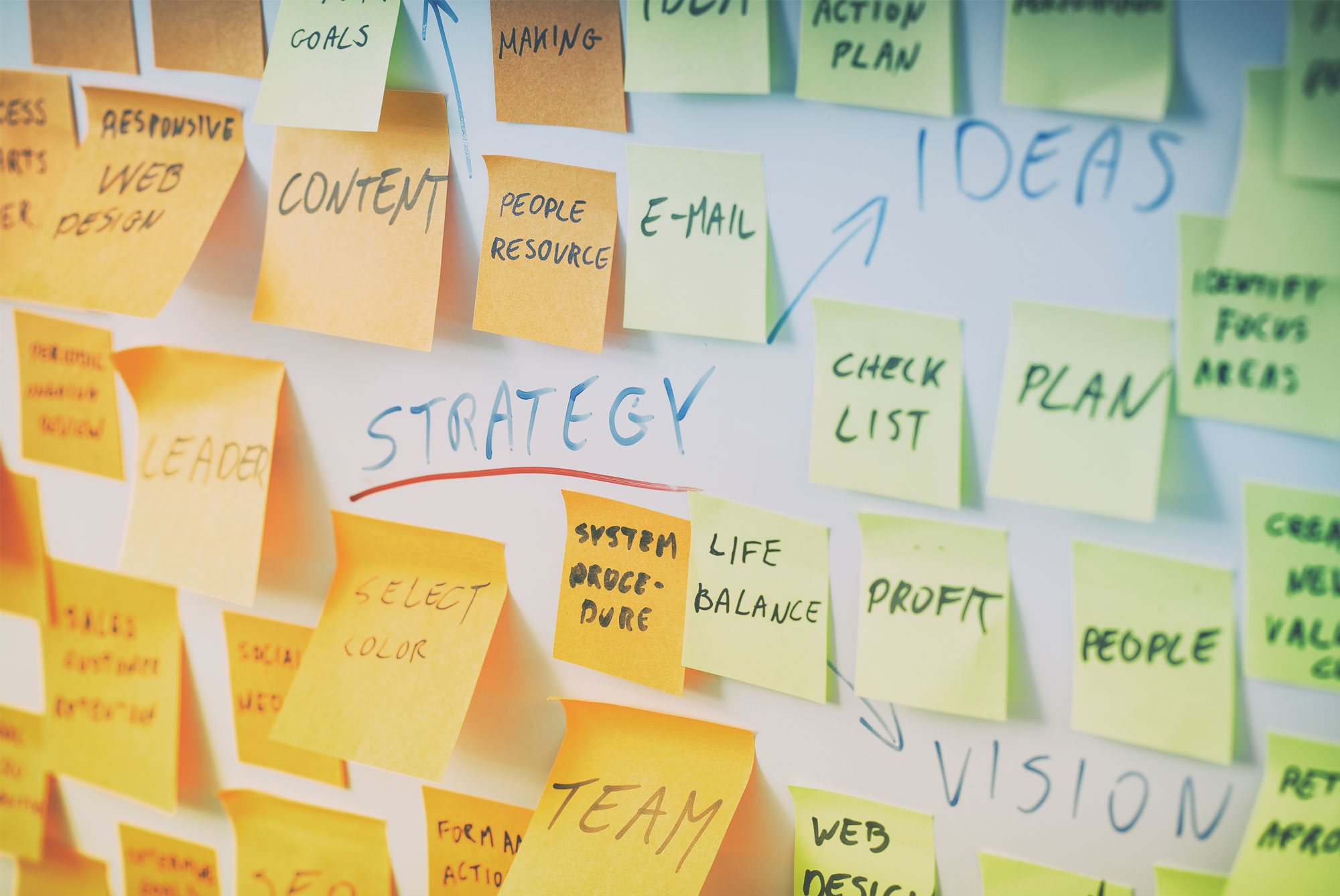 Creating a product strategy is an unstoppable tube slide: you can't anticipate many of the curves that will come.
Many inexperience product managers discover for the first time that their main source of frustration is that a strategy is never applied as it was originally designed. Keeping up with both the internal development of the strategy and the swings of market is the hardest job in product management.
Before proposing your first product management strategy, you must be prepared to be flexible and adapt the plan, not only to unpredictable contingencies within the team or company, but to changes and opportunities that you may discover along the way. Changing the strategy is not a bad thing, and it can show more value than following the original plan to the letter.
Also you have to ask the basic questions if you want to know the product: what is your brand or company situation, how is it situated in the market and among competitors, what environmental factors may influence it (culture, politics or economy), what tools has the company, what methods have been used so far (and what have been their positive or negative results) and what is the key goal of the strategy.
1. Know the product
What do you want to achieve with your product strategy? Raise millionaire sales? Introduce it into new markets or countries? Give it a twist and present it to new demographic groups? Change your branding with an aggressive marketing campaign? Refresh loyalty or generate new customers?
Each product is different, but you can develop very different strategies even with the same product. But you shouldn't do whatever takes you fancy — organize meetings with the rest of the teams and departments involved and take into account the company's business objectives.
If there's no clear direction, or if you want to support solid objectives, it's important to research in depth the product and everything that surrounds it. Its characteristics, its value and real point, how it's appreciated among the public, the popularity of its category or niche, the opportunities and emerging trends, the problems that it may have gone through in other times, the regulations applicable in each country, and the activity of direct and indirect competition (maybe your product may benefit from other complementary and popular products).
In short, the list can be as long as you want, since factors of all kinds are involved: finances, business, law, and even emotions and social psychology.
2. Check the management equipment
Before implementing any product management strategy, it's essential to know what tools are available and if it'd be appropriate to suggest the incorporation of new ones. Many ambitious and perfectly designed strategies can be a total failure when they find that there're no means or budget to achieve their goals.
Organizational chaos is the main problem that you should avoid as a product manager. Having a clean 'house' is the first step before driving a product to success. And this has nothing to do with the prestige or wealth of a company, but with its internal structure. Ensuring good communication and sending precise information among team members, departments and company headquarters is vital to success.
In this phase, you should analyze which are the management systems used by the company. Equip yourself with the right software and you'll be freed of many headaches, since tasks are immediately identified and coordination among all sources and participants is constantly updated.
As the heavy lifting of a product management strategy is mostly creative, you wouldn't want to waste time on minor tasks or with long hours of technical updates, such as inventory management spreadsheets. For this purpose, a Product Content Management software as a PIM system (Product Information Management) is already mandatory for any company or eCommerce that sells products. The time lost in locating product data, updating channels at the same time and in different countries, translating accurate information and generating catalogs is a thing of the past for companies that have already digitized and are gaining momentum in the face of traditional management.
Check which will be the most suitable software for your company: a system in the cloud or installed in the company? An open source system or a Saas one to facilitate installation and always have new features ready to apply? If you have doubts in this regard, we can help you find the best solution for your strategy.
3. Roadmap & Workflow
Only when you know the product, the information is automated and the organization of the company data is clear and accessible from different depositories, you can take the first specific decisions of your product management strategy.
You have to synchronize two important documents. One is the calendar of actions or roadmap, with each stage detailed, short and medium term goals and the most important dates (such as product launch). The other document is the internal schedule that makes this calendar possible. Distribute work roles, assign tasks and define the workflow and communication system when it comes to response to doubts, problems and crises. Organize these functions from the beginning, because a poorly organized workflow can slow down your time-to-market as well as unstructured product information or lost in inventory management spreadsheets.
4. Keep an eye on every front
Product management is often defined as an intersection between technology, product positioning strategy and customers analysis. This means that in order to define a great product management strategy, you must master many disciplines, but also that you must monitor many fronts at the same time during development. Manufacture, design, marketing, technical support, customer service and clients feedback, preliminary tests, analysis of results and the final product launch.
As we said at the beginning, this method usually entails constant changes and readjustments in the strategy. In theory it's not ideal, and it's painful in practice, but necessary. A good strategy can be adapted to any last-minute market discovery, unforeseen budget problems and criticism or defects after launch.
This is why all the steps above are so important: if you have tools that don't distract you from the important and keep everything in order, if people know their place and the secondary and main goals are well defined, it'll be faster for the product manager to make decisions that are also well founded.