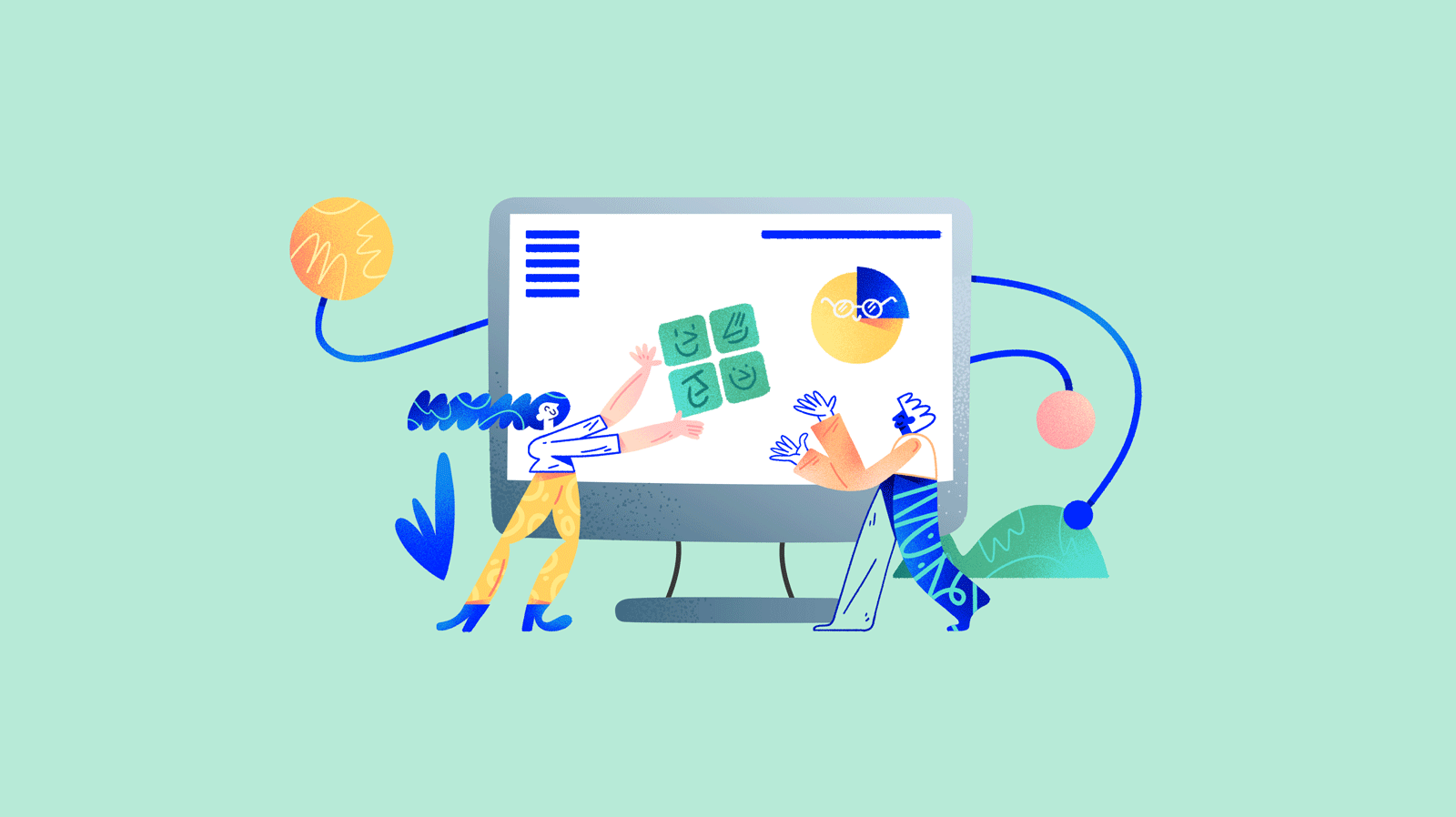 What is user experience?
User experience encompasses all the interactions of a user with a brand or company as well as their access to a product or service through any method or channel.
It's become increasingly common to associate user experience with the initials "UX." This has given the concept a technical feel, like something that should only be within the purview of designers and programmers.
Nothing could be further from the truth: UX covers many areas of company development and begins long before strategists sit down to choose the template of a website or online store.
The term "user experience" was coined by Donald Arthur Norman, a professor of cognitive science at the University of California. He was one of the pioneers in understanding that human interaction and usability were critical to engineering. Thanks to his work, companies have incorporated user experience into the fabric of their operations.
"By using the term 'user experience,' I wanted to cover all aspects of the person's experience with the system, including industrial design, graphics, the interface, the physical interaction, and the manual."

Donald Arthur Norman
By focusing on user experience, businesses can better understand their customers, what their needs and limitations are, and how they can more readily access products and incorporate them into their lives. This does not mean sacrificing everything for the user: true user experience favors a balance between the company's objectives and the expectations of its audience.
So is there a single ideal user experience?
Well, not exactly. There are two types of user experience: good and bad.
Jokes aside, let's see why building user experience, regardless of how you go about it, can truly make or break your business.
→ The key to user experience: Microinteractions. Discover how to use them.
User experience is more than design and branding
As we said before, user experience or UX is about much more than an illustrator or designer working on an interface.
Of course, the design aspect of user experience is essential, especially online where a digital platform, email, chat window, or form is the meeting place between the customer and a company or its products.
But a spectacular design can hide poor preparation: low-quality content, incorrect or outdated data, chaotic tech or customer support services, etc.
User experience creates a brand that determines the reputation of your business insofar as it conveys the message you want and facilitates inquiries and processes for customers. That's why your designers have such an important job. But it's one they cannot do without the support of all other departments within your organization.
→ Check these out: Tips for reviewing an ecommerce user experience
Business areas that influence user experience
The most wonderful word associated with user experience is simplicity (and it's the one we like best at Sales Layer).
It's something the customer will only be able to appreciate if all the departments in your company share a strategy that is clear, precise, and detail oriented. If one of the branches of your team becomes overloaded, it will upset your organizational balance and affect the chain of user experience.
For example, if the marketing team has difficulties in collecting and reviewing the product data of your suppliers, this will affect time-to-market and the quality of your catalog. The designers may have created an amazing online store, but what if the product data is never kept up to date and you have a large number of returns and abandoned purchases due to incorrect data?
This is how one part of the whole can affect user experience (and it's a problem that can be resolved using a Product Information Management or PIM software that automates the editing and sending of product data to any channel).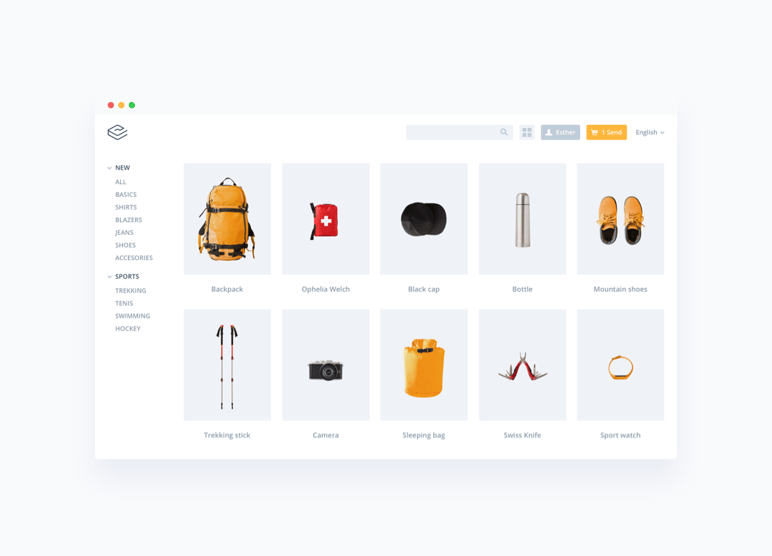 Product development, marketing, programming, and design are all essential parts of an effective user experience.
Project Management: Determines what resources will be needed and how to allocate them to meet all objectives within their specified deadlines and without undermining any link in the UX chain.
Analytics: Deals with research into buyer personas or user profiles to identify habits, desires, needs, and problems. It also looks into the performance of web activity or other channels used by the customer, such as a mobile app.
Information architecture: Ensures an efficient, well-structured, and accessible organization of data to be shared with the user. In the case of product or service businesses, it refers to the information used in printed and digital catalogs, ecommerce channels, promotional and sales materials, data on buyers for customer support, etc.
Interface design: Creates a platform that is best suited to user expectations, ensuring that all actions are intuitive and easy to use.
Visual design and branding: Embodies an attractive and recognizable brand identity in the elements with which users will be interacting.
Content: Adapts data, messages, and promotions to the sales objective and tone that the user expects to engage with.
→ Get inspired: How to create an omnichannel user experience
How to design a good user experience
Every fairy tale has a hero who must choose a good user experience: Will I go down the clear path on the left or through the dark forest on the right?
The interaction is very simple, but the choice, not so much. Sometimes, the best option is not the simplest one: you need to invest a lot of effort in coordinating an entire company and all its internal processes that influence the end user experience.
But of course, the investment is worth it. All you need to achieve that great user experience is to keep in mind a specific set of basic goals in whatever area you are working.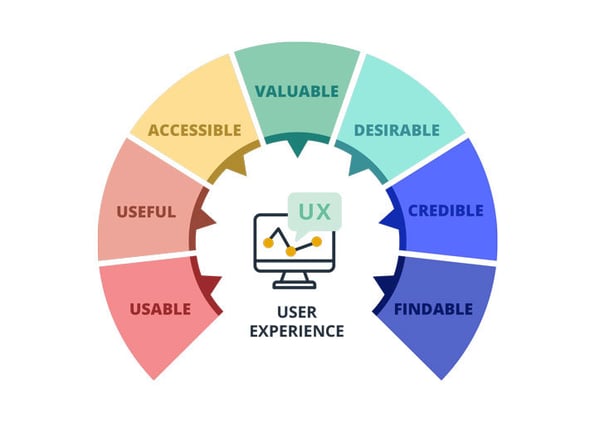 These goals were defined by Peter Morville of Semantic Studios as a large honeycomb where different "cells" converge and must support each other to create a harmonious user experience design.
Useful: Information, products, or services offered to users should be original and respond to their queries or problems.
Desirable: All the elements that make up brand identity should be unique as well as emotionally appealing to the user.
Findable: Access channels, both digital and physical, should be easy to navigate and search.
Accessible: Content should be adapted to users who may encounter difficulties accessing it due to visual, motor, cognitive, or other impairments.
Credible: Channels and content should inspire user confidence through appropriate security measures, certificates, and proofs of value.
Valuable: Any tools used to improve business performance should also boost user satisfaction since this will add value for the audience as well as for the company and its partners.
→ UX: The gateway to a boom in online sales
Usability: The magic word in UX
There's still a key element of that honeycomb that we need to mention: usability.
It's one of the most used buzzwords when talking about user experience and refers to how "usable" a software or web page is. It can be thought of as a measure of user-friendliness or, as we said at the beginning of this article, simplicity.
Usability is not a goal of user experience design, but one of the features of user interface or UI. Is it wise to always bet on usability? Yes.
However, we want to stress that accessibility is just one part of user experience. Simple navigation, fast web speed, clear buttons, and a good category tree won't be enough if the content that follows is mediocre.
Think of it like this: a bookstore installs ramps, access elevators, and well-stocked shelves, but all the books are out of place or have pages with printing errors!
→ Do you like the idea of using microinteractions? Here are 10 examples you can draw from
Steps for creating an outstanding user experience
There are four parts to designing a global user experience for your company:
Strategy
Necessary tools
Internal structure
User interaction
Strategy
Of course, it all starts with a study and analysis that covers all departments. Knowing what you want to sell (or design, if the product or service is not yet completed) and to whom and how you are going to sell it is the first step in the process of reaching the customer.
These business parameters will influence the resources you need, the times you choose to initiate processes and synchronize efforts within a feasible plan, and the identity of your product or service, which should always respond to a particular user profile or market gap.
Tools
Once it becomes clear what work lies ahead, it's up to the product managers to decide on the design map and testing phase of the product or service. This will entail determining development timeframes and the type of resources needed to achieve the objective, which will embody that balance between the perfect product and user satisfaction.
Internal structure
Understanding the user's journey, in both the discovery and purchase of products and services, is essential for all departments involved in user experience.
In the past, companies worked in silos and it was not considered necessary to inform designers about user behavior or explain to sales teams what types of images or colors they should use. Today, it is imperative that businesses have fluid internal communication with the common goal of satisfying the user.
User interaction
This is the aspect of user experience that is most often understood to encompass everything the user interacts with, sees, values, and shares: web pages, mobile apps, online stores, brochures, chatbots, promotional newsletters, checkout, the process of sending and receiving an order, customer service in a physical store, etc. From here on, you should continue reviewing your analytics and making adjustments to improve user experience.
→ Improve your user experience by streamlining your customer support with the help of a PIM
Why user experience is key to selling products
If you do everything right, your user experience will become a customer or buyer experience.
Resolving the problems of your audience and seamlessly providing them with the information they are looking for is a surefire route to sales conversion.
This holds true for any type of industry, but all the more so for product sales since customer decisions are made on the spot and in a market full of other options.
The easiest products to discover, search for, and buy are those that enjoy greater popularity among buyers. And the product they find first is the one recommended to them by Google or Amazon's search engine: it includes higher-quality and more up-to-date product information as compared to that of competitors.
That's why user experience is key to offline and ecommerce sales—but it starts with product data.
→ Want to improve your ranking in Google? We'll tell you how you can do it with the help of a PIM
Conclusion
User experience is a chain of processes stretching back to the heart of your company: the databases that contain all the information to better understand your customers and allow them to better know your products.
Internal coordination, data updates, and analysis of the experience of users, markets, and audiences are vital to ensuring that a product is always appealing, well promoted, and easy to access.
The Sales Layer PIM helps you grow from the core of a user experience strategy, providing you with a central database where you can manage all the information about your products, all the people working on your team, and all the channels that feature your catalog.
Try it free for 30 days or watch a guided demo. We offer you what your customers want to experience: simplicity.