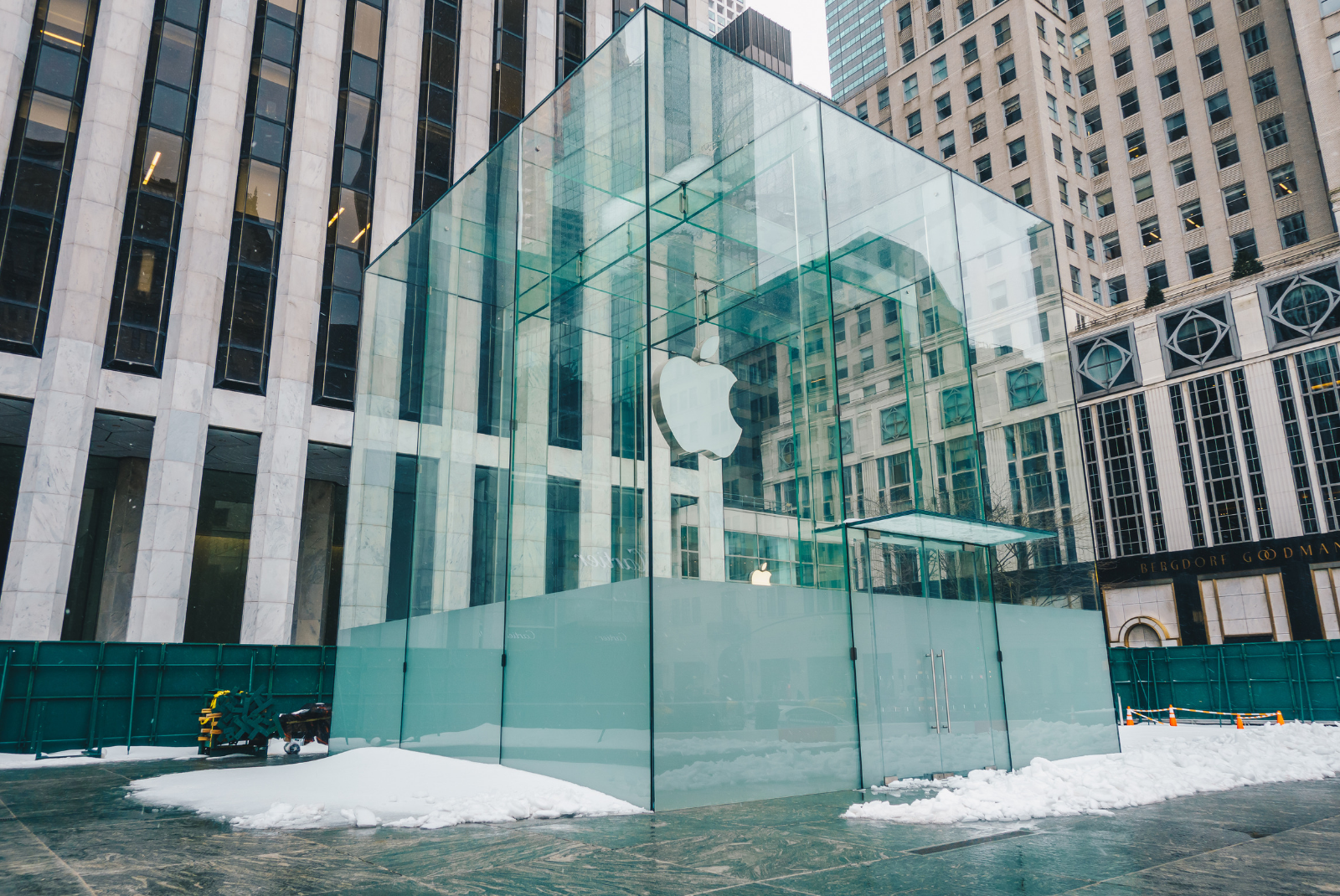 If you belong to the world of advertising, the mere mention of Lee Clow suggests the presence of a titan; his work is so important that his (somewhat disheveled) appearance doesn't matter.
But if you had never heard of Lee Clow and put his name in an Internet search engine, the results would surprise you. A graying, smiling man with a denim dress code; sleeves rolled up. His beard, which he seems to have worn all his life, is lush and well maintained. Clow emits that aura of a grandfather who lives in a house by the lake and was already preparing vegan dishes in the seventies. A smiling and friendly old man, posing with one of the most benevolent creatures on the planet: an English bulldog.
How can someone of such a rugged appearance have come so far in a world of business like tech, full of sharks suck as (insert name here)? Is there something more hidden behind the façade of the famous Lee Clow, secrets that explain his enormous success?
Let's find out more about the story of the man who did not want to bite the apple down to its core.
The man under the Apple tree: Lee Clow
Lee Clow was born into a privileged environment for creative professionals, in Los Angeles, California, just as the United States emerged from its worst nightmare in 1946.
The rise of American advertising since the fifties, well reflected in Mad Men TV series, ran parallel to the needs of the nation, to overcome a downturn totally opposite to its native code: you should always put on a brave face.
Although Clow did not get to participate in this first advertising boom, it did give him the passion to upset the way in which products would become part of the ordinary lives of people.
Inventing the story of any product, even if not obvious at first, from disposable batteries to an all-terrain vehicle, would be the hallmark of Lee Clow's career. From his beginnings in the Chiat/Day agency to the absorption by TBWA in 1993, an agency founded in Paris in the seventies. The man who has sought emotion in the coldest: the creation of needs through advertising campaigns. Regardless of the debate we could have with Don Draper about whether this purpose is legitimate or cynical, it is undeniable that the creative contribution of Lee Clow has been tremendous; launching new products to stardom or resurrecting them with the touch of a deft hand.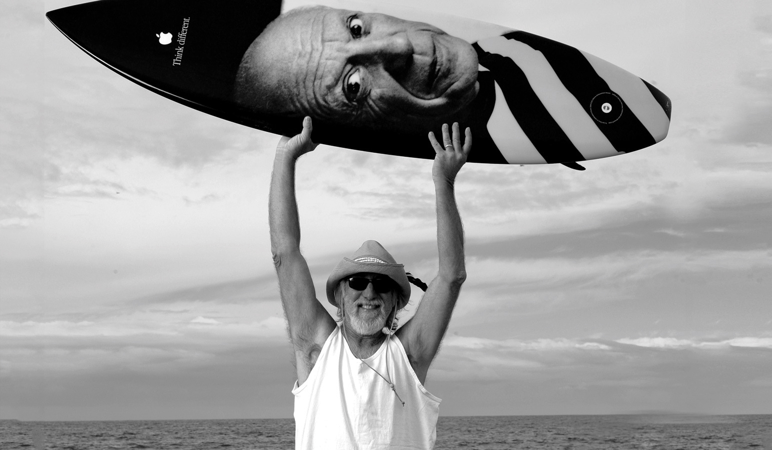 His colleagues remember him in shorts and sandals, always ready to go surfing after a meeting. A beach boy who would not lose his informal stamp throughout his entire career even to collect great prizes, such as the Lifetime Achievement Award at the Clio, two Grand Prix at Cannes for his Gatorade Replay campaign, and finally the Lion of St. Mark from the same festival.
On February 14, 2019, Lee Clow broke a few hearts by announcing his retirement from the world of advertising. He thus leaves his post at the head of the agency TBWA\Media Arts Lab and as artistic director of TBWA Worldwide, and marches with his head held high as one who knows he has reached the height of the advertisers of old such David Ogilvy, Bernbach and Dusenberry, and of Clow's own heroes like Dan Wieden and John Hegarty.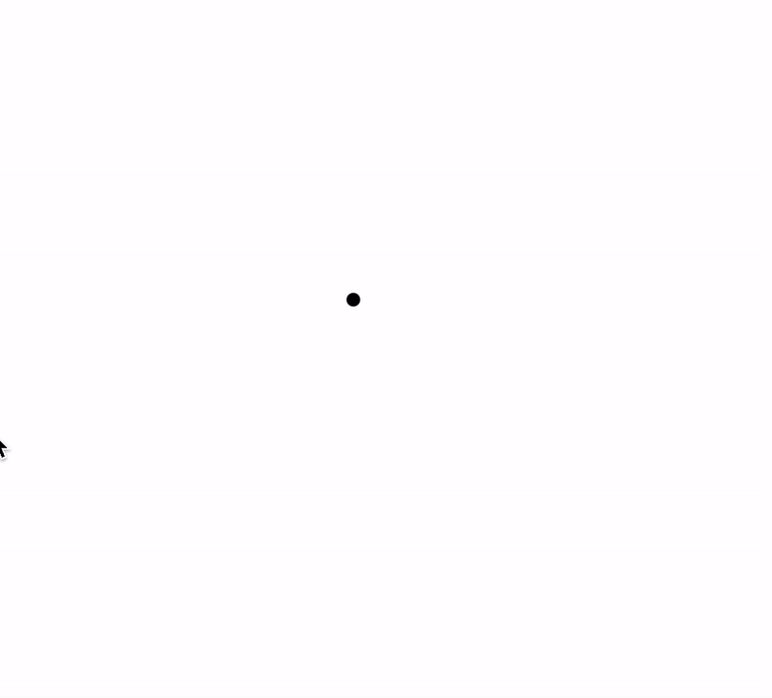 He leaves his position with a portfolio full of triumphant campaigns and shelves full of awards. Although no longer going to work, his name is already in the Advertising Hall of Fame and the American Marketing Association's Hall of Fame. It is not strange that in his farewell speech he declared:
"The years I spent doing this thing called 'advertising' have been fun: challenging, rewarding, maddening —sometimes painful— but mostly, joyful."
The media referred to Clow as a "guru of artistic advertising management", something that may seem more derogatory than honorary nowadays, and shows that not even he, the most reputable of professionals can make friends everywhere.
His genius, say those who worked closely with him, was to synthesize any concept: from a wall full of scribbles he was able to extract the simplest and brightest idea.
But his genius also had a dark side: some publicists, especially the younger ones, lived in terror while working with Clow. And not only because of the pressure of being next to the great one, but because of his direct, overly harsh, treatment. Does that sound like a description of a genius?
"During his long partnership with Steve and Apple, Lee told powerful visual stories that elevated new technologies with the passion, creativity and ingenuity that define our own humanity." | Tim Cook, Apple CEO
Indeed, the name of Steve Jobs usually appears linked to that of Lee Clow, because both shared the most difficult thing to maintain in this industry: a long-standing personal and professional relationship marked by milestones, both in technology and advertising.
What was first, Newton or the apple? Lee Clow's personal friendship with Steve Jobs
Technology evolves at an ever more devilish pace: does it thrill you or scare you? Lee Clow was always on the side of excitement, and firmly believed in overturning all the creative resources in promoting an uncertain technology that, we now know, ended up being confirmed as revolutionary.
According to Clow, to contribute something special in the promotion, the product must also be. Clow supported Steve Jobs throughout his life, even if they did not always work together. In 1981 Chiat / Day acquired the agency Regis McKenna along with a 5-year contract with a startup called Apple. Clow was already in his forties and Jobs was an impetuous young man full of ambitions. In a few years, Jobs and Clow would change the face of technology and advertising, but in 1986 Jobs left his post, Apple went to the agency BBDO and the two creatives would not work together again until 1997, after returning Jobs as CEO of one of the largest companies in the world.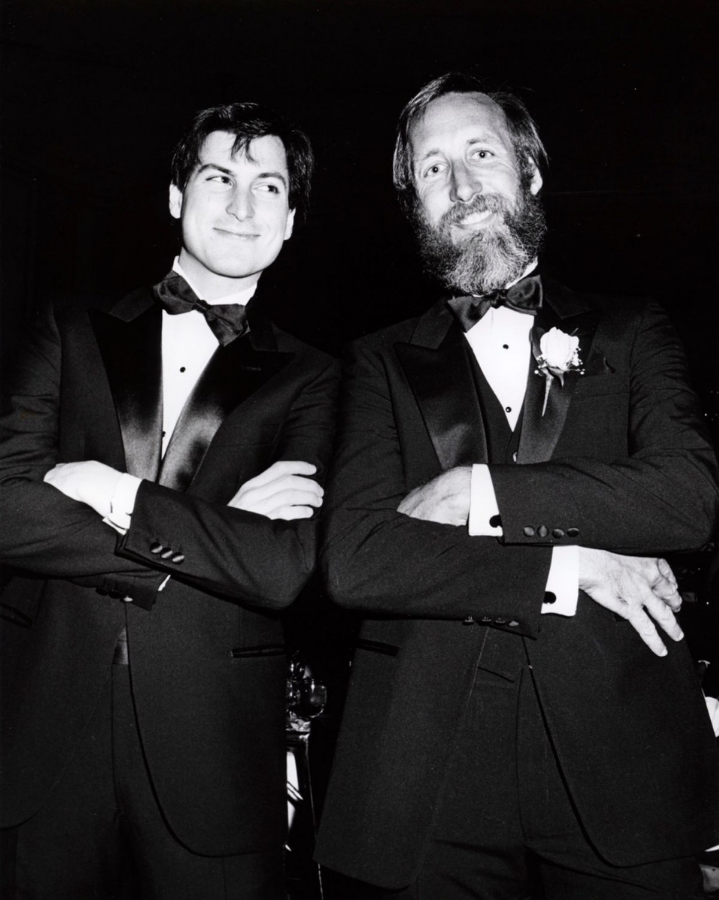 The collaboration between Lee Clow and Apple would be exclusive again, to the point that in 2006 Clow would launch the agency TBWA\Media Arts Lab to work with Apple as the only client. This prolific stage would begin with the famous campaign Think Different and would include the launch of the iPod Silhouettes in 2003 and the first iPhone in 2007 with the Hello ads.
"To have the privilege to express the passion and the genius of the man and the Apple brand was, of course, the "e-ticket" ride of my career. No other client loved telling the story of his brand more than Steve. He loved the advertising part almost as much as he loved the inventing part." | Lee Clow
It was not easy to work with Steve Jobs, but sometimes not with Lee Clow either. In a way, their two temperaments adjusted to be able to collaborate for 30 years. The passionate outbursts, which some attribute to an authoritarian character and others to the creative genius, were common with Jobs and Clow, according to employees of Apple and Clow's agencies.
The New Storytelling: The day 1984 began
For his portrayal of Steve Jobs, screenwriter Aaron Sorkin chose to show the man at three key moments in Apple's history: three releases and product presentations, but seen only from behind the scenes, just before Jobs took the stage.
It is not common to narrate the story of a famous personality omitting the stellar moments, but little in the history of Apple would ever be known as cliché. Lee Clow always opted for what he called "New Storytelling" or new way of telling stories, just as Jobs presentations were dramatized moments and prepared to the last detail.
Clow and Jobs agreed that it was necessary to create new myths to sell a product and do justice to brand ideals. From their first collaboration would be born not only a legend for Apple, but for every American in January: The Super Bowl ad.
Clow took the title of George Orwell's dystopia in 1984 to launch Apple's most famous ad, although it was officially released in December 1983.
The piece lasted a minute, was directed by a rising Hollywood director, Ridley Scott, and cost almost a million dollars. The Apple committee did not agree with these three extravagances and the announcement came to light despite its lack of support. Jobs was wholly onboard with Clow's idea, defending the ad's release as part of making a simpler computer, the Apple Macintosh.
Although it was not at all evident that it triumphed, the 1984 ad was a resounding success, it marked a milestone for advertising agencies and initiated the tradition of the point of high production of the Super Bowl for the intermediates of the television broadcast.
How emotional branding made Apple the most valued company in the world
At the beginning of Eli Horowitz's Homecoming series, the character of Julia Roberts uses the term 'holistic' to the great horror and repulsion of her boss. Thinking about changing the focus on the traditional has always been a difficult exercise for senior managers, and the main creative goal of Lee Clow.
Indeed, his approach to advertising creativity could also be described as holistic: Clow defended each ad as a work of art aimed at provoking an emotion or a visceral reaction in the consumer. Everything is advertising, just as everything is art, or emotion, or connection between people and ideas. That emotional branding, so characteristic of Apple, would be Clow's way of working in all his projects.
Perhaps the turning point for this approach to advertising occurred in 1997 rather than 1984, when Jobs wanted to mark his return to Apple with a single campaign: Think Different, think differently, the mantra of the two geniuses throughout their career.
Think Different would be the first commercial advertisement to win an Emmy Award (another proof of how Clow has pioneered many new advertising industry traditions). And, as its title indicated, the triumph was based on a different perspective on what kind of impact an advertisement should cause.
The most paraphrased passage of On The Road by Jack Kerouac begins with «The only people for me are the mad ones, the ones who are mad to live…». The most celebrated scene of La La Land (2017) shows Emma Stone singing «Here's to the fools who dream, crazy as they may seem».
The slogan of Clow's 1997 video, Here's to the Crazy Ones, which showed images of Einstein, Gandhi, or Martin Luther King Jr., can be seen as a well-exploited opportunity: to understand where the most deeply rooted concerns are in people, use them to provoke a feeling and, finally, link it to a brand spirit.
Again and again, throughout history, the passionate and the crazy people have received little attention while changing the world. Jobs altered the status of genius in the 20th century (well positioned, revered above patrons). Clow understood his speech and how it could resonate with the ordinary person, who also wanted to change something and achieve a passion: «The brands to admire are the ones who know who they are and stay true to themselves in every expression».
The most influential ads developed by Lee Clow and the TBWA agency
Lee Clow's creative catalog is so overwhelming that it would be impossible to tackle it in a simple image gallery: from Porsche and Toshiba to Pizza Hut, Reebok, Adidas, American Express and Microsoft, through the invention of the famous Energizer bunny and his slogan "Keeps going and going."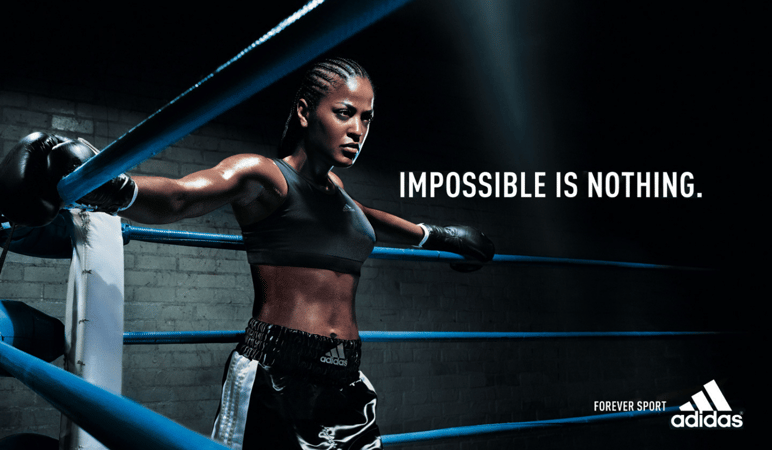 Pedigree
If he had not dedicated his life to advertising, we would surely have found Lee Clow sponsoring homeless dogs in a shelter in Los Angeles. His manifest love for dogs offered the perfect opportunity in the campaign for Pedigree, a manufacturer of pet food.
Under the slogan Dogs rule, Clow's ads for Pedigree combined the simplicity of design typical of their style with a series of texts that sought to make a deep impression among animal lovers (and their detractors).
Halfway between the campaign to defend the rights of the dog and catalog of precious breeds that everyone would like to adopt immediately, Pedigree ads show how easy it is to use emotional design where it hurts most: our best friends.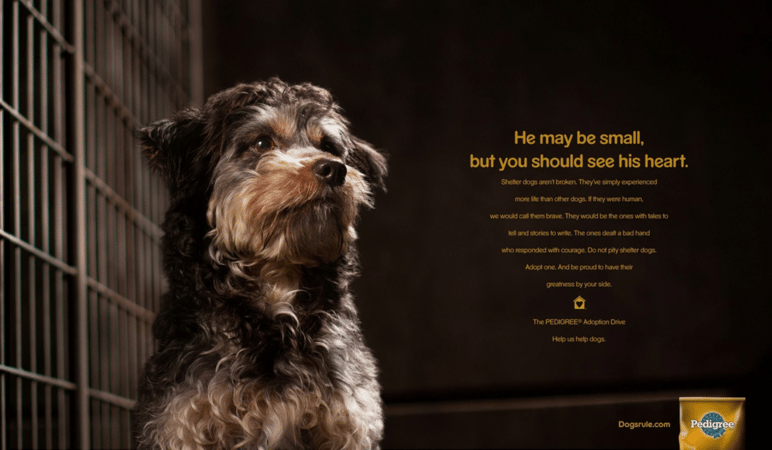 ABC
In the television of the nineties it was common for the chains to reveal their big releases in the summer, before the return to routine. The current need for a stream of constant content has left this trend behind a little, but when ABC fell into Clow's hands in 1997 the campaign was truly important.
The TBWA agency opted for a controversial approach that drew many criticisms. Instead of promoting the new content of the ABC network, the announcements were simple attention calls about our dependence on television. Made with yellow backgrounds, they were impossible not to see on billboards and magazines. Some frowned and others smiled when they saw that the motto of the campaign, TV is Good, was an ironic contrast to the slogans ''Don't worry, you've got billions of brain cells,'' and ''Life Is Short. Watch TV.''.
The joke did not sit well with everyone, but Clow had hit the nail on the head again thanks to his secret: understanding people's emotions and knowing how they really think; everyone likes television more than they want to admit or recognize is healthy.
Nissan
Although Clow would end up working with several car manufacturers, Nissan was always an important project for him after the Chiat / Day agency won the account in 1987.
Built for the Human Race was the inaugural slogan that year, and the one that would mark a trend in Nissan's advertising career. Again, Clow knew how to look for the emotional depth of an inanimate and functional object, emphasizing the importance of the things that advertising sells being at the service of people and improving their lives, and not the other way around (although sometimes it seems the opposite).
Unfortunately for Clow, the Japanese company did not maintain its enthusiasm for him over time and eventually gave up collaborating with him after the mediocre results of the expensive campaign Life's a journey. Enjoy the ride, with the iconic Mr. K.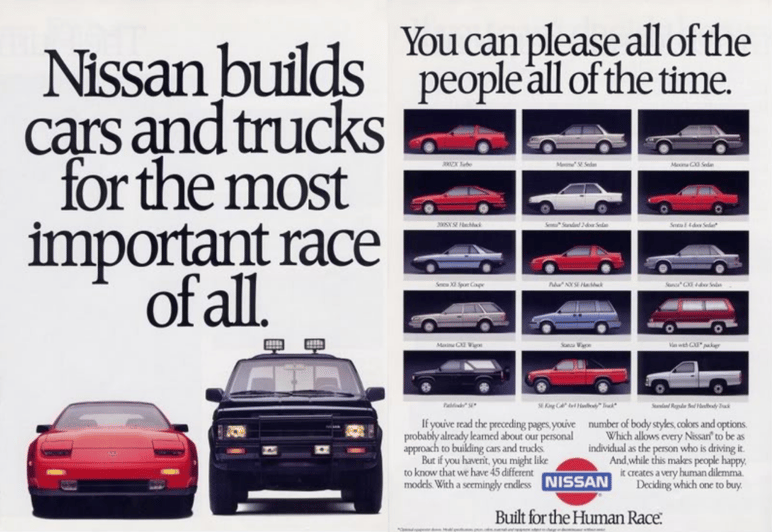 Taco Bell
Lee Clow's career has not been a constant path of roses, shown by the rejections of innovative campaigns that did not go as well as expected. Nike, Levi's, PlayStation, Pizza Hut, American Express, Honda, Skittles, Tag Heur, Chivas Regal and even Pedigree ended up giving the kind (or otherwise) letter of dismissal to Clow's creative team.
However, Clow's professional break-ups are not the opposite of the success of the loyalty demonstrated by Apple. The quality of the ads developed by Clow should not be questioned as much as the certainty that an advertising style serves all brands and audiences.
In 1997 Clow would take the reins of the campaign for Taco Bell, from which would be born the popular motto I Want Taco Bell and the chihuahua shown on its simple posters. Simplicity, or the genius of associating topics with a fast food chain whose main client does not know anything about real Mexican food?
At the end of the day, it does not matter how many people repeat your catch phrase, but how many have actually eaten a burrito. Taco Bell also was not happy with the sales figures after the Clow campaign, and so they too let go.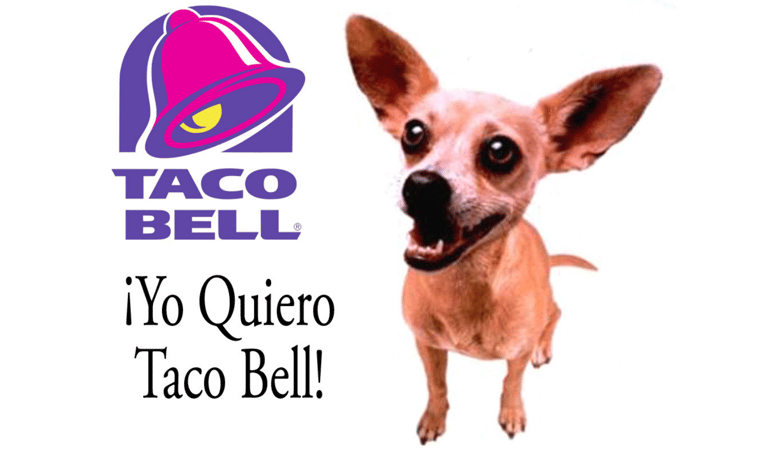 Shortly before his official retirement, the announcement of TBWA for Gatorade, Heart of a Lion, was voted by YouTube users as one of the best videos of 2018. Interestingly, one of his latest works for Apple was titled Welcome Home, although it is possible that Clow has been in his element for many decades, one of those precious and rare persons as defined by his friend Jobs: «It's rare that you see an artist in his 30s or 40s able to really contribute something amazing. Of course, there are some people who are innately curious, forever little kids in their awe of life, but they're rare».
And now that his career comes to an end, the work does not really stop, and his legacy, like that of Steve Jobs, keeps going and going...
"We must learn how all media elements (old and new) can, and should, work together to do what the job has always been – to invite people to meet, know, trust and, hopefully, love your brand; not just for what you make, but for why you make it." | Lee Clow