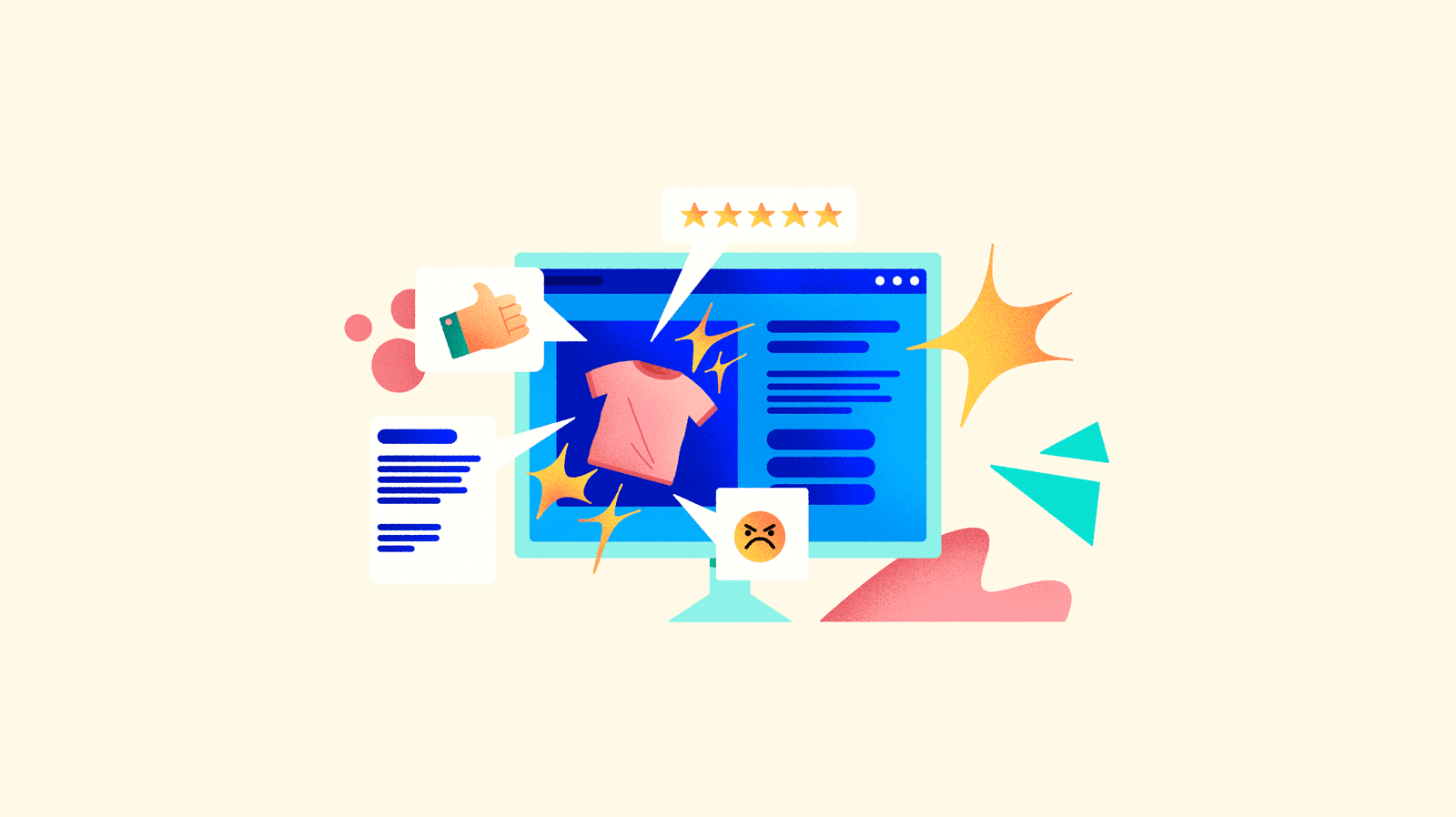 2021 guide to the omnichannel experience in fashion and apparel
Since the sales season at the beginning of the year, one of the most common complaints (and the one that causes the most returns) concerns problems with choosing clothing sizes online.
It's almost impossible to figure out how an item will fit an individual if they cannot try it on first. However, this can be greatly improved through a shopping experience designed for customers.
The omnichannel clothes-shopping experience should study current customer behavior in order to ensure their satisfaction, participation and engagement with the brand.
It can often be difficult to find online fashion catalogs that fulfil the public's requests when it comes to presenting content and, as a result, the management of product information.
According to experts in the fashion sector, there are many challenges ahead for 2021 – faced with recent changes that affect both the fabric of the business itself and consumer behaviors.
Product content: the key to omnichannel fashion sales
The proving ground for fashion manufacturers and sellers is in product content. Through this, they can make contact with their buyers and within their commercial networks.
Those fashion brands that already enjoy a huge and loyal audience can start to experiment. The shopping experience for a Burberry product is very different from that of a Target shop, as the former is targeted towards people with higher purchasing power, while the latter is directed towards a younger audience.
Product content is a key element that needs originality, quality, personalization and the technology to automate text and data maintenance.
Stand out from the competition with unique and original photographs and texts.
Add value to the product by calling on its sensory and emotional aspects.
Invite visitors to share on social media and follow brand profiles.
Meet the seller requirements regarding product pages on marketplaces like Amazon and Google Shopping.
Improve your product pages' and online store's positioning on search engines.
Respond to buyers' doubts and reduce customer service queries.
Increase conversions by giving precise information that generates greater satisfaction and less returns.
Unify your brand image and product information across all channels, generating more confidence in buyers.
PIM systems (Product Information Management) have become the essential software within the fashion industry for compiling, standardizing and distributing product information. A PIM platform will be a great support in implementing the following tips and improving your shopping experience in 2021.
This year, it's more important than ever that the fashion sector boosts its digital and omnichannel shopping experience, with a focus on customer satisfaction. Here, we offer you our 2021 guide for fashion manufacturers and retailers opting to integrate and standardize high-quality content across all sales channels.
7 tips for an excellent clothes-shopping experience

Define your product range appropriately for your target
How often do users see an Instagram advert with a beautiful dress... that ends up costing thousands of dollars?
Positioning your brand well means making your products visible to the right customers. Today, there are more and more fashion brands and sellers launching online. That's why it's important to correctly tag your collections and catalogs in order to improve your online search-engine positioning and allow your target audience to find you more easily.

What differentiates your fashion products? Are they organic and sustainable? Unisex, for women, men or children? Do you offer specific and original accompaniments and accessories? Is it luxury, exclusive clothing, or more affordable? Slow fashion or fast fashion? Does your brand fit into a trend like athleisure?
Each type of fashion within the sector has a host of keywords that encourage better positioning, and a type of brand image and philosophy that you should translate consistently across all social and sales channels.
Pay special attention to the mobile shopping experience
Shopping is becoming increasingly social, and the quickest way to view and share content is through smartphones or mobile commerce.
Brands need to take care when designing apps and responsive online stores, for which product content should be directly and clearly featured, adapted to smaller screen sizes.

On smartphones, there's no room for general images and long texts, so you'll need to highlight the essential details for this type of shopping: high-quality images, price, sizes available, variations, stock, physical store locations (if these exist), and delivery costs and times.
This also applies in shoppable pages on apps that include native shopping, like Facebook or Instagram. The user needs to be able to clearly view the product image, the price label and the different variations available, allowing them to buy it in a single click.
Include images of the garments' details
Fashion has always relied on models, and these types of photographs are still very important today.
In this age of digital shopping in which buyers cannot touch the garments and view them up close, it's essential to include images of the garment's smaller details, as well as in-depth descriptions in both text and list form.
Fashion consumers will feel more convinced and satisfied the more they know and can see about zips, buttons, buckles, embroidery, beading, or fabric type, etc. It can even be useful to see the product's inner label with the brand logo – reassuring the customer that the item is authentic.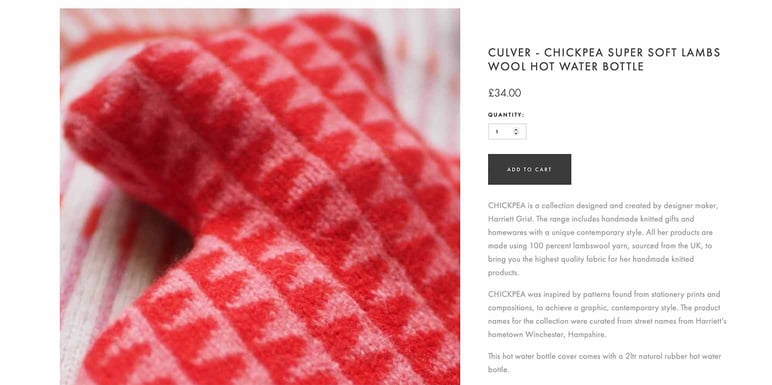 Opt for original product descriptions
Fashion appeals to the eye, and in many online catalogs – particularly in mobile versions – you won't find a single description of the garment.
However, for certain categories, a unique description can help to narrow down the customer's search. For example, when it comes to a dress for a special occasion, you could add more information about how the fabric feels, how delicate it is, which trends it fits into or if it can be used for other occasions.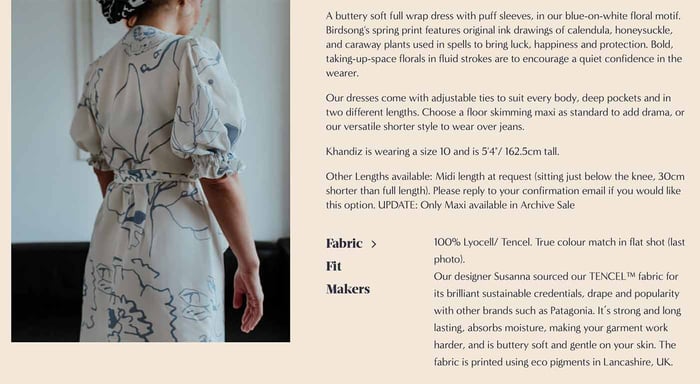 Appealing to the consumer's emotions and psychology is important in product texts, for two reasons. On the one hand, this way, buyers feel closer to the brand and the product, avoiding a cold and detached experience. Another essential reason is that original descriptions make products stand out from other similar items and boost positioning on search engines like Google or marketplaces.
There are so many wellingtons, jackets and headbands out there that the omnichannel consumer is looking to read something original that makes an item stand out from the rest – whether in a Google ad, an online store, Amazon or on social media.
Constantly highlight your new items and launches
In the world of digital commerce, updating frequencies have become highly accelerated. Maintaining this rhythm is only possible for fast-fashion brands – something which many buyers are starting to question from an environmental point of view. However, there are other ways of staying up to date for fashion consumers.
The key is to highlight new products, or those restocked for a limited time only. For example, the brand La Casita de Wendy generates expectations by continually relaunching very popular products in limited runs, announced on its online store's social media, newsletters and banners.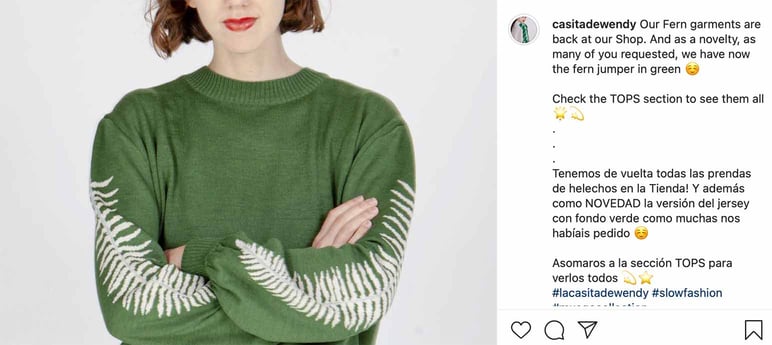 The most important thing is to offer a sense of renewal to encourage users to regularly visit your channels. Keeping up to date doesn't mean launching new garments every week – it can also be useful to highlight existing collections in an attractive way, or in guides for special seasonal events.
This encourages loyal followers to revisit your catalog frequently and find products that they may have previously overlooked.
→ The definitive checklist for your next product launch
Customization is the best complement to your experience
Fashion is a paradox: these are goods that are accessible to everyone, yet at the same time, the buyer wants to feel unique.
Luxury brands have long been experimenting with personal shopper services and mobile apps, but any fashion brand or seller can personalize the shopping experience, with less resources.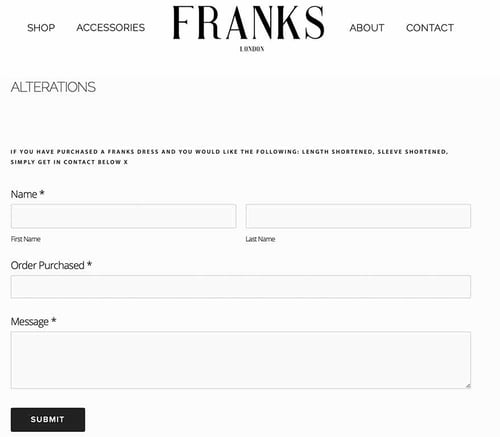 Sometimes, this can mean offering the opportunity to customize the garment (embroidery or color ordered on demand). But when we talk about personalized consumer experiences, we mean ensuring that the omnichannel journey is oriented towards each user profile.
For this, you'll need to apply analytics and online activity trackers that allow you to understand your followers and visitors' viewing and purchasing habits, and subsequently show them web content, ads and emails adapted to their tastes.
And finally, make sure your size guide is as clear as possible!
We said at the start and we'll say it again.
Being very specific with garment sizing information will save you countless returns and exchanges in fashion ecommerce businesses. We recommend including one or several reference tables on every product page, with standard sizes adapted to each country, as they may use different size units.
But don't stop there: add original comparisons in your fashion-product content to improve your sales conversions. For example, the English clothing brand Joanie Clothing includes photographs of its garments on models with different body types and sizes.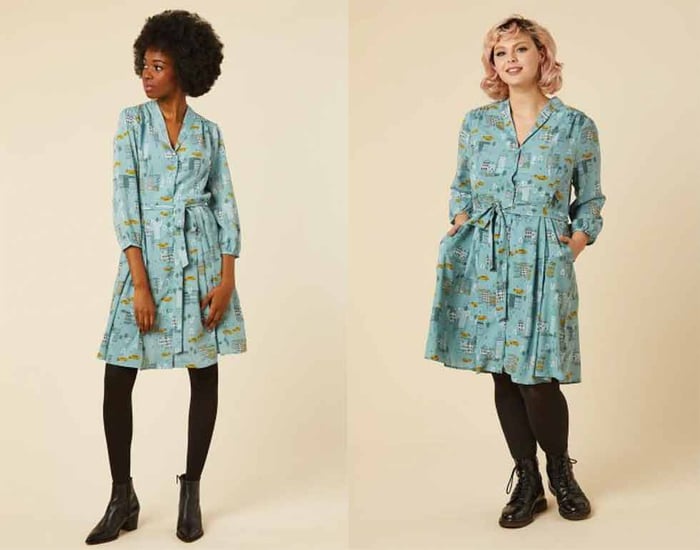 With digital shopping on the rise, online reservations and options to try on in store before buying are also becoming increasingly popular in the fashion sector. When it comes to omnichannel integration models with physical stores, it's essential that all channels share the same information and make it easy for customers to combine both online and offline payments and collections.