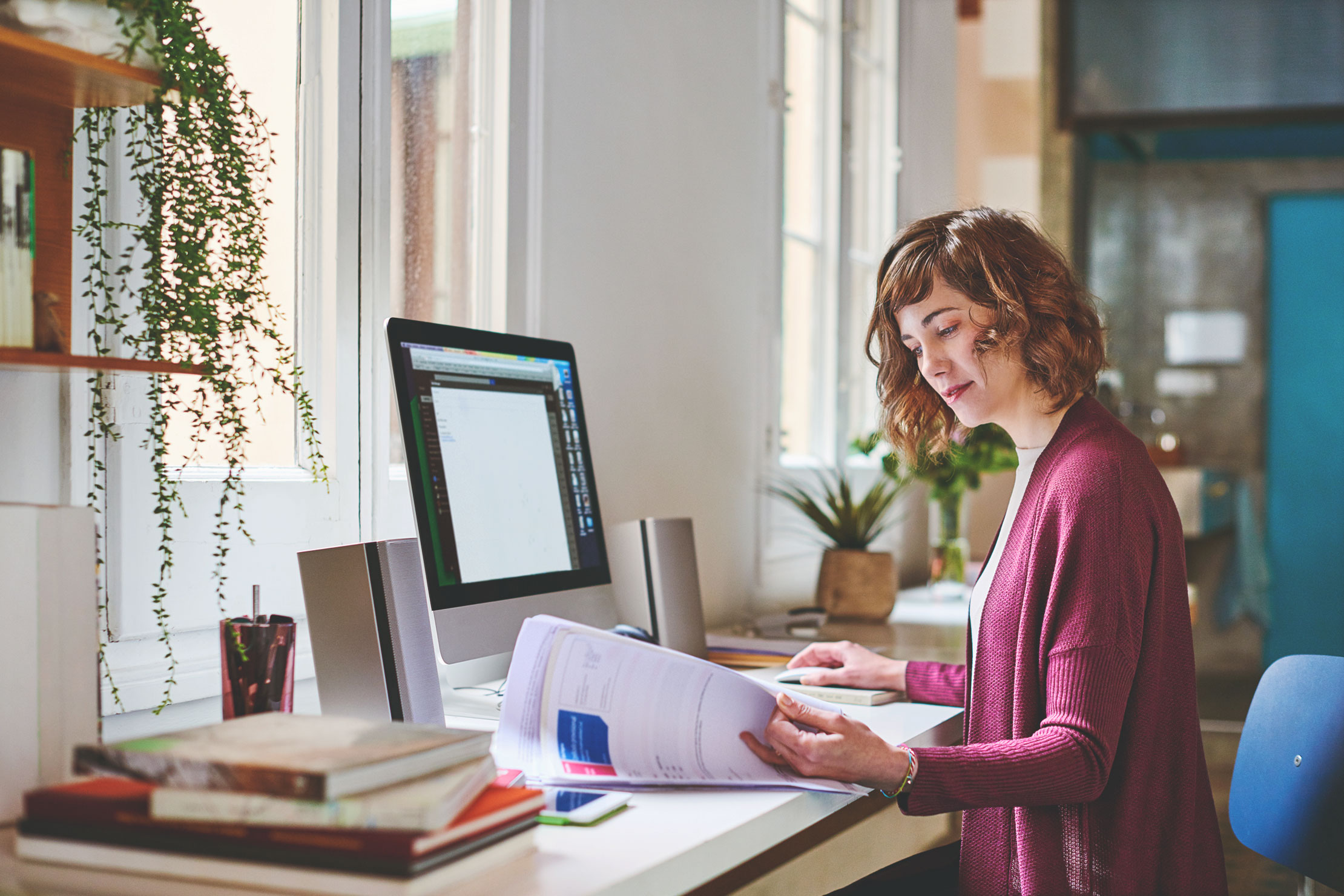 Maybe our addiction to work these days goes beyond a simple desire to complete more and more tasks: offices are getting increasingly comfortable. Directors who are less progressive may ask themselves if they're actually a little too comfy: nowadays a person can do almost anything without leaving the workplace – from going to the gym or unwinding in the café, to even doing the week's shopping.
Table of contents
Is this the office or Tesco? New retail consumer habits from the workplace
Nowadays you don't need much to be able to access the world, just a screen and an Internet connection. People's daily habits have changed radically since it has become so easy to access any kind of service, at any time and from any place… including from the office and during work hours.
"

The most common activity is to open Google and type in some keywords: from their office a person will skim through the top results. Achieving a position among those top results is of great benefit for gaining increased clicks and sales."
The most effective way to do that, both in search engines and Google Shopping, is by using good quality content as well as software that allows you to automatically revise, enrich and update it (such as Sales Layer PIM, official partner of Google).
Doing our shopping online is normally associated with moments of leisure and relaxation, but we also buy a lot of things through necessity, urgency or last-minute convenience. If a temporary offer comes up, users are going to want to take advantage of it immediately, as happens on Black Friday or during sales: on many of those days, people happen to be spending most of their time at the office, and a poll revealed that 75% of workers do a bit of online shopping from the office on Cyber Monday.
This also affects the relationship between buyers and sellers, given that the momentum of online trading is accelerating. Traditional channels are no longer a safe bet, while demand can surge at any time of day. And when you're at work and can't run to the corner shop, or there's a risk that a product will become unavailable in a few hours… you can always turn to the Internet.
Critics might assume that shopping online while at the office must be a distraction, whereas in fact it's a social phenomenon that's adapting itself to new habits or behaviours. Work hours and systems are becoming increasingly flexible, so companies who haven't yet developed a good digital presence will be losing a vital access pathway to sales.
According to some studies, the average duration of Internet enquiries made from the office varies from half an hour up to 2 hours a day, increasing at certain times of year such as the Christmas period: that's up to 2 hours daily of sales opportunities which companies would be well advised to study and make use of.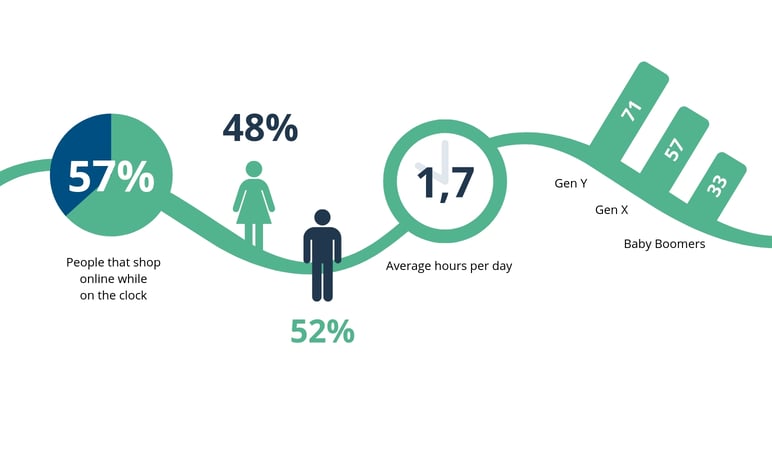 How to generate sales in the office
The main drawback of selling online is the absence of sales assistants. So for both personal and professional shopping, the user is going to make a decision based on your main online commercial representative: the product content.
"Information provided in an online store has to be very quick to resolve questions and doubts; a user will spend on average just a few seconds on a webpage and decide whether to click, or to move on to another page."
For office-based browsing, the pace becomes even faster. The shopper cannot usually make a call to customer support, and sometimes they are shopping with a degree of remorse or guilt (because they should be attending to some work-related task instead), or they're in a hurry to avoid losing precious minutes on the Internet. This means that buyers need to find whatever key information they are looking for, and fast.
Good quality product information is going to be the winner in this new digital marketplace. So you should not be found without the software tools for distributing detailed product information which is error-free and well synchronised across multiple channels (webpage, mobile app, marketplaces like Amazon, etc.)
When it comes to taking the final step over to digital sales channels and catalogues, remember Sales Layer is the first Product Information Management tool designed to help commercial departments take full control of these continually transforming digital markets. The progression to digital in the trading of products and services is no mere prophecy: it's not only inevitable but it's spreading everywhere… even to the computer screens of many of your office colleagues.
In what way do users shop from the office?
We mentioned how comfortable modern offices are, and likewise in digital shopping one looks for the greatest possible comfort.
Is there anything simpler than leafing through a catalogue that offers a wide choice of options? Viewing online catalogues has many advantages over the outdated paper sort: you can compare many more options at the same time, and as you're already on a desktop computer (the device most commonly used in offices), it doesn't appear to be such an idle activity as turning the pages of a book. Additionally, we can consider another important factor: that it no longer involves first browsing then having to wait until the evening or weekend to be able to get hold of that hiking equipment you've set your heart on, but instead you can click instantly on the 'buy now' button.
Nowadays the trend is for users to spend less and less time viewing each product, and especially so at the workplace, where visits to the web are even more fleeting than in their leisure time. Photographs on Google, Amazon or eBay listings are barely glanced at. Gone is the old-time loyalty to a brand, and most of the buyers who are browsing from their office are seeking the 'highest bidder', the most attractive product on a great digital showcase.
And on these display shelves the only vendors who can stand out are those who have quality to offer, not only of the product itself (which the customer cannot fully perceive by online means), but through the resources used to display it. Such resources include product information and images as well as design presentation on channels that you, the seller, can control, such as your own online shop and adverts on third party websites and social media.
→ Get ZERO shopping cart abandonment rate with this guide
Break the office routine with quality information
For many people the word 'office' is still synonymous with dull routine and stress. Indeed, apparently, there's a peak on Mondays in online shopping from the office. At weekends people want to spend more time on social or personal activities, while shopping is considered just one more task to be taken care of during the week.
"Where online shopping from the office is concerned, a greater impact will be achieved by having a distinctive element that can attract attention among the usual array. And it is not usual to find really good product information."
For a product listing on Amazon or on your website to be complete and effective, it doesn't mean it has to be long-winded and drowning in technical data. Quite the contrary, it means giving just as much detail as is necessary to meet consumer expectations for a particular product: the essential details they'll need to know from the start, in order to gain confidence in a brand. If it's for a camera, it would be the megapixels. If it's a coat, it would be the available sizes. If it's a water bottle for the gym, it'd be the durability and other buyers' reviews.
Price continues to be the key factor in any buying transaction, but buyers look for a balanced deal. They aren't willing to just pay the lowest price for any item; to make a purchase it matters a lot how convinced they feel by the online presentation of a given product, and by extra details like shipping method and delivery. Does your shop offer an express service for same afternoon delivery? An option for buyers to receive packages at a reception service or collection point while they are at the office?
Other relevant factors include images at the correct resolution, homogeneity of product data and translation: all of which are digital factors that can be easily managed with PIM software.
Attract new fans at the office: Distribute the best product information
Think about the phrase "office sales". Images traditionally come to mind of thick catalogues displaying office chairs, staplers and hardware. But sellers have to think that office retail is no longer limited to materials for the workplace, nor to conventional channels like presentations at business trade shows .
Moreover, according to some estimates, those workers who spend more time online shopping from the office belong to the generations Y and Z, that is, the under-35s. If your buyer profile corresponds to these consumers, you'll have to consider whether you might just be missing out on a window of online shopping and retail opportunity.
Every day, from their workplace or desk people are busy buying the latest release of a video game, ballet shoes for their little daughter's rehearsal, a handle for the fridge door that got broken last night, or an HBO subscription to be able to watch Game of Thrones without missing out on mealtime gossip.
The distribution of product data and catalogues through digital channels is essential to be able to penetrate this new market, not least to withstand the competition. Changes in consumer habits are happening so fast that keeping up to date with management and distribution technologies is the best way of reacting rapidly when faced with current fluctuations, and those that may occur in the future.
For a successful outcome, the first step is to understand the wishes and habits of those consumers of a product niche or industry. What kind of requests for specific information and content they might have, what channels they most often use for browsing and buying, and in what time slots they show most activity.
"46% of workers shop online during tea-breaks or lunchtime. 29% keep a tab open on their computer all day long."
Such information is valuable for understanding the information management needs of a company's product catalogue, and the type of marketing strategy it should develop; for example, adapting the ads it places on social networks according to the periods of activity during office hours, of users from a potential demographic sector.
→ How IKEA doubled its sales with quality product information
Final thoughts
Sales Layer is designed to ensure a solid strategy for the collection, management and distribution of product content on all normal consultation channels, such as our official connectors with Google Manufacturer and Google Shopping, as with Amazon and any other channel you might need. Although many other tools offer automated functions, few will bring the added value of a customised design, scaled up or down and tailor-made to suit each customer, their respective sector and distinctive features of their catalogue.
For that reason, and even if you are reading this during office hours, we invite you to take a few seconds to discover everything you and your company might gain, whether it's an increase in online presence, benefits and customer numbers or just saving time… that you can then spend doing your own online shopping.