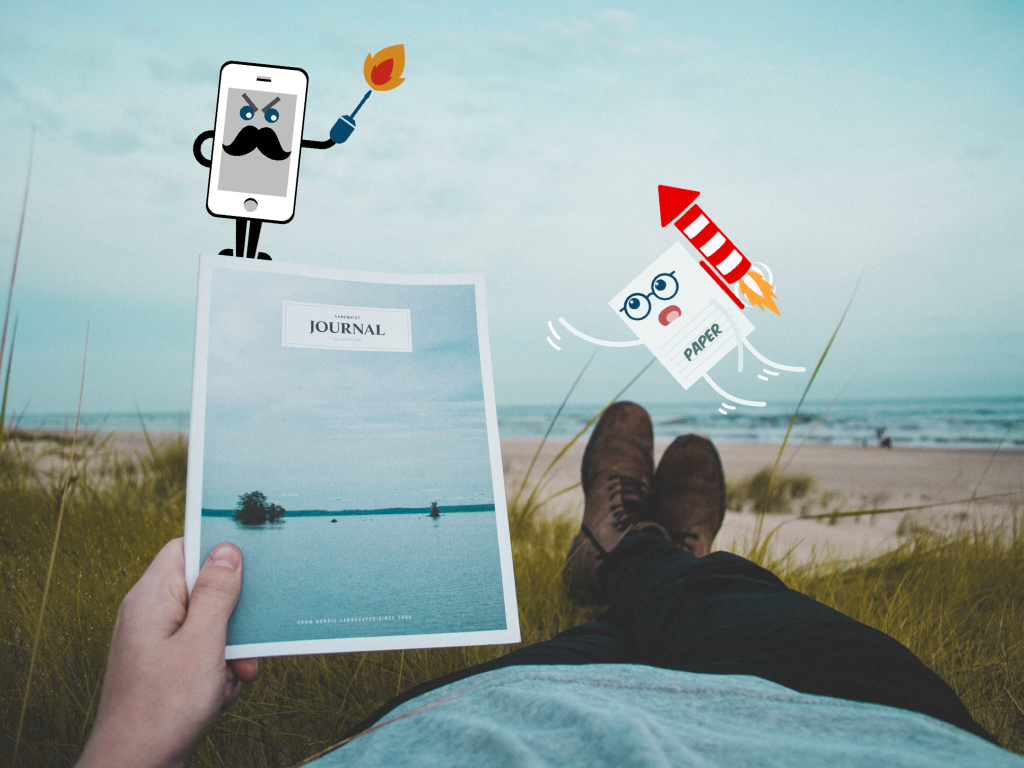 I want this! I want this! I-WANT-THIS!
How many times did you shout out that as a child, while you were marking your favourite toys in the Christmas catalogue with a pen? Some brochure made up by a designer with so much love was then suddenly turned into a drawing and writing platform for young children. But the catalogue had fulfilled its purpose: to reach its target market and encourage a wish that Santa (pssst: the parents) would take care of for it to come true.
A very dangerous factor intervenes here, and it's the number one enemy of any online business: nostalgia. If there's somewhere we have to look towards, it's the future, and not the past. Not even childhood bliss. But despite all the new tools and technologies that we talk about, paper catalogues are still appearing in letterboxes, on doormats and among piles of publicity at shop entrances. How is this possible? What is this waste all about during a time of needed ecological awareness? Did you make a good decision when you stopped printing your catalogues, or was it a very bad decision?
Paper never dies, it just gets recycled
The good news is that none of the options are wrong, and paper isn't as much pollutant as we might think. The renowned magazine Forbes has already asked in 2012: "Why do we still need to distribute and receive catalogues?" What is the reason when we have the convenience of iPads and smartphones, and if consumers and manufacturers complain about the annoyance of receiving and paying for paper catalogues?
Throughout the year, 90% of the population receive printed catalogues of some kind in their letterbox. This figure mustn't be used for the astonishment of the immortality of an obsolete format, but to realise that there is still a huge exhibition channel in that medium, which is often disregarded. And if many customers and brands raise an eyebrow at the paper format, it's not due to the medium itself, it's because something is wrong. We need to stop considering the printed catalogue as an out-of-date and nostalgic format, and be appreciated as a diffusive platform, which is able to evolve and fit in with digital alternatives.
The catalogues that end up in the trash bin after having been barely flicked through are those pages stapled together with a lot of photographs of squeezed in objects, without any attraction; the type of catalogue which only used to excite stamp collectors and children twenty years ago. But people like to have something tangible because after working nearly the whole day in front of different screens, it can be a more relaxing experience to read something on paper than to visit an e-commerce website.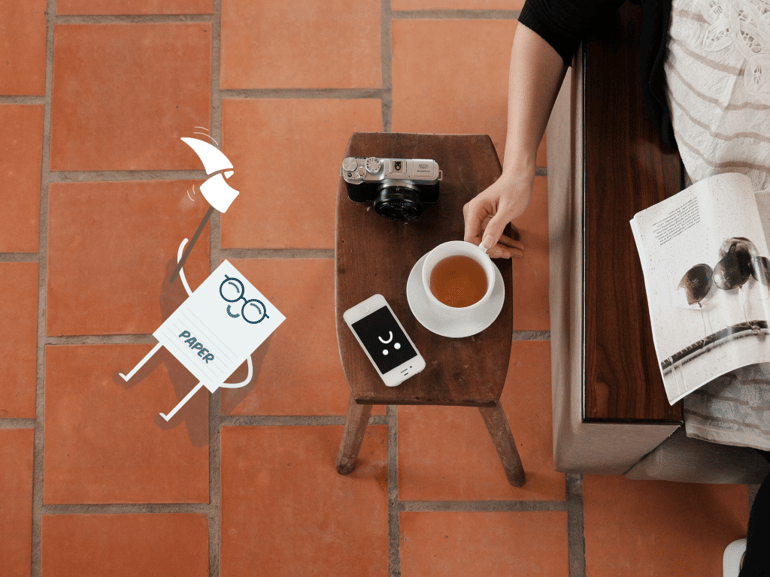 The reasons behind why paper catalogues work is due to two areas:
Marketing: A physical catalogue is an accessible source that provides basic first hand information, it attracts customers to the shop or the website, offers attractive discount coupons, and reaches sectors of the public in areas with restricted internet access, or where studies have indicated that the brand is consumed less. It also opens a window to the future thanks to interactive techniques like augmented reality or QR codes, which are now in decline. An example is the catalogue by the Juguettos chain, which encourages votes for a favourite toy and to visit the online shop. It's hoped that this interaction leads to a purchase, but it doesn't force a direct purchase, and it lays bridges in the experience of multichannel shopping, which is key for the present and the future.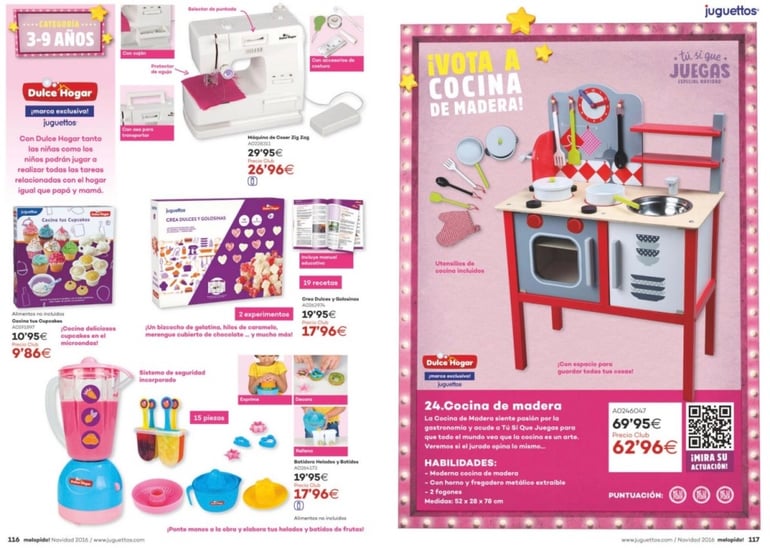 The Human Brain: None of this was invented by a group of publicists, but it has neurological explanations. In a study sponsored by the Office of Inspector General (OIG) of the United States Postal Service, the eye movement and other biometrics of various people were analysed while they were looking at paper and digital catalogues. The results show that the users spent more time looking at something on paper than on a digital format, although they didn't seem to prefer one medium than the other at the beginning, and the measurements revealed that paper causes a greater emotional response, a bigger desire and more memory retention. The online catalogue has a low cost and a low retention impact, whereas the paper one is more expensive but it supposes a greater impact.
We can't talk abstractly: just as all paper and prints are not of the same quality, the type of screen also has an influence in a digital search. In a battle between paper and a large screen, the winner would be the latter, but paper would win against a small screen due to the eye and thumb fatigue caused by smartphones. The most similar between both channels is the screen of a medium-sized tablet that has the size of about a traditional catalogue and simulates the experience of turning the pages with a couple of fingers.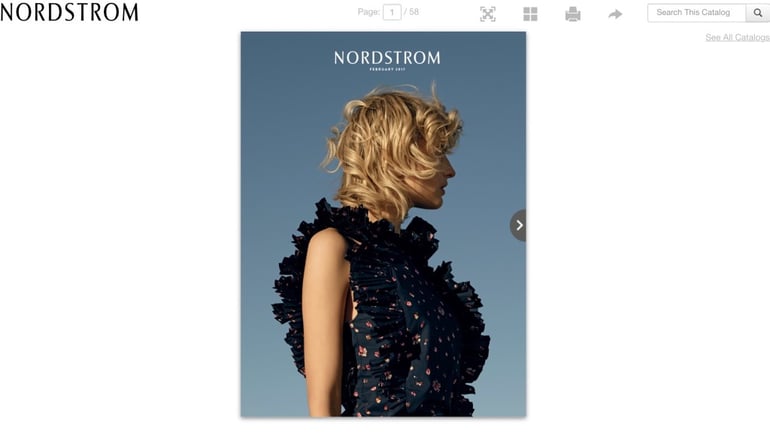 Origami Marketing: New and traditional catalogues
The distributors provide other reasons in favour of paper, which have actually started to be resolved by the digital format. To facilitate the purchase of embarrassing products from the privacy of your home, and to discover small businesses and product ranges that are not usually in high demand or sold physically. Are you interested in honey-making products? There's nothing that digital channels haven't started to take on. What's more, some brands restrict the distribution of their paper catalogues to specific countries or areas, which emphasizes the importance that digital access also provides.
If the big argument in favour of paper is the access to areas without internet coverage or elderly population sectors that have always been used to this format, won't the printed catalogue have its days numbered?
Yes, if we accept the paper channel as being that practical possibility of the past. But perhaps the use of paper in the future is indeed not to be practical at all. In 2015, there was a comeback of the printed catalogue in several ecommerce businesses. So, what was the common thread in these new examples? The paper catalogue isn't a catalogue now: it's a lookbook.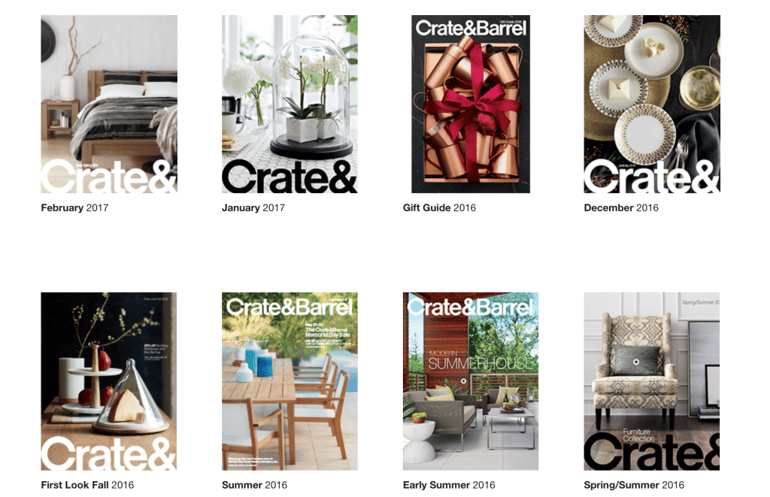 The average customer is bored by looking at pages which are full of a simple display of products. Brands have looked back at the example of magazines, especially the biggest brands with the largest capacity of resources, and they have turned the sales catalogue into volumes of high quality photography in the style of an expensive volume of Condé Nast. Through images of models or spaces where a brand's products appear scattered like a product placement, the catalogue invites readers to follow stories and aesthetic declarations that fit in with the preferences of the target market.
It's a huge enlargement of landing page or product category main pages techniques, which provide a feeling about the brand's philosophy, instead of specific information about the kind of products, their usefulness, composition, or even their price range. The density of products in this kind of catalogue is so much less than in the traditional model, hence the reason why some brands refer to them as a newspaper, editorial, or newsletter.
The paper catalogue is now a coffee table magazine with a luxury appearance, and with the advantage that it's not destined to go directly into the recycle bin, since it imposes a more attractive visual appeal and plays with interactivity. These catalogues are normally sent on order and have a digital alternative with an identical layout. This means savings and the ability to collect information on interested customers, even before they make a purchase, which will be used in retargeting, although it can also inspire laziness or suspicion for those who don't want to give their details to the shop.
It is still easier to find a product using keywords on the internet than it is to find on paper, especially if the catalogue has many pages, or if it doesn't contain the whole range of the brand. The function of the printed catalogue now can't be to offer the whole collection. This isn't even possible on some occasions, and especially with brands that want to keep the secrecy of their product launches of the year, such as the contractual agreements between LEGO and other franchises. It's a light conversation that leads to a feeling before definite love at first sight, although that can happen incidentally.
Products aren't even visible in some catalogues, like those in the Pronovias wedding dress shop. Others like the cosmetics shop LUSH have their own publications to complement the sale of products with information linked to their ethics. This covers the best intentions in the act of selling and buying, and turns it into a sensory experience of recycled paper with kinds of photos and compositions that highlight the brand's basic standards.
Paper cuts: Pros and cons of catalogue formats
Every trend has its dangers. Quite the opposite of a positive impact could happen, and an erroneous orientation of catalogue marketing would damage the effort dedicated to creating an image. In 2015, Bloomingdale's had to withdraw a catalogue and apologise publicly at the expense of an inappropriate style of marketing and bad taste that was supposed to be funny and informal for their audience.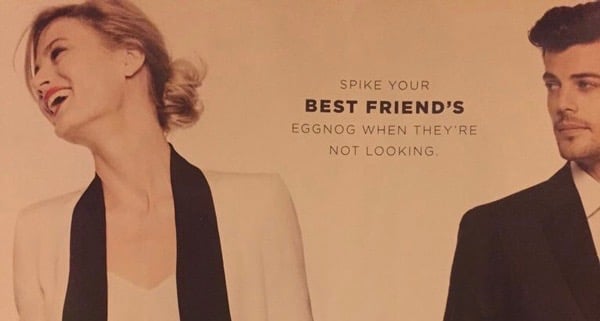 A paper catalogue can end up being circulated among many more people. This is why there is appreciation for the trend of consumers who use the paper catalogue as a notebook for going to the physical shop. The most typical case is the one that the Swedish furniture manufacturer IKEA combines all strategies in its printing channel: the minimalist product page, the directories and the ambient photographs, which aren't even real as these are digitally created. To receive their catalogue in the letterbox has become an annual ritual, besides what used to be a false privilege of receiving the publication free of charge, even though there was a price on the spine of the publication. However, the digital version and the app have been a failure due to their functionality problems and the inability to add brands or annotations.
IKEA can recuperate the cost of their strategy, given their high sales volume, whereas smaller shops only allow printing on limited occasions per year and with a much smaller number of pages like the spring/summer and Christmas catalogues. Given that more and more brands are getting off the paper catalogue wagon, it may be a distinguishing strategy to suddenly get on it. A catalogue is something vintage, but it's also a symbol of economic power and a control of quality against many badly designed apps that don't suppose a comfortable alternative for users.
This new little brother is very chubby and gets all the looks, but the classic catalogue hasn't disappeared and it's still very useful. Especially for audiences that are still used to paper such as retailers of technical equipment, fairs in various sectors, book clubs, or for certain businesses which can't physically show all their stock but where personal attention is appreciated, like domestic renovations, electrical household appliances, cars or wedding dresses.
Even so, showing a very thick catalogue can discourage customers, and given that it is the seller who usually turns the pages, there is no feeling of control. In this experience, the future is in complementing the classic catalogue with virtual experiences, since they avoid storing stock but give the freedom to check and allow customers to visualise purchases to which they can add dozens of accessories.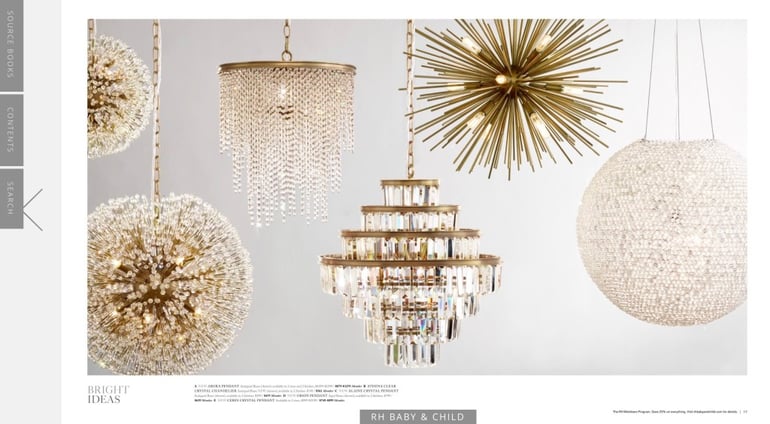 To create a paper catalogue isn't a simple box that is selected or deselected, it's a commitment that implies added costs. The printing quality has an influence in the impact on readers, and this can alter colours, make products much more flatter or not have an appropriate resolution which can't be compensated for with a good zoom. The final matt or satin look doesn't matter that much, but is important that the layout is the most appropriate for your kind of product, and that it includes clearly visible key information. On paper, the kind of buttons, the type of fastener on a garment or textures can't be exactly reproduced and appreciated. The absence of detail (which is the great secret weapon of the digital format) has to be compensated with an attractive general print run.
Before the ball: Catalogues customs and customer habits
The usual thing that customers do is to look at the paper catalogue and then go (in that order) to the website, the mobile app or the physical shop. The free-phone number is increasingly less used. Social media accounts are the stars of the moment, but their conversion rate is still much lower than other channels.
Not all catalogues received directly in the mailbox enjoy the same popularity; for example, the most appreciated are supermarket leaflets, shop products and vouchers. The majority are flicked through as soon as they are received, so this has to be taken into account when distributing them, as only the minority keep them to leaf through at weekends, whereas practically nobody does this during holidays.
As regards these catalogues which are still in circulation, we know that they are mostly read by baby boomers and women as a result of the main part of a demography that still remains linked to domestic tasks and to organise practical orders. The most common reason for reading them are for personal purchases, gifts and annual events (Christmas, birthdays, anniversaries and weddings). The paper catalogues for company purchases are used the least, so if your e-commerce business is in this niche, you can consider doing without the paper channel.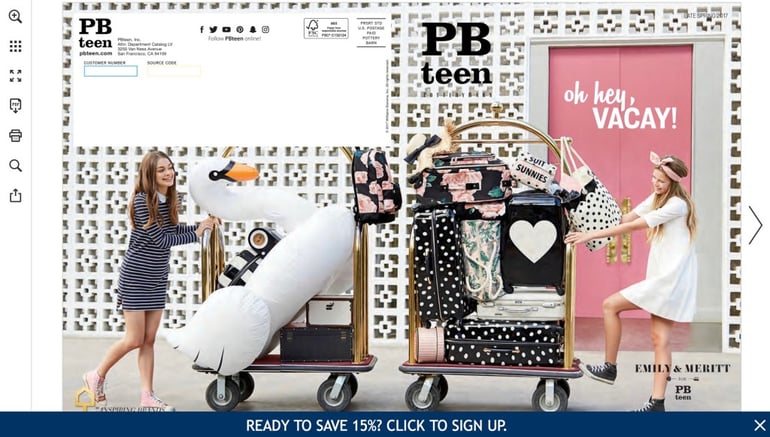 Since 2010, the figures for printed catalogues distributed to residential addresses have been in constant decline, as this is a possibility to eliminate the source of an expense, but not due to their negative environmental impact. As a matter of fact, printed paper is increasingly more sustainable, and recycling requires so much less energy than the creation of new materials. This is without taking into account that paper and digital formats also save buyers money on fuel and avoid traffic, since they don't have to visit the shop.
According to a Multi Channel Merchant report, manufacturers choose channels to promote their products in the following proportions: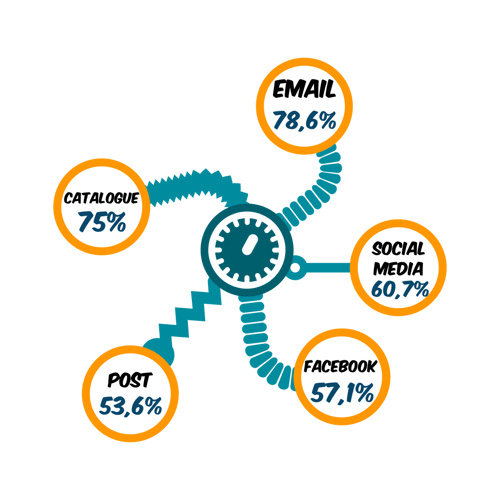 On paper, the majority are still opting for a standard format (around 20x27cm), against the scarce repercussion of thin leaflets and the expensive price of bulky catalogues. Whichever kind is chosen, it must be used as a tool to gain customers and their loyalty, to make previous customers come back, and be used as a brand generator. The SEO work with keywords must also be reflected on the paper version to build uniformity across all sales channels, and to inspire searches for users. A product information management service such as a PIM system is very useful to even make your paper catalogue efficient, and to reflect the exact information stored in your company.
In practice, these uses make printed catalogues to be less important for e-commerce businesses with products which are not very photogenic or that have a low emotional implication (like technical items or office material), and are not very practical in catalogues with many SKUs. This explains why their use is more popular in B2C rather than B2B businesses.
Finally, an aspect that is nearly always overlooked is the importance of having a system that measures the impact of the catalogue. You can use specific programmes or strategies to obtain results such as customer surveys in digital channels and physical shops. We will never get tired of emphasising the importance of evaluating all your decisions to see what works best for your business.
Have you started to miss the touch of printed catalogues? Or do you think that there's no going back, and that e-commerce must completely focus on digital channels? Tell us in a comment... or in a letter.