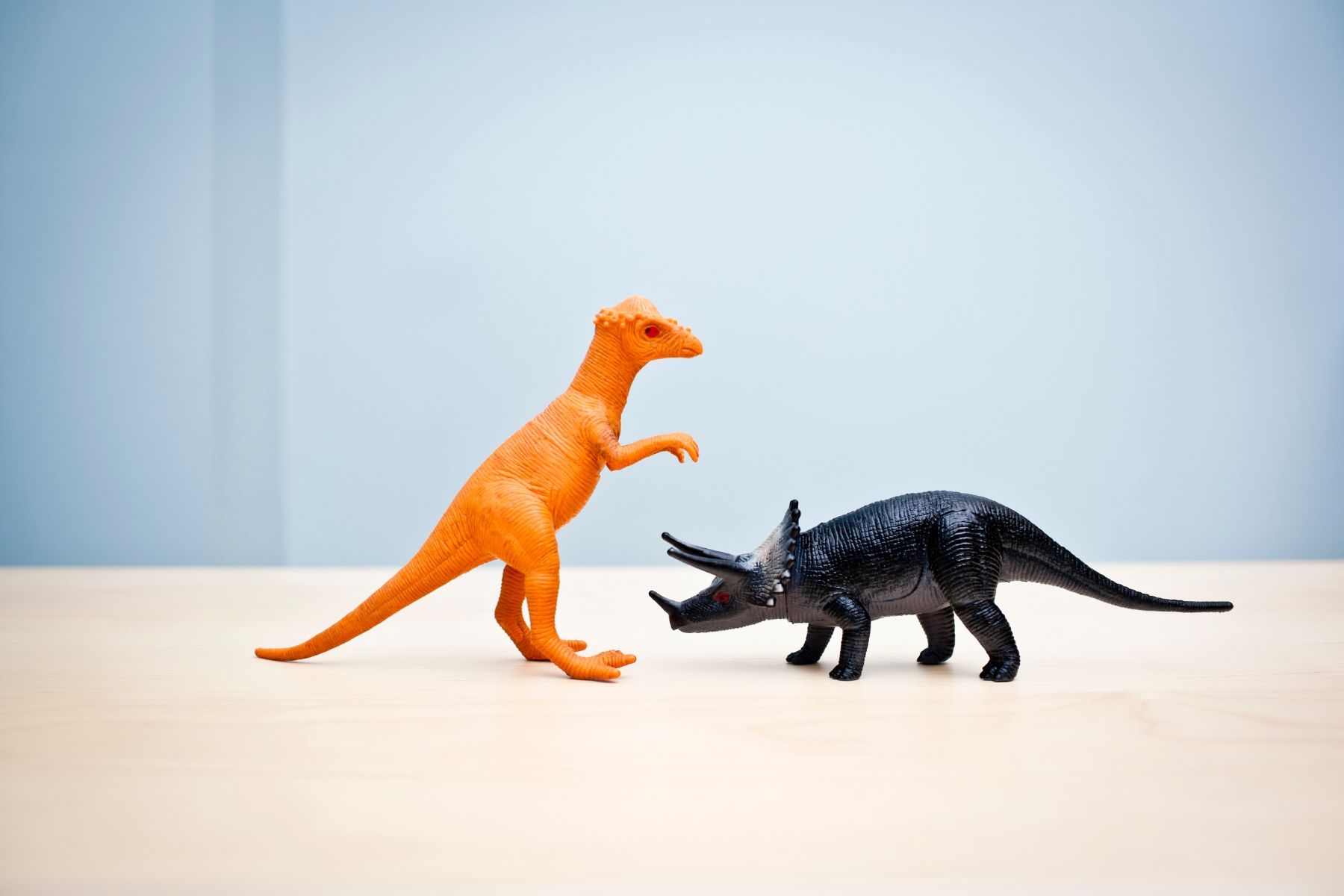 How could trade possibly go extinct, if it has existed forever?
Dinosaurs walked the Earth for nearly 177 million years. Triceratops had less cause to suspect they would eventually disappear than a business selling bath and tap fittings with (according to its website) 40 years in the trade.
And yet, some traditional businesses are very confident of their status and prefer to ignore any warning signs…
For example, that 62% of people will shop online at least once a month. And that at the end of 2018, Harvard Business Review warned that retail is the industry that's plummeting fastest.
Surely even dinosaurs would have listened to Harvard's expert scientists.
90 of the 100 largest brands have lost market share, a Catalina study reveals, while brands born in the digital age are gaining more followers and seeing better conversions.
We don't know how they'll evolve, nor what their challenges will be or for how long they'll reign, but what they have made clear is that change has arrived – and the danger of extinction for the traditional, offline model is hot on its tail.
Table of contents
Waiting for the meteorite: will offline businesses go extinct?
It's a sad spectacle: the big chains of yesteryear (and up to only a few decades ago) like Procter & Gamble or Johnson & Johnson are now fighting to keep up their numbers and the attention of consumers.
It's like watching Godzilla fall from a skyscraper in a stop motion film.
While offline groups are in decline, Amazon has risen to second place among companies with the greatest profits in the world. And it hasn't done so by pushing and shoving but by creating a search and purchase model that's better adapted to current consumer expectations.
Despite this apparent pessimism, what's dying out is not actually the physical store, but rather the store that lives in isolation from the digital world. Some sectors still attract more traffic in physical shops than through online channels, such as books, fashion or electronics, which make up to 80% of their sales in retail stores. Little wonder that Amazon has invested in Whole Foods and is trialling its own outlets.
"In this panorama, in the shadow of meteorites, the sellers who survive will be those who make it easier for the user to shop wherever, whenever and however they please."
But you still have to bring the traffic to your physical shop. And this process almost always begins in the digital world.
At present, the most powerful brands are no longer consisting of single stores or a corporate building, but a large conglomerate. They have a website, app and physical shops, but also invest in their own ecosystem: for example backing startups, providing other services (such as streaming audiovisual content or ebooks), creating innovative buildings (if you like controversy, search for Apple Campus) or allying with charitable initiatives (such as Marks & Spencer with Oxfam).
The key to these new businesses is that they have digitized their touchpoints with the consumer, integrating their offline and online presence into a unique and fluid experience, and applying global analytics that allow improvement of their omnichannel strategy as well as improvement of their products according to a moving demand.
That is, the fight for survival has to be an active one. Yet many companies may have opted for e-commerce but have done so passively: creating a website that only exhibits their catalog without facilitating online purchases.
In short, they are companies that pretend to be digital, but lack two important factors: in the background, a wise sales strategy and highlighted in the foreground, good quality content adapted to the consumer.
Without such support, products from companies that lack online strength will soon become invisible (if they aren't already); and customers will be lost through being unable to stumble upon or find these products, let alone know where to buy them. Retailers and distributors will choose manufacturers with automated and integrated systems that make their work easier.
The greatest e-commerce opportunities for offline businesses
The danger is even greater for B2B than for B2C businesses: their volume of profits in e-commerce is 4 times higher (being through online shops and marketplaces such as Amazon Business, eWorldTrade, Joor and Alibaba). Gartner found that B2B customers wait until they are almost 60% through their purchase process before contacting a sales rep.
Let's take the example of a brand of ceramics: where might I find it, what shops distribute it, which decorators can I work with to tile my kitchen with that brand, or even, how can I become a distributor without having to attend the only annual fair in Berlin?
Online and digital presence is not only about ease and convenience of access to product information, but creating a customer experience that makes your brand more present and visible in an increasingly exhibition-based world.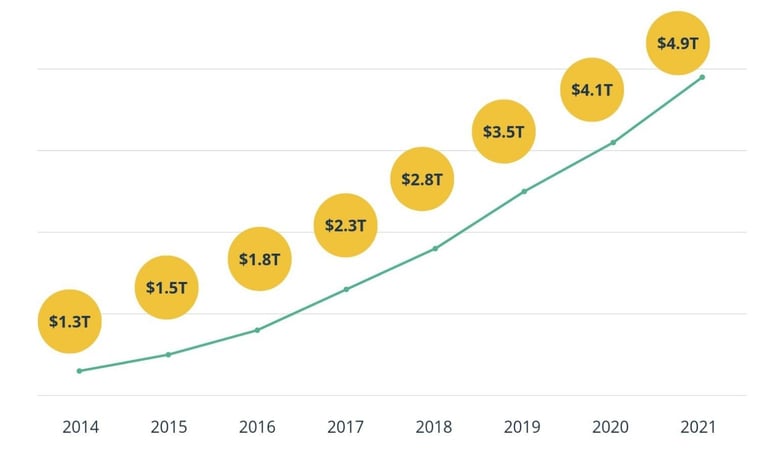 The most popular access paths for today's consumer are:
Website: To search for product information, compare prices, get inspired, buy, and search for shops of that chain or other retailers with available stock.
Social media: According to an Episerver study of shoppers from USA, Australia and Europe, 2 out of 3 users have clicked on a social media ad, and 52% of shoppers visit one or other influencer's post.
Marketplaces: Most online shoppers go to marketplaces like Amazon as their first choice, whether they already have a clear idea in mind or still need to research products.
→ Discover the most interesting marketplaces for 2019
Online market evolution in the last 5 years: from the Jurassic to Blade Runner
For 88% of shoppers it's essential that both brands and sellers deliver customized online experiences.
That's an 88% chance of extinction, and rising.
Strategies that combine both processes are becoming increasingly powerful:
ROPO: research online, purchase offline.
Buy online, collect offline (giving the opportunity to apply upsell in store).
Marketing O2O (driving the user from the online platform to the offline, such as virtual reality systems inviting the customer to visit a store).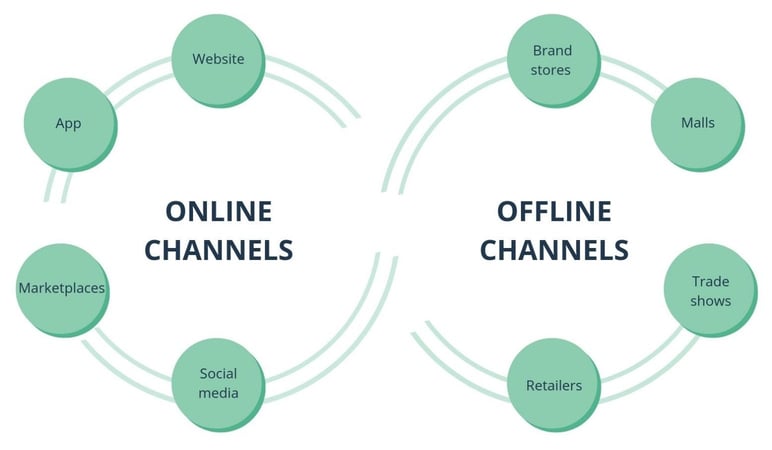 The online world has not so much replaced the offline world in recent years, as helped the latter to get itself noticed. After all, according to PR News Wire, 9 out of 10 people will end up buying in a physical shop.
But the trigger is becoming increasingly digital: just as we used to kill time by strolling through shopping centres, today we google. Many users browse the Internet without any intention of buying but they can change their minds if the right thing is offered in the right place.
Such is the enormous importance of promotions and offers that can be made at any time, not restricted to certain times of the year as was the case until a few years ago, according to the classic cycle of offline shopping galleries.
What advantages has e-commerce brought to the offline shopper?
Customization: The consumer won't even need to pause to recall what they liked or bought in the past, since the digital 'machine' does it all for them. The buyer avoids spending time researching, and what's more, finds that same experience of offline care and attention in an online shop.
Support materials: Lookbooks, PDFs, videos with tutorials... The product no longer exists merely on a shelf, but is now surrounded by more items of potential use to the buyer.
Reliability: Buyers can compare product information online more easily than before by checking different sources. More than half of shoppers admit to finding insufficient information when making online purchases. Making this content synchronized and homogeneous by using Product Information Management software strengthens the image of brands and retailers alike.
→ This is where your customers shop from: the office is the new mall
The online market 5 years from now: E-commerce finds a way
Statista predicts that by 2023 the most active e-commerce markets will be China (with 70.7% growth in 5 years) and USA (45.7% growth). And according to Forrester, the next big wave of e-trade will involve India , Indonesia, Mexico, Brazil and Saudi Arabia.
For example, Chinese buyers prefer to shop on marketplaces, via mobile or social media instead of on brand websites. How are you going to get a strong presence in the world's largest market unless you form alliances with stores and retailers in that area, or have a digital strategy?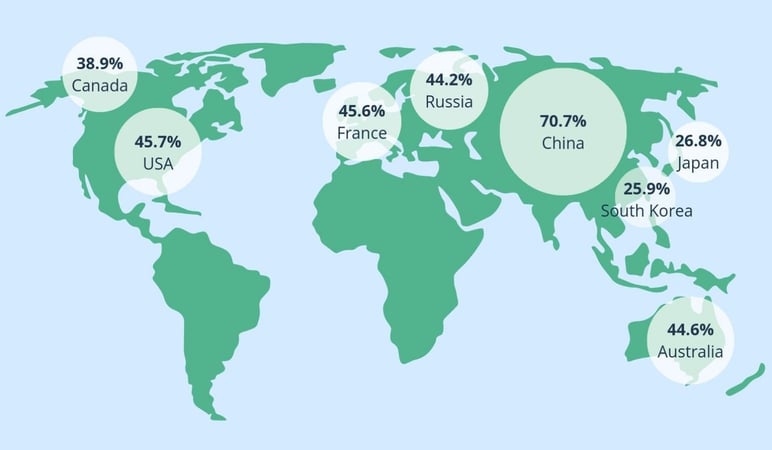 But the big reason for offline companies to get their act together is not so much geographical as strategic. With the growing number of interconnected devices used every day by shoppers (smart TVs, smartwatches, smart refrigerators, beacons...), the purchase cycle will have, as some experts would describe it, the linked shape of a pretzel.
Like a great intertwined loop, businesses need to be spread everywhere and easy to locate, yet still integrated. They can nowadays have multiple channels, but their most common fault is to have inconsistent information shared between their sales and marketing channels.
→ The future for manufacturers and retailers is here, and it's visual
What do buyers of the future (and present) expect?
Instant gratification: E-commerce has to be based on something more than speed, namely good quality and complete content.
Digital agility: The customers with buying power of the future are the youth of today, already adept at digital commerce. And they want to be themselves part of the brand and its products: they share photos with hashtags, and share suggestions with greater ease of contact.
Free or inexpensive shipping: A must for 67% of shoppers.
Customer service 24/7: This is where artificial intelligence systems are pushing hard.
Respecting online anonymity: More security about personal and shopping data, especially in new technologies with less track record, such as shopping by voice assistant
Testimonials, reviews and opinions: Many offline companies wish to hide from debate and criticism, when the reality is that if any brand's not being talked about, it no longer exists.
Connectivity: Smartphones are increasingly becoming the main payment tool, with global sales reaching 2.05 billion (2.05 thousand million) by 2020, according to Ovum.
Virtual experiences: Whether augmented or virtual reality, both technologies will undergo a large growth in online sales as well as integration with physical shops.
Good quality information: 98% of online shoppers who have at some time abandoned a purchase, acknowledge the cause to be incomplete product information. This presents a big opportunity for companies to equip themselves with a PIM system, since their competition isn't yet doing so.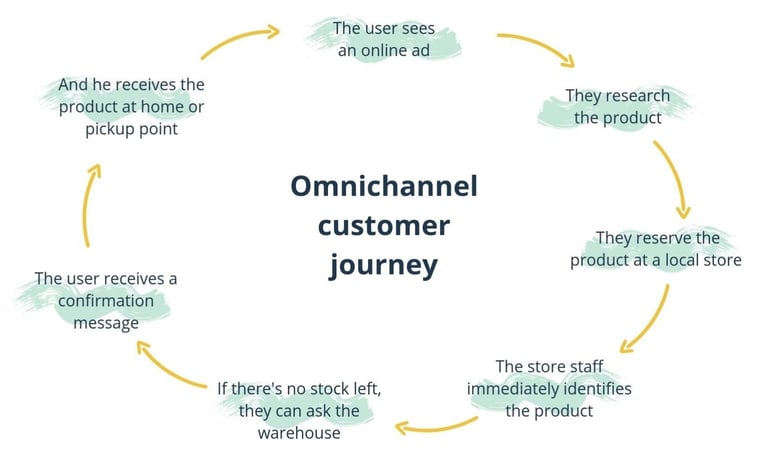 Who will survive the Great Offline Extinction?
We have already begun to see the first extinctions.
You are surrounded by Tyrannosaurus skeletons: after 125 years, the retail giant Sears went bankrupt. Like dominos, a string of big chains such as Macy's, Toys 'R' Us, Kmart, J.C. Penney or Barnes & Noble are either toppling or cutting back.
It will be those brands and retailers who have enough understanding of the present-day purchase cycle to invest in the right channels, being agile and flexible in the face of changes and trends, and constantly applying new learning, training and tools.
These practices must start with the internal management of your company, as increasingly you'll have more products on more channels, with exacting regulations for the updating and maintaining of your data. Your safest starting point is by creating a good quality of online content to stand out as a supplier on any sales platform, or as a manufacturer that meets the criteria of content required by your distributors and retailers.
→ Don't know where to start? Try this beginners' guide for Google Shopping
Final thoughts
Offline businesses shouldn't wait to feel slightly burned before avoiding the meteorite that could destroy them. Digital implementation is both necessary and entirely advantageous: making it easier to gather consumer information and improve products according to demand.
Leave the Jurassic World once and for all and avoid brand extinction, before more evolved creatures arrive on the scene.
Do you want to be like the Dodo... or the Sequoia that lives for a thousand years?
At Sales Layer we give you 30 days' free trial so you can see what the future holds for product management, and for your sales.