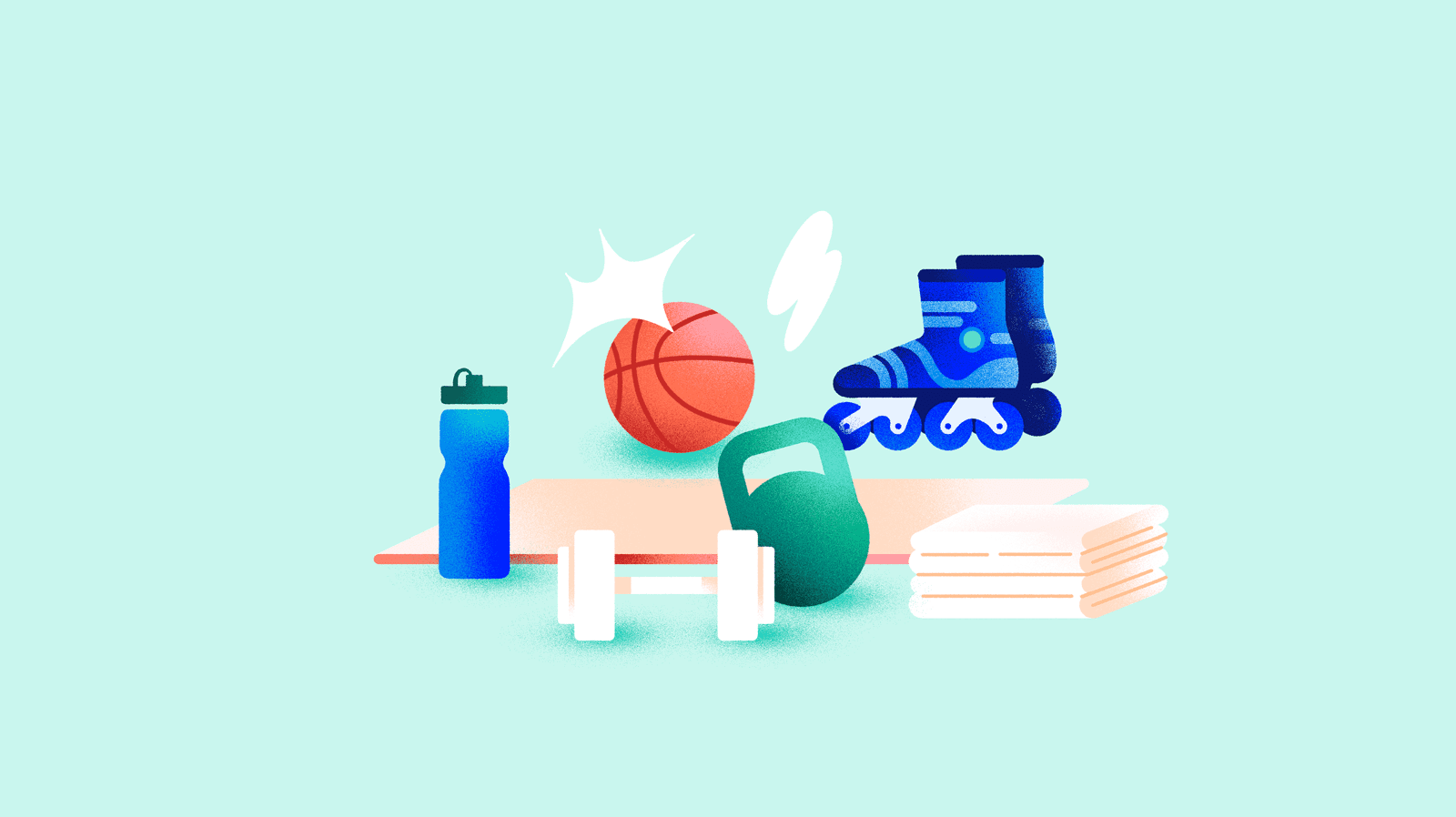 In recent years, the sports industry has become one of the most lucrative in the world of retail. The year of the pandemic has only reinforced this trend, with more and more people practicing sports both indoors and outdoors, and turning to sportswear in order to feel more comfortable at home – freed from the need to wear suits to the office.
Until now there has been a perceived tendency for consumers to buy sports products directly from the brands. However, this behavior is beginning to change. Customers want to compare prices and options from different brands before making their final decision. The customer journey for sports products is becoming increasingly digital and omnichannel.
Against this promising backdrop, one of the most attractive options for brands and retailers is to opt for online marketplaces. Offering clothes, accessories and equipment for sports – together with many other brands – on sites often visited by consumers, is a vital strategy for attracting greater visibility and a higher conversion rate in 2021.
However, traffic between marketplaces has become a truly complicated network of highways. Does it matter which you choose? Which are the best marketplaces for selling sports products?
Without a doubt, giants like Amazon will always be suitable marketplaces for sports, as they bring together a high volume of customers with various interests. However, if you're looking for more specialist options, read on to discover a series of sports marketplaces that could offer added value to your digital-sales strategy.
→ Flex your business muscles! New opportunities for the sports sector
5 sports product marketplaces for brands and retailers
Carbon38
This is an example of a sports marketplace with a very specialized consumer profile. Like Carbon38, many sites and marketplaces today are targeted towards a more affluent customer, offering a catalog of select products, premium brands, and a more visual and aesthetically pleasing experience.
These types of online stores and marketplaces are becoming increasingly advantageous for sports sales with a new focus: for example, sportswear intended not to be used for exercise, but as a fashion accessory. Positioning sportswear on sites like StreetWear is a strategy that broadens commercial horizons among audiences that would otherwise never be interested in this type of fashion.
→ Take note: The best sales seasons for sports products
SportsDirect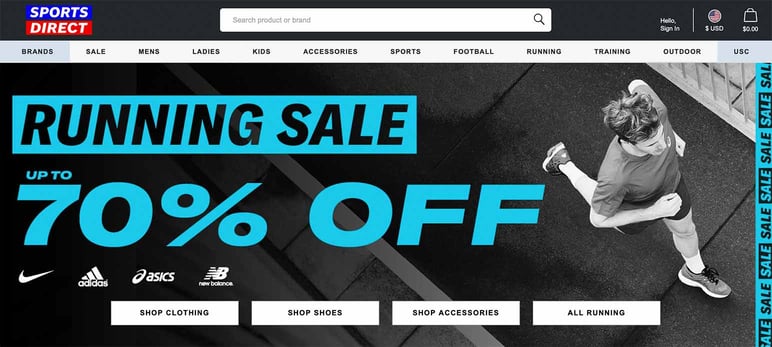 SportsDirect is one of the most popular marketplaces for sport clothing, shoes and accessories in the UK and USA.

They allow users to make searches based on the type of product or a specific sport or brand, but they only work with first class businesses and you'll need to get in direct contact with the marketplace to negotiate the addition of your collection to their catalog.
Traininn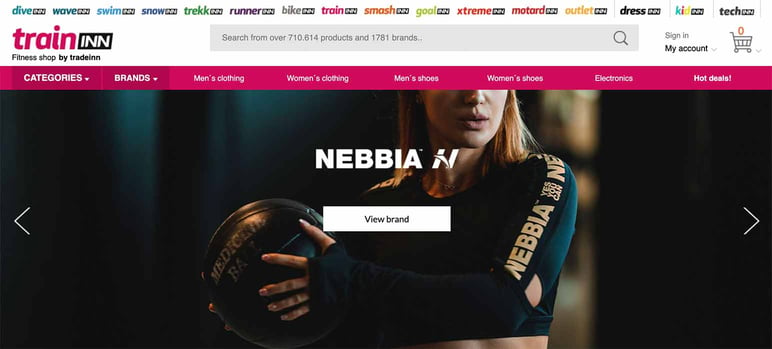 This platform specializes in fitness categories; however, it features more than 1,500 brands and sells products in more than 200 countries in the areas of swimming, trekking, football, winter sports, cycling, running, motorsports and extreme sports.
For its network of partners, it offers top-quality online services, including secure transactions and online payments, web browsing and Big Data.
The Tradeinn marketplace has high requirements when selecting new brands to add to its catalog. As such, we recommend getting in touch with them directly to present your proposal for one of their product categories.
→ Avoid these mistakes! The six most common marketplace-sales errors
Go-SPORT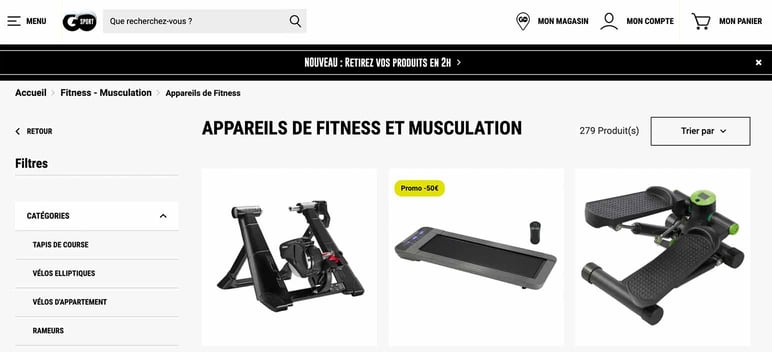 This is a French marketplace with a modern and attractive interface. As well as offering sports products from top-of-the-line brands, it also includes a section for sellers and partners, who can sell their products directly on the marketplace.
This will allow you to manage shipments and attend to customers personally. If you meet the four requirements (delivery accuracy, many positive reviews, low incident rates, and respect for conditions), your products will be shown in the marketplace with the 'Premium' label.
If you're looking to position your sports catalog in France, get in touch with this marketplace directly to assess your partnership and join Go-SPORT.
Deporvillage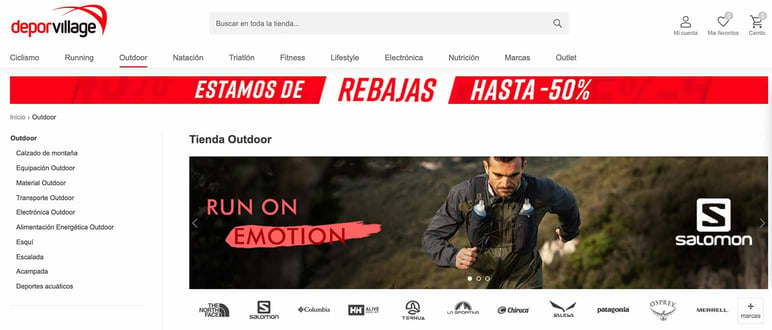 If your brand or catalog is targeted towards a more professional sports consumer, there are also marketplaces designed for specialist products, such as Deporvillage, available in over 200 countries.
Although the platform was originally launched to offer its own line of sports products – such as Decathlon – the marketplace is home to a wide variety of brands in the main sporting categories of cycling, fitness, running and swimming, as well as electronics for activities of all types (heart-rate monitors, odometers, scales, cameras, watches, etc.) and nutritional supplements.
Shipments are managed by the marketplace itself, with a rigorous selection process for brands: as such, you'll need to get in touch with the company in order to negotiate your addition to their online store.
→ Looking for more ideas? These are the best online marketplaces of the year
For sellers and manufacturers in the sector, marketplaces for sports items are a very promising option for generating traffic and digital visibility, thereby leveraging more sales channels in their online strategy.
The keys to success are choosing well; thinking both about the type of product and sport, and about the target audience; selecting catalog products that you want to advertise through marketplaces; developing a good advertising and social-media support campaign; and keeping your product information up to date. This is the most important element, ensuring that the delivery of product information to any marketplace is quick and efficient, and guarantees that you can start selling as quickly as possible.
With a PIM system, you can centralize and enrich your product content, before easily exporting this to any marketplace on which you market your catalog. Try it for free with Sales Layer and discover how a PIM system can adapt to suit any sport (and catalog volume) – from the lightest yoga to the most demanding activities.