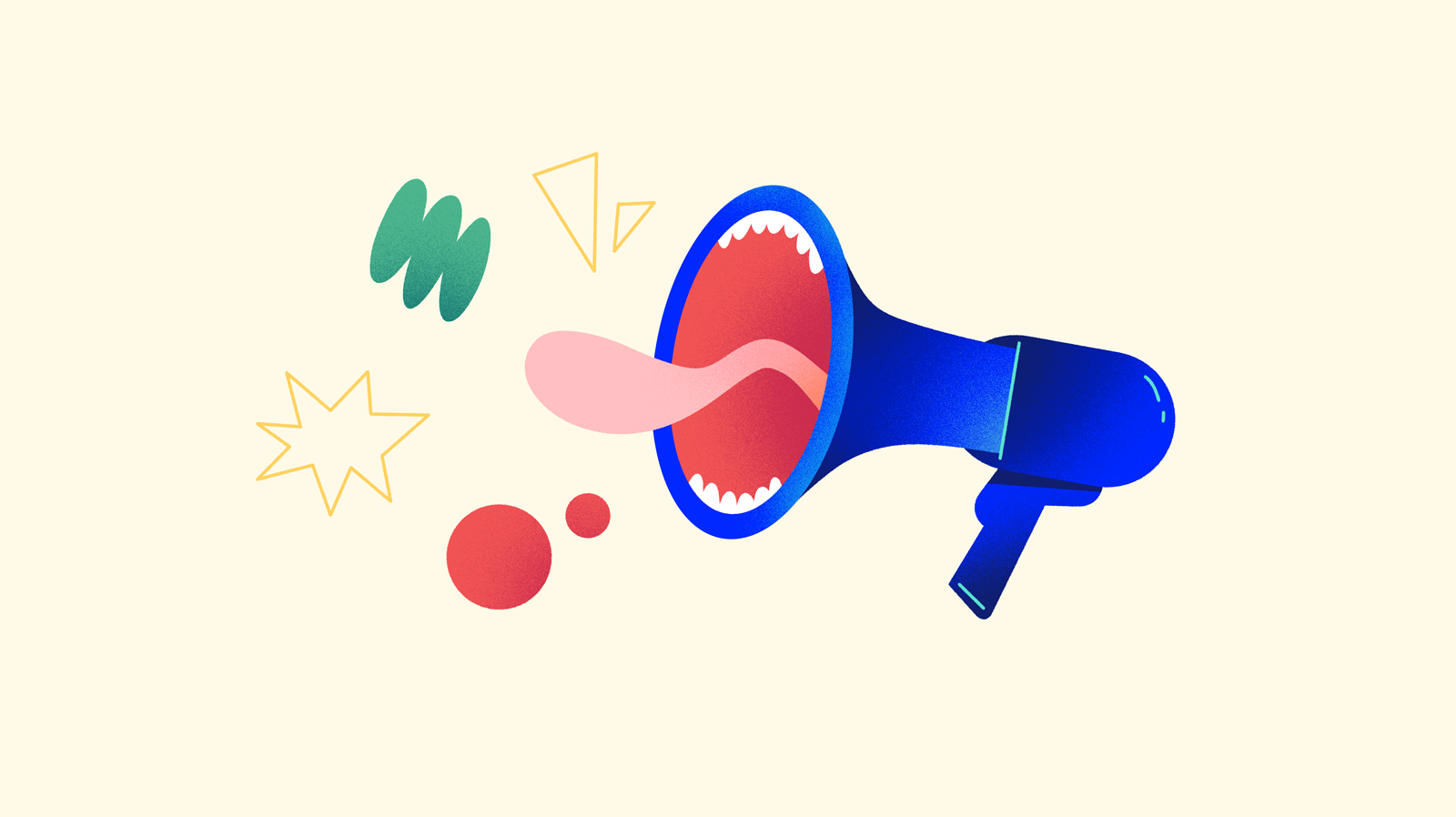 This year a lot of new developments and launches have been put off until further notice. That has not been the case for ecommerce — a sector that has experienced a degree of expansion which was expected to be achieved over years in just a few months.
Without a doubt, this has brought about more and more services and sales groups that are thinking about new features to improve online shoppers' experiences.
With such a fast pace these days, you may have missed these developments and trends that all distributors and retailers should be familiar with to be able to continue to be at the fore of the golden age of ecommerce.
The 5 ecommerce feature releases you should pay attention to
Voice posts in social media
After all the social networks have added video, a new trend is starting to crop up.
It doesn't seem so obvious, but it really is: cell phone users are spending more and more time sending audio messages as opposed to written text messages. Wouldn't it be logical, then, for them to prefer to listen to tweets rather than reading them?
Twitter has started to test the waters with the option to share audio tweets. At the moment it doesn't appear to be a very breakthrough option; it's in line with audio messages that can be sent through any chat app like WhatsApp or Messages.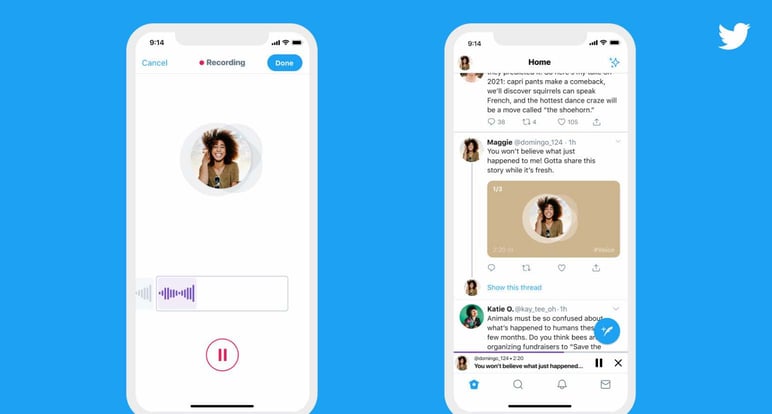 Nevertheless, it is interesting to compare this with other trends. Snapchat has added a voice assistant that allows users to search through filters and browse the social network app.
→ Hey, Siri, what is conversational commerce?
It is likely that these developments, which at the moment are quite limited, are a test field for all the possibilities that the use of audio on social media could offer. At Twitter, they calculate that time per session would increase, as users would spend more time listening than scrolling through the screens.
The implementation of audio represents a front for ecommerce that we had already been expecting with the boom of virtual assistants and voice commerce. Adapting content to voice searches, making product descriptions in audio, and allowing a digital catalog to be navigated through voice commands could all become vital for an online app or shop earlier than we might expect.
To this end, Product Information Management (PIM) software is shining through as a key player for adapting product information to any format and having better positioning.
App Clips: faster in-app purchases
One of the latest developments of Apple's iOS 14 directly affects ecommerce.
With the App Clips feature, users can access certain app functions (provided it's on the App Store) and interact with the app without having to download it on their cell phone. This streamlines the user experience a lot more and it could convince more consumers to make in-app purchases, which are typically easier than browsing a website from the cell.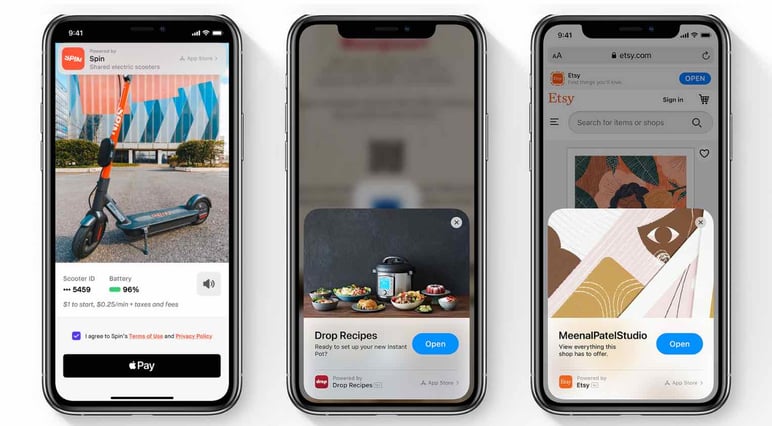 Some purchases or orders need to be fast: ordering food for delivery, reserving an electric scooter, buying a blouse from an unknown brand on sale before it sells out. Saving the step of downloading an app to make these one-time purchases offers more convenience to the buyer as he or she doesn't have to wait and depend on the speed of the connection and the space available in memory.
→ If you're thinking about launching an app: Mistakes you should avoid
The year of Walmart
The American giant Walmart has had some golden months with the increase of online purchases in food — something for which it had been preparing for some time. It is also becoming one of the online marketplaces with the greatest amount of benefits and advantages for sellers.
Recently, Walmart announced its partnership with Shopify, the CMS platform for ecommerce that has been experiencing most growth over the last few months. Through Walmart Marketplace, focus is placed on small and medium-sized companies that want to join in alliance with Walmart to sell their products — all with the simplicity of Shopify's software.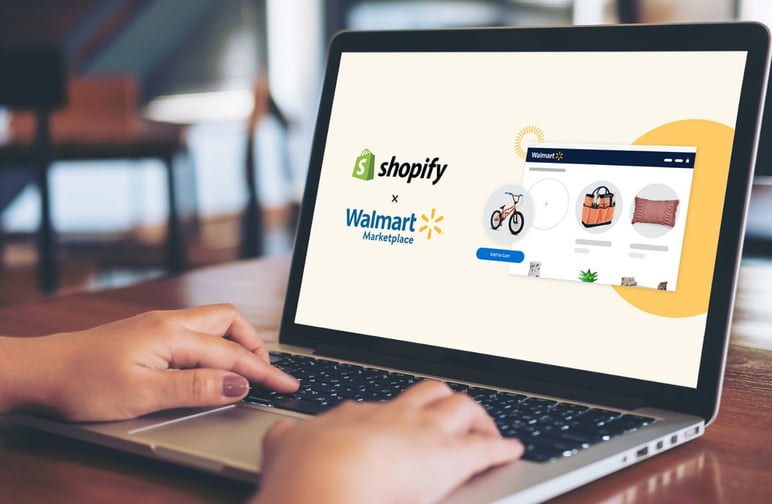 Additionally, Walmart has proved itself to be very insightful in terms of knowing about consumption trends. Its new partnership with thredUP, the online marketplace for secondhand clothing, is a response to the growing interest that buyers have in reusing and reselling clothing.
According to a report by thredUP from 2020, 70% of consumers have bought or expect to buy something secondhand. With this partnership, Walmart is giving access to more than 750,000 of threadUp's products, from clothing for all ages to footwear, women's purses, and accessories.
→ Take note: The most interesting marketplaces to sell on in Europe
The TikTok generation
Undoubtedly, the buyers of the future are on TikTok (called Douyin on the Asian market). The problem for brands and retailers: they don't want to buy and any content on TikTok that seems to be sponsored or a type of advertisement is not very popular.
Nevertheless, the Chinese Bytedance Group, which TikTok belongs to, has plans to continue on the ecommerce stage and it has special interest in social ecommerce. In 2018, Douyin launched an online purchase feature in cooperation with Alibaba, which they tried to expand to the international market in 2019.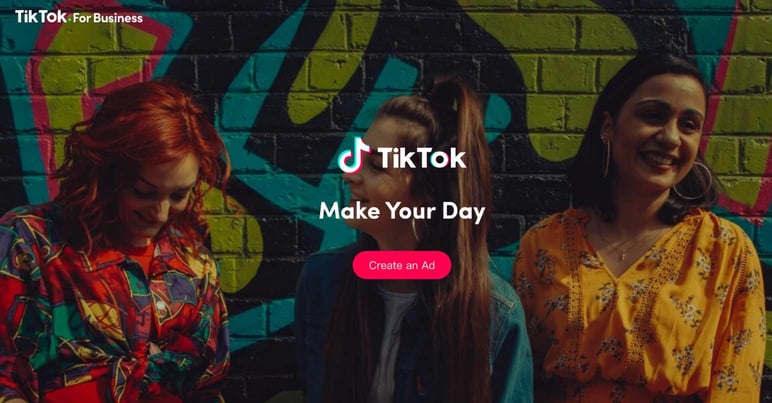 Bytedance has just created a new unit to foster sales through its social media apps, especially targeting the demographics of users born after the year 2000 and luxury brands.
This means that, despite what its users value it for, TikTok sees its future income as being tied to ecommerce. The current trend of live streaming ecommerce is quite favorable for fostering brand positioning on social networks, and so are instant purchases on other apps like Instagram Shopping which already allow product sale pages to be linked to directly from photo tags.
→ Check out another trend: Live streaming commerce
Digital fitting rooms
Increasingly more consumers are changing their in-store purchases for online purchases. And the limitations and problems of ecommerce for some product sectors are becoming clear.
Fashion has always been one of the most problematic niches. Deciding on a garment and size without having tried it on is a risk that demotivates many users. Trying to be on the cutting edge of extra services, Amazon launched the option of sending garments that the buyer could try on at home and decide to keep or return.
Digital possibilities can help to save that physical step that slows down the process. Amazon is preparing Outfit-VITON, a virtual fitting room option based on artificial intelligence.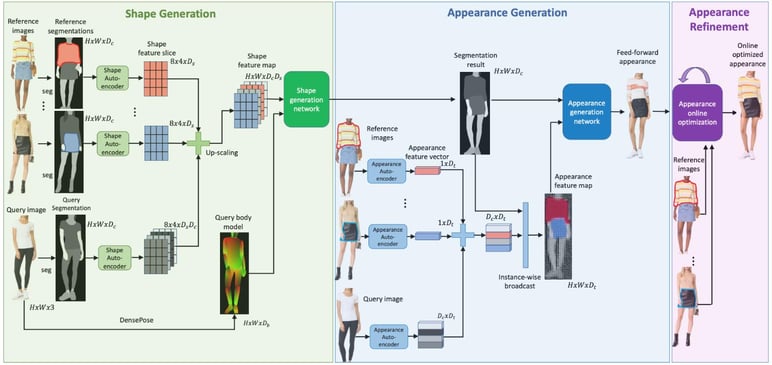 This system can track product variants for the user and accessories or complementary garments that would go with the one that has already been chosen. Later, another algorithm would recreate the outfit with all the chosen products on a digital model.
Perhaps in the future the user will be able to save a digital version of himself or herself to use for these simulations, and virtual reality capabilities could allow a shop's fitting room to be recreated at home with a 3D viewer.
At the moment, Amazon's Outfit-VITON is going to work like a videogame avatar and the user will be able to set the body type, skin color, and other characteristics so that the model is as similar as possible to the person making the purchase.
→ More possibilities: The use of augmented reality in your product catalog
Conclusion
Each year trends arise that are as noisy and short-lived as a fashion show. But this year, everything is different and the accelerated growth that ecommerce has experienced is making the software have to evolve just as quickly.
These options and technologies will be more and more necessary if buyers continue reluctant to make purchases in physical shops. Brands and retailers should get up to speed and react promptly.
What's the common denominator of all of the trends? Having a product catalog that is well prepared to show contents in any format, on any channel, and in any country: get a PIM solution for free for 30 days and have your contents ready for the next great shopping trend.