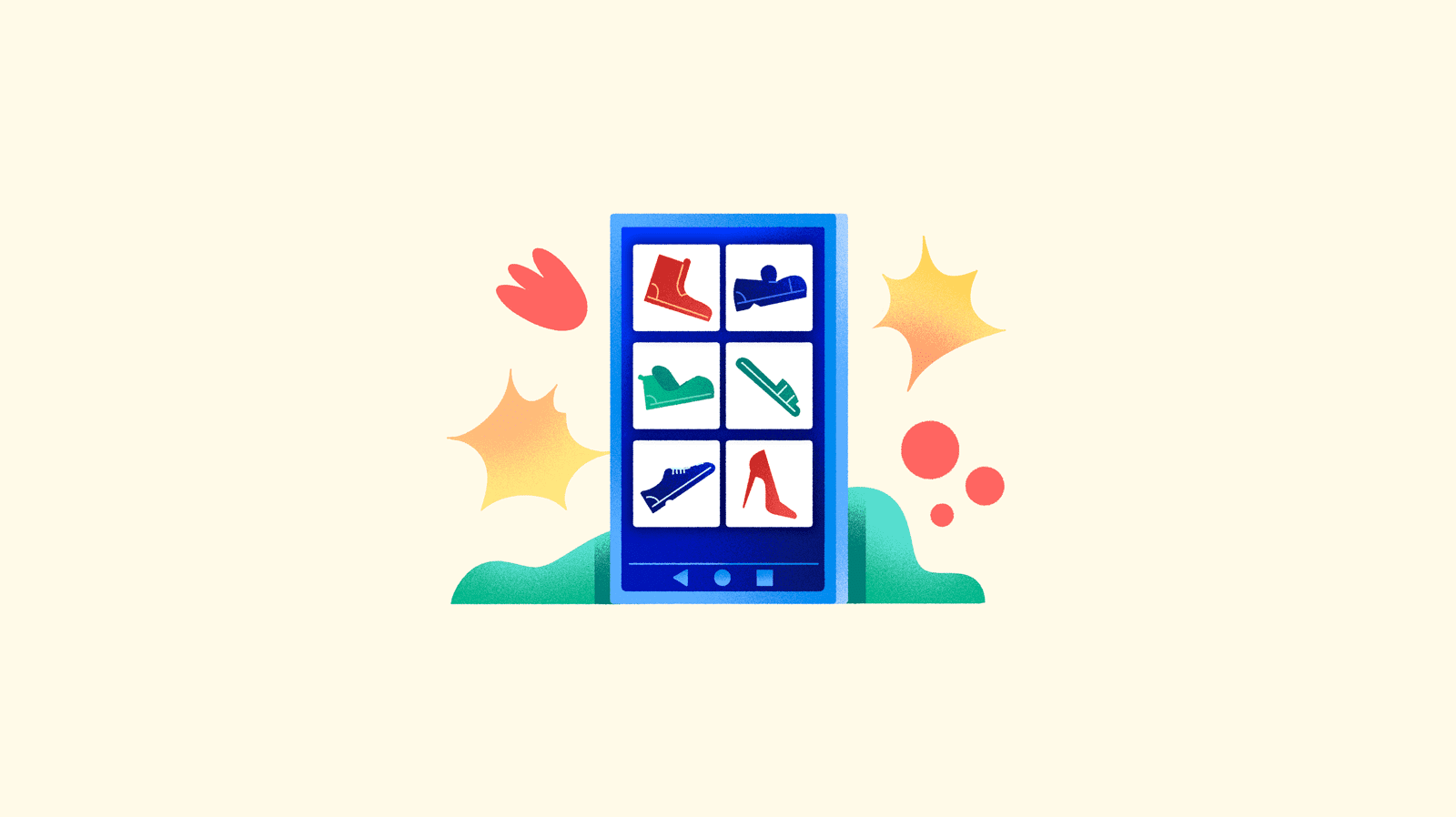 In the last few months, sales in the footwear sector have not suffered. In fact, they have sustained a good growth rate.
The key to not losing steam in this increasingly digitised landscape? Preparing your shoe catalogue so it works across all channels, online and offline, and to quickly adjust to changes in customer demand, trends and seasons.
We advise you on 7 keys on how to create your digital shoe catalogue for ecommerce, share with agents of your commercial circuit or any channel of your omnichannel strategy.
Everything an online footwear catalogue should include
Structure and categories
Consulting a footwear catalogue should be intuitive and quick for any buyer. This is a type of product that customers search for with a clear idea in mind, so they expect to find the categories and filters that narrow down their search as quickly as possible.
If the manufacturer or retailer offers all kinds of shoes, the categories Women's, Men's and Children's or Baby should be clearly differentiated on the homepage as well as in the menus and search engine. Then, in all these general categories, the products and their variants must be very well structured and labelled in order to be able to locate them selectively by choosing type (sports, formal, summer or winter...), height and sole, colour, material and size.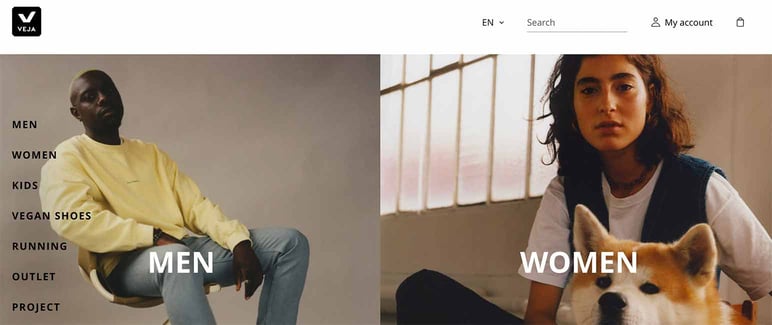 Although it seems that a footwear catalogue is simple because it only consists of one type of product, in reality each shoe can be multiplied by many other variants. The final volume of information to manage and synchronise on a daily basis can be massive, which is why it is essential to have a well-structured catalogue with a platform such as PIM (Product Information Management).
A PIM system centralises all product content, including data and images, and makes it easy to edit, update and connect it with any sales channel (ecommerce websites, marketplaces, catalogue editing programs, retail platforms...). At Sales Layer we know first-hand how much this technology helps the footwear sector: one example is the Bobux brand, which uses our PIM to improve the digital presence of its catalogue in multiple countries.
Images
In the fashion and accessories sector, product photography is the star ingredient. Buyers expect to see shoe models in detail, as they cannot touch them in person, and to be sure of the type of laces or fastenings, sole finishes, heel height, lining and inner sole...
The more and more detailed the product images in a shoe catalogue are, the more convinced the customer will be. Moreover, the risk of exchanges and returns is reduced, as they will have been able to get a reliable idea of what the product they are going to receive is like.
In this example of a Bobux shoe product page, we can see how they include several views of the model from various angles, as well as thumbnails of all the available colours for easy consultation: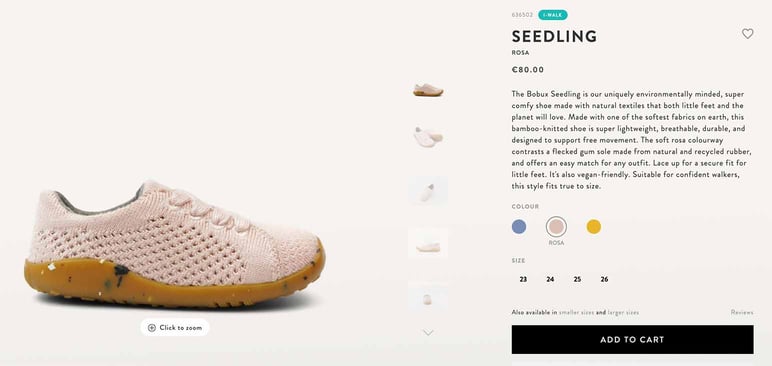 Sizing
The biggest enemy of online shoe sales is sizing. Although once the foot reaches maturity it does not usually change and buyers know their size, there are often slight differences from one brand to another.
Many customers are reluctant to buy shoes online because they are afraid of having to change them several times if they feel uncomfortable or don't fit properly. To reduce this problem (accepting that it will always be there for a percentage of buyers), it is advisable, on the one hand, to offer an easy exchange and return system for the customer, and on the other hand, to show a complete size chart.
This means more than just detailing what sizes are available for each model. It should be a table that is easy to consult and understand, linked in all the product sheets, with the exact measurements for each size and category.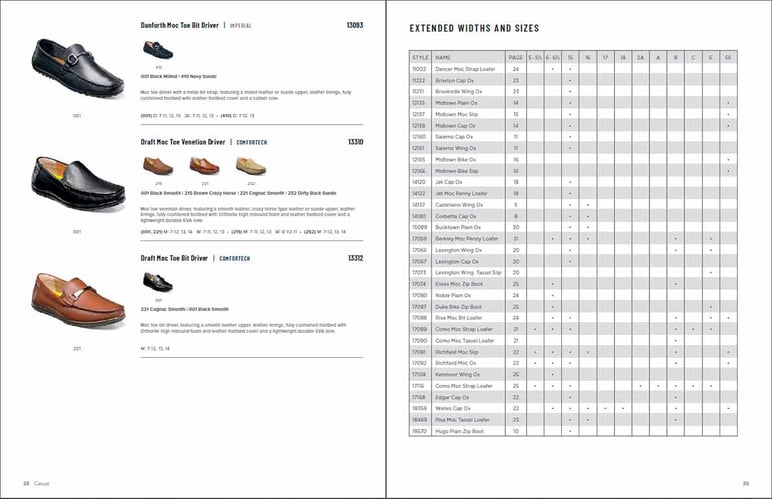 In the future, virtual and augmented reality may be able to help with this tricky point, but for now a size chart is the most effective and cheapest alternative to implement in any footwear catalogue.
Multi-language content
Digital sales are making it easier for brands to access other markets, and for customers to access products from all over the world.
Even if this is not yet the case for you and you only offer footwear catalogue in one language and region, it is important to be prepared in case the situation changes.
As we have already mentioned, having a PIM makes it easy to manage and translate product information into any language, which is ideal for launching new versions of a website, sending content to a foreign marketplace or preparing international catalogues without having to wait for weeks.
Bobux chose Sales Layer to improve their brand's digital presence around the world, and now have updated shoe content in all versions of their online catalogue.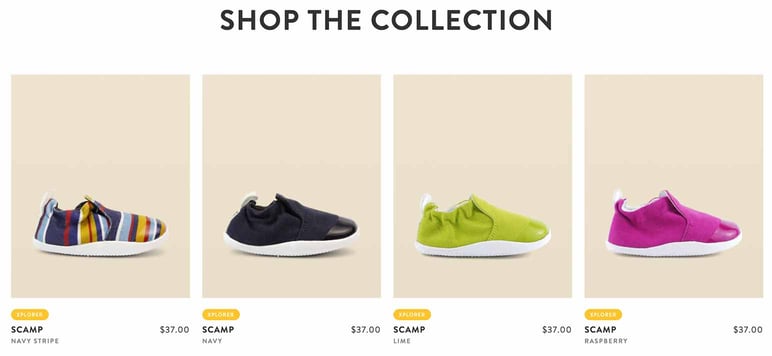 Care information
Shoes are one of the most purchased products, as they wear out quickly, especially among babies and children.
However, more and more awareness is emerging about the importance of caring for and reusing products as much as possible, rather than throwing them away and continuing to generate waste. Both for this reason and because durable products are more highly valued by customers, you should include information on specific care for each model on your product sheets, such as on the Camper website: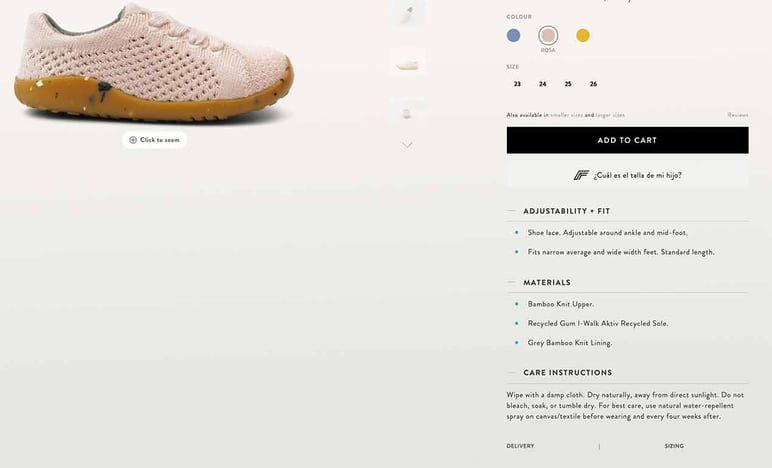 Depending on whether they are leather shoes (animal or vegan), canvas, antiperspirant, water repellent, sports shoes, etc., offering useful advice to the buyer reaffirms confidence in the brand. And in addition, it convinces the customer to buy, as he/she knows in advance how to make the product last longer.
Material declaration and sustainability
Related to the previous point, buyers expect specific information about each type of shoe.
The materials it is made of, the material of the sole, whether it includes any technology or unique design intended for running, walking or slip prevention... All specifications that may seem boring to a customer at first glance, but which they actually consult very often.
Including them in drop-downs, as Camper does, makes it easier for the user to navigate:
If they don't find this kind of data in an online catalogue, they will go to other channels in search for more complete information and, most likely, they will not return to your website.
In addition, environmental commitment is becoming a shoe search requirement for many online shoppers. These consumers are looking directly for footwear made from sustainable materials, in fair and environmentally friendly conditions. In this sense, it is important to work on the keywords for the SEO of this category of footwear and highlight quality seals, certifications and commitments, as Bobux does:

Lookbook
It could be part of the images section, but a shoe lookbook is something else. Many online shoe catalogues show high quality photographs in the product cards... but then it is impossible to analyse how those shoes look on a real person.
One option is to include photographs in each product card that show models wearing the shoes. Another is to create lookbooks that the user can view on the web or download in magazine format, to see the products 'in action', discover new launches, and get inspired by seasonal trends or types of shoes that otherwise might never have come across your catalogue.
Here you can see some spring lookbook samples from shoe brand Florsheim: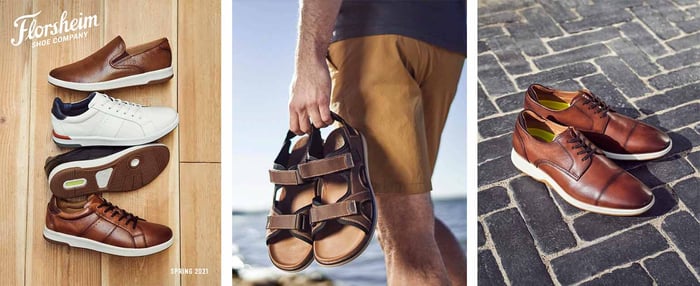 These materials are a great marketing tool, as you can take advantage of the photo shoot for images in brochures, catalogues, promotional and social media actions.
We can't resist the pun: for your online footwear catalogue to stand out, rank well and attract customers and sales, the key is to have all the content under control, up-to-date and ready to use in any channel or language.
Get it in no time with a PIM, the fastest to implement technology for manufacturers and retailers, and try it for free with a Sales Layer trial, or ask us for a free customised tour where we can share sample catalogue templates for your industry.