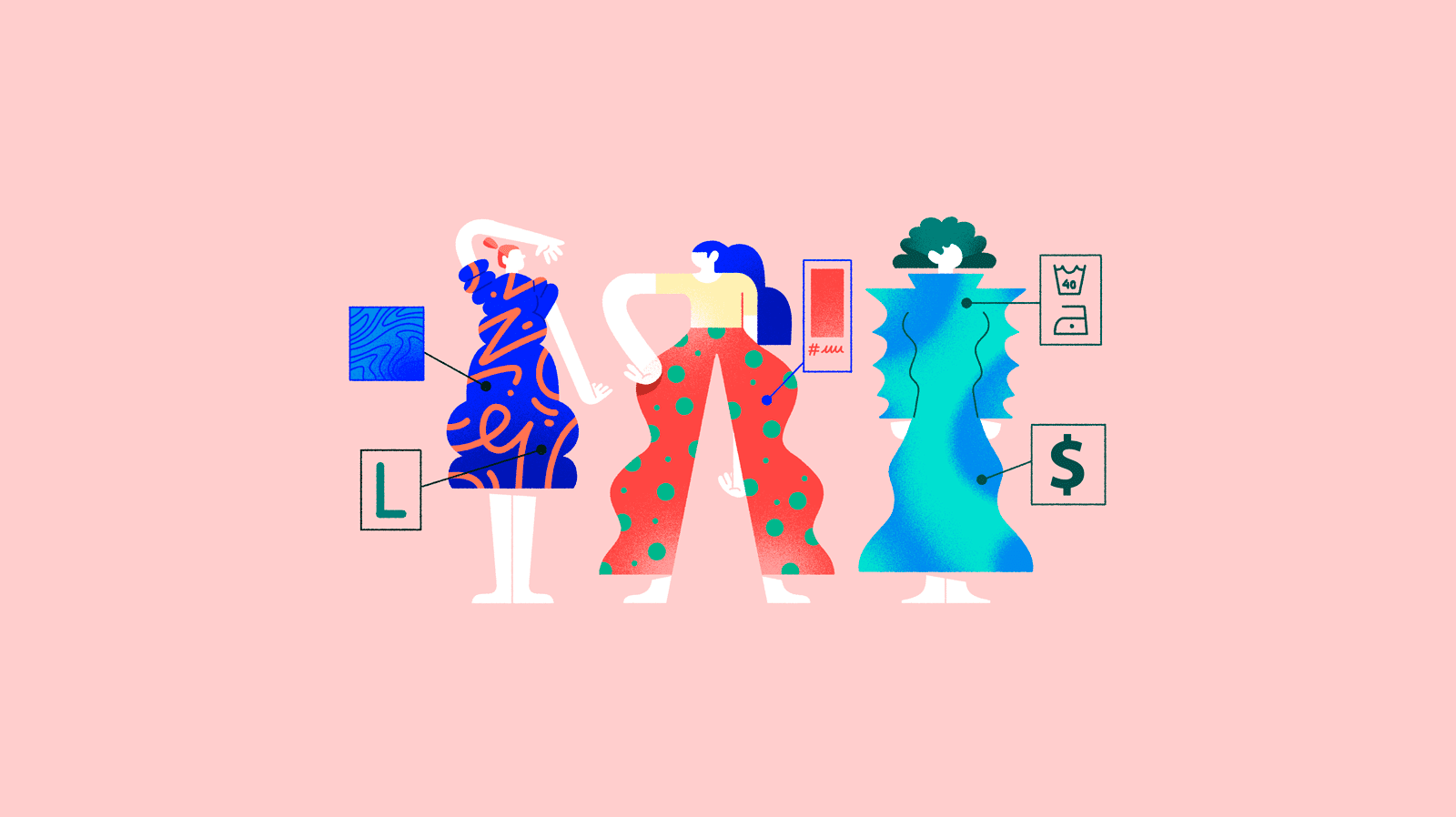 The fashion sector has gone through a true digital revolution over the past few months: with shops closed, consumers have started to buy even more online.
This means that brands and retailers need to offer attractive online catalogs that are easy to navigate and complete. The key that matches with everything? The product content must be accurate and well written to favor digital positioning and attract buyers who are more demanding than in physical shops.
A perfect product and shopping experience that allows for a high sales conversion rate must be supported by good catalog management and proper product information on your online shop and all other channels.
PIM solutions (Product Information Management) have quickly become an ally for manufacturers and retailers to automatically organize their fashion catalogs — no matter the size and complexity thereof.
And, of course, this helps them to achieve perfect product pages more easily — pages that include all the data we will explain in this article. In addition, we'll follow the example of a real fashion product page by the brand Fendi to get down to the nitty-gritty.
All of the information that you should include on a fashion product page
The main image
This is probably the first thing that will catch the eye of any user when he/she opens your fashion product page — even more so than the title.
The key is to include an image with a good size and resolution (but it should be optimized to avoid slowing down the website) that shows the product in full or on a model.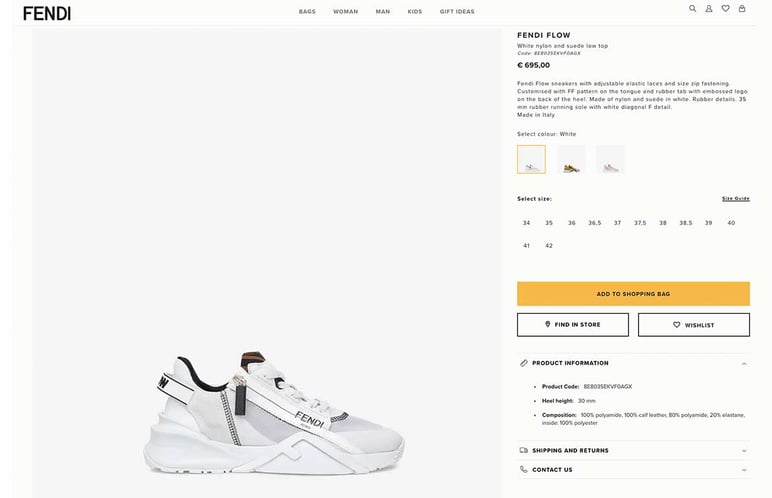 Image gallery
Apart from the main image, it should be complemented with more thumbnail images that can be clicked on to be seen bigger. They should show the product or model from different angles and in detail. Things that are especially interesting for the customer: the brand logo, the clasps and fasteners, the seams, the embroidery and prints, etc.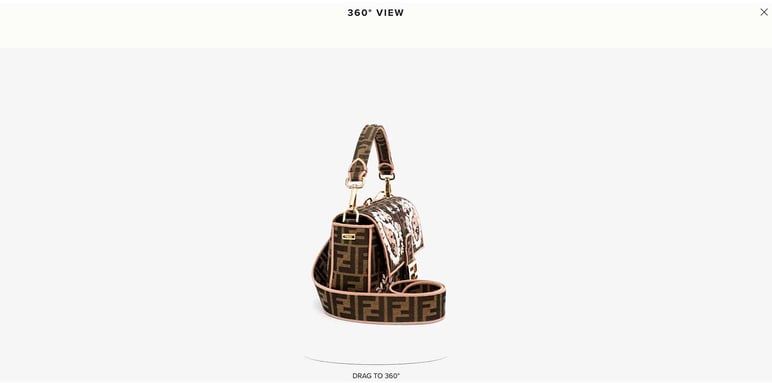 360º photos and mini-videos are more common on original fashion product pages as they make up for the lack of the physical environment in the store and allow the customer to see how the product moves and flows close up.
→ Find out more: How to create 360º images for your products
Product name
This is normally the model name, which could include the brand name or not. In marketplaces, it is recommendable to include the brand name at all times so that your products show up better in users' searches.
Brief product description
Just a half a sentence with the main identifying data of the product is enough; Example, the product type, shape, and material.
Example: White nylon and suede low top sneaker
Code for identification
This is normally the product's SKU, which the vendor uses to identify it, or the EAN, which is used on the brand level for identification.
Full product description
This should be a longer text that is more detailed and original. This is an important part of the page where you can add keywords, work with the online positioning of your fashion product pages in Google and marketplaces, and stand out from the competition.
Sellers and manufacturers who do not include more detailed descriptions or who copy the descriptions from their providers are less convincing for buyers and they have less chances of getting good positioning in search engines.
A little boost: complete text descriptions give you one more point in your favor and, along with meta descriptions, they favor the accessibility of your site and help users with vision problems.
Example: Fendi Flow sneakers with adjustable elastic laces and side-zip fastening. Customized with FF pattern on the tongue and rubber tab with embossed logo on the back of the heel. Made of nylon and suede in white. Rubber details. 35 mm rubber running sole with white diagonal F detail.
→ Get your digital Shakespeare going: Copywriting tips for product pages
Technical details
The fashion product's technical datasheet seems less important than an original and creative product page, since garments and accessories don't have the same technical specifications as, Example, an electronic device.
Nevertheless, there are some production details that you can note in your fashion catalogs whenever necessary. Example, the country of manufacture or where the materials come from — something that is increasingly important for consumers who are conscious of sustainability and are in search of fair, transparent brands and retailers.
Example: Made in Italy. Heel height: 30 mm. Composition: 100% polyamide, 100% calf leather, 80% polyamide, 20% elastane, inside: 100% polyester.
Variants
If the product is available in more colors or in other prints and sizes, that must be shown clearly and visually so that it is easy to see for the buyer.
It would be ideal to include small photos of variants next to a keyword for each one of them, and to visually mark the options that are no longer available. An 'X' or a dimmer color for the sizes or variants that are not in stock would suffice.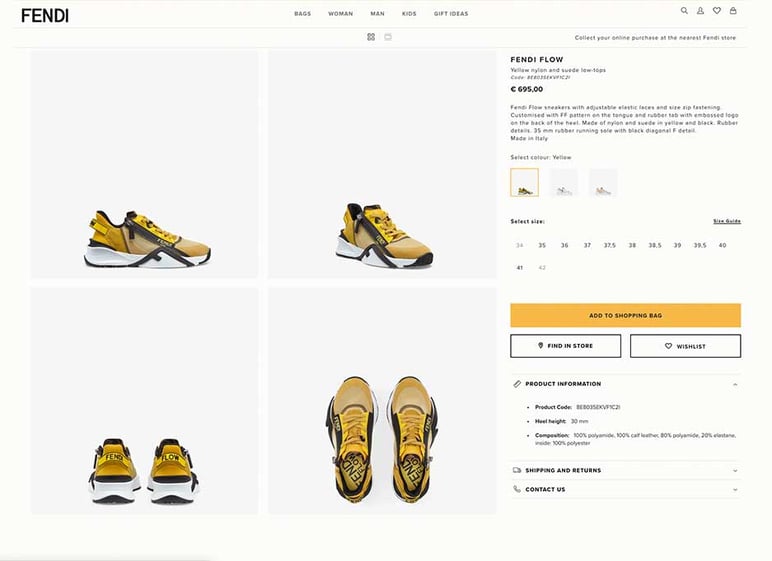 You can also include a short message about when more will be in for those variants that are not in stock, and you can give the user the option to receive an email alert when stock is available.
Example: White, Yellow, Pink. Select size: 34-42.
Size guide
One of the biggest problems with the return of online fashion purchases is the sizing. Many buyers are not sure of the size they need and if the size they always use will work for them.
One way to avoid abandoned carts and to cut down on returns is by including a size guide on your fashion product pages. But it is important for it to be understandable, accurate, and customized for each type of garment or accessory.
Include the most specific dimensions possible for each product type; fore example, the length, width, and sizing equivalents for different countries if you have an international shop.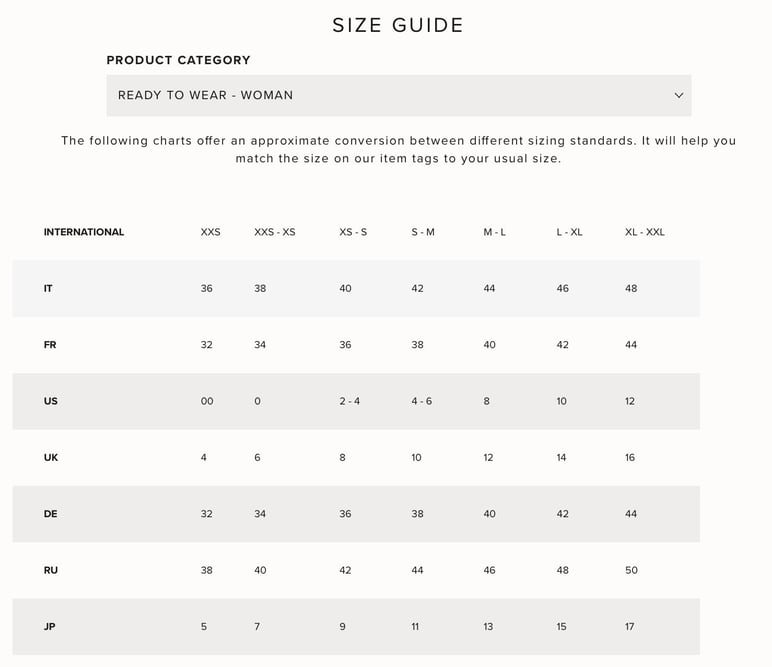 As a sizing guide is something general, don't forget to include a contact link or telephone number with your sizing guide to answer any specific questions your buyers may have.
Example: Fendi includes a custom size guide for all product categories, like Ready to Wear, Shoes, Belts, Clothing for Babies, and even Bracelets.
→ From PIM to Prada: How to offer the best fashion shopping experience
Related products
An online shopper rarely visits an online fashion shop in search of a specific garment. Even if that is the case, they will probably take a look at other products along the way, like in a physical shop.
It is useful to include suggestions for accessories, complementary products, and garments that complete a set on your fashion product pages. This helps favor cross-selling (and upselling, if you recommend products from the same category that are of a higher grade and price), and it increases the average shopping cart total on your online shop.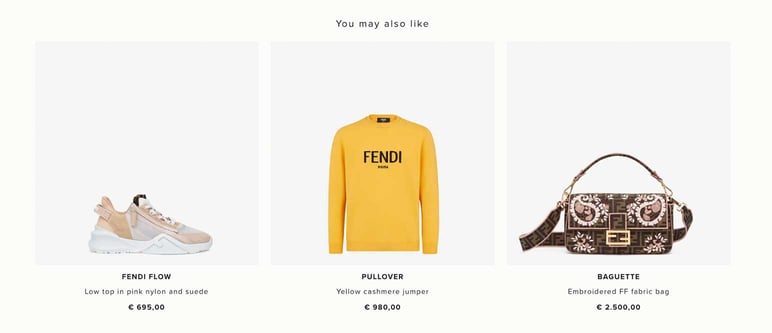 Another strategy is that of including a gallery with a quick view of the most recent products that the customer has looked at on the website to remind the user of pieces that he/she may have forgotten and which can be added to the cart.
Shopping options
It is not necessary to have an online shop to include buying options for fashion products. Apart from the button to buy the product on an ecommerce site, it is quite useful to include other ways of interacting or adding the product to a wish list, or ways to check the stock availability in physical shops, at retail stores, and on marketplaces.
It all depends on your sales strategy, but making it easy for the consumer to make a purchase without having to go to more pages is the secret of the omnichannel approach and the secret to avoid losing customers.
Other services
These elements are no longer part of the fashion product page as such, but just like with any other ecommerce site, it is of utmost importance to include information about shipping (don't forget fees, options, and times), returns, and how to contact customer service for the retailer or brand.

It depends on the shopping experience offered by each brand whether or not other additional services are available. Example, Fendi allows users to choose at the end of fashion their product pages to personalize their packaging, pick up orders in their shops, and/or make an appointment with a brand advisor.
Conclusion
Getting original product pages for fashion products is within your reach with little effort. The only thing that you need is to have your technical data well organized and for your marketing team to sprinkle a bit of originality into the key texts to favor online positioning in search engines and on marketplaces.
Whether you are a manufacturer or retailer, a PIM system is the best tool to receive, order, and send product information from all your providers or to all your sales channels. And as a PIM solution does this automatically, your team will save that time and be able to be more creative with product descriptions.
Try Sales Layer's PIM solution for free or request a custom demo and ensure that your catalog is always in fashion by offering the best product experience to your customers.