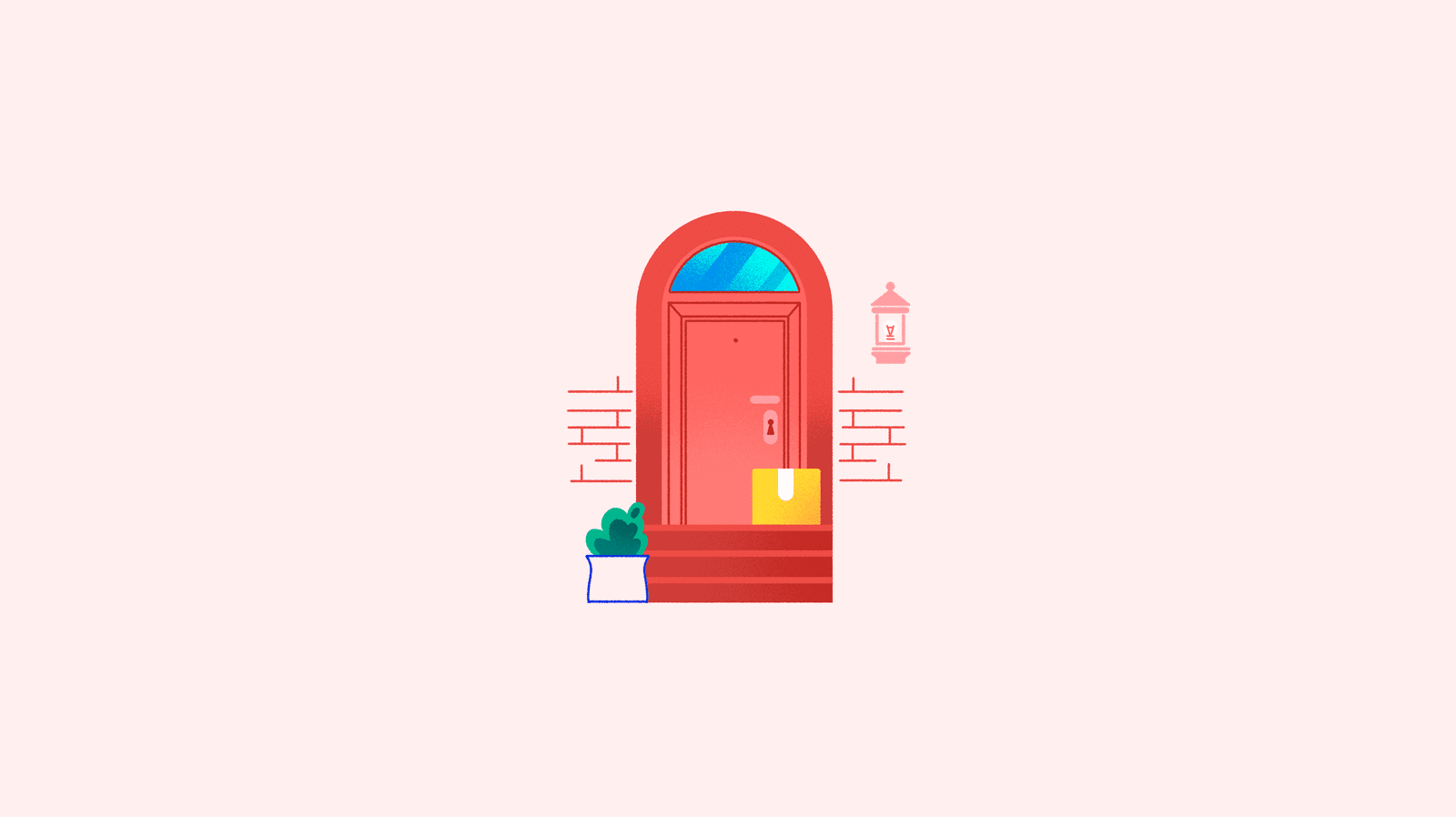 What is an online store returns policy?
This is the set of conditions that apply to all product exchange and returns processes that may be carried out by buyers in a store.
Within this policy, the following two scenarios are differentiated:
Exchanges: when a product is defective or not fit for purpose, in such a way that the customer decides to substitute it for another identical or similar product (different size, measurements, etc.).
Returns: when a product does not meet the customer's expectations and they decide to return it to the store.
Ideally, all sales would result in happy customers and you would never need to bear the expenses of any errors or regrets. However, in the real world, it's not just possible that your customers may be unsatisfied – this is in fact quite common. Returns rates for digital purchases continue to be higher than those of physical sales, reaching an average of up to 20% of total sales.
There is always the possibility that you will ship a defective product, that it will become damaged during transit, or even that the buyer will realize that the product they have received is not what they expected or does not serve its intended purpose.
In both cases, there's no need for the situation to turn disastrous. An exchange or return to an ecommerce store is also an opportunity to get to know your customers better, discovering what difficulties they are experiencing in finding what they need, and convincing them to buy again with excellent service and customer experience.
→ It all starts with a box: the importance of packaging for ecommerce
Why do you need a returns policy for your ecommerce business?
66% of online consumers read ecommerce exchange and returns policies before buying anything. Two out of three consumers are likely to abandon any potential purchases if the store does not offer free returns. And this research is all the more exhaustive when it comes to periods of the year with higher rates of exchanges and returns, such as January – after Christmas and the annual sales.
As you can see, it is crucial for buyers that your store has a well-defined exchange and returns policy. What's more, according to the country of sale you may be legally obliged to offer certain conditions and rights for exchanges and refunds, for both digital and physical sales.
→ Put these into action: 10 tips for offering a better shopping experience
If you don't yet have a policy defined, or think it might need a review, get to work now and make the most of these advantages:
Creating trust among buyers, who expect to see conditions clearly explained.
Generating a good reputation for your brand. Word-of-mouth between acquaintances and on social networks spreads quickly if a seller offers a terrible exchange and returns experience.
Encouraging other customers. After reading positive reviews mentioning a good returns experience, users are often more likely to make a purchase.
Ecommerce returns-policy template
1. Decide which products can be returned and/or exchanged. During particular times of the year you will need to remove this condition (such as during periods of significant discounts or during clearance sales).
2. Indicate the returns period and through which means customers can make exchanges and returns. This period is normally 30 days, although some brands offer 90 days: as customers feel more relaxed if they see a longer period. Decide if these processes can be carried out in physical stores or via an email, form, automatic link, or from the customer's store account.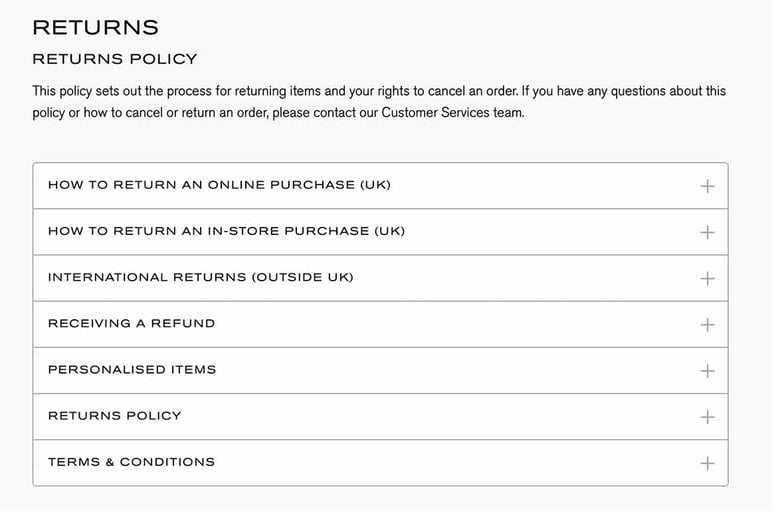 3. Protect yourself from fraud. Many buyers purchase a product to use it and return it before the end of the maximum returns period. It is impossible to inspect the product in advance over the internet, so protect yourself with conditions that make it very clear how exchanges and returns will be accepted:
Clean and without any signs of use
With all tags attached
In original packaging
In this section, we recommend offering tracking for all orders, to make sure they arrive at their destination.
→ Trust your couriers: how to choose the best company for online stores
4. Indicate if returns are free or to be paid for by the customer. This will affect shipping costs, customs fees (if shipped internationally), and any costs should the package be lost.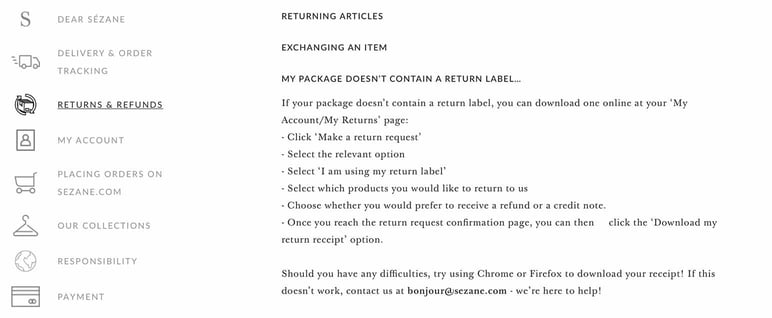 5. Specify your returns conditions:
In exchange for the total amount of the sale, to the original payment method.
In exchange for another identical product.
In exchange for credit to be spent in the store.
6. Indicate the exchange and returns processing deadlines. This way, customers will know how long to wait for their refund or replacement item.
7. Ensure that your exchange and returns information is visible:
Product pages: Add a brief explanation of exchanges and returns at the top of your product cards, next to the purchase button, or a line of text with a link to the returns section of your site.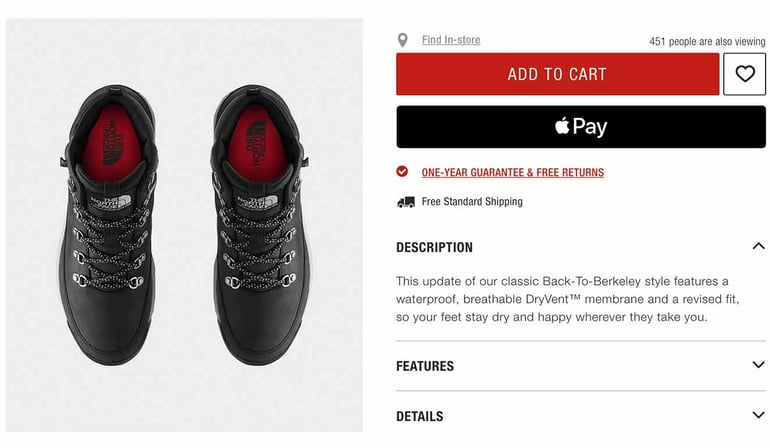 Header and footer: Include a link to your exchange and returns section from your homepage's main menu and in the footer, so that users can find it at any time.
FAQ section: Create a page or section for questions and conditions. Ideally, this should not be too extensive and should be composed of short texts, using simple language and without any confusing legal terms, supported by icons and graphics. What's more, your customer service team must clearly understand this policy, in order to offer the same information as that provided on the site when dealing with customers.
Cart and checkout: Repeat the key aspects of your policy on these windows, in particular for those buyers who have not yet found this information and may be looking for it.
Dispatch emails: Always include an explanation of your exchange and returns policy, or a link to the corresponding page, in all your confirmation and delivery-tracking emails.
→ What NOT to do: common errors in ecommerce checkouts
Hook customers with a 10/10 experience:
Offer solutions: 92% of buyers will buy again if the exchange and returns process is simple.
Respond quickly: the majority of customers expect their money to be returned within less than a week. Remember that at certain times of the year, you will need to increase your logistics resources. You can make use of an RMA (Return Merchandise) system, which automates ecommerce returns processes by printing a pre-paid label for shipment. There are also extensions available for platforms like Shopify, which link these communications to your ecommerce stores and offer reduced courier rates for sellers.
Encourage upselling in exchanges: this situation is always more favorable than a return. Make the most of the opportunity to suggest a better product or accessory that may reinforce customer satisfaction.
How to avoid ecommerce returns
As we have already noted, it's impossible to avoid exchanges and returns in digital sales. However, you can reduce their frequency by developing these aspects which affect the customer experience.
Comprehensive and clear product information
This is key to ensuring customer satisfaction as soon as they open the product page. Many returns come as a result of incomplete or incorrect information on the product card, such as incorrect measurements, poorly labelled sizes, a lack of information about materials, or photographs that do not accurately represent colors, etc.
Perfect product information is the key sales driver for brands and sellers, and systems like PIM (Product Information Management) software are becoming increasingly popular in order to display a perfect catalog across all sales channels.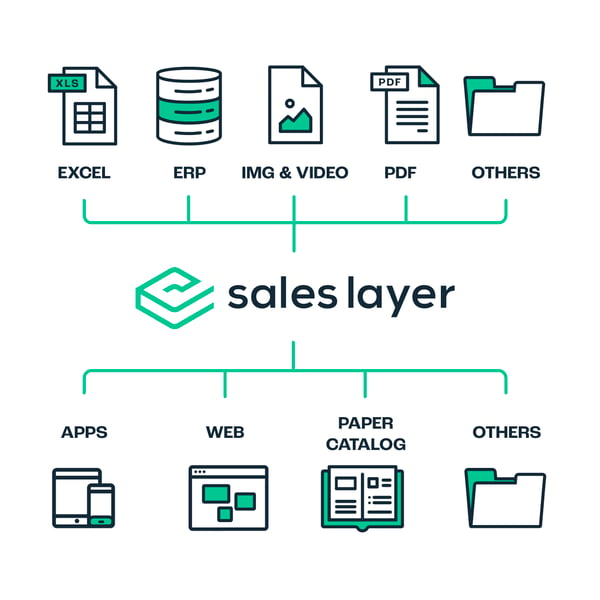 Customer-satisfaction analysis
There are also many unsatisfied customers who will never return their purchase, through laziness or a reluctance to complain. By carrying out regular satisfaction questionnaires with your buyers, you can discover clues as to why they have not continued to make purchases from your store or tips for which aspects you can improve with regard to your site or products.
Inventory quality and relevance test
Sometimes, a high volume of returns may be due to a batch of defective products leaving your warehouse without you realizing. Looking at how often the same products are being returned can indicate a faulty product.
At other times, a pattern of returned products may be due to the fact that the item does not satisfy buyers or has become outdated. As such, it may be a good time to discontinue this from your catalog and save yourself the expense of these situations.
Get your returns policy ready
Today, digital shopping experience should be focused on the buyer. This means that your ecommerce exchange and returns policy should make things easy for the customer and remain clearly accessible during browsing.
To ensure this, create a simple and easy-to-understand policy that can be easily located from various pages on the online store, and which offers a straightforward and attractive process for the user.
Remember to protect your business too, by assessing the costs inherent to these processes and avoiding fraud. Above all, better prepare yourself to avoid returns and exchanges by ensuring that your customers are well informed, with precise product information.
Implement all this today with a free trial of Sales Layer PIM and see how this can improve the quality of your ecommerce business and translate into more satisfied customers.