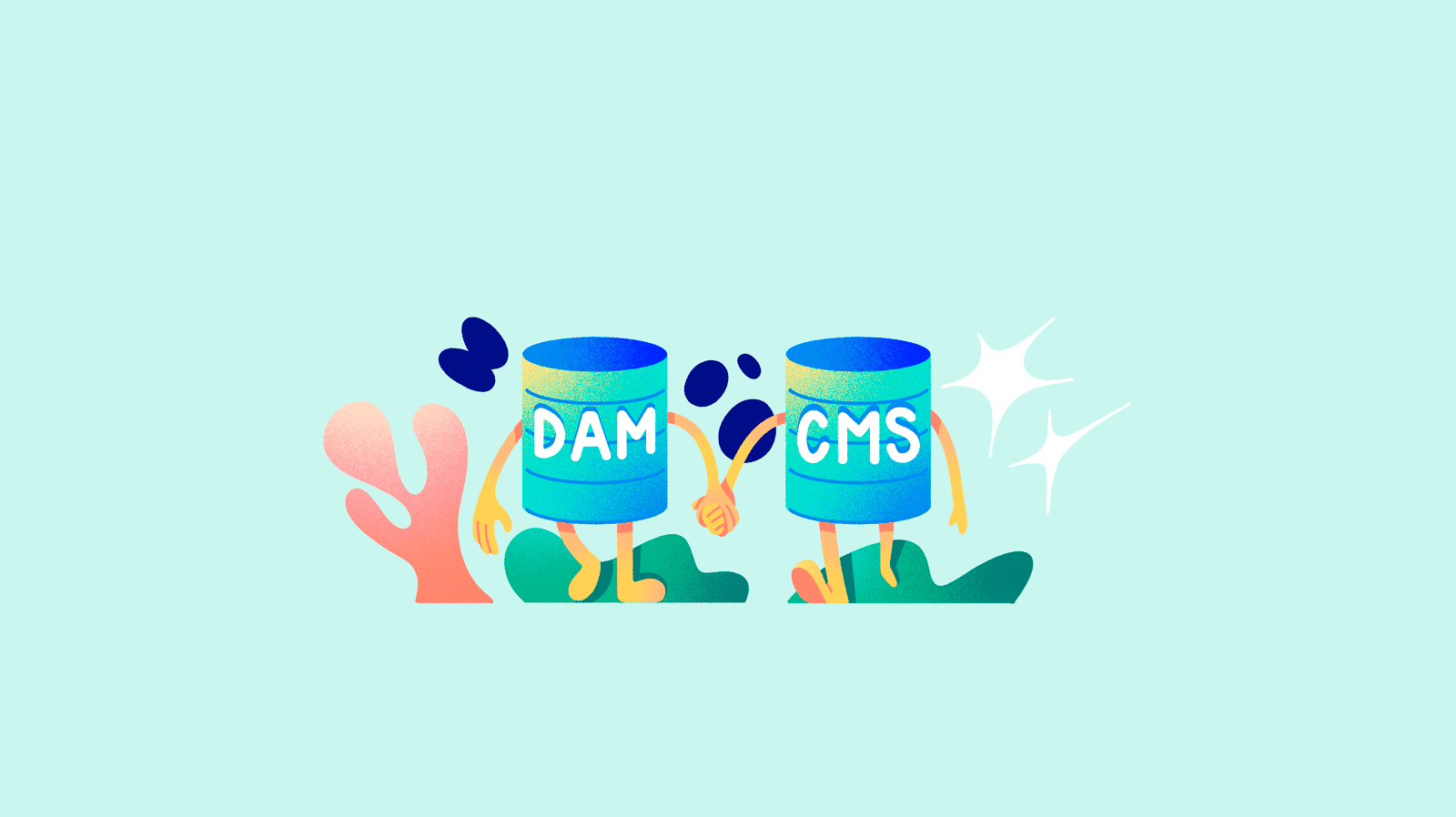 What is the difference between a CMS and a DAM?
CMS (Content Management Systems) are platforms dedicated to the management and publication of online content and the organisation of associated resources, such as texts, images, documents, etc. The most popular are WordPress, Joomla, Hubspot and CMS oriented to ecommerce, such as Shopify, WooCommerce or Magento.
On the other hand, a DAM (Digital Asset Management) system is a software used to centralise and organise resources, from document files to images, videos and other multimedia.
Therefore, they are two systems with very different objectives. The main purpose of a CMS is to publish and manage online content, such as websites and blogs. Whereas a DAM is a database of resources, mainly audiovisual.
In fact, although they are different, they have one thing in common: the assets or resources. Let's see how a CMS and a DAM can be integrated to facilitate the work of your online content management team.
Why integrate your CMS with a DAM system?
When using a CMS to manage publications on a website or blog, it is usual for contributors to upload files to the CMS, such as photos, video clips, PDFs... CMSs incorporate storage and allow you to organise content in folders, but it is not a system designed to organise all these resources efficiently.
In the end, it is common for each person to upload files using different names, saving in the wrong folders, duplicating documents... A chaos that makes it very difficult to locate resources and keep them updated correctly in all channels.
Integrating a DAM with your CMS eliminates this kind of problems and also repetitive and tedious manual work, which is what ends up causing errors.
The DAM platform acts as a source of truth for your resources and anyone in the company can use it to get the correct, up-to-date version of a logo or PDF.
Similarly, content will be automatically updated and sent to your CMS as the two systems are connected, as well as other channels that you want to link and are useful for managing websites and online catalogues, such as a PIM (Product Information Management).
What do you get by integrating a CMS and a DAM?
Centralisation of files
The main purpose of a CMS and DAM integration is to make resources centralised and reliable for anyone who needs them. In the DAM platform, all files are brought together and automatically connected to any channel that will use them, such as the online content manager.
Distribution of resources
The advantage of a single, central database for your assets is that files will always be shared in their latest and correct version on any channel, such as your CMS and other related platforms, such as your video accounts (like YouTube).
Rich content
Endlessly adding files and data to a CMS can seem very productive... until all that information is uncontrolled, inconsistent and not optimised for online search engines and your customers.
Using a DAM connected to a PIM system (or a PIM that directly includes DAM functionalities, such as Sales Layer), allows you to enrich the content that you are going to connect to your CMS and publish on websites or catalogues. It is the most efficient way of working to ensure the resources are optimised and adapted to each channel.
Do you have a CMS, such as Hubspot, and would like to better manage all the resources you use on your website and other channels? Have you used a DAM system and don't know how to integrate it correctly? Or maybe you need an even simpler and faster solution?
Try our PIM to access DAM functionalities and enrich your product information, centralise it in one place and make sure it is sent seamlessly to all channels. And if you have any questions we'll show you how it works in a personalised meeting.