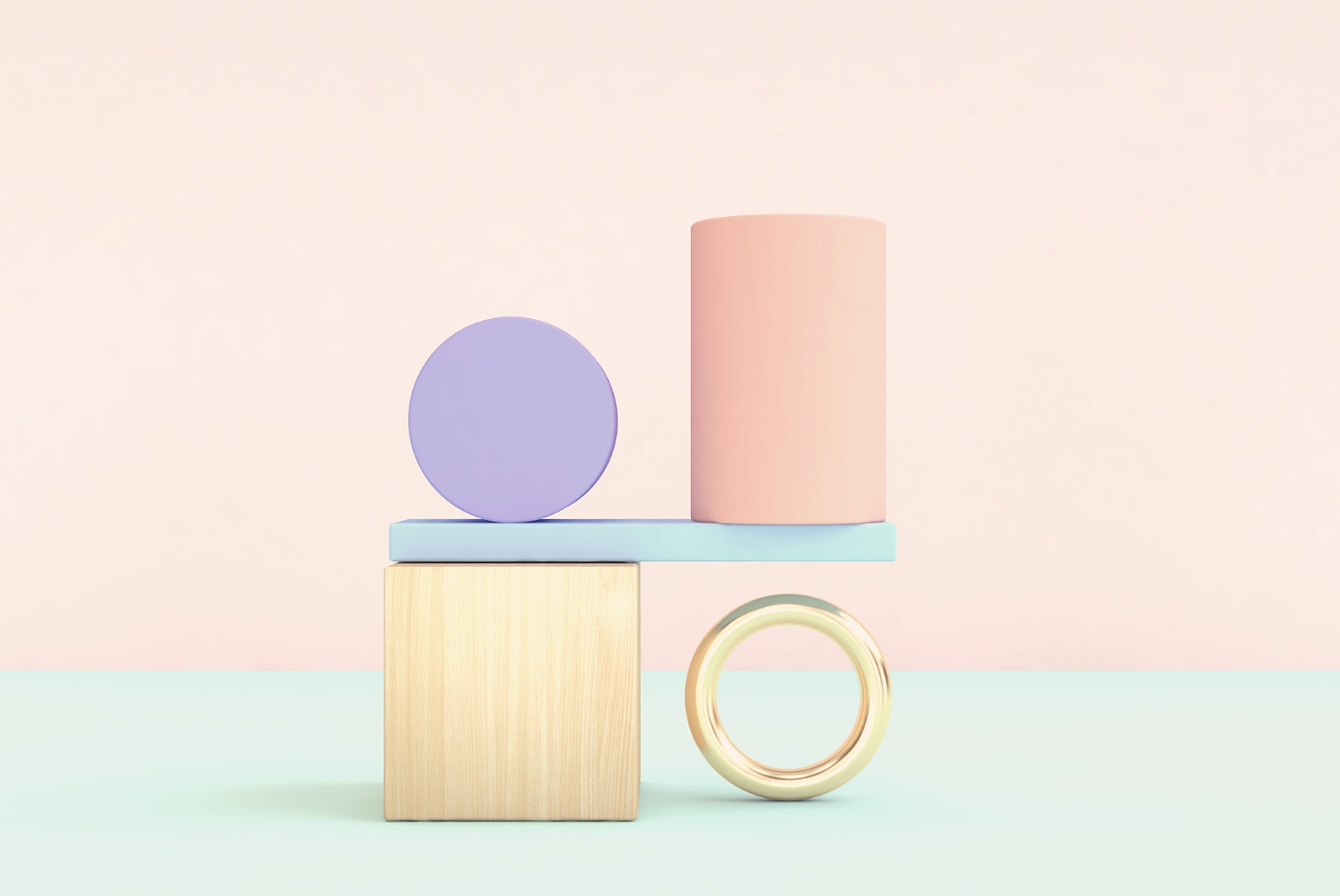 Blame the recession: in recent years one of the favourite topics in the tabloid press has been to accuse millennials of having sunk the jewelry business. Without wealth, yet with new investment values, the young people of today aren't interested in diamonds or emeralds.
Thank the recession: as every cloud has a silver lining, other demographic groups have actually increased the demand for luxury products, that is, once the first repercussions of the financial crisis had been overcome. To this can be added the rise of the upper and middle classes in countries like China, keen to invest in jewelry and western brands.
Currently, annual global sales figures for the jewelry sector reach 148 billion US dollars; which with a growth ratio of 6% per year, will reach 250 billion dollars by 2020. Online and digital sales channels still represent a small margin within the industry, just 5% of the market, forecast to increase to 10% in 2020. But that doesn't mean the scene hasn't already started to change.
Some of the transformations that have recently challenged the jewelry sector include brand internationalization, the development of new omnichannel strategies and the fast fashion movement: of high speed, high class consumption.
Table of contents
Diamonds are forever: New markets and opportunities for the jewelry sector
The process of searching and buying online is becoming easier by the day, and luxury categories like the jewelry sector that have normally been difficult to access, have discovered a novel way to reach a wider public.
Why not drop in to Tiffany's for a peep at their diamond earrings? It's no longer an impossible dream, now that you can go there online – even if you're wearing trainers and have no intention of buying. Of course, what's even more interesting is that users who do have an intention to buy, are also being drawn in. Many brands selling top-of-the-range, super-expensive jewelry have gone on to collaborate with big brands like H&M in order to attract the attention of a select public by presenting special collections.
According to an Oracle survey, 47% of sellers recognise that sales strategies involving smartphones, have increased the value of their average user's shopping basket both online and offline (thanks to the extra searches users are able to carry out while in the shop).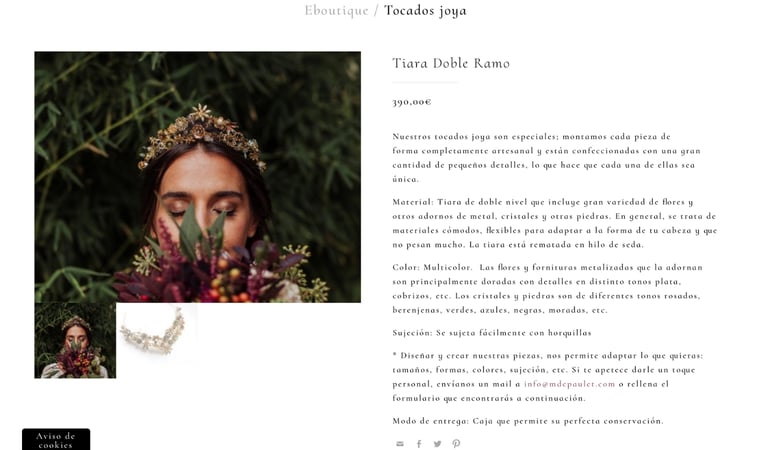 E-commerce at Tiffany's: Why jewelry is the perfect online product
Although online sales figures appear to be low, the jewelry industry is becoming a pioneer in adopting new technological preferences and solutions for e-commerce. As it's neither an essential product nor within everyone's reach, jewelry retailers realise they have to cultivate their main selling point: a sophisticated experience that gives access to something unique and personalised. This is much harder to achieve with products in heavy demand, like pencils or trainers.
Furthermore, this e-commerce boom includes not only new but also vintage and reconditioned jewelry, which sell for similar or even higher prices.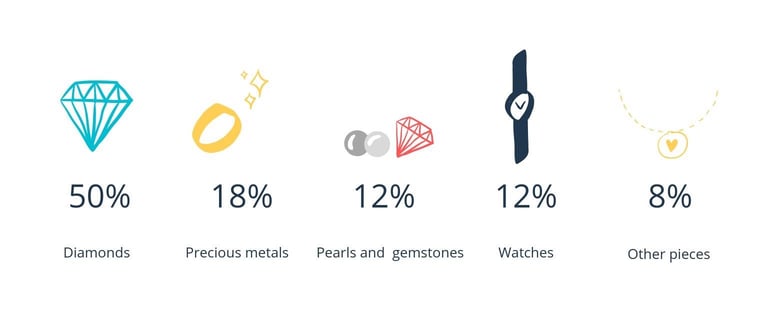 Strong points of the jewelry industry in e-commerce design
An earring, a necklace or a ring are rarely bigger than the centre of a mobile screen – that's why jewelry looks so good on online channels, and even more so with the extra support functions and search options that cannot easily be accessed at a physical jewelers' shop.
The product description can include sufficient technical details to bestow a degree of credibility on the seller, and a completeness of information about the item (such as measurements, composition, alloys, weight, lustre, and even ways to combine the jewelry with styles of clothing), that would be tedious and time-consuming to achieve through enquiries made in person.
YIELD includes a guide on their website to choosing jewelry by colour, skin tone and sensitivity, value of the metal, durability and strength.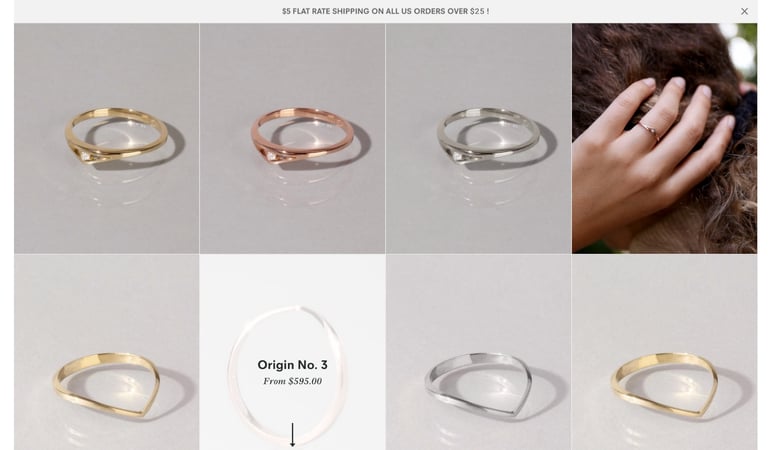 By shopping online, you save a lot of time with comparing variants of a given item of jewelry, whether by colour, or type of stone or metal; which then means you can choose additional customising features, such as engravings or gift wrapping, at your leisure.
But even more important than data are online images, which provide access to a level of detail for each piece of jewelry impossible to attain by normal viewing. 360 degree photography and zoom lenses permit the user to inspect a piece from every angle, without need of a magnifying glass, without tarnishing it nor feeling watched by the sales assistant. Jewelry datasheets that include this kind of high-value images result in better sales conversions and fewer returns.
The strengths of the jewelry industry in e-commerce experience
Being a very expensive product, comparing jewelry prices online is much more advantageous than going from store to store.
If the purchase is made online, jewelry has the considerable advantage of being small and easy to send, less likely to suffer damage or breakage in transit; though having said that, it does require more complete and expensive insurance.
The following are some of the technological trends in e-commerce that are having a noticeable impact on the jewelry industry:
Customisation: here we're not just talking about having a date engraved, but rather giving the buyer total freedom to design his own jewelry with the help of special software, that will then send the order to the manufacturer to get it made.
3D Visualisation: the next step up from current visual options in e-commerce is 3D technology, with CAD software such as Matrix, Autocad, Blender or Maya. The user will be able to obtain a three-dimensional rendering of any piece of jewelry with a much higher level of detail and realism.
3D printing: not very widespread, due to the cost, and it's not possible to print in diamonds (although this is actually possible with titanium, at an industrial scale). But for online jewelry sellers, the ability to offer to send the customer a resin model as a sample of jewelry that's been custom designed for them, before moving on to the final stage of production, is a great opportunity.
Personal assistance: what's captivating about the experience of visiting Tiffany's is the doorman who opens the door for you, and the assistant who treats you like an aristocrat. Typically, an online buyer of jewelry will expect a real person behind the screen, which is why the use of video chats and interactive options will be key to strengthening online shopping including choice according to taste and budget.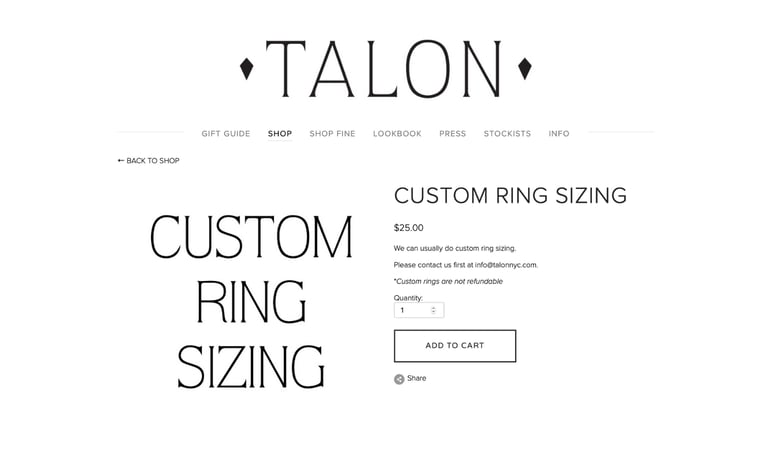 Diamonds in the rough: The future is not so shiny for craft jewelers
The promise that e-commerce holds for the future of jewelry, includes online catalogs not having the standard limitations of a physical shop, where it's impossible to display everything (due to security and because some pieces are solely made to order).
Top class jewelers are already taking the leap and investing in equipment for three-dimensional design, which will shorten the time taken between the design being requested by the user and its subsequent manufacture.
A craft jeweler follows the same production model whether for individual orders or for very small editions. But his or her capacity for investment in these new technologies is negligible, while manual production continues to be slower. This means having to raise prices substantially to compensate for a shortage of available production time, which in turn limits 'supply', yet needing to keep a solid basis of 'demand', with a waiting list.
Thus small jewelers need to take advantage of the marketing resources offered by e-commerce, rather than its technological aspects. To boost their output, they can focus on a very specific target and thus avoid competing with big brands and commercial channels that tend to appeal to both the general public and those with great purchasing power.
→ Thinking about selling your jewelry products on Amazon? Take this guide with you
Also, small-scale craft jewelers find it difficult financially to sustain an e-commerce model, since marketplaces like Etsy, Artfire or Amazon Handmade take high fees from their sellers, who then have to charge at least three times the cost of their materials to make a profit.
In order to survive, some craft jewelers form an alliance with some of the big commercial chains who are willing to host smaller brands, providing display services in exchange for a cut of their profits.
It's not all bad news, though. To the benefit of craft jewelers, there's a widespread upsurge in preference and demand for products that are Fairtrade, local, from sustainable and certified sources and avoiding overexploitation. Estimates suggest that the growth of the ten biggest jewelry brands in the world will be thanks to the acquisition of local brands: thus the advantages are reciprocal.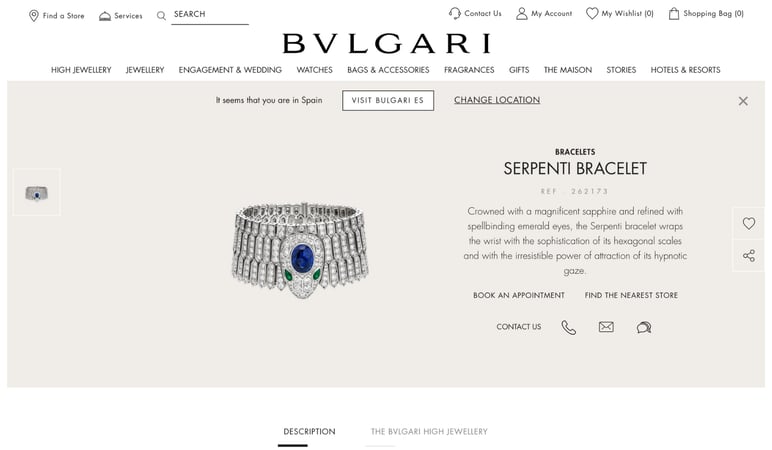 Shine bright like a cheap diamond: How the low-end market is

affecting the luxury jewelry sector

Jewelry remains an accessory to fashion; and as the fashion sector has reached an almost shocking renewal rate, these rapidly changing trends oblige brands to continually offer new products if they wish to maintain the customers' interest.

In the jewelry business such a fast pace doesn't seem at all practical, since unlike your average tee-shirt, expensive products can't be turned around so frequently nor manufactured at such short notice.

Cheap jewelry brands are able to sustain a faster pace of production and release, fueling the fast fashion trend and preference for the latest, seasonal favourites in design, metal or precious stone. According to some research results, nowadays fewer than half of all jewelry buyers consider brand name to be a decisive factor in choosing what to buy and according to Mckinsey, by 2020, 60-70% of sales in the jewelry sector will be unbranded products.

What then are the most persuasive factors for the online jewelry shopper?
The seller's honesty and knowledge
The quality of product
The reputation of the shop or website
The service offered
Many of the newer websites work by buying lower-quality jewelry wholesale and from cheap providers such as Aliexpress and Alibaba, although there are a few higher quality alternatives like SaleHoo.
These low-price online shops create a very broad catalog and chase all kinds of customer profile, therefore the best means of counter-attack is to develop a very specific niche (e.g. bridal tiaras, cufflinks, piercings, pet pendants...), and to build a brand, especially making use of 'ambassadors' such as influencers or celebrities.
Meanwhile, the jewelry industry's classic players maintain their exclusivity, selling only on limited channels (namely their own website and some affiliated channels like Harrods). However, promoting visits to the high-street store, even from the website (where though many pieces are displayed, they may not actually be bought online) leads to the disadvantage that not everyone has access to a nearby boutique or wants to go there.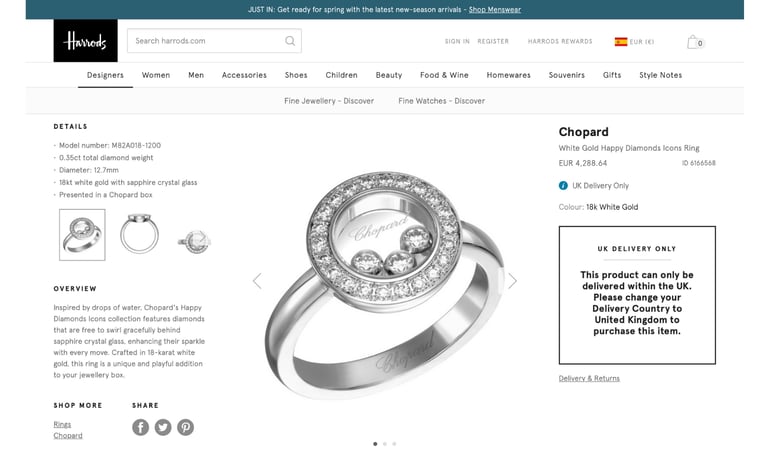 Adapting to the opportunities of e-commerce presents an unavoidable challenge for big and small jewelry businesses alike; as much for the dangers of becoming outdated in this technological environment, as for the competitive models that comprise the new journey, habits and demands of the modern user.
The best way to gain momentum is to take the digital leap and organize your online sales using a Product Information Management software such as Sales Layer: try this 30-days demo to polish your catalogue and make it sparkle in all your channels.