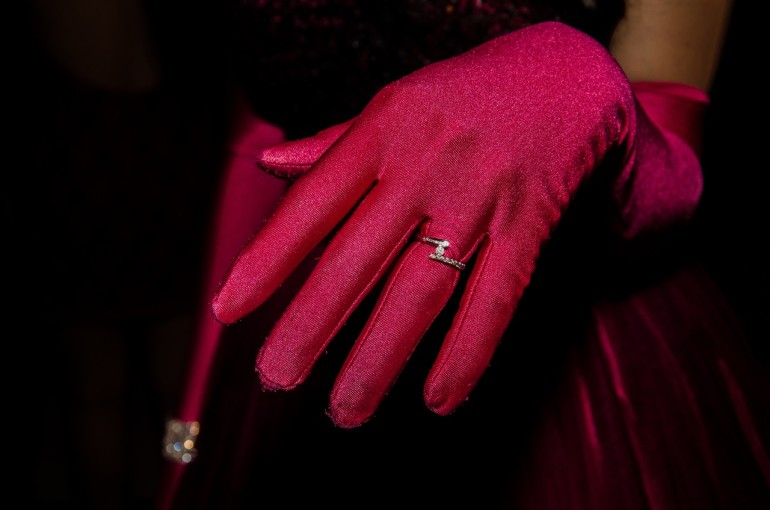 «I don't do fashion, I AM fashion.» The legendary designer, Coco Chanel, spoke these words with the rotundity of someone with an ambitious character, to put it lightly, but this is also said by someone who knows their profession like the back of their hand.
In the film "The Devil Wears Prada", when the Vogue editor asks her assistant to get her the manuscript of a Harry Potter book that hasn't been published, we can see how someone who is used to luxury and power goes beyond the limits of getting things on a whim. But we can also interpret this in another way: to have access to exclusive treatment is part of the editor's lifestyle; one that doesn't place her on a superior scale to the rest of the people, but one which she is working and paying for on a daily basis. Deep down, the public thinks the same as Coco Chanel: they don't want things; they want to feel that these things belong to them in a special way.
To feel special is ultimately the main aim that leads to any user making a purchase, and it is the heart of the majority of advertising strategies since the 1950s. The best fictional expert in psychological consumer mechanisms, Don Draper, has already said this: I'm not selling nylon tights, I'm selling love.
What's surprising is that most of the brands seem to have forgotten these foundational bases, and in the middle of the e-commerce boom, they choose poor and repetitive structures and tactics, without personality or any conscience of differing shopping experiences for different kinds of customers. The social and geographical divisions are well taken into account in cold analysis and marketing mathematics: which age groups, which gender, which nationalities wish what, when and why. The "how" is what's really forgotten at that point, beyond certain general trends that they hope to apply in a uniform way, and to all members in one group.
This era of the specialisation must not only think in small and minority audiences, it has to think of each one within them. The prominence of the online world also entails new emergences of loneliness that try to be compensated by means of invisible bonds through intangible experiences. But what satisfaction will customers find when they are willing to pay for luxury in an online shop and they find just another interface with a distant and automated service? They'll feel infinitely more alone than going to a physical boutique and giving in to a little personal advice. Yes, the products will be the same but the value that customers gain during the experience means a very significant extra reward, and that is the percentage of luxury that they pay for before some materials or an emblem.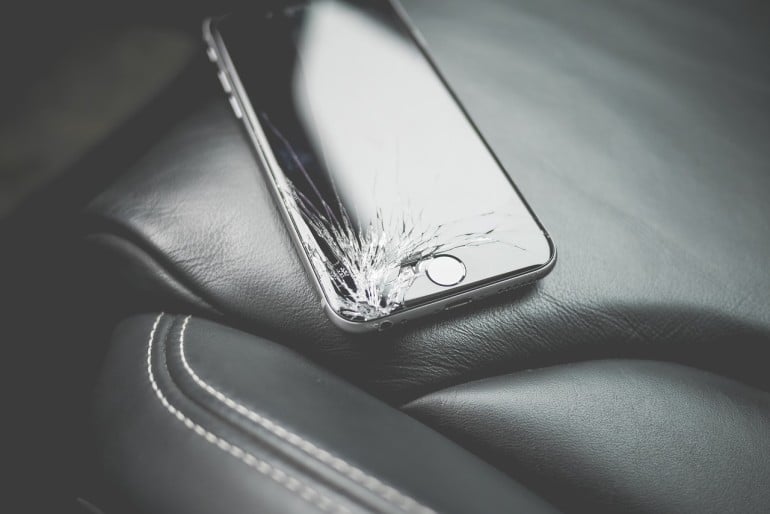 The use of luxury or high-end objects appears to be linked to the desire of feeling the access to an exclusivity which, for psychological reasons, impresses as much on levels of quality as it does on social statuses. We all know that many luxury products are not very different from other mid-range products regarding manufacturing, but customers are pleased to pay their part, so they can feel they own a limited edition object and served with meticulous customer service. By going to a luxury physical branch, customers will get bags with a monogram which will allow them to publicly show off their purchase, they will be attended to by staff who are trained to make their visit seem almost like a royal reception, and they'll surely receive extra care and gifts. This is the reason behind the success of certain beauty salons: it's not the wonderful haircut or the magical massage, it's the free cocktail, the tea table, the bag full of ribbons, the free samples and the smiles.
A common mistake is to think that the customers who can allow to give themselves luxury objects, won't have any problem with the prices or need discounts or extras. They don't need them, in practical terms, but the psychological reactions in everyone are identical. Even millionaires want to feel like they get a bargain from time to time, to know that they were cleverer than the seller, or that a fair tip was taken off their giant purchase. To anticipate these thoughts will bring loyal clients and will avoid tantrums and telling-offs by a much more demanding public at the expense of their generous wallet.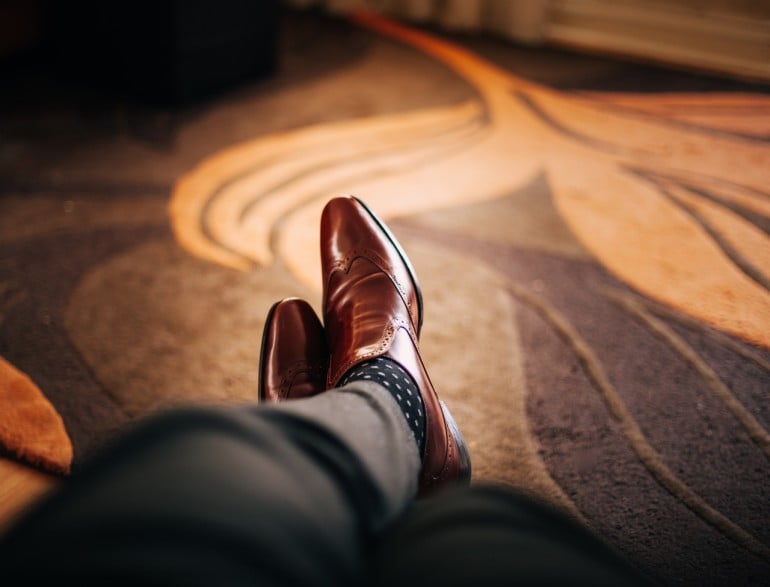 Many brands oriented towards an exclusive image and deluxe quality are making the mistake of attracting a suitable clientele to then completely forget them later, trusting that the prices will never be a problem, and that after the initial hook, the user will settle with using the brand's products to feel special.
One of the remarkable cases in this sense is shown by the brand Nespresso and their coffee capsules. The company, which also offers machines and coffee accessories in collaboration with other electrical household appliances is famous for offering attractive discounts and packs to new clients, as well as coffee makers at practically half price and cheques for the value of a large selection of coffee boxes. In their physical shops, the assistants advise customers on any doubts, they are full of kindness, and invite customers to have a drink in little rest areas. It's an experience of a large Parisian boutique within the reach of anyone who can pay for a machine that costs 50€, or a box for 4€; that is to say, practically anyone.
But once the customer registers in Club Nespresso with its elegant aura and George Clooney as patron, the advantages disappear. The brand doesn't differentiate between customers who buy a couple of boxes every 6 months or those who spend 200€ a month in capsules. Both receive announcements every so often with reiterative offers that imply a large payment in exchange for a few gifts, which is something that low-budget customers will never take advantage of, and seems inadequate for customers who are used to luxury goods.
During one of Nespresso's Christmas campaigns, the brand offered a container of capsules to new customers as a welcome gift. In the comments section, a regular consumer complained that she had never been offered anything in exchange after years of spending a large monthly amount in their shop. Nespresso's customer service immediately asked this woman for her details so that they could send her a gift. The customer refused to accept it: «I don't want a capsules container». What she wanted was an exclusive, personal, attentive and real service that was offered to her before the damage was done.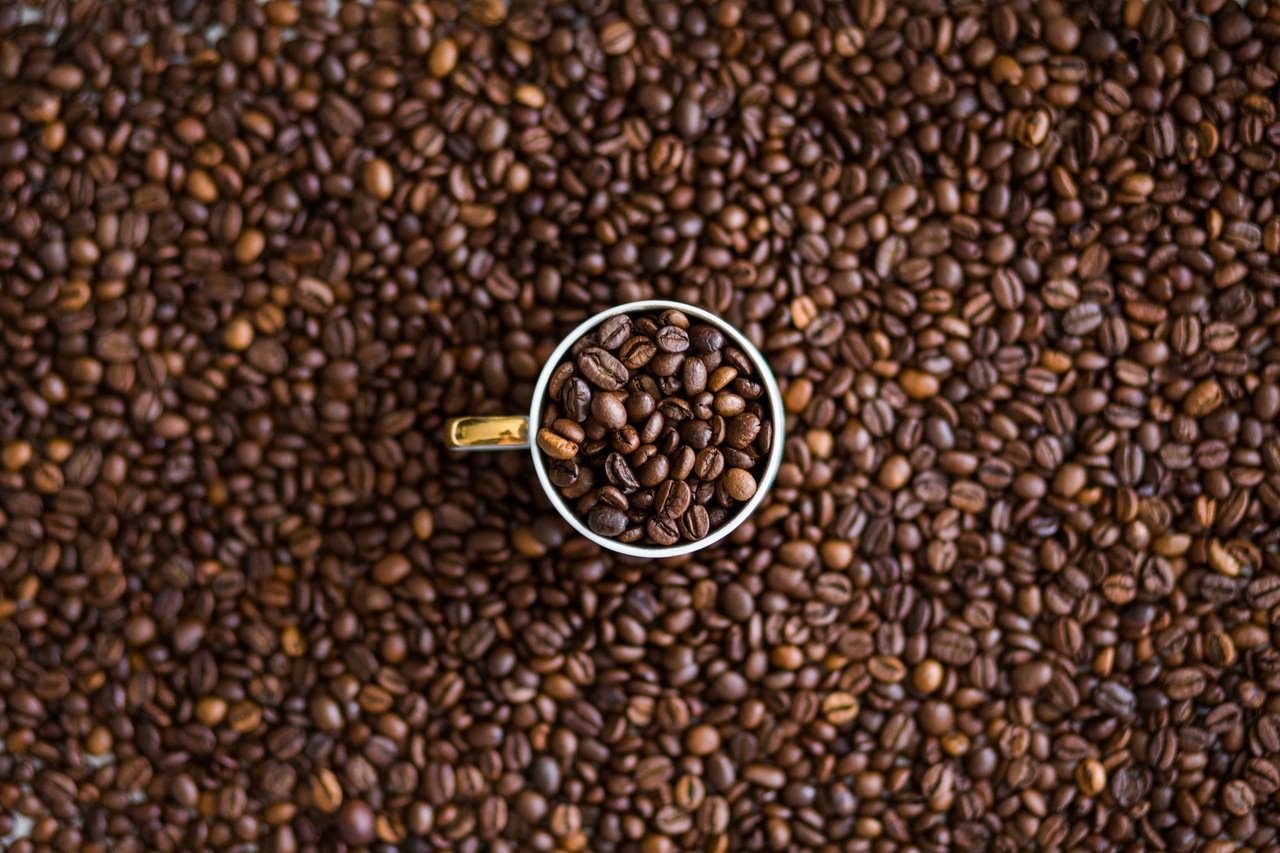 That experience obviously isn't possible on Nespresso's online shop either. Like the majority of high-end e-commerce brands, the website design can be more or less taken care of but the satisfaction of buying online is practically non-existent. It's the closest to making a shopping list and then receiving your order at your door a few hours later. And the customer doesn't only want to pay for a speedy service; that is a strategy used by Amazon, not Louis Vuitton.
If it's not the same to visit Zara and Versace, then why is it so similar to buy on their e-commerce platforms? The brands take for granted that customers know the value of the products and don't need to sell an image once more, but the shopping experience is still very different in physical and online mediums, as so many shops overlook this vital part of their duties.
«Fashion doesn't necessarily consist of labels. It's not about brands. Fashion is about something more that comes from you», said Ralph Lauren. From our own experience of wearing the brand's sock boots, we can confirm that the product didn't last much more than those sold by Oysho. And you don't always pay for quality, especially when products are not actually seen or touched in the online medium, it's more about that added special aspect that Lauren pointed out. And what are the large brands differentiating in when their product descriptions are identical to those in the opposite pole like Amazon or Aliexpress? There is no distinguishing purchase that makes customers feel special or to convince them that they are buying something special, other than just another number more in the stock. The customer service becomes standard and just like what happened with that Nespresso customer, the brand isn't able to anticipate the customer's needs and surprise her with more than a simple discount voucher.
We will use the Ralph Lauren case and another more affordable and popular one like Mango. Now, the situation doesn't seem to vary from their land pages: the same structure, and a welcome by very beautiful models who seem to use brands at any price in the same way.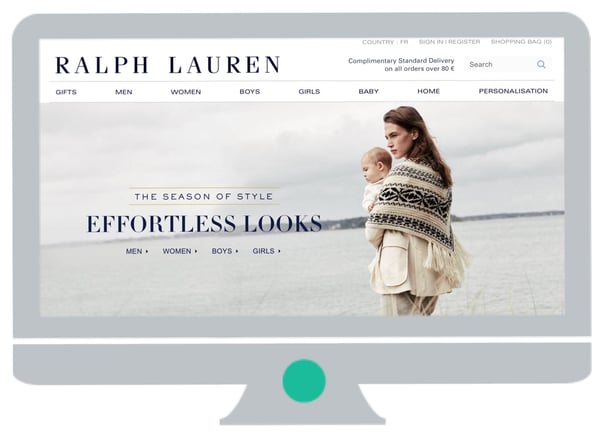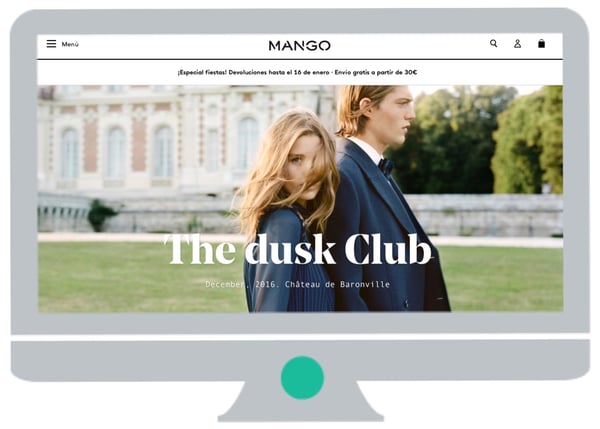 The trend to play down the brand and mix products in different ranges is due to the democratisation of fashion (with Kate Middleton as a popular example), but users are still waiting for a different deal when it comes to the shopping experience. If we compare the product descriptions for the model of a bag, which is very similar by both brands, we'll see that the photographs are indistinguishable and that they offer the same technical characteristics without any original description. What's more is that Mango's description offers more information at first glance (measurements, materials, colours available) than Ralph Lauren's description. This brand appears clearly visible on their bag, as opposed to Mango's simplicity, so what is the extra value of buying the most expensive version that couldn't even be touched, smelled or tried next to skin and clothing?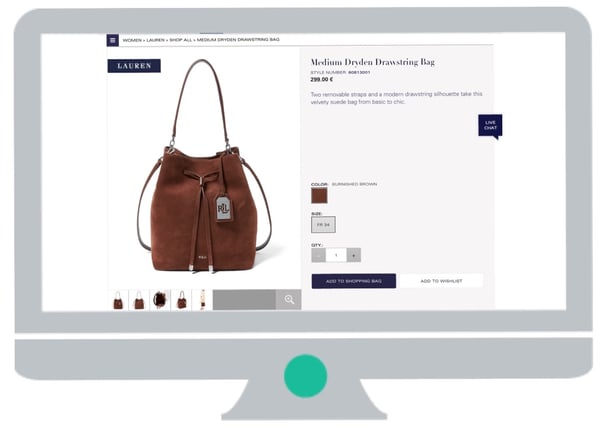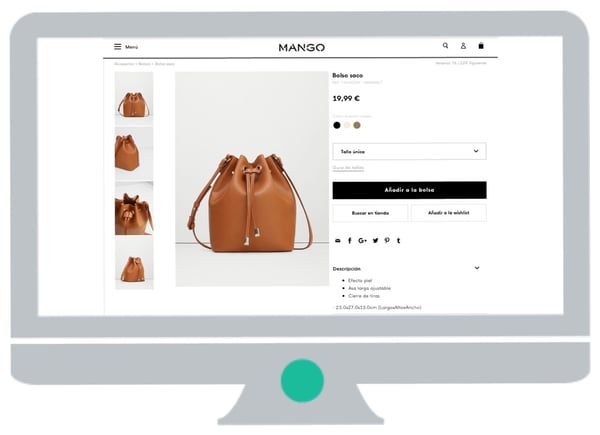 In 2015, Ralph Lauren installed a fitting room by the Oak Labs group in their New York store on Fifth Avenue. Inside this interactive fitting room is a digital and touch screen experience that allows a comparison of products which are about to be tried on, to request other designs and to save the reference number so a purchase can be made later online. But this experience is still linked to the physical presence of customers, although it supposes an interesting mix in the jump between platforms.
Now, we'll compare if the sales strategy varies for seasonal catalogues: for example, the home Christmas decoration in Harrod's, which is the large and exclusive luxury shopping centre in London, or a Zara Home which is even available in the peripheral areas of Spain. The presentation of products follows the same pattern: more work wasn't put into Harrod's photographs compared to those by Zara, and the huge price variation doesn't seem to be in synchrony with how they offer the products in accordance with the sensation that their photos and descriptions convey (and see how the browsing and presentation of Zara's information is clearer and more intuitive than the high-end shop). We know that the pendant by Harrod's is by Swarovski, but the photographs don't show how the crystal shines, nor are they more appealing than the ordinary crystal ornaments by Zara. On a large scale, neither of the two websites transmit the warmth of the Christmas shopping experience that shops have to offer.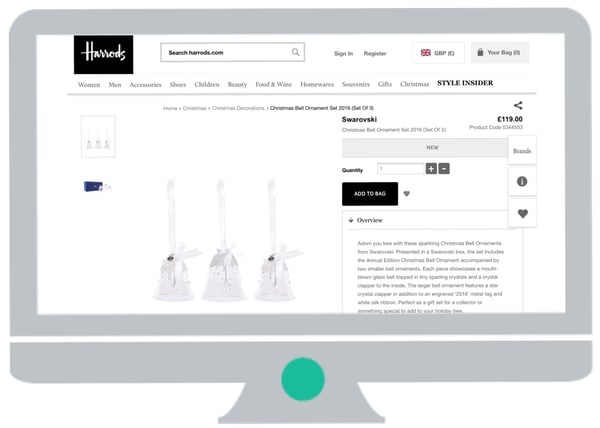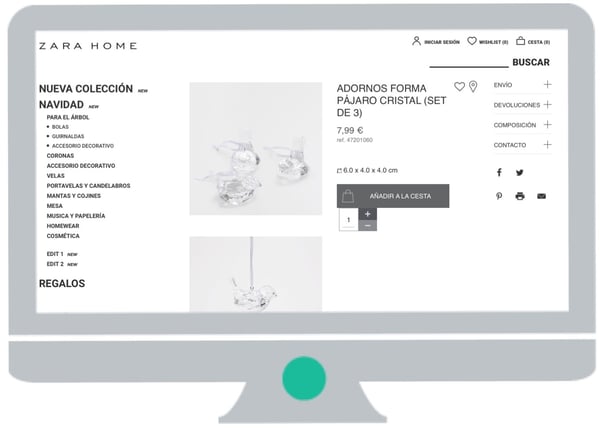 In general, users are redirected to deficient websites that need to improve the buying and selling e-commerce experience with a more inspirational orientation, and to sell a lifestyle in the same way as physical shops. There isn't just a lack of differentiation among the websites of different brands in the present scene, but even among products within a website. To buy something in the children's department is the same as buying something in the men's or women's departments, and household products, bags and jackets which are available in shops and shop windows after careful analyses and designs.
While some brands decide to reduce their luxury catalogue in order to home in on a wider audience (Hugo Boss focusing on male suits), and physical shops come up with more and more strategies to keep their clientele (from the luxury stores to the maintenance of brand signs like the dimly lit shops with young and attractive shop assistants at Abercrombie & Fitch), the online shops would need to think about making a radical change in the same way. The service and the intangible experience are what bring people to Starbucks instead of them opting for a much cheaper vending machine.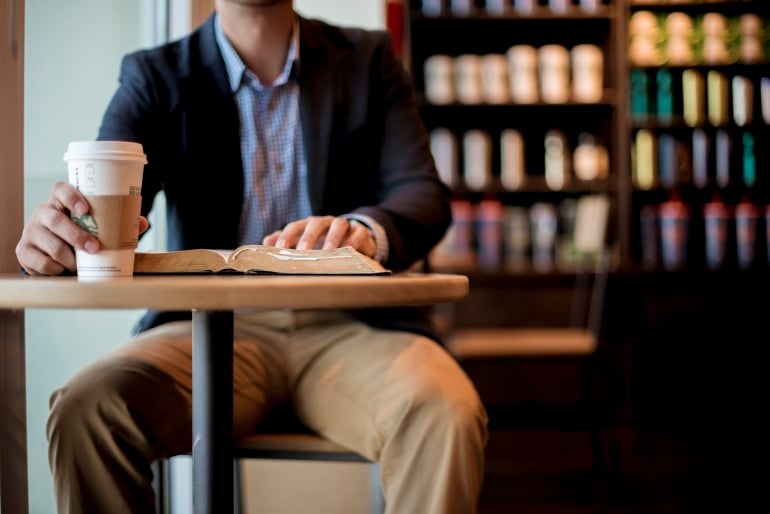 Despite everything, luxury online sales are expected to keep increasing, so how can this happen? Well, apart from the increase of the supply and the markets in demand, especially from new powerful fronts like China, India and Brazil, according to the expert analyst, Vijay Sirathi, it's the fierce competition that will make brands start to take more care of how competitive their prices and their value are, as well as the latest fashion, quality of product, unique content, selection, convenience, technology and personalisation. This means to say that any kind of proposal won't do now, like the same one used by related brands and inferior ranges, as it should be a model at the level of what customers expect and for what they are paying for.
In addition, the orientation of the product must be adapted to new groups like HENRY (High-Earners-Not-Yet-Rich between 24-34 years old, and with annual incomes of up to 250,000 pounds), new generations that lack the buying power to invest in luxury objects, and whose values consider experience and lifestyle to be the more important than traditional investments (most young people are willing to pay $1,000 for an iphone, but not for a diamond ring).
There is of course an advancement of brands which are now practising new, effective and original strategies, by putting the luxury online shopping experience at the level of the demands of a physical boutique. The American chain, Nordstrom, offers a personal shopper service via chat, offering guidance and immediate suggestions for a 100% personalised, unique and safe purchase when customers shop using private messages. Up to 20% of the sales that differentiate one brand from another are due to the kind of customer service, which indicates where new methods should be invented for the sale of luxury goods via e-commerce.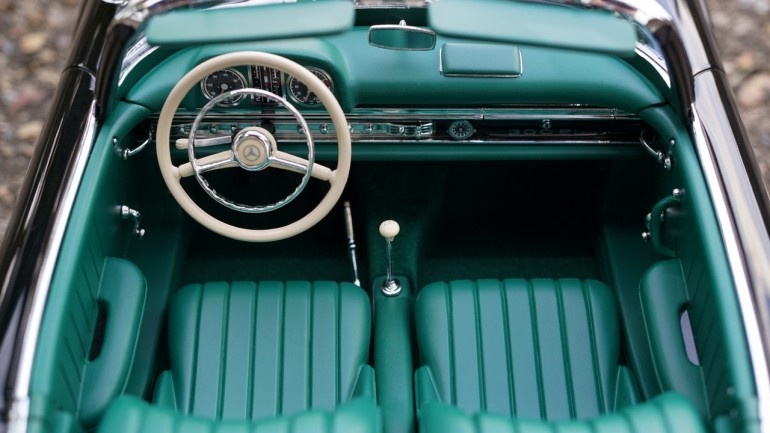 The social networks that redirect up to 40% of the total sales mark the second large bet. Luxury department stores like Saks or Neiman Marcus are developing possibilities for customers to do their shopping based on their preferences, or using photographs and shopable catalogues in prestigious online publications or platforms like Pinterest and Instagram. These trends seem to indicate that the majority of the effort comes from large retailers before the brands themselves, partly because luxury customers find a big advantage in being able to compare many products without the physical movement that going to such rare and specific shops would sometimes require. But the work concerns all aspects concerning the purchase of luxury, including fashion, transport, jewellery, food and services like tourist residencies, beauty, health and travel experiences.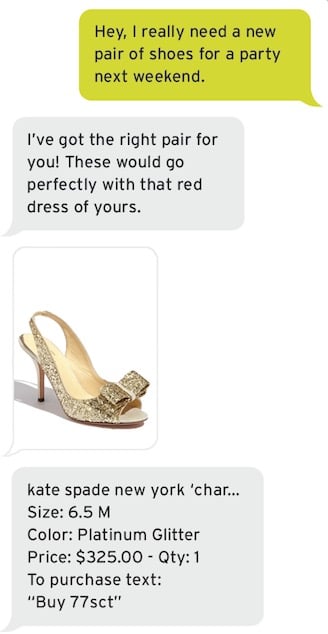 To quote another designer, Donna Karan stated that «design is a constant challenge to balance comfort with luxe, the practical with the desirable». This is exactly the same challenge that the e-commerce deluxe face for the future of the shopping experience. Are you a buyer or distributor of any high-end products? Do you think the online experience continues without being at the level of what big brands mean?