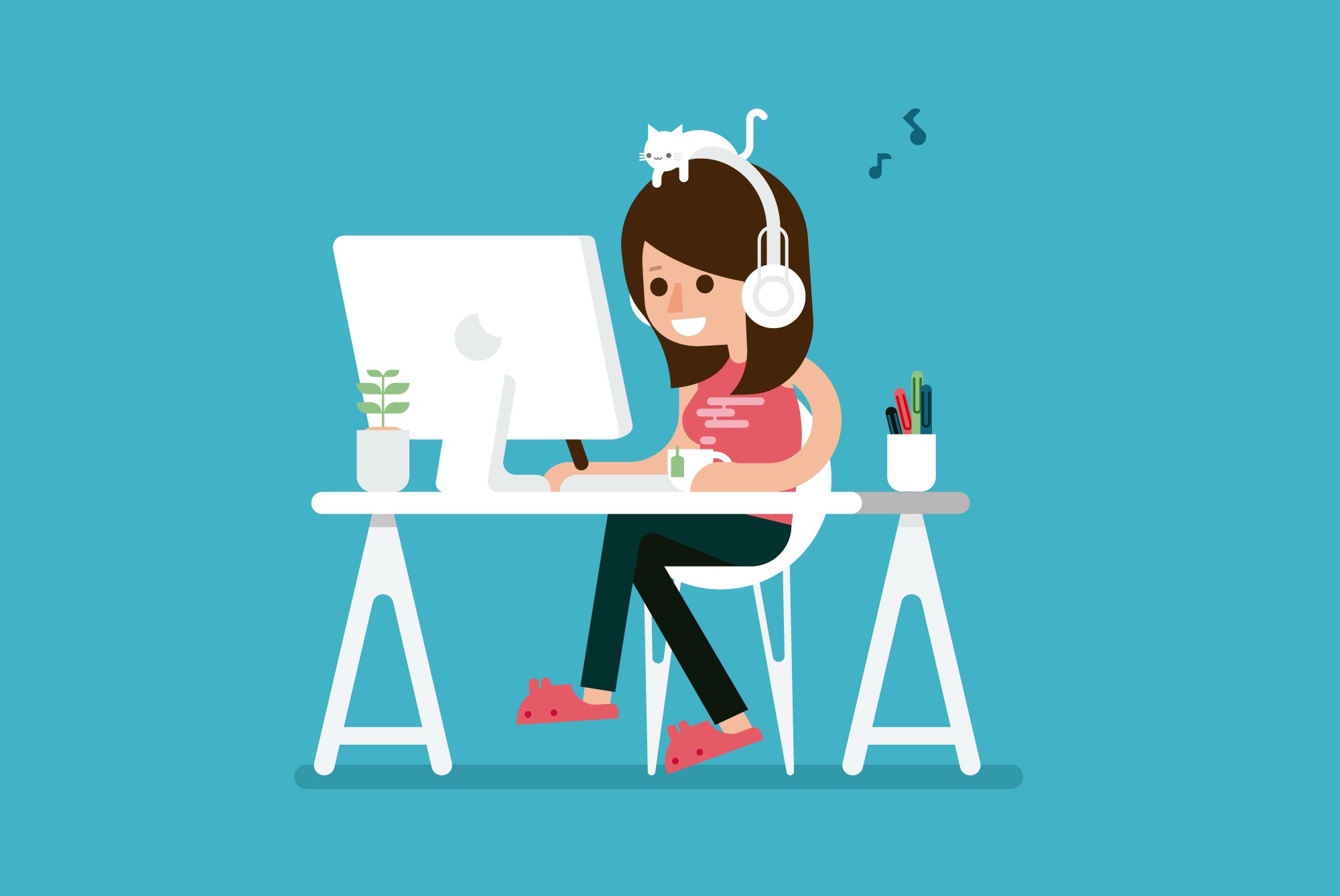 Being online is a must for product sellers, like not mixing pink and red in a fashion outfit. 69% of people prefer to make their purchases online, and online retailers will be the first research preference for 66% of buyers.
That being said, introducing yourself to e-commerce is not a fast and easy task, but an adventure that must be constantly improved, paying attention to changes, trends and patterns of users' online behavior.

What's the solution to a low number of online visits and purchases, a high number of product returns or shopping cart abandonment? You'll find it in these 10 tips to offer the best online shopping experience imaginable in all your e-commerce channels.
10 tips to design the best online shopping experience
1. What the eye commands: A friendly design
Follow the basic rules of design instead of betting on something radical that no one will understand.
White or neutral backgrounds to highlight the products, the most important elements located at the top of each page, buttons and CTAs highlighted in the areas of more user activity (and easier to click on apps or designs for mobile devices) ), websites adapted to different devices, few intrusive elements such as pop-ups and personalization touches depending on seasons and holidays.
2. Search, add to cart, pay: Simplicity is everything
Even if you sell thousands of products, make incredible lookbooks or specific pages for tests or testimonials, the customer should always easily find the 3 golden phases of the online shopping process: search products, add them to the shopping cart and pay to finish the process.
The buttons for these 3 steps should always be clearly visible and lead to an easy and fast process. If the payment can be made on the same page, the better, since going through several pages makes users impatient and is the reason for many dropouts. Don't ask for a lot of data to complete an order, don't force the registration to buy in your online store, and offer basic information such as delivery times, shipping costs and return options in every product page.
High and unexpected shipping costs are the main reason for cart abandonment: give all the information to users on each page, instead of redirecting them to the FAQ page or making them trace that data in charts.
And finally, offer a simple return policy to satisfy your customers and save them from extra costs and hurdles.
3. Online is public and personal: Enrich the content
Despite the popularity of marketplaces, with identical product pages, more and more users appreciate a personalized online shopping experience.
This could be more original and complete online stores, which can even be adapted to the user's needs according to geolocation data. More texts, images, videos, tutorials, materials, reviews and suggestions in a product page increase the chances of purchase. Always make sure that this content is relevant to the target user, because a common customer doesn't pursue the same type of product data as a distributor or sales rep in a congress, for example.
Study the SEO of your range of products and the most common searches made by your target customers, to optimize your texts in all sales channels and update descriptions and keywords that may be outdated.
4. Age counts
Depending on the segment of population that you're looking for, the shopping experience in your online store will have to adapt to different parameters.
Not everyone has the same digital and technological fluency, and while younger customers can easily locate information and action buttons on your page, older users may need more assistance and clarity in the arrangement of the app or website elements. In addition, a growing number of older customers rely on online shopping: 48% of buyers aged 55 to 64 prefer to buy a product in an online store rather than in a physical one, while for millennials from 25 to 34 years the percentage drops to 40%.
Adapt the design to what is attractive to each age segment, and research the general tastes and the best response rate of older users to more minimalist designs, with white, gray and cream tones, compared to bright colors that can work better with teen users.
5. Don't miss a party: Your catalog's online visibility
In a growing and more competitive online world, a branded online store is no longer enough to stand out from the competition or to be found by your customers. Even if you invest all the possible resources in creating the best online store and app in the market, you need to diversify your online presence. That way you'll increase your visits and sales and the online shopping experience of your products will become easier.
In 2018, 41% of online customers will start their searches on Amazon, and only 16% of them will start on search engines like Google and buying the product on a different page from Amazon. Despite the brand crisis suffered by the titan of the marketplaces, the trust inspired by Amazon among a large part of the buying population is very strong (51% of all users), and you must take advantage of it along with any other marketplace you like. Maybe Rakuten or Alibaba to expand to the oriental market, ASOS if you are specialized in fashion and accessories, or Newegg if your niche is electronic goods?
A marketplaces improves your chances of being found and customers will feel more confident buying your products and, over time, they'll end up making the shopping experience directly on your app or website. But if you want successful results and not harm your brand image with disorganized products in dozens of marketplaces and pages, equip yourself with a PIM system (Product Information Management) that automates the synchronization, updating and sending of product data to all the sales channels that you choose. Snap your fingers and appear on Amazon, glowing and radiant, as if by magic.
6. More photos is better
Shopping has always been a visual experience, but also a tactile one. As all the other senses are canceled when buying online (at least for the moment, until next technological innovations arrive), seeing things is the main factor for users.
73% of online shoppers declare that they need at least more than 3 or 4 images per product to decide a purchase. Depending on the type of product you sell, adapt the type of images in your product pages: more macro, more general, with demonstrations of use or on model... Always create a gallery with high resolution and zoom and 360º options on very product page , and galleries with the option of thumbnails or larger images in search results and in queries by categories.
Also take care of the photographs that are attached to the marketplaces, where it's easy to get noticed in this aspect. Most sellers neglect image quality and look unreliable, and product pages in a marketplace with images improve their conversion rate up to 53%.
Good photographs convince users and decrease the returns rate, since buyers get a more accurate idea about the product.
7. Lower the price... from time to time
Price is the main factor of purchase decision for 69% of online users, but this doesn't mean that the cheapest option is always the favorite one.
Low your prices strategically, because if you always offer low prices you could never increase them again and improve your sales (if you give an image of being a cheap seller, why will your customers suddenly want to pay more for your products?). For example, it's a good idea to offer promotions and discounts at key times of the year (periods of official sales or organized by marketplaces where you sell), and also when opening a new channel, as a way to attract old and new customers .
Make this strategy only temporary, since a limited time offer encourages the purchase and gives an impression of exclusivity among customers.
8. Selling is dialogue: Reviews
They may be scary and many online retailers choose to silence the option of comments and reviews, fearful that bad reviews will cast a shadow over the good ones and spread a bad brand image.
Totally wrong! It's true that positive reviews improve sales rates up to 35%, but you can only get them if you accept the possibility that some comments will be bad. The marketing opportunity that a bad review provides is huge: it can improve your brand image and trust among users if you respond quickly to a bad comment, showing understanding and providing a solution to the problem. And it offers valuable information for the marketing, design and manufacturing teams: what can be improved in the product and in the online shopping experience?
Look also at complaints among your competitors' clients, because you can stand out in what your competitors do wrong and become the great alternative of your niche.
9. Become an influencer: Social media
Not all social media work equally good or are well fitted to all types of products. However, it's interesting to incorporate some of them into a sales strategy because they can make the user's shopping experience easier.
For example, Instagram's recent option to add prices and direct links to an online store in pics is improving sales figures and visits of many businesses, because customers get the basic data real quick (how much does it cost and where can I get it?).
Take advantage of social media to promote discounts and the brand with more risky and original campaigns than paid ads: there's nothing better than a word of mouth to make something known (or a word of tweet).
10. Say hello to your neighbors: Be memorable
83% of online shoppers repeat the purchase on an online store because their previous experience was good. Generating a great first impression is key to inspire confidence and make users come back again.
Don't forget your clients, but without being overwhelming. Design and create specific and personalized messages and mailings to thank them for the purchase, remind them products from a wishlist that may be about to run out, or a shopping cart that was abandoned. Use positive language throughout the purchase process, offers quality, non-robotic, instant and 24/7 customer service, and by all means necessary (don't limit the contact to a phone number or chat, as each client has different preferences), and have a detail as a discount coupon on your clients' birthdays, if you have that information.
Looking for new shopping options is a tiring task for anyone, so finding something good increases the chances that a user will stay with you forever... or at least while you continue offering the same quality and if you don't give up improving your e-commerce every day.