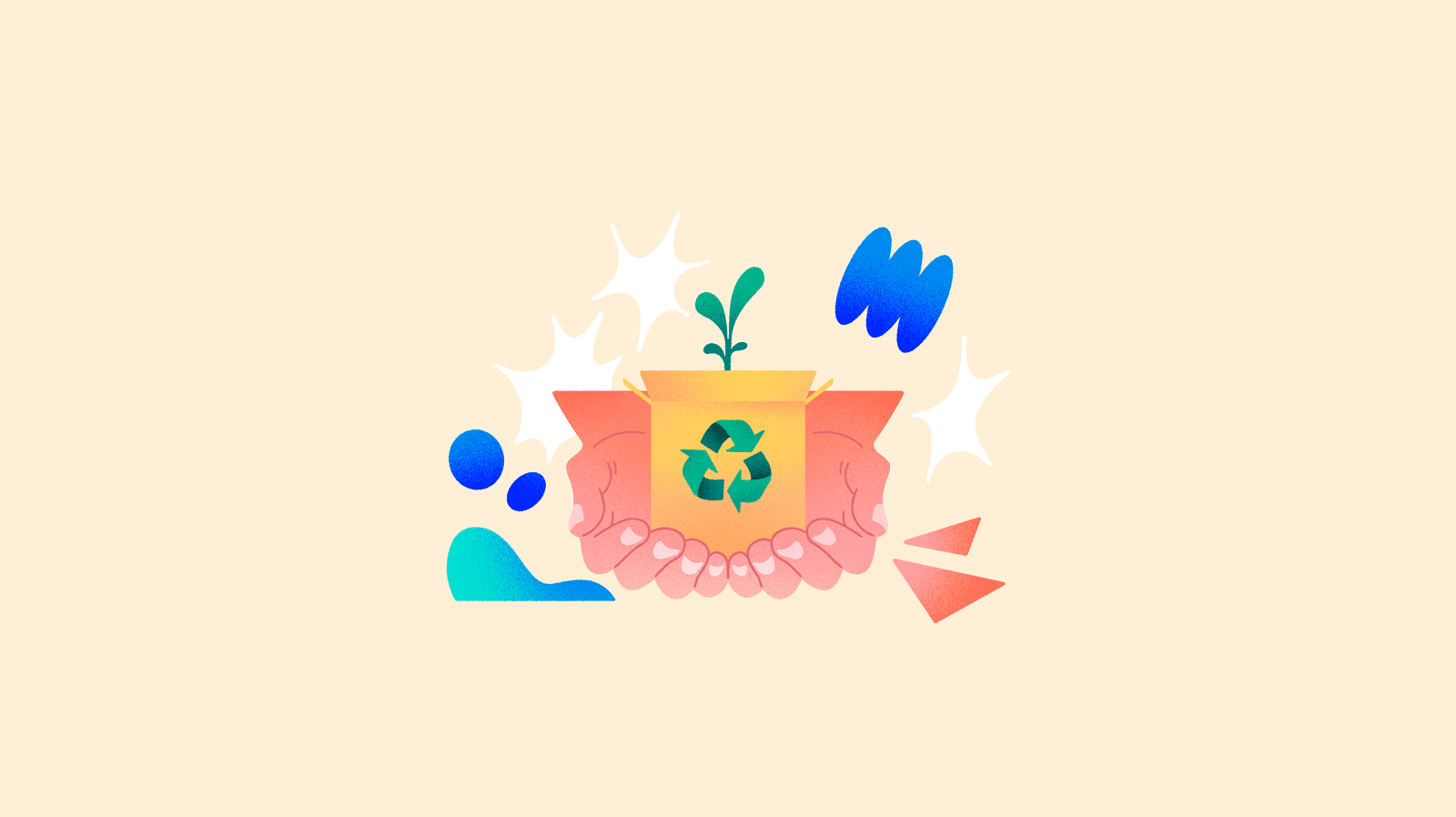 Why is sustainability important in ecommerce?
Sustainability has become the most repeated word in news headlines, guides, and the discourse of experts. Being sustainable is such a popular trend that we seem to forget that, in reality, sustainability is an essential goal for all businesses.
Scientists (through their forecasts) and consumers around the world are showing more and more concern for the future of the planet and the impact that production methods and consumption habits have on it. Companies are largely responsible for the direction that climate change will take in the short term, and so working on sustainability is both ethical and practical.
Shifting a product manufacturer's or seller's focus towards sustainability is an increasingly common goal in 2022. Brands and retailers are becoming aware of the impact that the supply chain and ecommerce have on the environment, and of how taking on new practices can help to change the situation and improve brand image when faced with consumers who are increasingly environmentally conscious.
According to Nielsen, 73% of shoppers have readjusted their habits to reduce environmental impact and 72% are buying more sustainable products. This means that if your brand or store is not adapted to these new demands, not only will it sell less but also your reputation will worsen over time and it will be more difficult to assume sustainable processes in the future that align with the new times.
Therefore, being sustainable as a manufacturer or seller means choosing production, management, sale, and distribution processes that take the use of resources more into account while also searching for an appropriate balance between sales objectives, the urgent needs of a world that is less frenetic in terms of consumption, and wasting resources.
The three pillars of sustainability in brands and retail
The sustainable practices that any company can implement can be grouped into three categories, both in terms of the company itself and the system:
Environment: The main concern of sustainable methods and strategies is to create businesses with less environmental impact.
Economy: This relates to the balance between the profits that a company seeks and the need for the consumer society to not go too fast for the planet and for its people.
Social: Through social commitment, the two previous pillars come together, getting companies to implement practices that are respectful towards the environment and towards the people involved in the supply chain.
5 practices for more sustainable ecommerce that any company can apply
More sustainable production and shipping methods
As Nielsen pointed out, the first thing consumers look at is whether the products they buy are sustainable or not.
A product's sustainability depends on the materials and production methods used by the company (whether materials come from sustainable sources, whether materials are of organic origin, whether the company gives workers fair working conditions, etc.). It also depends on whether the business is based on products that move fast and are consumed fast (which generate much more waste) or products that aim to be used for a long time (and, thus, avoid the waste of a single use).
For example, Zara has promised to use only organic and recycled materials by 2025. Any action a company takes in this regard is a big step, but it must be complemented by the same level of concern at other stages of the supply chain.
Online order shipments (and the transport of goods between warehouses and points of sale) have the greatest environmental impact on the buying process. The most sustainable decision for any brand or seller is to use more environmentally friendly packaging for shipments by avoiding plastic, containers with many different materials that are difficult to separate and recycle, and –especially– by reducing the volume of filler material and the excessive size of packaging.
Transport is another key point in this process. In terms of transport, it is advisable to put together all the shipments to the same customer instead of dividing their purchase into several shipments if a product is not available as soon as the other ones are. Many courier companies like UPS and FedEx already offer sustainable shipping programs to prevent pollution from road transport or offset the carbon footprint caused by their trucks.
Lower returns rate
If sending a product from the warehouse to the customer already has a negative environmental impact, imagine adding yet a second negative environmental impact in the opposite direction.
Trying to minimize product returns is as attractive a goal for your sales team (as the profits for the company will be greater) as it is for the planet. Fewer returns yield less round-trip transport due to incorrect and unsatisfactory products.
The most effective way to lower your return rate is to ensure that your product information is always correct, complete, and up to date wherever you publish your catalog. This type of precise content is more attractive to customers, as it answers all their questions and allows them to get a better idea of what the product is like, bringing about less dissatisfaction and misunderstandings in terms of the order placed and what is actually delivered.
A PIM system (Product Information Management) can help you to review all your product data to ensure that it is complete, while also helping you to enrich that data and easily send it to your website, app, marketplaces, retailers, etc.
Software that increases your resources and team efficiency
As we have just mentioned, PIM software is one of the best options for companies who seek sustainability for their customers, and this type of system is also important within their team. By allowing for more orderly catalog workflows and automating the processes of reviewing and connecting product data, you increase efficiency and reduce wasted time and resources.
In addition, many ecommerce platforms such as Shopify and WordPress offer plugins aimed at sustainable practices which improve this aspect of business and also help to bring about trust in customers concerned with this issue. For example, a plugin may encourage you to contribute to reducing the carbon footprint caused by every purchase in an online store.
Recycling and reuse initiatives
Businesses need to commit beyond the time of the sale and receipt of the package. To maintain their commitment to sustainability in ecommerce, businesses can adopt practices that encourage the circular economy rather than mass, destructive consumption.
Some brands and retailers encourage customers to reuse the packing materials from shipments – not only in returns and exchanges but also by accepting these materials back in exchange for an incentive so as to avoid the waste of materials and excess recycling, which also involves investment of resources.
Another approach is the resale of a brand's products that have already been used by customers who no longer want said products. A marketplace that resells products at lower prices encourages reuse rather than recycling and builds a community around products.
Transparent, committed business ethics
Of course, all these practices should be visible to customers, as this allows them to be informed of the company's values and the actions that the company is undertaking towards sustainability. In this way, customers can choose to buy products that go along with their values.
A manufacturer or seller that is truly committed to the sustainability of their business will do everything possible to detail their processes, initiatives, and ongoing projects. This improves the brand image not only because sustainability is trendy now but also because you are transparently showcasing the fundamentals of the company's production and sales processes.
These values must be reflected in all actions undertaken by the company and over all communication and sales channels, thus going beyond a specific section on environmental practices on the website.
By investing time and resources in creating a more sustainable business, you will save on those two aspects and bring about a positive impact on your target audience, society, and the environment.
To help you with your first step, try Sales Layer's PIM solution for free for 30 days and see for yourself how the efficiency of a single platform for all your product data improves the effectiveness of your team, communication over your supply chain, and customer satisfaction.