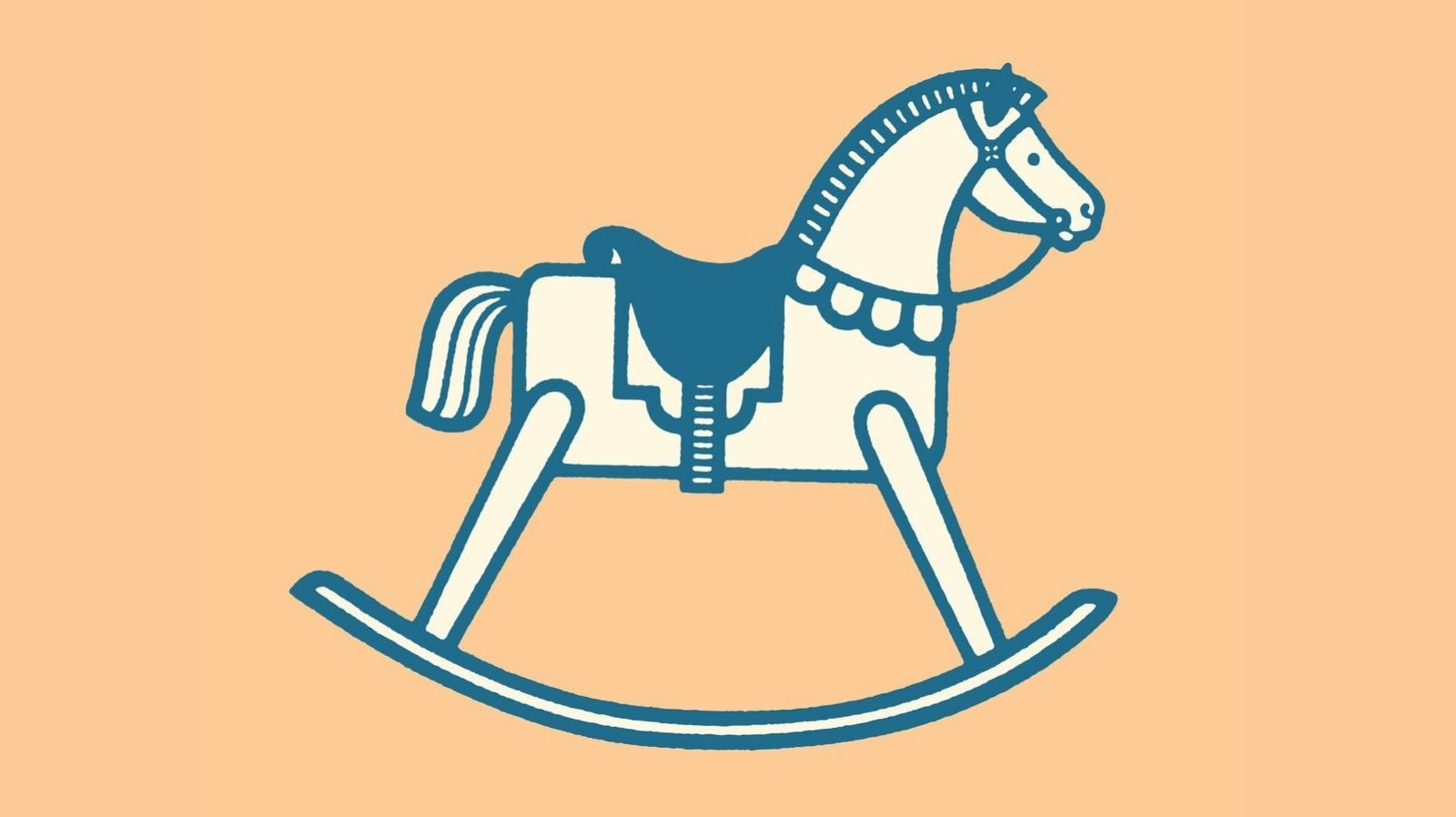 Table of Contents
Figures are not good for the toy sector in recent years. Competition from ecommerce and cheaper products made in China has seriously affected many of the classic shops and brands as well as franchise chains, competing for survival outside the Christmas season.
The forecasts will be even more negative if the sector itself doesn't adapt to change.
The value of ecommerce for toy sales
The increase in online shopping has occurred across virtually all sectors. However, there are some products which especially lend themselves to comparing and searching online for the best offer — such as toys, a traditionally expensive product.
Shoppers want to give children the highest possible quality so as to contribute to their health, education and upbringing, but also find the cheapest price for these non-essential items.
Given that online sales are gaining ground, you'd be advised to provide this option on your digital channels. But most importantly, it's best you do it well: in order to compete with Amazon, the leader in online searches and sales for toys, your brand's greatest asset will be to generate product content that stands out for both the consumer and Google.
Here we'll set out for you, the elements of the perfect product sheet for toys ecommerce.
→ This may interest you: The ultimate guide to creating a perfect product page
How to create the perfect product page for toys
A clear category structure is the most important element in a toys website, but it's also useful to feature items or categories on the homepage to keep up with the times: a trend or toy that has become fashionable, products from a newly released film or children's series, or items linked to seasons such as 'back to school'.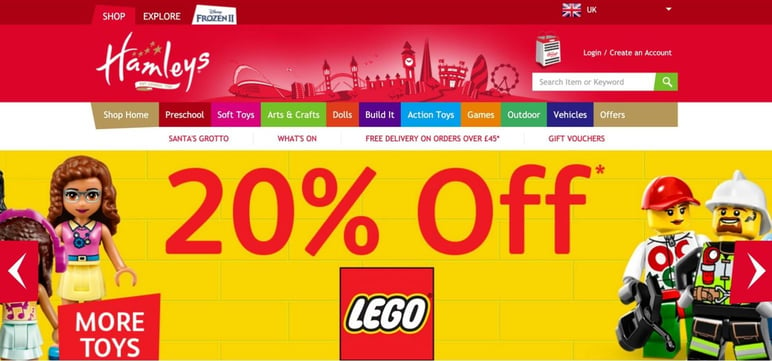 As toy catalogs usually include many brands, your best strategy will be to rotate those products that are most searched and ordered by your customers, but also highlight your own products (if you offer them).
The great advantage of buying toys online is that it is much faster and more organized than at a physical store. By searching the relevant categories the adult buyer will find it easier to find toys by name, brand or collection, etc., since adults tend to be less familiar than children are with the actual appearance of these products.
→ This may interest you: How to create an online product catalog step by step
Normally products are classified as 'recommended for' age groups, such as pre-school, 3-5 years, 5-8 years, and so on; and separately shops provide another menu of thematic categories so that each user can choose their preferred way of browsing, usually by brand or type of toy (dolls, stuffed toys, construction kits, puzzles...).
Some other online toy stores use abstract categories to classify toys, such as Science, Aspirational, Learning, or Discovery. What we should bear in mind is that generally children in the age range to which the toys are directed, are not allowed to access the Internet to browse these websites, much less decide on their own purchases.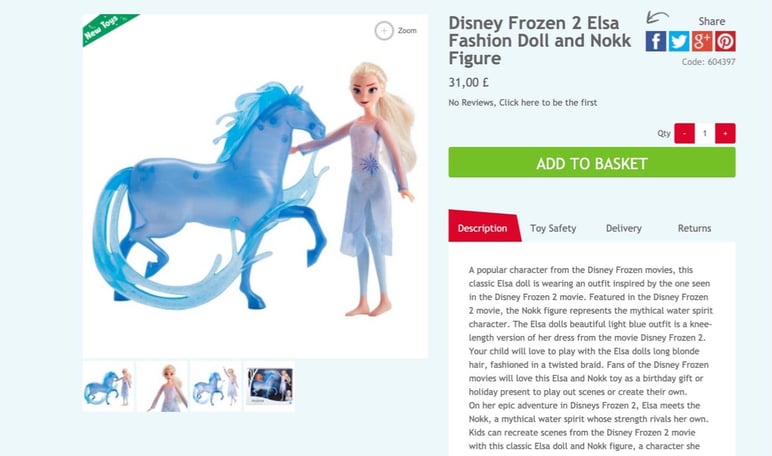 Therefore, the category tree you choose should take into account the typical shopping trip of your adult customer. Analyze which categories and products your users most often query on your internal search engine, and from which channels they've discovered your online store. Normally you will have to adapt your categories, removing those that aren't much used and featuring those most visited.
For example, you may find that Funko, Nintendo Switch, Ladybug or Spider-Man are products and characters that are sufficiently searched for on your website to have their own category dedicated to them, and thus make it easier for the shopper to find them directly from your homepage and menu.
And don't forget to include categories that are complementary to toys, if these are also present in your product catalog, such as fancy dress costumes, festive decorations, board games or pre-natal items.
A word of advice! Avoid sexist or gendered classifications, images and descriptions in your toys catalog. Organizing toys 'for girls' (pink, baby dolls and household chores) and 'for boys' (blue, cars and video games) is detrimental to your brand image and to the goal of eradicating prejudices starting from childhood.
Essential content for product sheets for toys
Brand and collection
Many online toy searches are based either on a well-known brand, such as Mattel, Marvel or Disney, or on a new range that becomes an overnight sensation among children. Include this information in the product name to improve its positioning.
Keywords
Keywords for toys, such as wood, stuffed (or soft) toy, baby, airplane or horse, make it easier to search the web. Include them in the names and description of each toy, and analyze trends that may become fashionable, such as slime, or electric scooters.
Description
Your descriptions of toys should be original, since these datasheets are reproduced throughout the Internet and yours will need to be differentiated from the products on Amazon, which will tend to appear in the first search results on Google.
The more complete and accessible you make all your product information, in drop-down boxes from the actual product page, the better. The fastest and most efficient way to achieve a catalog, website or online store with reliable and accurate product pages is to gather all product content in a PIM (Product Information Management) software such as Sales Layer. This platform allows you to analyze the quality of product content, identify errors, improve data, and all in an automated way for faster and more agile launches and updates.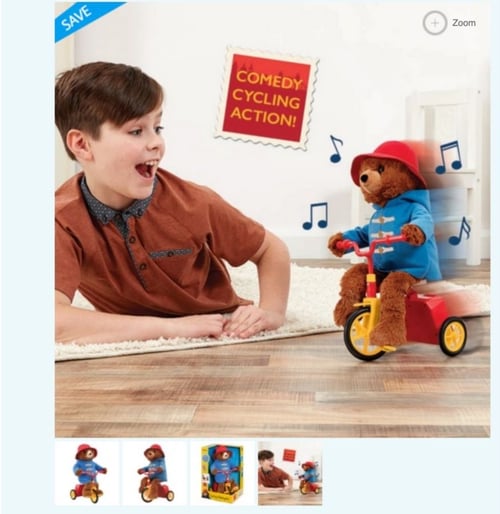 Technical data
The most relevant data to include are the size and weight of product and box, as well as the maximum weight supported by the toy if it's a vehicle, swing, inflatable, etc.
Recommended age
The age range recommended by the manufacturer for each toy is essential both for the buyer's information and to comply with the regulations regarding warnings for use. Include product warnings of 'not recommended for children under 3 years of age' on all non-preschool products.
Product images
Photographs of toys are essential for choosing the right product, and to see its scale and packaging.
For example, some online toy shops provide images of the items and of the child or baby using the toy, for greater clarity.
Prices, discounts or offers
These are of key importance in toys ecommerce, due to the high competitiveness between online stores, marketplaces such as Amazon, and shopping centers or department stores with toys, collections and/or electronics sections targeting children.
Stock, delivery times and returns policies
These aspects are very important for reassuring buyers that they won't have to wait weeks and that their order will arrive in time for a birthday or Christmas.
Returns are also important for buyers who may find that the child already has that toy, or the toy is not suitable for the child's age.
→ This may interest you: How to choose your perfect shipping company for ecommerce
Components included
It's advisable that you should clarify whether or not the item as sold is accompanied by batteries (and of which type), additional accessories, complements (such as video games in a console pack); and whether colour variations may occur in the product from that shown.
Safety warnings
Obligatory warnings include: to indicate the danger of suffocation or choking by small pieces, whether being supervised or accompanied by an adult is recommended, whether the toy is intended for interior or exterior use, or if use of protective equipment is necessary (such as goggles for foam-rubber dart guns, or a helmet for bicycles...).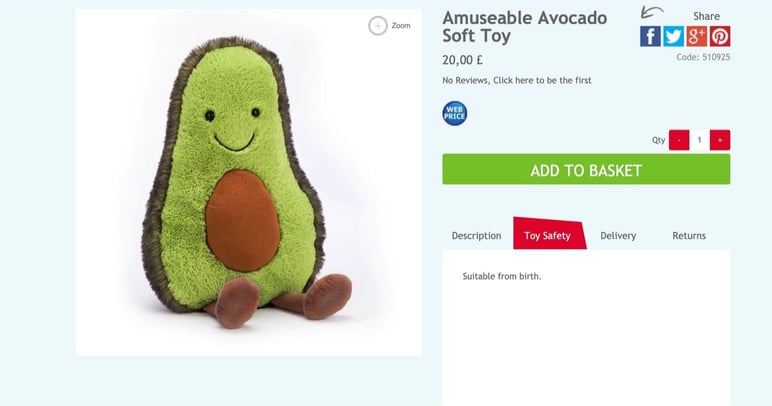 Materials used in manufacturing
These details are increasingly being observed and noted by parents and manufacturers, to ensure that toys are made from non-toxic and sustainable materials, especially where plastics are concerned.
Compliance with regulations
This relates to the official stamps that indicate whether the toy complies with European Union (EU) checks and standards.
Shipping costs
Make it easy to choose between home delivery or collection from the store or pick-up point. Because toys are often expensive, cheap shipping costs are a great incentive.
Complementary content for online toy stores
Related items
Customized recommendations for toys increase the rate of conversion into sales.
Using an algorithm you can display other products from related searches or that users have purchased. It is also useful to show complements like batteries, accessories, products of the same range (school supplies related to a backpack, furniture for a doll's house, other sets of a Lego Box series, etc.)
Showing related products is vital for online sales in case a given product goes out of stock, especially in times of high demand such as Christmas, when shoppers will seek quick alternatives to sold-out star products.
→ This may interest you: The keys to getting your products to appear in the first results of Google
Identification code
Some online toy stores feature the SKU or EAN code for referenced searches.
Instructions and videos for use or assembly
Although toys include their own instructions, providing a video or tutorial gives an idea in advance of the item's complexity and also indicates how many people altogether may use the item, such as for board games.
Digitized paper catalog
A digital catalog is a good way to show children products on a tablet and for adults to browse easily without spending too much time searching various categories on the web.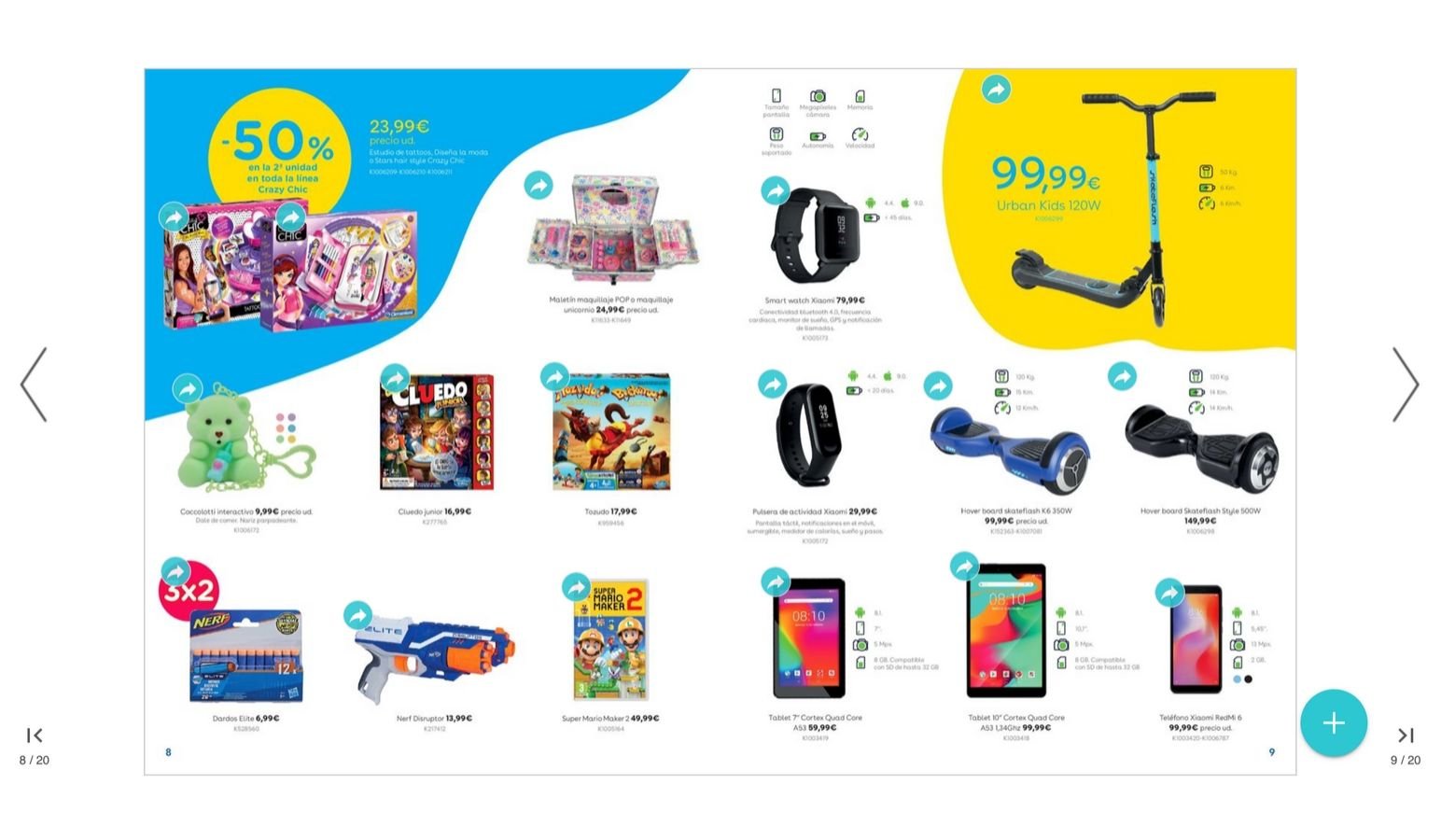 User reviews
Few online toy stores include product reviews, yet they are very valuable.
Parents trust other buyers' reviews, and these can show up information that is not able to be included or specified on the datasheet, such as actual durability, fulfillment of expectations, ease of use and assembly, value for money and quality of the store's delivery and customer care services.
Conclusion
If you are a toy manufacturer or business, don't despair: good quality product pages are essential for competing in ecommerce and very easy to achieve with PIM management software.
Centralize and enrich all your product information in one place so you can send it in a few clicks to your website, Amazon, Google Shopping and other prominent marketplaces of your choice. Try our free 30-day demo and start preparing yourself for the biggest season in toy sales.