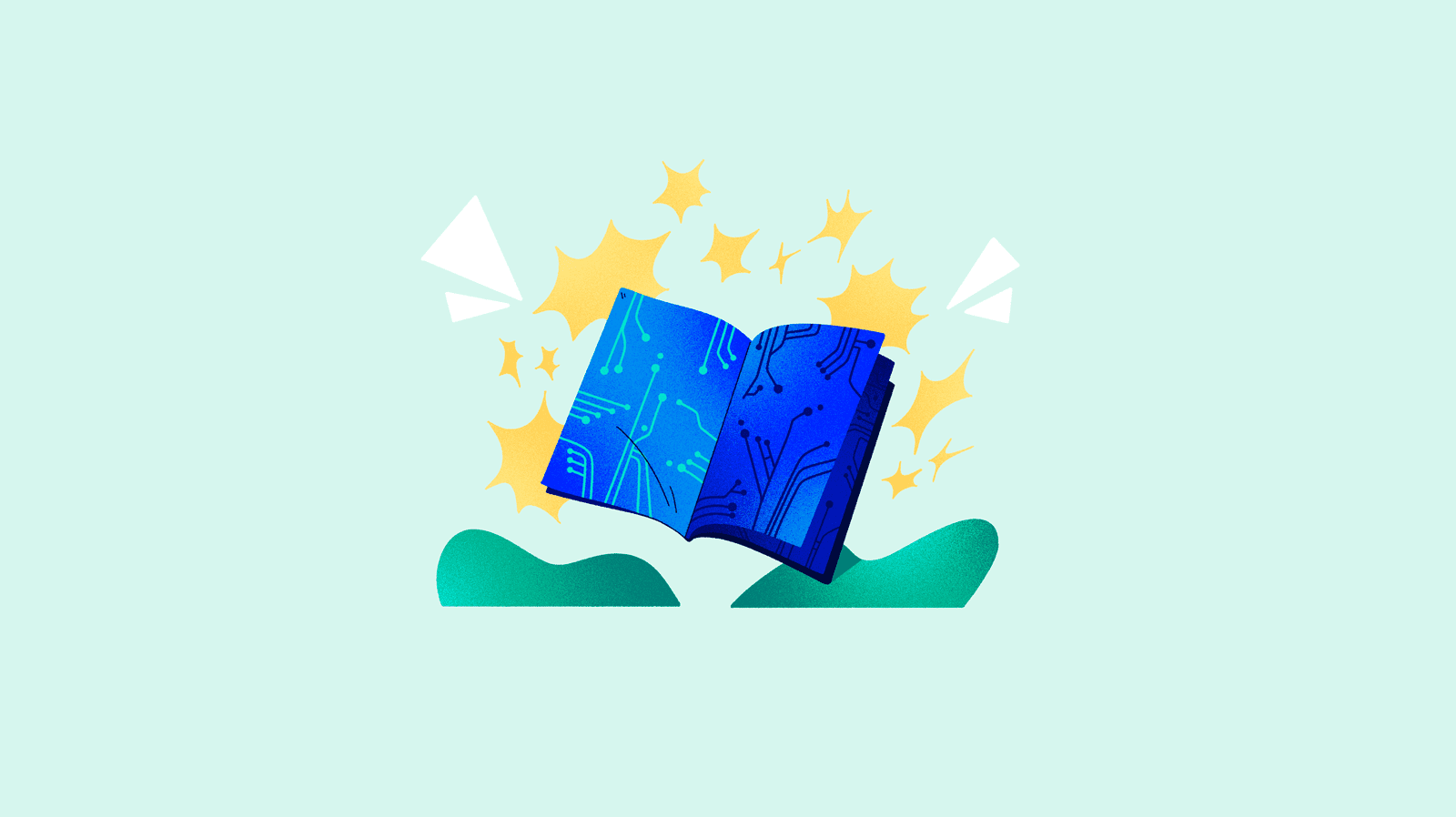 What are the advantages of a digital product catalog?
Whether you're a retailer, manufacturer or supplier, online product catalogs should be an essential ingredient when it comes to increasing sales and growing your business.
Digital product catalogs provide a number of benefits, including:
Reduction in cost - cheaper and easier to maintain than paper
Instant detection of catalog errors
Assistance with customer behavior analysis
Distribution across multiple sales channels and social networks
Wider reach for new audiences and markets
More agile and effective customer service


How to create a digital catalog
When creating your B2C or B2B product catalog, you will need to take into account the fundamental goals of our company and customer profile.
It's worth asking yourself the following questions before creating your digital catalog:
What is the intended purpose behind your catalog?
Is your company taking an entirely paperless approach with a purely online product catalog?
What response do you wish to generate with your catalog?
Is your goal to drive sales, improve customer loyalty, enhance your brand image or all of these?
Know your audience
First and foremost, it's important to identify the specific customer base that your catalog is targeting.
This will greatly impact the style and format. For example, a B2B catalog for distributors is likely to contain much more technical data and regulatory information when compared to an ecommerce catalog for retail.
By identifying your audience, you'll be better placed to create a catalog ideally suited to your customers in its language, format, design and even SEO. With this improved targeting, driving sales and conversions becomes much more achievable.
Take a look: Tips to improve your buyers' confidence
Invest in online product catalog software
Regardless of your goals and KPIs, the onboarding of a product catalog tool can be a valuable addition to your team. Not only can you centralize all of your product content, but you can enhance its quality to meet your customer expectations.
In the past, manufacturers and retailers would often look to a CMS (Content Management System) to accomplish this. However, a Product Information Management (PIM) can prove a much more valuable catalog software choice for business growth.
With a PIM system you can better monitor the quality of your content and also automate any product data changes you make to update across all of your channels and platforms. enrich the information, and keep it up to date on all your channels and platforms. You can also connect your ecommerce product catalog to a variety of platforms, such as your Shopify store, your Facebook shop, your Amazon account, in just a few clicks.
Equip yourself with catalog design tools
It's important to create an ecommerce or B2B product catalog that can be shared, converted to other formats and even printed, to cater for all your current and future needs. With this in mind, the most popular, powerful and versatile choice is definitely Adobe InDesign.
Sales Layer's PIM offers a plugin that connects your product information directly to InDesign. This allows you to use the content you've uploaded and managed in your PIM in the design process, ensuring no errors and saving your team hundreds of hours of design time.
Tips for including your products in a digital catalog
In order to display your products in the most visually appealing way within your online catalog, certain aspects need to be taken into account, such as:
Will your products rely more on imagery or written information?
Have your photos been taken by a professional? If not, then is it necessary?
Which background color is most effective for your product listings?
Are more visual resources required (e.g videos and 3D simulations)?
How many images will be shown for each product?
By answering these questions during the design process, you can gauge a much clearer insight into how to layout your digital catalogs. For example, more traditional designs are better for providing more text-based information, while an interactive design is more effective in highlighting the visual aspects of your product listings.
Guide to making an ecommerce product catalog with PIM
Product range
Sales Layer offers a flexible PIM tool to help both B2B and B2C businesses create and manage their product catalogs.
Our PIM allows you to import all of your product information (no matter how large your database), or simply select the products you wish to include in your online product catalog.
Customized product information tables can be created and contain the columns and fields of your choice, in any language you need. In addition, PIM allows you to organize your products easily into families, subfamilies, categories and subcategories.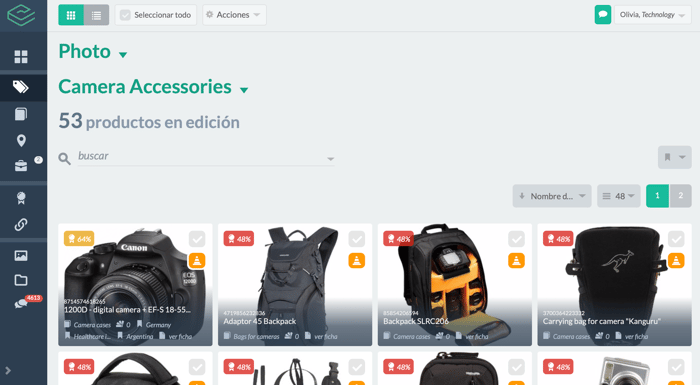 Designing your product pages
Each industry has its own needs, which is why Sales Layer PIM can adapt to any product and catalog you provide.
Designing pages is made simple. All you need to do is fill in your required fields and provide any relevant links. You can switch between draft and public mode at any time to inspect how your products are being displayed.
Product information can be edited and updated at any time, with a full historical view of your changes and the ability to revert to previous versions.
Take a look: Guide to creating the perfect product page step by step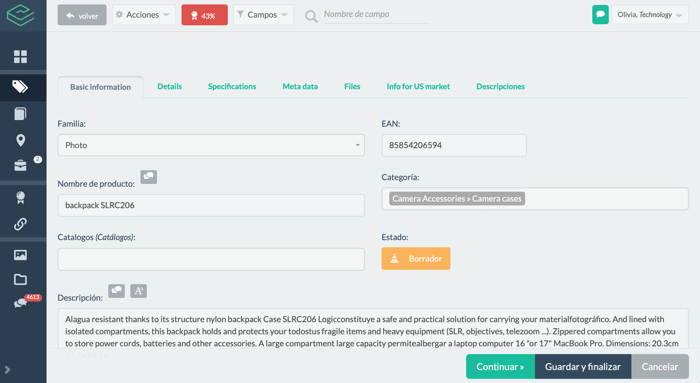 Optimizing your product descriptions and technical data
Editing product information for an ecommerce or B2B product catalog can be a significant drain on your team's time and resources. Even after long hours of writing, editing, proofreading and double-checking, mistakes are still unavoidable.
Fortunately, with an automated ecommerce catalog solution such as Sales Layer, you can not only save time and man hours, but also eliminate these mistakes with instant quality review of your catalog content. Our PIM identifies any missing fields, any duplicate information and inconsistencies between similar products. Your online product catalog is even given a data quality score, while any changes you make to products can be automatically updated across all of your catalogs.
Our PIM also works to enrich your product content itself, by improving images and translations into other languages.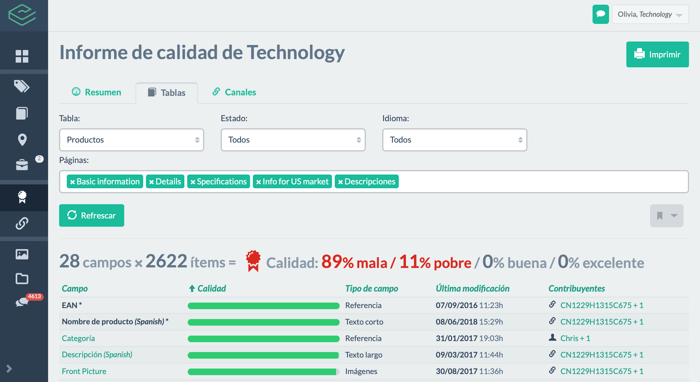 Connecting with platforms
Once you've created your optimized product catalog, there's no need to manually upload it to your various selling platforms. Our PIM allows you to synchronize your digital product catalog across all of your sales channels in just a few clicks. You can even select which fields and tables you wish to connect to other platforms, in the event different information is required on a different platform. This data is sent in real time to ecommerce platforms such as Shopify, Magento, BigCommerce, marketplaces like Google, Amazon, Alibaba or ASOS and even social networks like Facebook or Instagram.
As a global-leading PIM system, at Sales Layer we offer pre-configured connectors with all of these sales channels and more, and if you require connection to another platform that isn't on our list, we can help deliver this.

Exporting product catalogs to PDF with InDesign
While your online catalogs can live forever in the digital world, it can be useful for some manufacturers, retailers and suppliers to share them as printed documents with internal teams or external companies.
Exporting to other files can be a difficult task for some software, but with our PIM system you can instantly create Excel and CSV files with the content you select directly from a catalog, without the need for a separate file conversion program.
If you want to create catalogs to export to PDF, Sales Layer offers a unique plugin to send product content directly from your PIM to InDesign and save your design team hundreds of hours of work.
Learn more about the Easy Catalog plugin for InDesign
Final thoughts
Your product catalog will always be one of the most significant tools for both your product and marketing teams. With that in mind, the time, effort and expertise you invest into creating your ideal digital catalog will always pay dividends.
With the right research into your customers and asserting of your goals, you can utilize your B2B or ecommerce catalogs to drive sales and improve the customer experience. All of which can be much more easily achieved when creating your catalogs with Sales Layer's PIM.
Ensure design and product data are hand-in-hand with the goals of your product and marketing teams, and get started with a 30-day free trial of the Sales Layer PIM today.