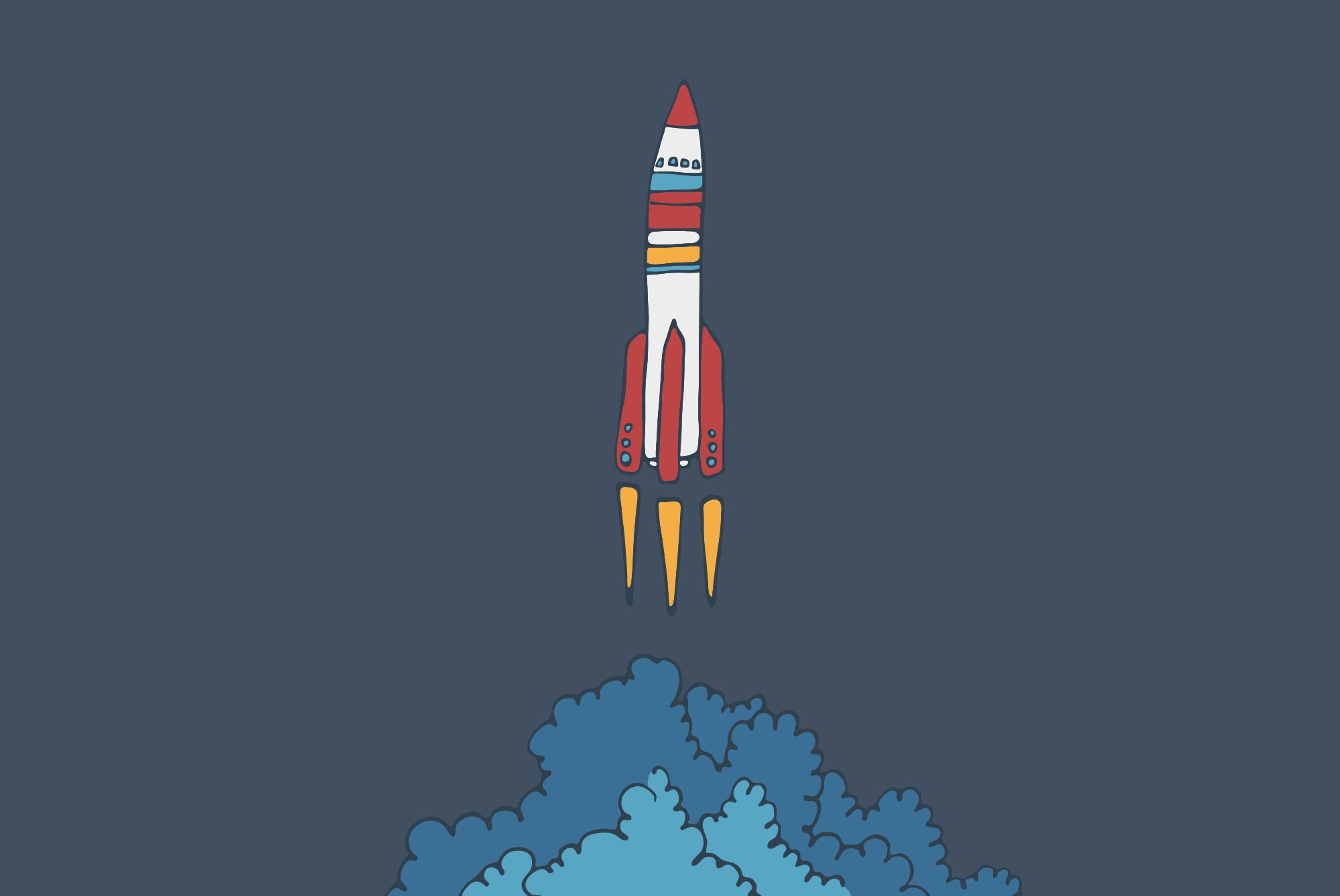 New products don't fall from the sky tied with red ribbon, ready to be unwrapped, although customers might get that impression. A new product or service launch involves 3 phases that you must prepare thoroughly, whether this is your first launch or you're an experienced company.
Before having a launch date set on the calendar, it's important to focus on your available time. It takes at least 8 to 12 weeks for a pre-launch. And after the product is finally launched, the process keeps going: the post-launch is just as important.
Do you want to launch your product like a spectacular NASA's rocket take off? Here you'll find a 5 steps checklist to ensure success for your next product launch.

1. Study your target audience
You want to have a bigger catalog and get new benefits by launching a new product or service: those are your needs. But what are your audience's needs? Are you going to study the unmet needs of you target audience first? Or are you going to design the product and then decide which audience would want it?
Whatever path you choose, both processes must be closely linked. You must have a clearly-defined customer profile before the product has a definitive design and goes into manufacturing and quality analysis.
Buyer personas are ideal clients with concrete demographic characteristics and an online shopping behavior. Define how your product should be and how to satisfy your target clientele by taking into account these factors:
What are your key audience segments?




What long-term goals can you set for that audience?

What kind of message and key ideas attracts that audience?

Which narrative better suits that audience?
2. Design the product
Clients always come first. Without a customer, there may be a product, but there will be no sales. Once you're focused on your buyer persona, you can begin the design of the new product or service.
Identify product gaps in the market

Product positioning in your catalog and among competition

How do people feel about that product?

What things are often criticized and praised about it?

What's the general opinion about that type of product?

Identify recent trends (are they just short term trends?)

Decide a product name and/or brand name
3. Set your goals
Your calendar must be perfectly scheduled, with enough time and ambitious but realistic goals. In addition, you must coordinate both your development goals (those aimed to the design of the product) and your marketing goals (those aimed to the launch of the public campaign).
Define goals that will promote interest, acknowledgement and active participation around the new product, and also goals focused on conversion and acquisition of new customers. Always try to adapt your goals to the SMART criteria: specific, measurable, achievable, relevant and time-bound goals.
Keep in mind that here you face a double goal: retaining your old customers (by focusing on the value of the new product) and attracting new customers (by highlighting the product innovation).
It's also advisable to coordinate the launch of a product or service around a major industry event that can reinforce your message, like a trade show or congress. If this isn't possible, try to create your own events, like a press release, a customer dinner or a Reddit AMA, according to the profile of your audience.
- 20 tips to success at your next trade show -
4. Synchronize all the information and reach the time-to-market
The amount of materials created and gathered around a new product or service grows at an uncontrollable rate. Test materials, mock ups, prototypes and A/B tests that will have a lot of versions before the product is finally launched.
Your teams will have a great volume of resources, images, videos, 3D designs, sketches, plans, logos, corporate, descriptive and advertising texts, tables, spreadsheets, references and listings with product data that are constantly updated. Keeping all your media assets and product information in order and under control requires specific digital tools, like a Digital Asset Management (DAM) and a Product Information Management (PIM) that automate the collection, updating and synchronization of all these materials among different users, sources, channels, distributors and third parties. Our Sales Layer PIM merges DAM functionalities and keeps your catalog ready for any new product launch: contact us to learn more!
- Discover everything about DAM & PIM systems -
5. Optimize the message
Once the launch date is approaching, is essential to have a marketing strategy in place and to get your cross-sell campaign, inbound and outbound promotion, and SEO optimization ready.
Start your campaign by catching attention with short and direct messages about the new product or service, rather than explain all its functions in detail. Study and define the best narrative for your product and audience, and be prepared to change it after launch. Analyzing and adjusting your message and SEO is a post-launch task that never ends and that ensures the growth of your product.
These are the essential features that should be part of your product launch message:
A clear and compelling tagline

The problem that your product solves

A list of key functions

The main value

A company statement
Once your message is definite, you must prioritize your marketing actions. Mailing campaigns, a product app, landing pages, ads campaigns, video, press release (press materials, a public conference or promoted articles) and/or influencers with blogs, social media, video channels…
Perseverance is essential and a single action is never enough. You ought to insist on a planned strategy, because journalists and influencers usually have a tight schedule and they can easily miss your information.
- Get the most of your new product: multichannel marketing strategy -
Finally... this is just the beginning. Be prepared to repeat and relaunch the message and even the product, if you don't get the level of response you were expecting. Some common strategies are adapting your product materials and taking advantage of a new event or season to refresh the product — and that doesn't mean you have failed!
If you keep adding ebooks, case studies, tutorials and webinars about your product, you will get the most complete strategy and the product launch will reach all the galaxies you want!