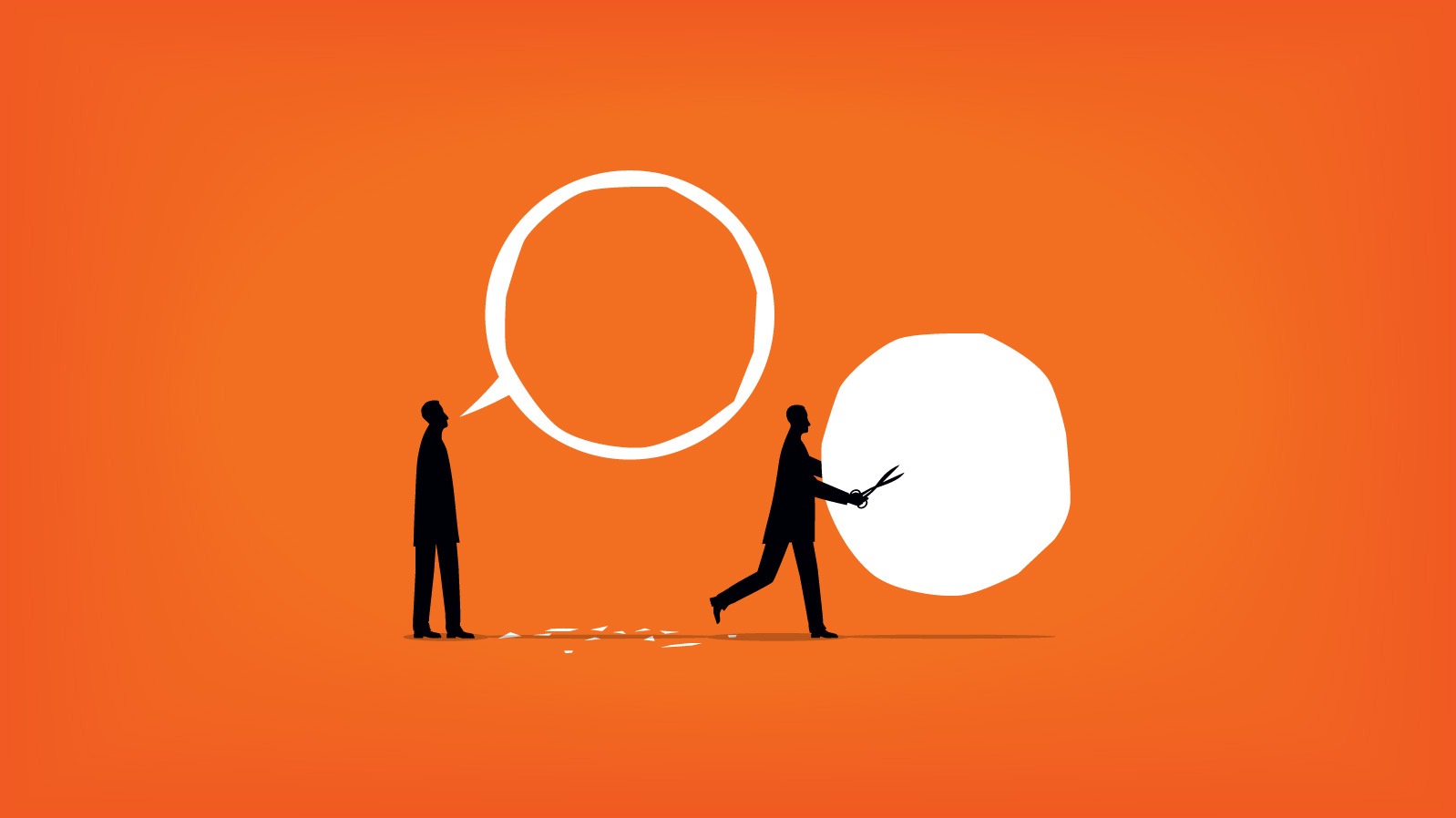 Why is the copy an important aspect of product pages?
Which box of cereal would you choose in the supermarket – a plain white box with the words 'Corn Flakes' printed in Times New Roman?
Or one with bright colors, sporting a cute little animal that tells you how many vitamins and minerals a bowl of corn flakes provides?
Let's not kid ourselves, the product is the same: simple 'corn flakes'. But the second of these boxes has served its purpose of catching your attention and revealing what other benefits are contained in this everyday cereal.
What's more, it may even have made you feel like having some cereal, even though personally you'd stopped eating it years ago.
Perhaps the word 'misleading' comes to mind; however, what that box of corn flakes achieves is not to deceive but rather persuade the consumer by adding more value and content to the cold, technical data. Good product copy does just this.

For this reason, where techniques of copywriting for products are concerned, you'd be strongly advised not to use the manufacturer's descriptions.
These will be less original, as they usually consist of hard data about features, presented with scarcely any customization.
Yet many of the less rigorous sellers and copywriters will simply copy those product descriptions. This means that the same text appears in a wide range of catalogs, websites, marketplaces such as Amazon and online stores, which makes positioning among competitors difficult and can be penalized in some marketplaces, which recommend investing effort in creating original and novel descriptions.
Even if you sell the same popular model of Adidas shoes as a thousand other stores.
Even if your product is a simple box of cereals.
→ Also of interest: How to create the perfect product sheet
Copywriting formulas that will appeal to the buyer
Where product copy is concerned, a strategy of learning specialized copywriting formulas may not work. After all, each product is as unique as each buyer profile.
That's why the first step in product copywriting technique is to fully understand what it is you're trying to sell and in particular, who you're selling it to.
Product copywriting checklist
Who is the typical buyer of this product?
What makes that kind of buyer happy?
What are their core values?
What sensations does your product bring about?
How should it make the buyer feel?
What problem or void does the product solve?
How does it differ from other products in the same range or from other competitors?
What information is vital for customers, about this type of product?
Aims of copywriting for selling your product to customers
Present a simple function as a great benefit
It's very easy to describe a product.
A fiber optic cable consists of A, connects to B and performs C.
However, most people find such useful information boring. It doesn't help them compare or make decisions. Of course, there will be pragmatic customers who value raw technical data. But they will be the minority.
A big step in good product copywriting for any item lies in taking its features further, and describing them from the customer's perspective: how do your product's special features help them?
Feature: sliding adjustable camera strap with pad
Benefits: enjoy your next vacation without having to keep your camera in its bag, and avoid shoulder pain too.
→ Related content: How to increase conversions with great product content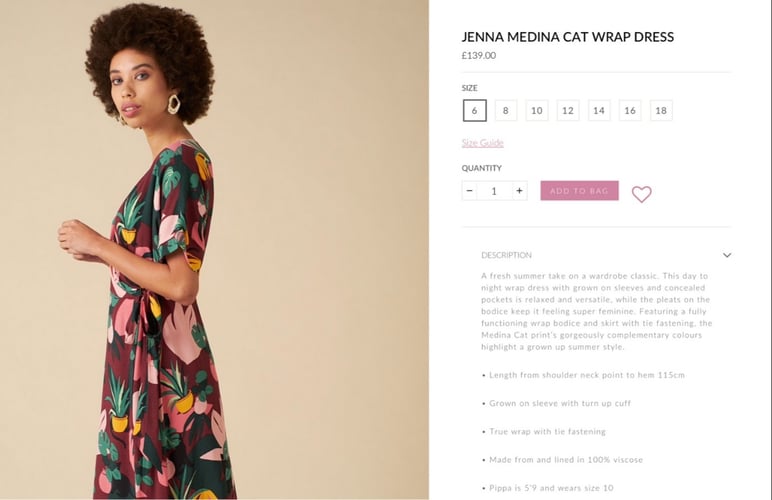 Provide solutions to problems related to the product category
In all sectors there are some areas of information that frequently cause difficulties among buyers; especially in ecommerce and online shopping, where many references to tangible, tactile experience are missing.
One of the most frequently mentioned cases is the fashion sector. Buying a coat or shoes online in the right size can be a nightmare. Most likely, some buyers will still make mistakes, but the way you present this information can help them avoid errors, as well as making it less of a hassle if in the end the product needs to be changed.
As an example: "Are you worried that the length of your belt doesn't match your waist? Tell us the exact measurement and we'll add an extra hole for free."
Provide answers before a question arises
Going one step ahead of the customer does not mean outwitting them, but saving them from doubts and queries.
Investigate what questions are most common among buyers of your type of product, checking the questions on product sheets and social networks of other brands, marketplaces or on your own website.
The product that anticipates the user's needs is a trusted friend: it shows understanding of their frustrations and worries, and that steps are being taken toward solving them.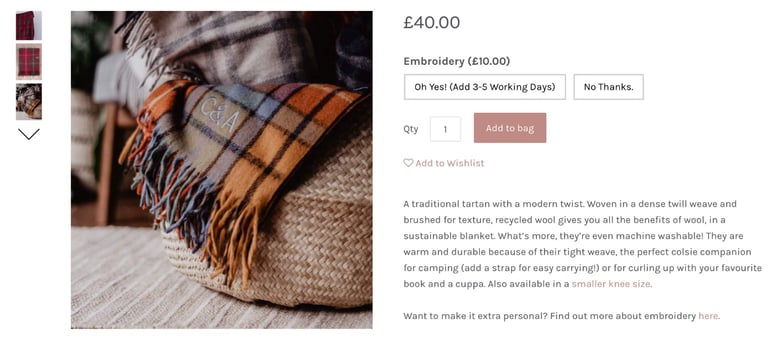 Educate the buyer
It is often said, that you should "give your customers what they're looking for".
That's very true, but it's even better if you give them something more. A great copywriting technique in ecommerce involves providing useful, additional and unique information that makes the customer feel better informed and thus treated like an intelligent consumer.
Perhaps you have never paused to consider the importance of the type of cold current that circulates inside a refrigerator while it's closed. Writing about this is giving further valuable information about your product, while you will stand out as a more reliable brand or seller compared to those of other similar products.
→ Also check out: A step by step guide for creating your product catalog
Make a difficult choice simple and fun
We love the case of The Home Depot, who cleverly described their barbecue grills by inventing a catchphrase in "How many burgers can I make at once?"
And this without offending anyone: they could also be vegan burgers.
The best copywriting formulas add a whole lot of creativity to product data. How can you describe your product in an unforgettable way? How can you guide the buyer to the right choice without redirecting them to customer service?
For example, suppose you sell sofas: what if you included a size 'ruler' showing visually how many people could relax together to watch Netflix?
→ A shinning idea: How to handle lighting products data
Copywriting techniques for making products stand out in ecommerce and catalogs
Research and define a vocabulary for your brand
Uniformity of style is subtle and makes it easy for your visitors to recognize any product description.
If you switch styles from informal to very technical, you may confuse your customer and you won't be conveying a unique and recognizable brand image. Do this by means of your content: what impression do you want to convey? How do you want to be recognized and remembered everywhere?
Start by making a study to determine which words you want to associate with your brand, and which vocabulary your customers already associate most frequently with the type of product you sell. An outstanding example is Apple, who are expert in using a vocabulary that evokes minimalism, comfort and care.
Create unique names for your products
So you're selling a blue-striped dress. Naturally, it'll be important for you to state that it's a blue-striped dress in its description, sub-title and metadata, so as to help its positioning in search engines.
However, items that bear a unique and original name attract more attention from buyers. That's why many brands launch 'capsule' collections in which each product has a name that conveys a sense of exclusivity.
You're not wearing a striped dress, you're wearing an Elysée model.
→ More pieces than a Lego set: Everything that should not be left out from a toy description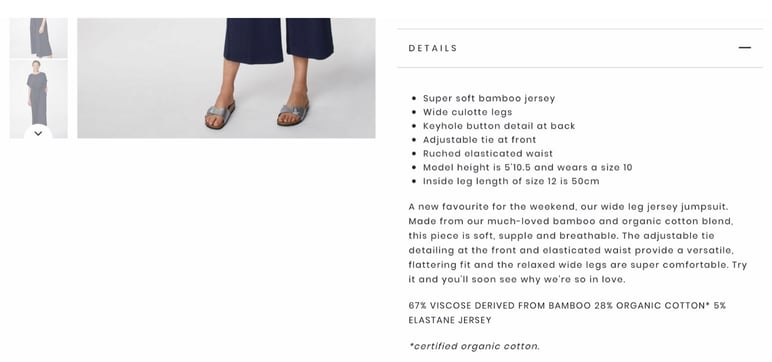 Use a multisensory language
In the absence of technology to make online shopping a realistic experience (and there's not far to go, thanks to virtual and augmented reality), you still need to evoke sensations through language. And in many cases such feelings are what end up motivating a user to make a purchase.
You can state how much a suitcase weighs or how many calories a bar of chocolate contains.
But what about the cookies that remind you of a living-room on Christmas Eve? Or the electric fan with its beach-breeze mode?
Emphasize advantages for the buyer, and repeatedly
We've mentioned how useful it is to transform features into benefits from the customer's point of view.
Do this more than once. Most users won't read the entire text on a product sheet and you can't predict at which points they'll stop. This doesn't mean you should repeat the same thing over and over again, but that you remind them here and there of the advantages of your product.
→ Is there such a thing as a perfect product page? We'll show you here

Address the most common complaints and concerns of your buyers
Do they often express concerns about how a swimsuit will look? Or whether a vacuum cleaner will actually collect up all the dog's hair?
Find out what specific questions your customers have and consider whether you should address these in your product descriptions. This depends on whether your buyers might be bringing accumulated doubts from their experience after buying other brands, or if you are offering them something very new or specific that needs 'training' from scratch.
Adapt your copy to your buyers' tastes and opinions
Just remember, though – you won't be able to satisfy everyone.
However, it is possible to meet the expectations of much of your audience if you understand them well. For example, try to find out whether they are interested in production (whether they value sustainability), the type of materials used (whether they aim to be environmentally friendly), and/or manufacturing (whether they value seamless items, or non-assembly parts).
Avoid giving false information: just don't forget to highlight features of your product that may be of value to your target customer.
→ Read more: Avoid shopping cart abandonment using improved product data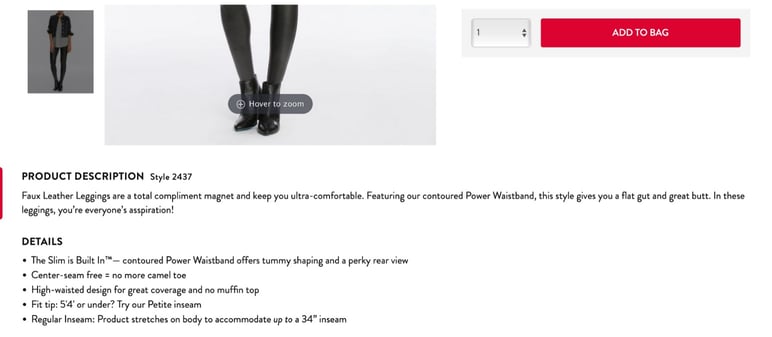 Tell a story
Storytelling has become a mantra of copywriting techniques because, to a large extent, it works. Creating a story around a product makes it distinctive and intriguing and can be fun as well.
Use phrases of pop culture and humor in moderation (ask yourself, would your customers actually prefer the naïve, ironic, cynical or macabre styles of writing?). This type of creative copy, as opposed to mere description, can prove to be in sync with the user and makes it easier to remember and share.
Write, edit and then format
In product sheets everything depends on creating a visual impression, which means we can use italics, boldface and exclamation marks to emphasize a range of emotions, benefits and unique features.
Divide the text into short sentences instead of creating dense paragraphs that are less inviting to read.
Include a list of bullet points for readers in a hurry who want to recognize the components, measurements, ingredients or shipping conditions, etc. at a glance.
→ Make a note of these: Ecommerce product page optimization
If you brag about your product... give evidence
"The best computer of its generation." "The easiest frame hooks to install." "The yogurt that lasts the longest."
We are so used to hearing these kinds of phrases that we too often use them heedlessly in copywriting techniques.
That doesn't mean you should use them. In fact, that kind of language often arouses the skepticism of a lot of users; especially if they take the trouble to compare you with your competitors and find you are all saying the same thing.
If you do include a strong statement of the merit or success of your product, accompany it with proof.
Many backing-up arguments have been proven to have a noticeable psychological influence on consumers visiting product sheets:
News items and articles in the press and reference websites
Buyers' recommendations
Customer reviews
Testimonials from companies or persons in authority
Success stories from reputable businesses
Logos of important customers
News and articles in the press and on reference websites
Product labels of the "Best Seller", "Most sought after" or "Editor's Selection" kind.
Conclusion
Above all, copy is language, and it translates into a combination of user experience and brand image.
Check your product descriptions regularly, to update them and make them stand out from the competition. You never know who might have been copying your description for their own product sheets!
One way to streamline your work on product descriptions is to incorporate a PIM (Product Information Management) solution into your business. Regain the time your team needs to be creative and to customize their copywriting, for each sales channel and catalog, by making use of technology that centralizes all of your product information and sends it anywhere you want, from a single place.
And all we need is your word for you to try it out: get our PIM for free for 30 days and you'll be left speechless.