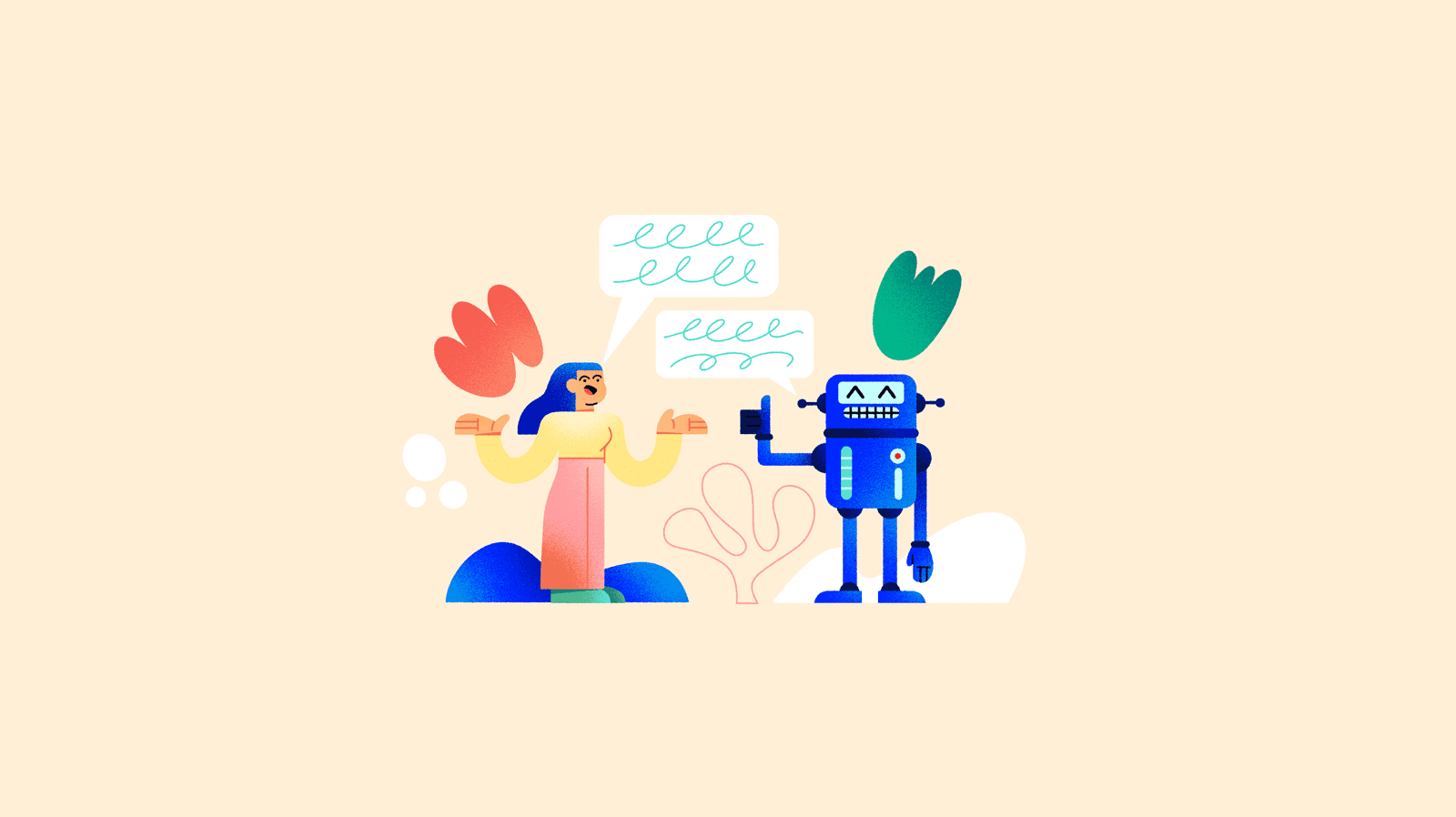 What is an ecommerce chatbot?
Chatbots are intelligent systems, capable of interacting by text with a user, responding to questions, giving instructions and offering information. They are customer-service tools to complement human activity, and can be particularly useful for handling simple questions and offering 24/7 emergency service.
According to Gartner, 85% of customer interactions are carried out through chatbots. What's more, the majority of buyers prefer the ability to quickly ask questions, rather than waiting to speak with a real person – as demonstrated by Nielsen in a study revealing that 56% of online customers prefer an automated chat to a call or email.
On the other hand, chatbots are no substitute for classic customer service, and should only be used as a support. Although ecommerce chatbots reduce waiting times and offer more agile resolutions to simple shopping and delivery issues, you will still need a human team to attend to more complex cases.
Chatbot software combines helpful and autonomous intelligence, while training and feeding information to the system, allowing it to create logical and natural interactions. After all, a report by PwC has shown that 27% of people cannot tell whether they're speaking with a person or a bot.
If you want to include a chatbot in your ecommerce and improve your customer service, remember that precise and organized product content is a basic requirement for these systems. Discover how the quality of product information influences the success or failure of your customer service, and request a free demo of Sales Layer to give it a try and allow your ecommerce to offer clear product information for customers and chatbots.
Features and benefits of a chatbot for online stores
Online customers' rejection of the virtual and automatic is not as high as we tend to believe. In a campaign designed by Toyota in Hong Kong, the chatbot reached a 10% CTR (click-through rate), while 50% of users who used the service were willing to book a trial session.
Artificial intelligence is an aid and not a hindrance to ecommerce. By using a good chatbot system on your online store you can achieve improvements in performance and create a better user and shopping experience:
More conversations with customers.
Reduced wait and response time.
Huge reductions in costs per conversion.
Reduction in resources expenditure.
Encouraging more orders.
Increase in the average shopping-cart value.
More precise personalized suggestions.
Rapid support for product exchange and returns processes.
100% performance improvement compared to a traditional call center.
Saving customers from having to read FAQs.
How to choose your perfect chatbot
When you decide to add a chatbot to your ecommerce, you'll have two options from which to choose.
On the one hand, you can turn to a platform for creating your own chatbot. This will require specialist equipment and some preparation time.
Another option is to make use of an automated marketing platform, which will usually include a preconfigured chatbot system, like Hubspot. There are also specific chatbot services available for ecommerce platforms, such as Shopify, and instant-messaging services suited to companies, such as Facebook Messenger, WhatsApp and Telegram.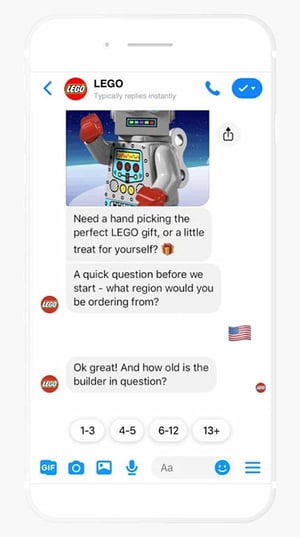 The best chatbot for an ecommerce will depend on its intended use. If you simply need it to resolve quick customer queries or include pop-up windows on your site to suggest a conversation or personalized products, you can opt for a simple and easy-to-configure system.
If you're looking for a more comprehensive system, capable of carrying out complex conversations, then you'll need more sophisticated artificial-intelligence software in order to train it and obtain optimal results.
Some basic chatbot features to look out for:
Voice options (for assistants like Siri or Alexa).
Preconfigured conversation templates.
Multi-language support.
In-chat payment processing.
Option to recover shopping cart.
Notifications (email, SMS, etc.).
Integration with other tools (CRM, automated emails, third-party platforms, ad retargeting, etc.).
Learning capacity.
Customer segmentation features.
A/B testing option.
The best chatbots for ecommerce businesses
MobileMonkey

This is one of the easiest-to-use chatbot platforms, as it integrates bots for website chats, Facebook ads and SMS within a single system.
Among its features, some of the most noteworthy are the processing of natural language (very important in order to ensure that customers do not get frustrated speaking to a machine), customer segmentation and ready-to-use dialogue templates.
It also includes the use of GIFs and images, making automated conversation all the more realistic.
However, it is based on a very simple platform for relatively basic uses. It does not include an internal payment system, API, voice-assistant use, nor integration with any platforms other than Facebook.
Octane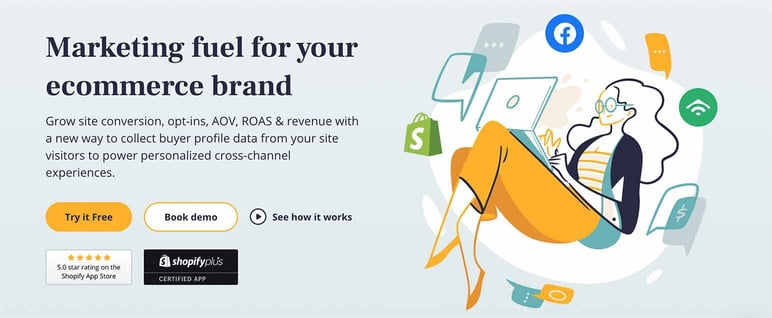 This is a chatbot software designed for sellers and brands who use Shopify for their ecommerce. As a result, it will not be suitable if you use another platform, such as Magento or PrestaShop.
Some of its greatest strengths are its preconfigured templates; the inclusion of images, audio and video within the conversation; and integrations to collect email addresses, recover shopping carts, offer stock alerts and connect to product reviews that can be shared with customers.
As we have already noted, it is ideal for Shopify users, but is not suitable for any other platforms, nor for teams seeking artificial intelligence systems with learning or analytical capabilities.
Botsify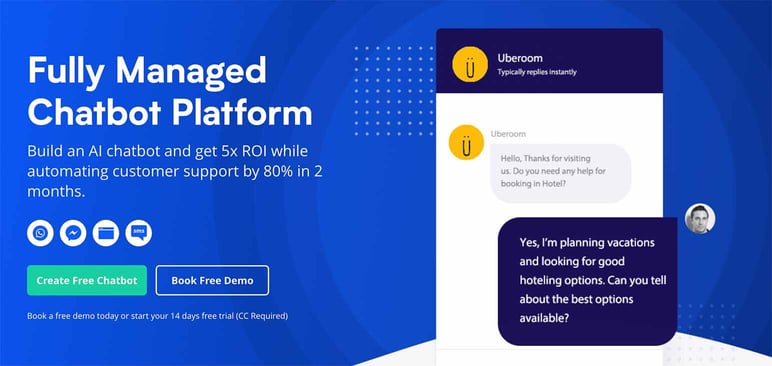 This is an artificial-intelligence chatbot service, offering a much more comprehensive tool than those previously mentioned. As such, it includes attractive features such as natural-language processing, voice functions, payments via Stripe, analytics and integrations with other services such as Slack, Alexa and Facebook.
With Botsify, you can create more sophisticated virtual assistants for your ecommerce, app, SMS or Facebook page, with the ability to personalize tasks and subsequent uses for each one.
Amelia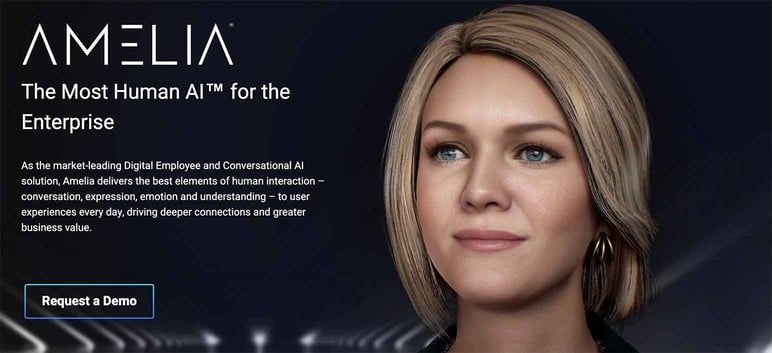 Amelia is a service intended to create what is known is a 'digital employee'. It's a chatbot with a visual interface, capable of conversing naturally, with pauses and interruptions, while learning from previous conversations.
Just like a messaging chatbot, Amelia offers personalized customer service, with the ability to offer suggestions and process transactions. Its base system is more powerful – capable of recognizing patterns and offering emotional responses to complex queries, through the use of semantic memory. As a result, it offers a much more advanced-level service, which can even be used to process and include your ecommerce's legal documents within conversations.
Ada

Continuing in the theme of bots with feminine names, Ada is another platform allowing you to create your personalized chatbot with ease.
It includes machine-learning and customer-data protection features, as well as the usual features included in the previous services.
It also accepts API integration and allows you to suggest products, bookings or any other information you wish to add to your chatbot. Its key drawbacks are the lack of in-chat payment processing or voice-assistant connection.
Chatfuel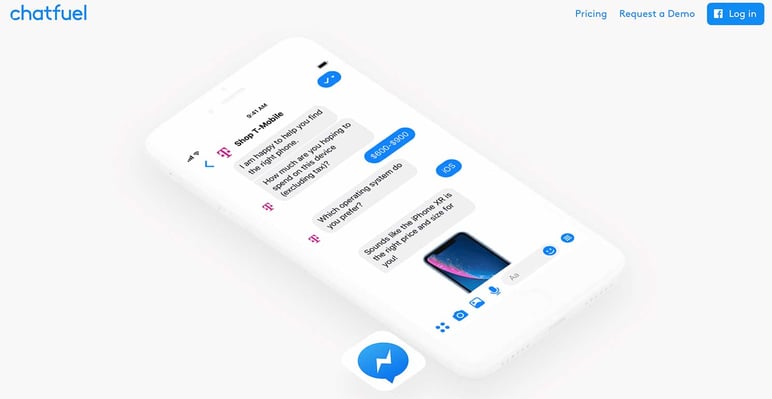 This is one of the most frequently-used systems for creating Facebook Messenger chatbots. It also includes a payment system via Stripe (or Facebook itself, if the seller is based in the United States), retargeting options, CRM and email integration, and analytics.
In short, Chatfuel collects user information through Facebook in order to use this in your chatbot, making this an attraction option for ecommerce businesses with a social media presence.
Botsociety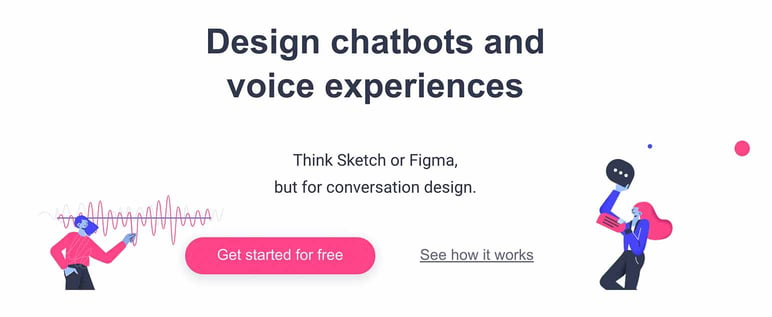 Finally, if you want to create your own chatbot from scratch, Botsociety is one of the leading and easiest-to-use platforms around.
It stands out with its intuitive interface, collaborative mode and the option to customize the code. It also includes significant features such as voice assistant, audiovisual resources within conversations, and API integration.