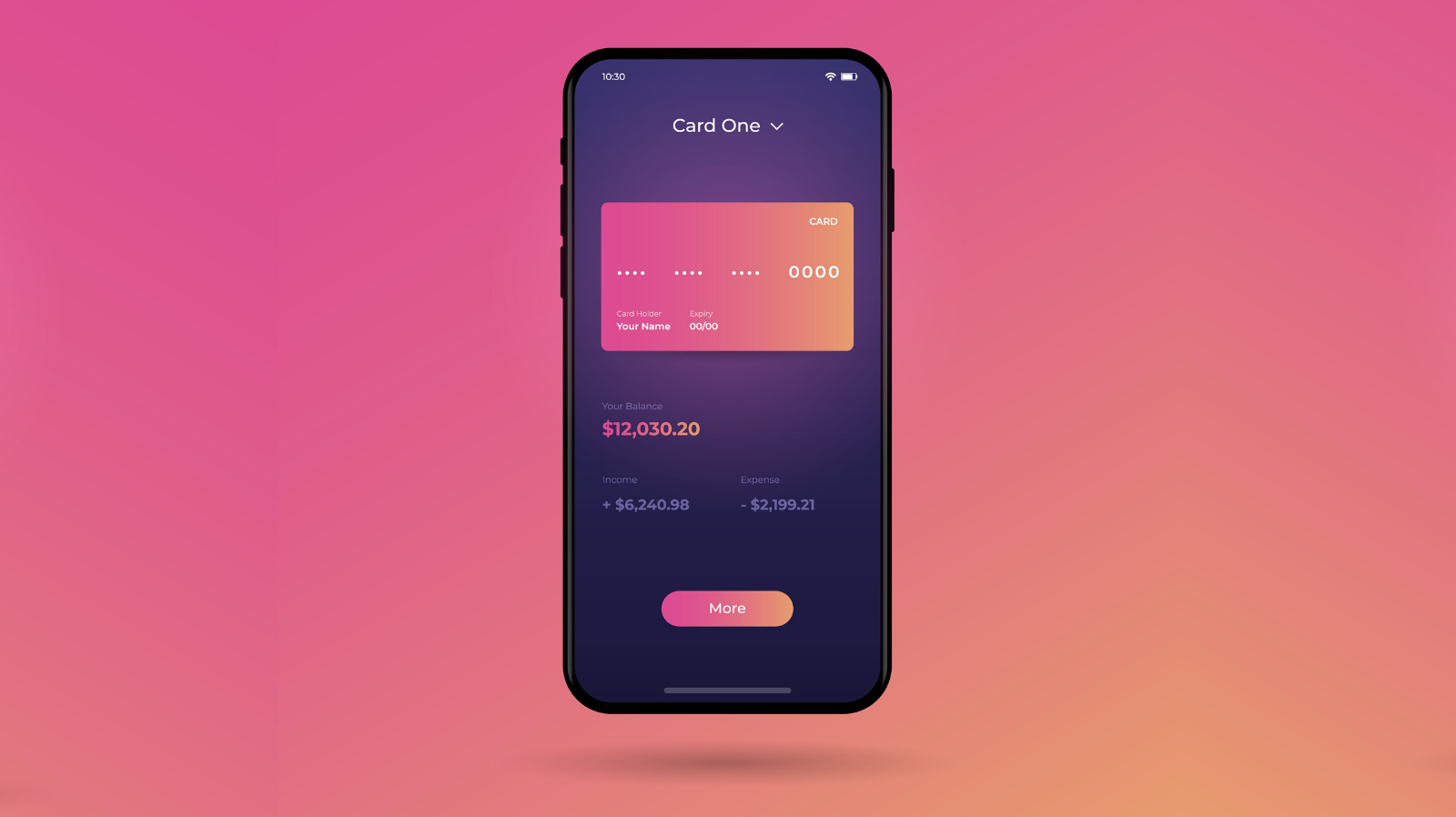 Choosing the right payment system for your online business
A payment gateway is a digital payment system integrated into an online store (whether website, mobile app or marketplace) that allows a user to be charged directly when placing an order.
Credit or debit cards have always been the most widely used online payment methods, similar to the checkout of any store or supermarket. However, a few other systems that allow for electronic payment without the user having to disclose their bank details, have recently become more popular.
In any kind of ecommerce, both for reasons of security and to save time, online buyers already want the peace of mind of knowing that their private information is well encrypted, and they don't need to reveal all of their personal details every time they make a purchase.
→ Find out more: The most popular payment methods in ecommerce
Features that should always be included in your ecommerce payment gateway
SSL security certificate: This is the 'number one' requirement of any online store. Users should only trust websites that include a valid and active certificate, and yours should always have an SSL certificate that's up-to-date. Many payment gateways include certification, and the best known belongs to Verisign.
Anti-fraud system: A measure of this type adds extra security in order to identify the origin of the payment and thus avoid fraud to your company.
eCheck option: Online payments usually use credit or debit card information, but this system is based on the current account number.
API available: This may seem unnecessary to you right now, but it's very useful for your website developers to have the payment gateway API available. Later on this will allow them to manage the payment steps in a more customized way.
Support: If you get any problem with your payment gateway and you don't have a trained technical team, or they can't locate the source of the failure, who will you go to? It's a plus when the payment gateway includes technical support and 24/7 customer service.
→ The key to your conversions: Tips for building online user confidence
Stripe vs. PayPal: the most popular payment gateways
PayPal was the first wire transfer system to gain the greatest popularity as an alternative to traditional payment methods; however, you've probably been hearing more and more about Stripe.
Is PayPal still the payment gateway that's best for your online store, as well as for inspiring trust among your shoppers, or are there in fact other equally good alternatives out there?
In fact, your online store can (and should) provide several payment methods so as not to limit the options for the user, who may have specific preferences. But when choosing a payment gateway, it's best to select one on the basis of optimizing costs (usually, subscribing will involve set up costs, monthly or annual fees and variable commissions per transaction).
In case you're about to decide between using PayPal or Stripe, we'll now review the benefits and drawbacks of each payment gateway, in its latest version, with you. Both systems provide a very similar quality of service, so pay attention to which of these criteria are most important to you.
→ Related content: What payment methods might you include in your online store?

What is PayPal and how does it work?
PayPal is a company that specializes in online payment systems and transactions. It allows you to create a user account to store your bank account data, and pay on any platform that accepts the PayPal system. Companies can incorporate this platform into their ecommerce channels to accept payments from registered and unregistered PayPal users.
PayPal's ease of use also applies to businesses: the service does not involve monthly or annual fees (unless you sign up to a customized service), but a flat fee of 2.90% + 0.35 euro per transaction.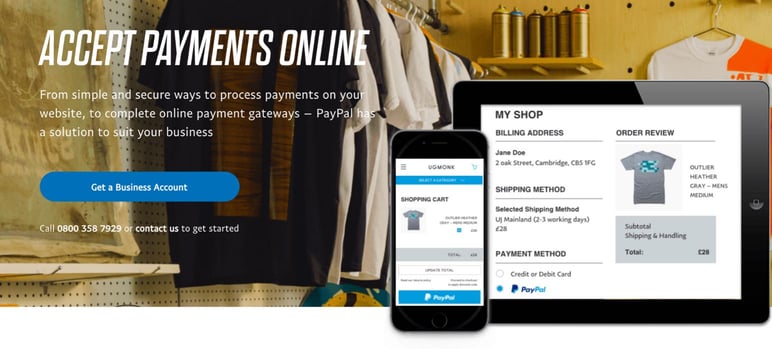 Benefits
Ease of use: Anyone can use PayPal – buyers and sellers alike. You won't need a large team of developers or experts in handling code at your fingertips, to be able to integrate the gateway into your ecommerce and start using it. Its features usually come pre-configured and ready to select and apply.
Transparent pricing: It's easy to know in advance how much the PayPal service will cost you. There are no hidden extra costs, just the fees for each payment method you include.
Worldwide trust: Certainly PayPal is well known by the majority of ecommerce users. It's a security reference in the payment process and inspires confidence straight away. It provides service in over 200 countries, while Stripe is limited to just over 30 countries.
Instant payments: With such a widespread service and millions of user accounts throughout the world, many shoppers find it easiest to pay with PayPal. By having their details saved, they can simply click the payment button and complete purchases quickly. And should a user not have a PayPal account, they can still pay with their bank card details.
Integration with POS: Although PayPal is well known as an online payment system, it includes a function to be able to connect it to your other points of sale such as physical stores, and thus process all payments in an integrated way.
Wide range of customer service: You can get answers to common questions in PayPal's help center and community forums, or contact specialists via email, chat, telephone or Twitter.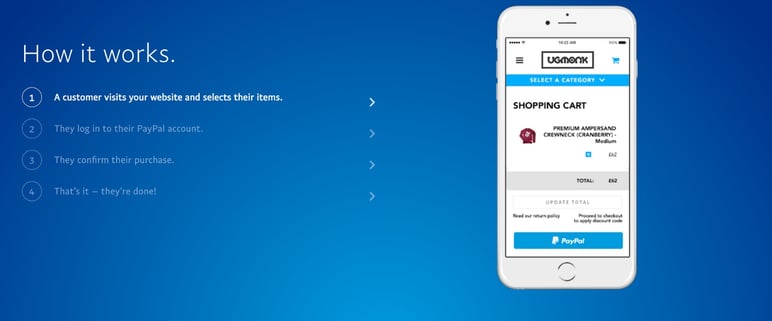 Disadvantages
Fewer customization possibilities: PayPal is an excellent platform if you want to integrate payment methods into your store as soon as possible without having to worry about details. However, if you're interested in configuring your payment processes, although PayPal supports customization it's not as advanced as Stripe in this respect.
Inconsistent attention: Among the PayPal user community, its phone service has a reputation for unreliable operation and a lack of consistency from its support staff.
External payment: Unless you have signed up to the additional comprehensive gateway service on your website (15€ per month), payment is redirected to an external PayPal Checkout window. This is not usually a problem for most users, although it can lead to issues if the connection is slow, or bring about some frustration because the payment process takes longer.
→ If you use PrestaShop: Don't miss this PayPal plugin and many more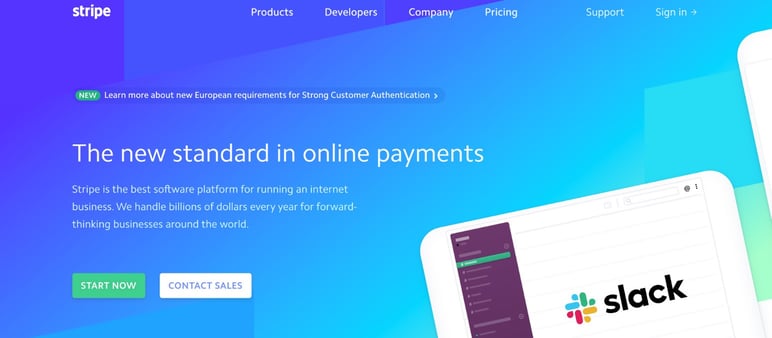 The features of Stripe that set it apart
Stripe has become the leading alternative to PayPal because of the range of more advanced features it offers. This makes it a very attractive platform for company teams looking for advanced configuration and customized settings.
Stripe includes all the features that make a payment gateway a reliable everyday ally:
High level of security measures
Wide variety of global payment methods, including Visa, MasterCard, American Express, Maestro, Apple Pay and Google Pay
Regional payment methods, such as SEPA
135 currencies supported for payments
Customized purchase processes
Financial Reporting
Extensions and integrations with other platforms
Mobile App (iOS and Android)
Stripe likewise doesn't charge a monthly fee, but includes fees for each payment method, similar to PayPal:
4 % + 0.25 € for European cards
2.9 % + 0.25 € for non-European cards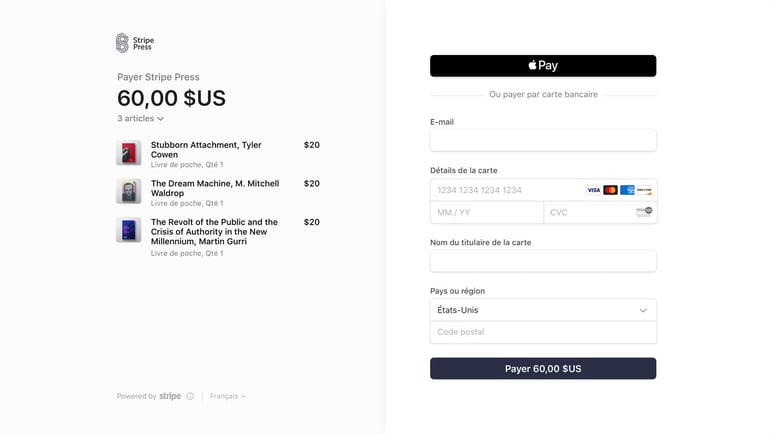 Pros
Customized rates: These allow you to design a package of features adapted to your company, with discounts according to the volume and variety of services contracted.
Individual attention: You can talk to Stripe reps to set up the service and answer all your queries.
Tech support: You'll have contact by phone, chat and email in 6 languages, 24/7, at your disposal free of charge.
Machine learning: Among Stripe's strong points is its outstanding application of the latest machine learning technologies to underpin some of its services, such as its anti-fraud system (included by default in any package).
PCI certification included: With all of its plans, at no extra cost, Stripe takes care of the security requirements for bank card payments for you.
Customizable reports: Whereas in PayPal the reports are complete but standardized, with Stripe's Sigma function you can choose which aspects of your company to analyze, and get instant responses through SQL.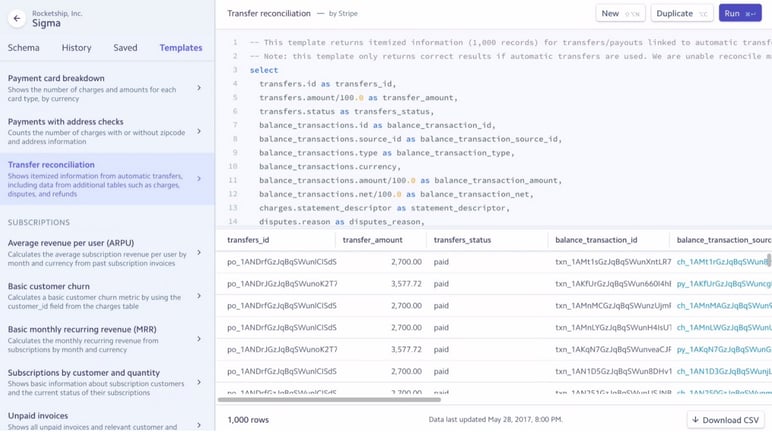 Cons
Lower popularity: This is a minor disadvantage and it could change in the short term. Currently, online users are more familiar with PayPal and recognize its logo at a glance, while Stripe is not as well known – yet. Its list of important customers keeps growing (Amazon, Adidas, ASOS, Ticketmaster), and such an upward trend could lead it to the heights of fame.
Additional costs: Some of the most attractive Stripe tools end up adding extra fees to the overall cost, such as services for generating invoices, recurring payments and subscriptions. This also makes it difficult to calculate in advance your total monthly outlay.
Greater complexity: Given its wide range of features and the potential to customize them, installing and managing Stripe tends to be somewhat difficult, especially if your team is not well trained or wants to set up the service quickly. For example, the integration of Stripe with point-of-sale payments is not as straightforward as with PayPal, and it needs time to set it up.
Beware – Stripe also suffers from inconsistencies: Despite its major step of incorporating a 24/7 call service, users complain about the lack of uniformity in Stripe's support service and how unpredictable it can be by phone: whether the answers you get are helpful or useless.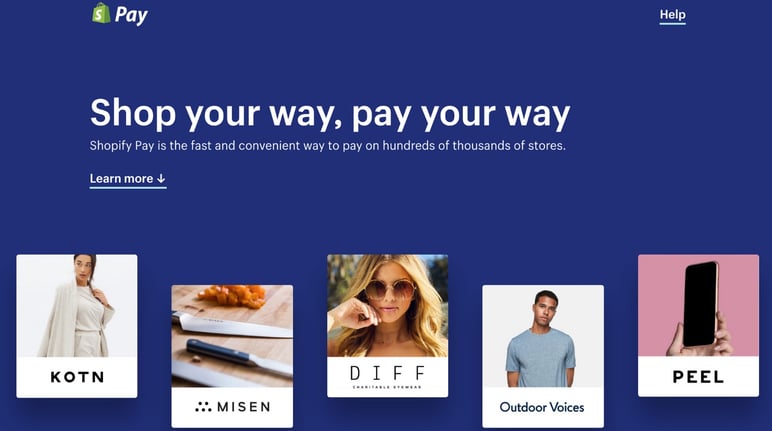 Conclusion: PayPal or Stripe?
Both Stripe and PayPal are excellent payment gateways that allow integration with ecommerce platforms such as Magento, WordPress or Shopify (which also provides its own service, Shopify Pay, actually supported by Stripe).
Their features are comprehensive, their rates are very similar and the process for registering your account is simple and fast in both cases.
If you are looking for a wider range of options for configuration, the Stripe API is the best alternative. But if you want a straightforward connection to an ecommerce platform and avoid the complications of added features, PayPal is much more convenient for sellers.
You don't have to limit yourself to the present discussion if you still have doubts. In Europe there are many more payment gateways in operation for online stores, such as SagePay, Google Checkout, TefPay, Worldpay, PAYCOMET and even Amazon; each one having different service features, all of them equally reliable.
Don't be afraid to use the payment gateway that best suits your needs, even if it doesn't seem to be the most popular. A vote of confidence should be placed on the user: after all, they can always perform a quick search on Google and ascertain that it's a valid and reliable method, which will continue to encourage purchasing in your store.