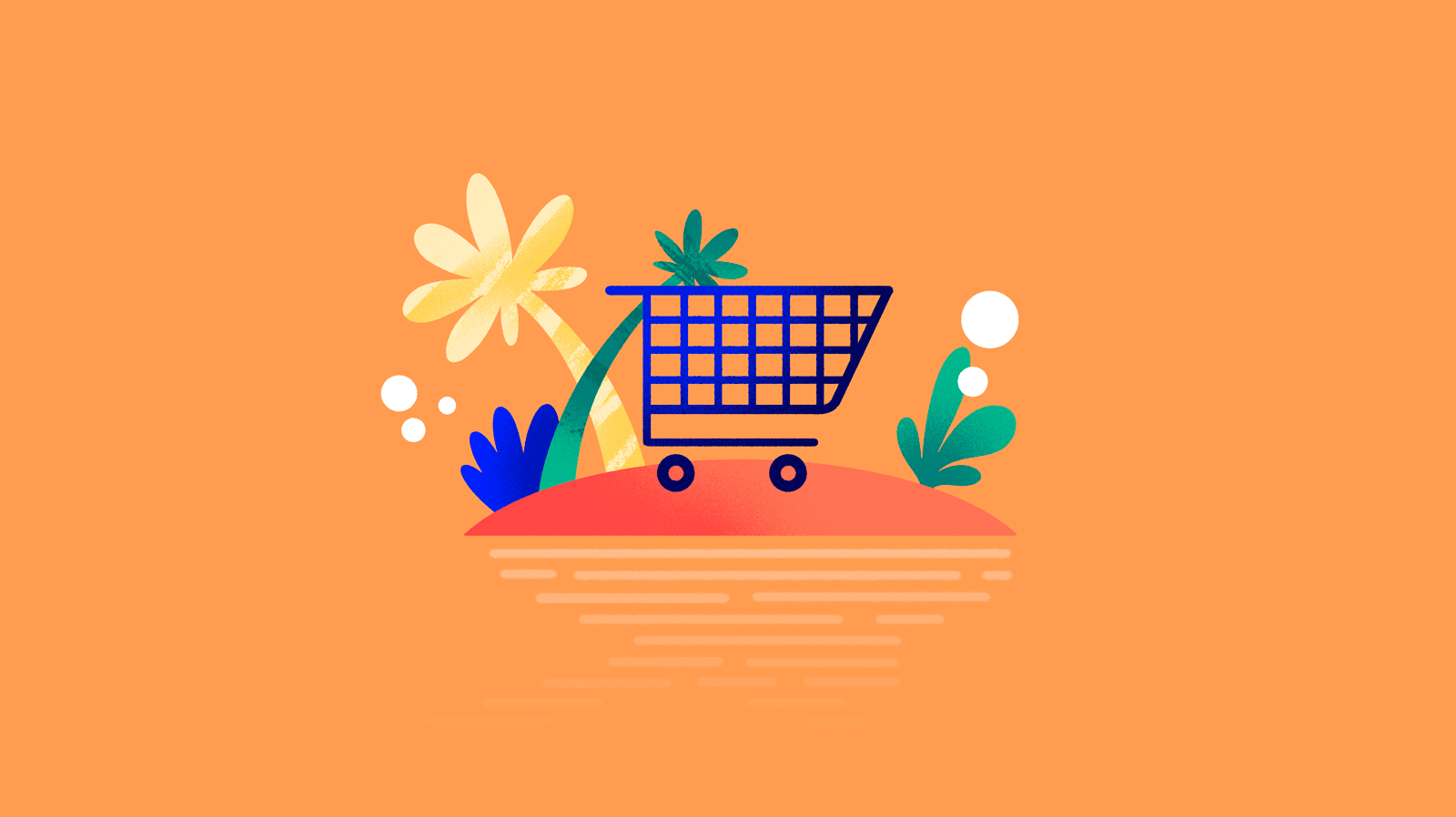 The greatest frustration of online sales: customers who add products to their digital shopping cart, only to abandon the cart later.
Why do they decide to go? What do they need for their shopping experience to be a success? The reasons can be many, but there is normally a common denominator:
What most motivates (and demotivates) online purchases is not the price. Instead, it is the user experience.
We are not going to give you a magic recipe so that all your customers follow through with their purchases (that's impossible), but we will give you a few ticks to improve the experience, avoid the feared abandonment of shopping carts, and recover carts when customers decide to go.
Tricks to avoid cart abandonment in your online shop
Simple navigation
How many times have you found a jug of milk left sitting in the detergent aisle of the supermarket?
Just like in physical shops, many buyers abandon their shopping cart online because they haven't been able to understand how products are distributed. It is key for your online shop to have a clear structure and for everything to be well organized into proper categories and subcategories.
In this way, the digital shopper can easily find what he or she is looking for, add it to his or her cart, and see it in the cart without having to go back and look for things that are hidden and poorly labeled in your online catalog.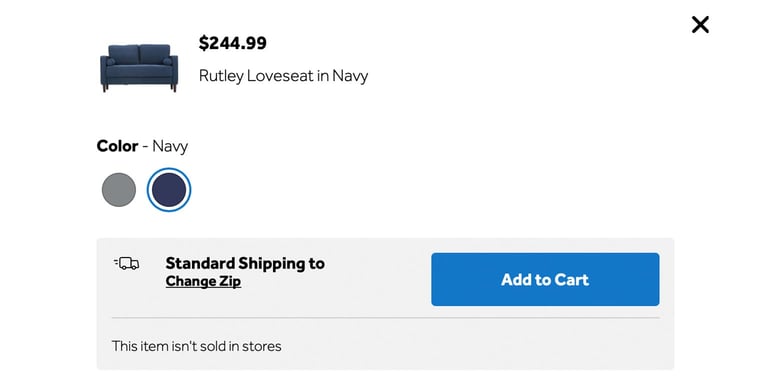 This structure starts with internal management of your product information, something that you can easily achieve with a PIM solution (Product Information Management). This software helps you to structure your entire catalog and to be able to find each product – something that is key for your whole team and your customers.
Unexpected fees
What digital consumers most hate it to find surprise fees when starting to pay for their shopping cart online.
That's why it's so important to leave things clear before checkout, on product pages and in a FAQ and shipping information section, about what fees and times apply for each order.
And, of course, don't forget to include a notice about possible extra costs for cleaning customs and import duties that depend on each country and which you don't have control over or responsibility for.
In this section, one of the elements that causes most shopping cart abandonments is shipping fees. Most digital users expect free shipping always, or at least after spending a certain amount on their purchase. As much as possible, try to offer this advantage or look for competitive prices with your shipping company.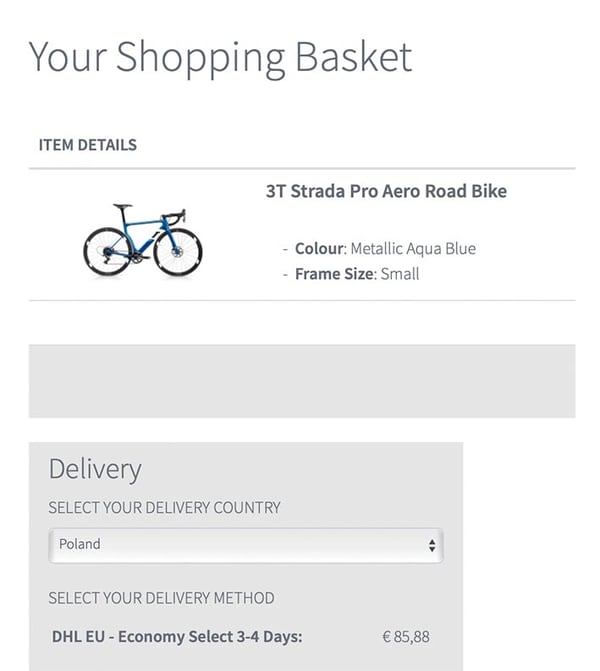 Multiple currencies
A big drawback for international purchases is calculating the currency equivalent for each user's country of residence.
For example, if a British shopper visits an Italian shop, he or she will prefer to see prices in pounds and not in euros. That's why it's very useful to offer prices tailored to several currencies. A PIM system allows you to add as many currencies as you want to your product prices, adapting them to the website version for each country.
Varied, safe payments
New generations are less afraid to pay online, but your shop or app should still transmit trust during the checkout process in all cases.
To accomplish that, you should have updated security certificates, display them with verified seals on your site (and especially on the payment page), and give different options for purchases.
Bank cards of different types and digital payment gateways like Apple Pay, PayPal, or Stripe are payment methods that are popular amongst online shoppers. If they don't find them on your site, they may abandon their shopping cart and assume that they won't be able to go back to your shop.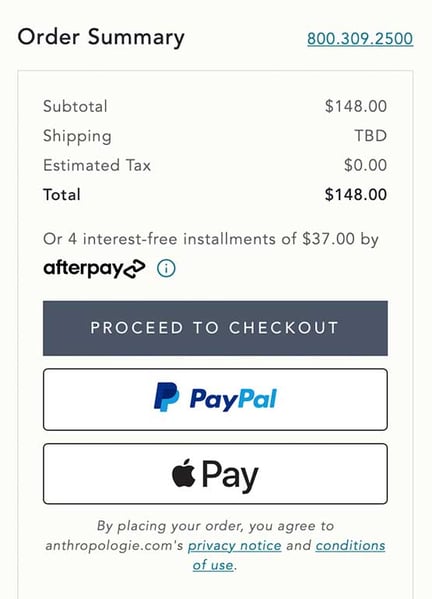 Remember to provide information to the user about each step of payment at all times, and to send emails or SMS messages to confirm all the data of the purchase and preparation of shipment.
→ Check them out! The most popular online payment methods.
Fast and easy checkout process
It is so easy to lose a client from the payment screen that your aim is to not distract him or her at all.
Make fields and action buttons as clear as possible and avoid having a complex checkout process with many screens and a lot of information being required.
The shorter the process is, the better – on a single website window or in just a few steps in a mobile app.
Ecommerce purchases are made with one goal in mind: speed. Don't let your customers think twice before paying and don't let your rate of abandoned carts go up.
No mandatory registration
Speaking of speed, the great enemy is adding yet another hurdle before payment.
Many online shops make registration obligatory to buy something because they want to gather data from all their users. Nevertheless, this dissuades many users who do not want to waste more time filling in a registration form or who do not want to give their data to the shop.
Avoiding obligatory registration in a shop makes conversions increase by up to 45%.
But if you prefer to collect data, the obligation to register should be clearly stated from the start and not appear as a surprise during the checkout process.
And for users that are already registered, make it easy to repeat the purchase process. Make it very easy for them to recover their username and password on the checkout page if they forget them.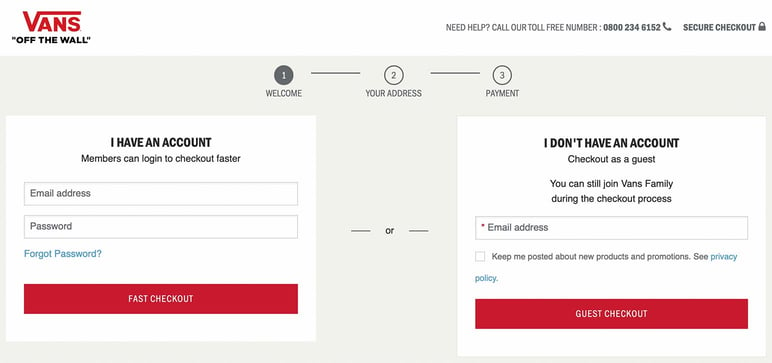 Technical support readily available
What can be more stressful for an online buyer than having problems when they go to pay? When at the cashier of a physical store, this situation is less stressful as there is an employee there. That's why your digital shopping experience should also offer help that is easy to find.
Include contact details and links to online chat options and emergency email addresses on your payment pages so that customers can find them easily if they need help. Also provide this data on the error pages that you want to link to the payment process.
→ Don't screw up! All the mistakes that you should avoid in your online checkout process.
No distractions
As we have said before, a clear an minimalist review and payment process will keep many carts from being abandoned.
Of course, surely you have thought about taking advantage of this step to add an extra sales or marketing strategy. For example, some suggested related products to get cross-sales and upsales.
If you decide to include these types of suggestions on the review page for the shopping cat, try to ensure they don't take up too much screen space. Let them just be another part of the page so that the user doesn't get confused with so many messages or feel invaded by an excess pressure to buy.
It is better to ensure a purchase rather than loosing it because you were trying to get the buyer to spend a lot more.

Ways to recover abandoned shopping carts
With all of these tips, surely you'll be able to avoid many abandoned shopping carts on your online shop. But if they come about, don't fret!
There will always be some abandoned shopping carts online. And they don't necessarily mean failure: instead, they are an opportunity to try to get back in touch with those customers and understand what went wrong (and what you can do to improve).
Here are some tactics to recover abandoned shopping carts.
Push notifications
If a visitor to your online shop leaves the payment page to go to another part of your website, you can activate push notifications to remind them of their pending purchase.
This will help you to remind them of the products that have already been added to the cart while they keep browsing. There are plugins that automate that task in your ecommerce platform, like Firepush for Shopify. You can also show a popup warning users that the shopping cart has not been paid for in the event they click to leave your site.
Retargeting
Show Google Ads on other website to buyers who left their shopping cart abandoned. You can show them new products, new features, or special promotions to awaken their interest in coming back to your shop again.
→ POS systems for online shops: Which are best?
Personalized emails
The most common way to recover abandoned shopping carts is by sending an email to remind users with a summary of what was left in their cart. This can be the same day or a few days later after having abandoned the purchase process.
You can also include incentives if a lot of time has passed from when the cart was abandoned, like a discount code or a note when the products that were in the cart have gone down in price or if they are about to go out of stock.
There are plugins to help you recover abandoned carts for the majority of ecommerce platforms like PrestaShop, WooCommerce, and Shopify. With them, you can schedule automatic email responses for each time a cart is abandoned on your online shop.
Conclusion
Losing customers is a natural part of the sales process, and even more so in a digital setting.
The key is to keep the rate of customer loss from being too high by offering a superior shopping experience and clearing up any customer questions before getting to the payment screen. A PIM solution will help you because you'll be ale to centralize and enrich all your product information so that it appears in perfect form and just as your online customers expect it to be.
Try Sales Layer's PIM for free for 30 days: we know that you'll be so satisfied that we won't have to send you a notice for having abandoned us.