Let's go back for a moment to the Middle Ages, when all the foundations of the socio-economic system were really established that we know and manage nowadays.
In a small village that is well known for its numerous oat fields, a farmer was eating porridge for breakfast while he sorrowfully looked towards his vegetable patch on which only cauliflower used to grow. Suddenly, an idea sprang to his mind: that difference could mean a business opportunity, so he soon started to take boxes of cauliflowers to other villagers in exchange for a certain amount of money. He developed a B2C (Business-to-Consumer) trade model (besides making the first move for the whole modern network of boxes with fresh veggies).
But another man who was more prepared as regards means and time, observed the farmer's limitations as he could see how the farmer couldn't cope with his old tools on his own, nor could he grow his business. This man could see signs that the seller also had his own needs (and not just about his diet), so he went to knock on his door one morning: what would he think of profitable harvesting machinery, some reinforced storage containers, or a motorised vehicle to take the merchandise to the little village? He could have been Leonardo da Vinci, but what he had proposed was an extra model: B2B (business-to-business).
In fact, sellers also become customers in that situation. So how do the business dynamics differ? Firstly, in the relationship established between equals from company to company, and neither the service, neither the kind of relationship, nor the category of demand is going to be the same. Villagers maybe want a couple of cauliflowers every three months when they have forgotten how difficult it is to digest them, but let's suppose that the farmer sells them to a court chef who will require a weekly delivery made up of very specific kinds of produce under certain delivery conditions, and will want to take advantage of certain perks if possible for being a regular client.
Leonardo da Vinci went down in history even though he didn't build his wonderful technical proposals, whereas there have been so many farmers like there are online shops nowadays: at first sight, it's logical that it seems like the bulk of the economy depends on them. But this isn't the case.
A giant tied up by Lilliputians: B2B Always behind B2C
When we talk about e-commerce, we immediately tend to illustrate the subject with images of shoes, bags and cameras, the small or large retailer that addresses the public with the only role of being consumers and users. A network that wouldn't exist without the support of B2B relations which are established before reaching the general audience inside the industry: between manufacturers and distributors, or between wholesalers and retailers. This commercial branch is often mentioned as a silent giant, and that image is even more precise than the image of bags and shoes. In the hard Middle Ages, it was also believed that there were stone giants who used to sleep on the landscape: such beliefs in these fantasies disappeared over time, while the gigantic stone constructions remained, and were used as paths to endure the transit of many commercial routes.
Although it's not often mentioned, B2B commerce is a phenomenon which is enlarging more and more as a result of some increasing imitation tactics. In 2014, 30% of B2B buyers carried out the half or more of their jobs and purchases online. At the beginning of 2017, the percentage will have increased up to 56%, which is an increase that has almost doubled in just three years. According to the consulting firm, Frost & Sullivan, the weight of B2B e-commerce will increase even up to the double for 2020, and exceed 6.7 trillion in annual income.
All this wouldn't happen if B2B e-commerce, which is still operating from the media shadow, didn't offer something that is vitally important. And a company's requirements are usually even more urgent than those of a common user when depending on them for the maintenance of their business activity. For this reason, when it comes to offering a B2B service, it also has to be taken into account that these customers are also trained to create commercial networks and to lead with them in a way that they will know the function of each mechanism, strategy and sales model. This generates a greater demand in the levels of quality, and if they see any error, they will immediately know the origin, and which way to look for alternative and more efficient services.
There have always been two-way channels between different businesses; the peculiarity and the open race currently concerns the move of these relations to the digital world. Thanks to online B2B relations, businesses manage to save time, to have stock and supplies ready and offer profitable prices. They receive help from other services to monitor processes and to respond effectively to clients' demands who want orders and deliveries to be increasingly quicker. B2B online allows to share and synchronise information in an instant and rapid way without breach or loss of information in the process, making it accessible to all parts involved, and facilitating the relation between a large number of participants: distributors, suppliers, affiliated companies, agencies etc.
In Giant Country: B2B Stretches out
Industries from very diverse branches are increasingly more concerned about making the leap to the online world due to the competition that is showing a large increase by means of sales and digital purchases, as well as by the extended use of mobile devices and the increase in the quality of payments made on the internet. For the time being, the main B2B sectors with the largest percentage of revenues in the online medium are the pharmaceutical, medical and petroleum sectors, which are followed closely by the automotive, electronic, machinery and industrial related equipment sectors.
But two giants who are anything but silent activated the alarm in the B2B world: Amazon and Alibaba. These two companies imply the threat of being the centre of a large volume of transactions just like retailers fear to sell their B2C version to the public. The launch of Amazon Supply in 2012, which is Amazon Business nowadays, started to offer such competitive advantages such as deliveries in 2 days, and the same compilation system of reviews and ratings as in the B2C version that generates a community. The decline of the use of catalogues in paper format against interactive digital catalogues, including those for B2B services, makes the migration to a system inevitable which won't do to copy the method of the B2C either (although they share many of its strategies), and where creativity and the domain of new functions also make their way through the jungle.
Here, we'll take a look at the New Pigs example, a B2B service of cleaning materials for leaks that turns to the digital translation of the typical catalogue and an e-commerce website with a touch of humour and closeness that reformulates the typical aseptic relationship between companies.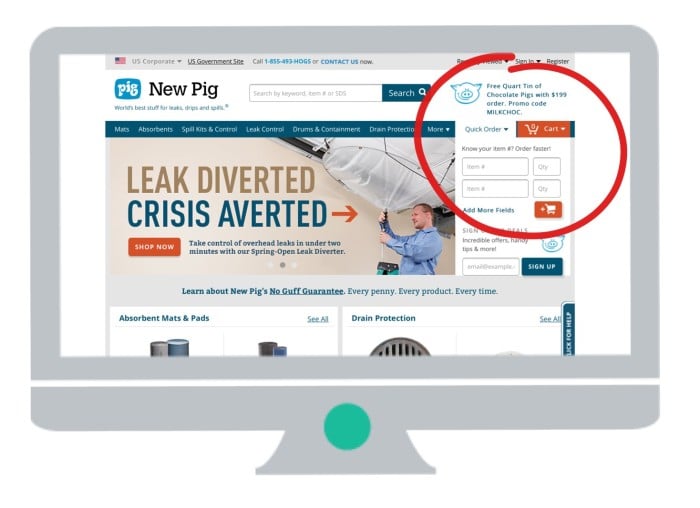 So, two fundamental B2B models can be defined, which are especially relevant for the moment in which a service is to be launched and for selecting which option it wants to operate:
B2B from individuals to merchants: according to this system, a company has its own B2B service online where other companies can make purchases directly. With the aim of surviving in this business model, the company has to be a large brand (like Swarovski), and to have a solid network of distributors and suppliers like large commercial chains. A detailed example of this is Grainger, which is a supplier of American industrial supplies. Grainger has managed to offer catalogue consultation on different platforms and like Amazon, they offer delivery estimations, order tracking and searches that save previous client history information, as well as a complete section with advice and guides for small traders and 24/7 customer service.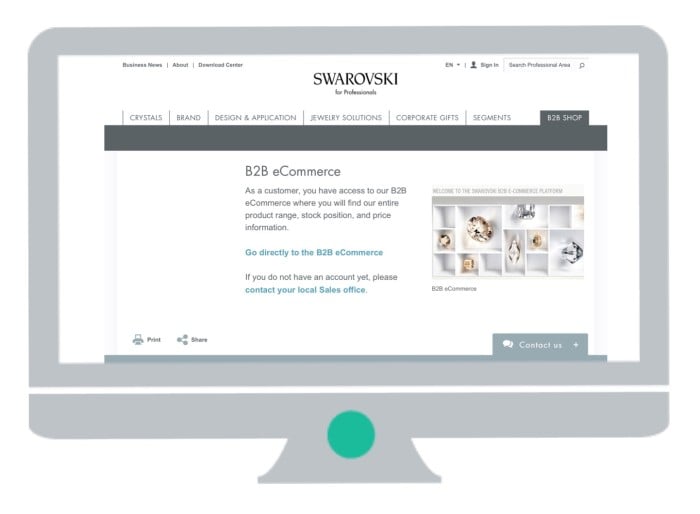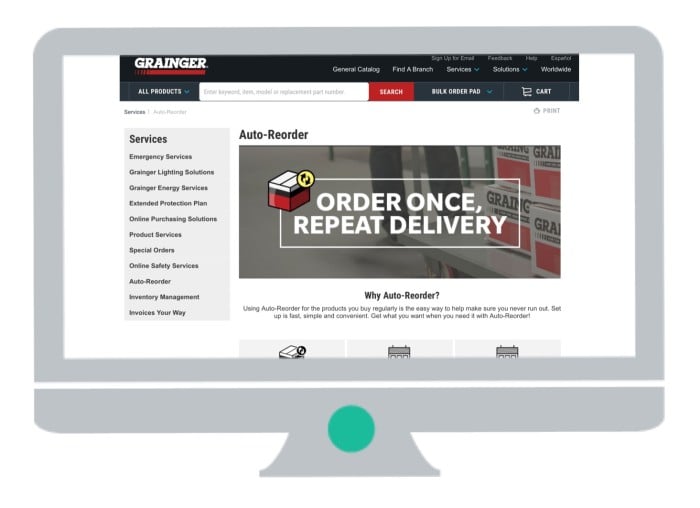 B2B from merchants to merchants: when one merchant can't fight alone, it must join the enemy whether it wants to or not. Through this system, several companies join into one B2B website, which is managed in a private way, or by another intermediary company like Amazon or Alibaba. These companies provide the management and administration network necessary to lubricate the machinery of the business and to guarantee the agility of sales and distribution, but it means depending on a third party involved, and just like the famous Amazon, they transfer their criterion and price strategies.
How to devour Lilliputians... or a portion of the pie: The essentials of a B2B provider
In any of those two cases, the recommendations for an excellent B2B e-commerce service are the same as for a B2C business, although it seems that individuals need to invest much more originality and ingenuity to attract a large clientele, and to finance a comparable flow which is similar to the sensational giants. Amazon and Alibaba have guaranteed the activity due to their prestigious names, trusting that they seem to attract reluctant companies in advance, or they are unconscious of all the alternatives in the market, or don't have the resources or advice to value which is the most suitable B2B for them. Individuals, however, can initiate an investigation of more advanced or personalised strategies rather than the efficiency mechanism tested by large companies in an 'innovate or die' strategy.
So, a good B2B service must take the same care of the characteristic signs in B2C e-commerce (besides conforming to all the languages and currencies of the country in which it is operating): an organised catalogue in clearly defined categories that allow users to navigate quickly; a good engine for internal searches, and high quality images with zoom and rotation available; complete and informative descriptions with multimedia, videos, guides, reference and manufacturer's numbers, similar or related products and complementary accessories.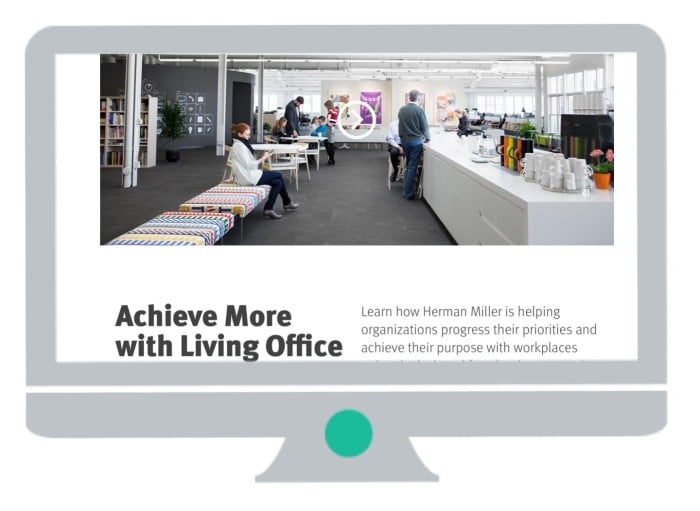 But essential information is also added for the navigation to purchase on company websites:
Information regarding stock and stock availability in different warehouses, and in real time.
A comparison of the competition.
Offers of packs or promotions for the first service, loyalty or volume.
Platforms adapted to multiple mediums (website consultation, mobile app or tablet).
Multiple shopping basket options (to facilitate a repetition of previous orders).
An instant enquiry service, which is one of the biggest demands in B2B.
Varied delivery options (all goods delivered at once, or in separate deliveries divided into different addresses).
Separate prices according to the client's sector.
The creation of business accounts that various users can combine, and available account information (purchase history, authorisations, order status, quantities...).
Guided navigation.
The majority of the these B2B users turn to Google to do their searches, and in a way that the presence also has to be taken care of, as well as the use of SEO, marketing strategies for standing out among3 competitors, and that the service is offered as a visible alternative in the key sector.
Once the first purchase is made, or a continuous commercial connection is established, the client expects a high level of personalisation, which to a large extent, facilitates the repetition of future orders. Furthermore, the aim is to offer this personalisation from the first visit to the website, allowing to specify the sector of origin in a way that the contents shown are adapted to it and prioritise the usual searches made by the client. To show the supplies of a small electrical business is not the same as showing those for an architect, a teacher in a private school, or for a large university. As an example of these functionalities with the aim of guiding the client as much as possible, the office chair selector stands out used by the furniture manufacturer Herman Miller.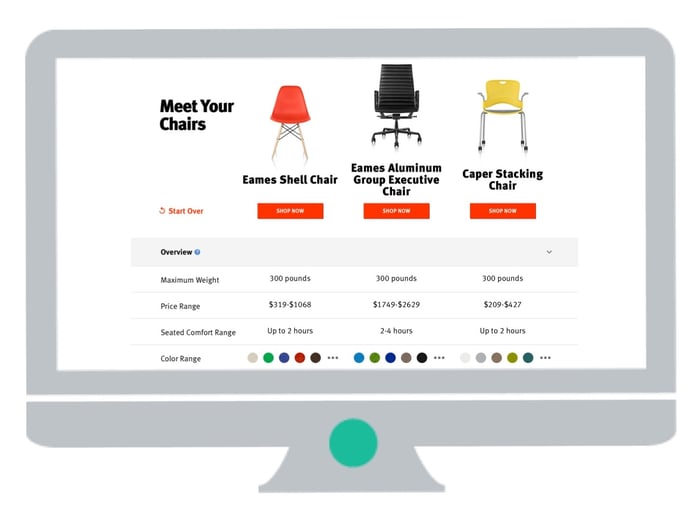 The future of the little ones in a landscape of giants
The forecast couldn't be better, which exceeds the expectations of B2C e-commerce but the hard work doesn't stop here, and a large part of it hasn't been addressed yet. According to Louis Columbus at Forbes magazine, the determining factors for the future of B2B e-commerce will be:
Improvement in the quality of the B2B purchasing channels and platforms.
Convenience of using a unified platform in the cloud.
Streamlining of prices.
Synchronisation of orders through different channels.
An increased interest shown by manufacturers.
To offer unique and multichannelled e-commerce shopping experiences (that simultaneously integrate with distributors, merchants, resellers, suppliers of services and manufacturers of original equipment).
Integration with internal services within a company, such as accounting, finance, OMS or ERP.
The transformation affects the suppliers of materials but also intangible services: it will be a challenge for software services in the cloud through SaaS, which should learn to adapt to more B2B specifications and exceed the minimum B2C purchasing system in an online catalogue, forums and blogs, like the management of information or a company's internal content.
It is at this point where companies like Sales Layer start the work, and we are prepared here for all the challenges and rewards that B2B implies. So, how about you, do you work with B2C or B2B? Do you think they are very different models that travel along together, or are they running like the tortoise and the hare?