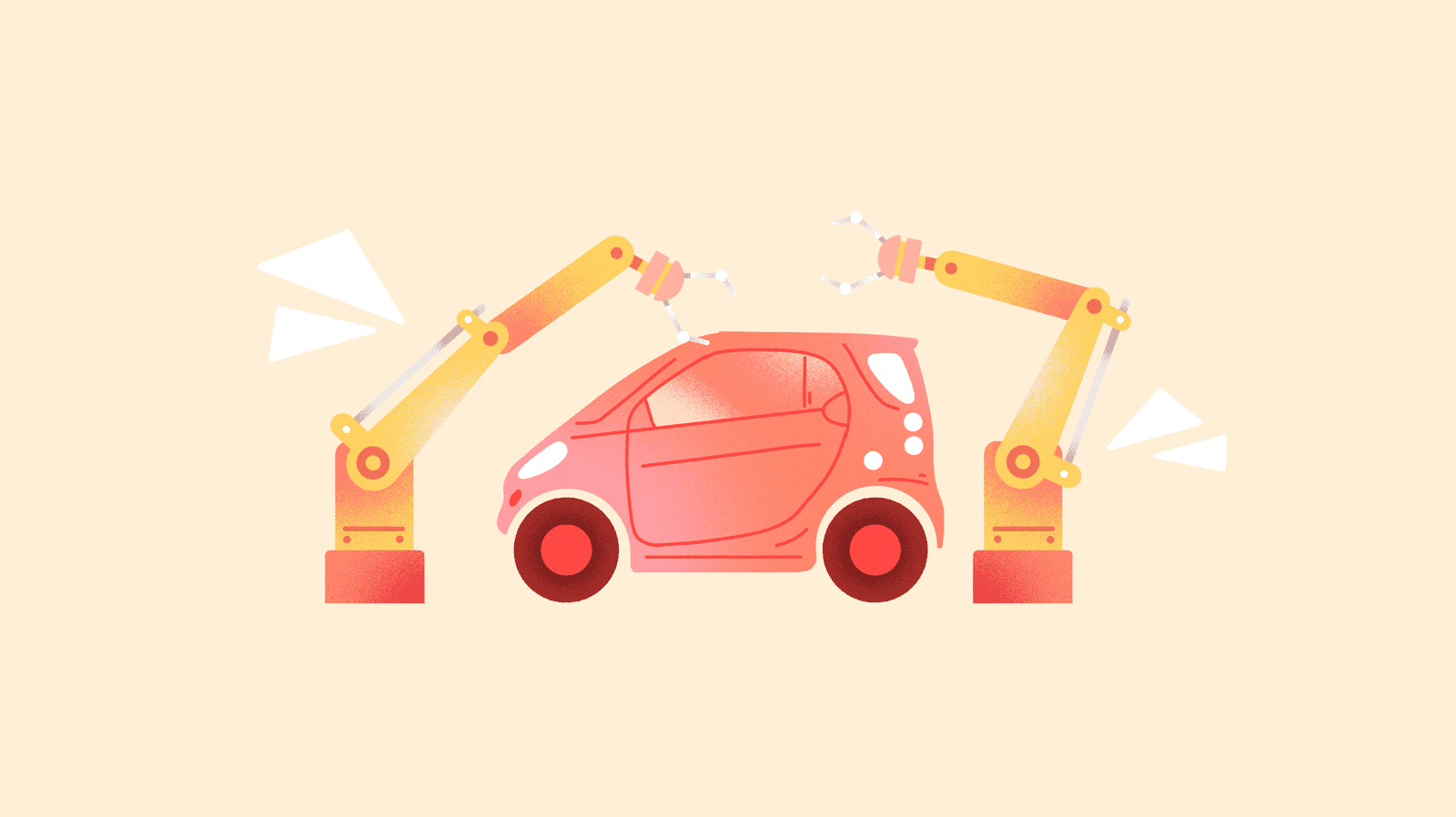 The problems of the automobile sector when faced with the coronavirus crisis
When the general state of alarm was declared around the world, with lockdown measures and reduced mobility, suddenly one of the most common things that became most unnecessary was the car.
The majority of people stopped moving about, so plans to change the car or buy a new one were left in limbo for almost all consumers.
Car factories also had to close, as well as dealerships. All of the big brands had losses: Ford, Volkswagen, Renault, Daimler, etc.
Now that the measures are starting to relax a little more in China, Europe, and the United States — the main industry markets in terms of manufacturing and distribution —, it's time to analyze if the sector will once again be like it was before.
No factories, no dealerships, no sales: A global drop
The PSA Group calculates a market reduction of 25% in Europe and Latin America, 10% in China, and 20% in Russia. Likewise, BCG's Automotive and Center for Macroeconomics foresees general drops in sales of between 14% and 22% in China, Europe, and the United States for the rest of 2020.
The plants have reopened with strict safety measures and dealers are beginning to give appointments, although the social distancing measures make it more difficult to test drive cars with an employee. Many consumers continue to be reluctant to make a physical visit.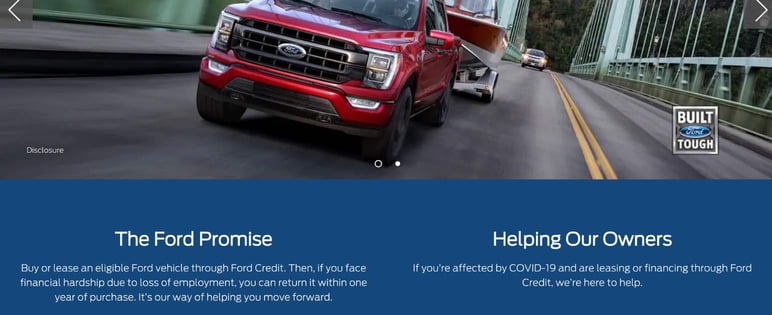 Before the coronavirus crisis, the automobile sector was facing changes in demand and consumption that could be accelerated – such as electric cars. These months have shown that the industry needs to face not only adaptations in what they have to offer but also in the way they sell and go about the supply chain.
Automobile brands that want to stand out during recovery will have to adapt to industrial cycles that are faster and planning periods that are shorter. Additionally, they'll have to prioritize incentives that best align with whatever direction the sector goes in, such as operations with home deliveries and the digitalization of the car buying process.
→ Related: How is the crisis affecting offline businesses?
Impact on the industry over the medium and long term
According to analyses by Deloitte and Google, the worries of car manufacturers and dealers are related with the need to change the production pace and the sales means:
Cycles will be faster and there will be less time to plan them. The pandemic's evolution is so unpredictable that manufacturers will no longer be able to work with the calendars they used to have.
The global crisis and the reduction of consumption associated therewith will bring about a general reduction in profits in the sector.
Funds that were once marked for technologically innovative initiatives could have to be sacrificed and reallocated towards maintaining operations.
Production's dependence on components from other countries and continents could bring about supply problems.
Health measures have become vital for the safety of employees in plants and at dealerships.
The sales model will face restructuring, forced forward by digitalization. Car manufacturers and dealers will have to adapt their protocols to share information and catalogs online, and make it easier to buy cars remotely. PIM (Product Information Management) technology is becoming quite demanded on all fronts to face this challenge of sales digitalization.
New trends in the automobile sector after COVID-19
Greater dependency on private cars
According to Cars.com, since the start of the crisis in March, more than 93% of consumers say they use their personal vehicle more now.
A fear of picking up the virus and a reduction of many means of public and commercial transport have brought with them a greater dependence on private cars for the majority of the population for basic trips, like going to the supermarket, or more necessary trips like going to work or health centers.
On the one hand, this is positive for the sector as suddenly competition with taxis, Uber, rental cars, and car sharing has been reduced as these services no longer have consumers' trust. Nevertheless, we must take into account the financial evolution of each country to understand if the purchase of personal vehicles will really increase.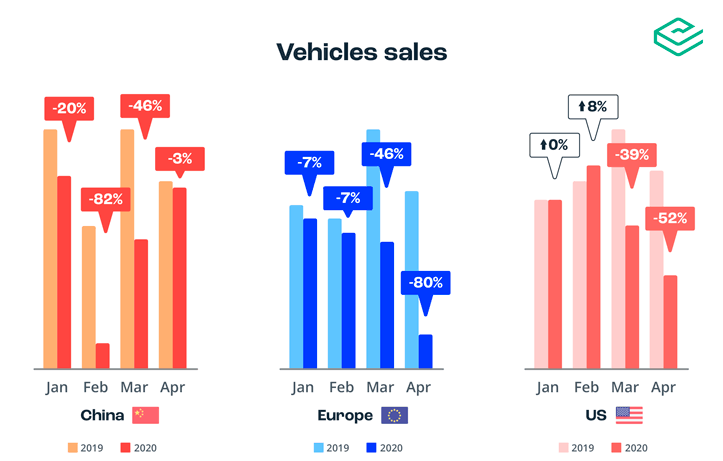 A report by BCG states that the population currently considers the car as the safest means of transport. Private cars will be preferred after the lockdowns and for vacation trips – trips which will no longer be in herds nor to exotic, far-off places.
China seems to be amongst the regions with the greatest intention to buy, as many of those surveyed said that they would like to buy a vehicle for reasons of safety and health. Also according to Cars.com, 20% of those surveyed in the United States who did not have a car were considering buying one.
→ What is the post-COVID consumer like? All the new habits and demands
Interest in discounts on cars
Consumers are acting cautiously, tightening their belts wherever they can. For the purchase of a new car, which is such an expense, lightening up the payment is going to be another of the most important measures for the sector's survival.
For example, many automobile manufacturers have begun to offer financing with no interest, discounts on cash sales, and deferment of payments with no penalties. Hyundai has been one of the quickest brands to respond to the pandemic and readjustments in demand by promoting its Hyundai Assurance program, which covers payments for up to 6 months if the buyer loses his or her job during the coronavirus crisis.
Another effect of this inclination towards savings is that buyers have begun more than before to compare different types of models between different manufactures, as well as their prices and special offers. This makes access to catalog information and digital positioning very important.
Digital presentations
Looking at a car over Zoom? Why not?
The majority of the cars that are most attractive to consumers are those that have been in a spectacular ad on TV. An increase in internet use as a result of the lockdown is something that favors the automobile showcase's becoming increasingly virtual.
In not so much time, it will be possible to attend realistic car debuts with virtual reality glasses or projection-based augmented reality that will allow consumers to calculate if a certain model will fit in a small garage or in the yard. Meanwhile, videos are a great ally of the car industry after COVID.
This is true both in terms of private presentations and business presentations now that fairs and events have been canceled until further notice. Hyundai once again stayed a step ahead of the trend with a live presentation of its new Elantra model that reached 800,000 views.
→ Your new secret weapon for sales: Live streaming commerce – also for cars
Say goodbye to the dealership: Remote shopping is here
If a car can be looked over remotely, why not buy it from home too?
Although it may seem impossible to make such an investment without having test driven the car, in reality the buying process can be made digital in almost all of its phases. And it's not only that it's possible: it's something that more and more consumers are demanding.
For example, an online purchase process that is acting as an alternative to the dealership could find support from all these resources:
Live streaming presentations
Review and test driving videos
Digital and virtual showcases
Virtual reality test drives
Personal service via videoconferencing
An online configurator to personalize your model
→ Define yours: How to identify the "persona" of your buyers and adapt sales
YouTube had already developed digital test drives, although there can always continue to be appointments for in-person test drives to reduce visits to dealerships and contact with staff to a minimum. What's more, once a buyer has made his or her choice online, he or she can receive the car at home or pick it up at a dealership, like the classic ecommerce "click and collect" option.
According to a Google Surveys study amongst people who are thinking about buying a vehicle over the next 12 months, 92% of car buyers already do some searching online and 18% would buy a car sooner if they could do so online.
Conclusion
The adaptation of the automobile sector to the "new normal" brought on by COVID-19 is irreversible.
Applying streamlined reaction strategies throughout the supply chain, digitalizing the sales process, and taking care of consumers' concerns are the three areas of action that guarantee success for car manufacturers and dealers.
Buyers will begin to realize how important it is to see and compare car catalogs online with complete, personalized, and up-to-date information.
A Product Information Management solution helps to speed up the work of adapting to digital sales, and it makes it easier to control contents and prices by country. Try the Sales Layer PIM solution for 30 days free of charge and be sure you have this key piece for the new sales race.