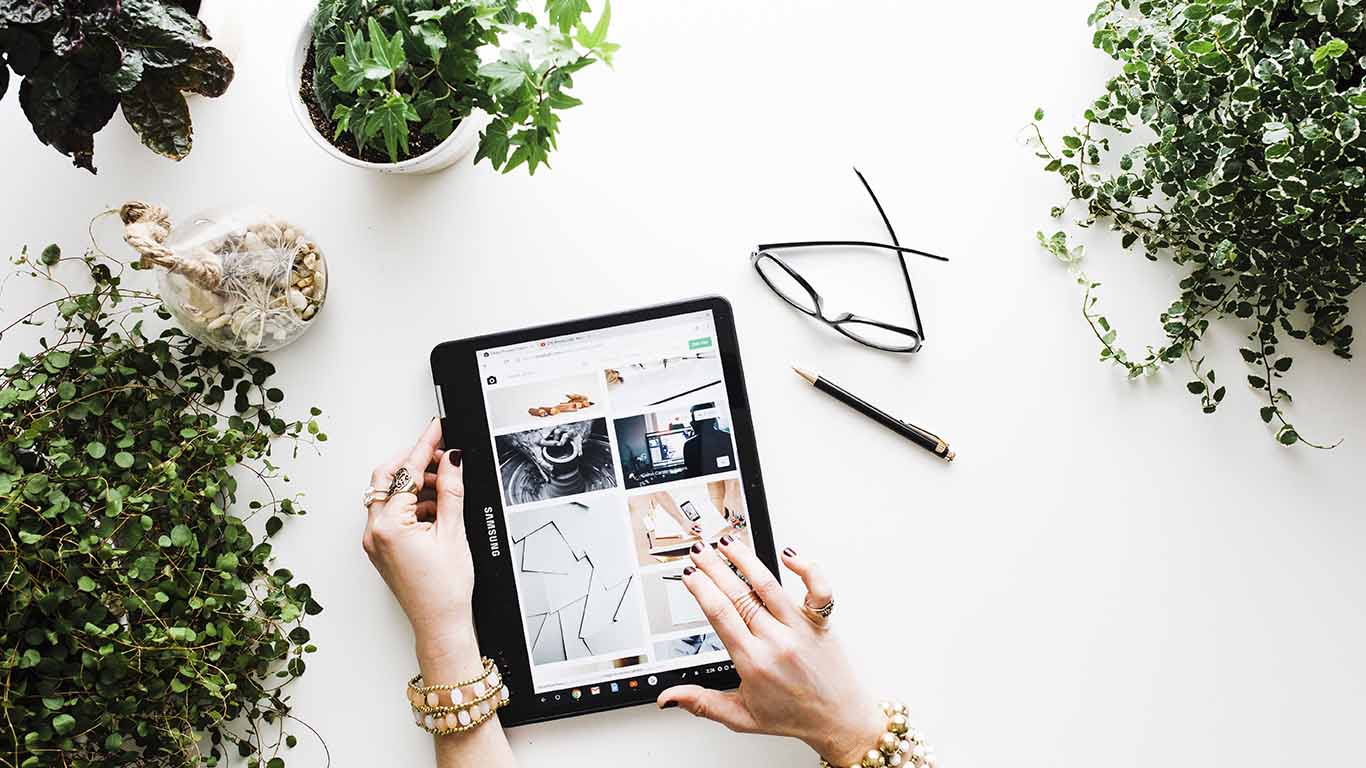 As you know, the e-commerce market is saturated and each day the sector becomes a little bit thornier to deal with. This put some people in a frustrating position, and others in a challenging environment that is full of opportunities.
In order to encourage a user to shop in a particular online store while comparing it with a few thousands other competitive stores, serious, consistent and high-quality work needs to be done. One will have to pay close attention and free up time and resources in many ways. Today we'll talk about one aspect that is of key importance: the product info sheet template, focussing in data importance.

Today we'll cover eight aspects to consider when optimizing product data sheets for your online store and also we'll see how some of the major online shopping stores are dealing with it (El Corte Inglés, FNAC, Media Markt and Phonehouse), through the example of a well-defined Smartphone, the Samsung Galaxy S5 black.
- 10 ways to boost your e-commerce sales -
1. Write a good title: for many people this is the gateway to your content
We must pay close attention to the titles of our product sheets. These should be useful to people as they are the ones who have to buy, but don't forget Google and using keywords.
Don't just list the make or the model. Are you talking about a dress, a camera, a mobile phone...? Add that word in the title, if there is more information (maybe a search key word that people normally enter), use that. For example, in our case it's likely that people also search by colour, and some technical feature, such as the storage capacity or the number of pixels when looking for a camera...
To score highly, it's useful to have performed keywords research based on the search traffic from search engines.
All these recommendations should be collected in a product info sheet template, to avoid them to be forgotten!

- Make your business grow with a PIM system -
2. Two data sheet versions: One short and one extended
The user wants to know as much as possible about the product that they intend to buy. Sometimes they'll already have a lot of information, but this is not true in all cases, so you have to have a good technical description and information about the product's usability.
In this case, it's convenient to have a brief data sheet, with the most basic data and a broader one for those who may need more information about the product.
When preparing the texts, you have to be concise and clear without adding unnecessary frills or excesses. The important thing is to provide the information in a practical and above all understandable way. Do the user a big favour and whenever possible avoid technical jargon by using language that is clearly understandable for all types of audience.

3. As difficult as it may be, try to thrill the user
Besides talking about the technical specifics of the product that we want to sell, it's important to also convey the more vibrant information to the user. For example, convey the benefits that the use of the product will bring and the unique experience that the user will have from it.
As an example, we like how Media Markt presents its information. In the section 'Description' of the data sheet we find the following text.

(Looking through your 5.1 pixel Full HD resolution screen is like opening a window to the real world. For it's high image quality, for it's clarity, and because it has the perfect size to use comfortably without being too big.
Another thing that we all want from our mobile phone is the camera and this is something that you'll love because it has 16 Megapixel, Flash LED and is super fast in taking photos. To be exact 0.3 seconds between captures so that you never lose the perfect moment that you want to have.
More interestingly, it comes with a function called "Selective Focus" which will allow you to capture an area with more precision while giving other areas more depth. The result is a professional photographer's image!
But, this is far from the best feature... Wait until you see the incredible videos that you'll capture with your new S5! I don't know if you heard about 4K or what is also known as Ultra High Definition. It's the latest and best regarding image quality and you'll already be able to enjoy it with your Samsung Galaxy camera, that surely will amaze you.
I could keep going on about it's 16GB memory, of its many connectivity options, of it's superfast 4G Network so you can navigate at fast speed or about the latest KitKat Android operating system. But, as much as I may tell you about the new Galaxy S5, nothing will compare with holding it in your own hands).
4. Quality images and videos
Say no to pixelated pictures, no to the pictures that don't zoom and no to adding just a single photo ... The images we use in our data sheet are paramount. Show different perspectives, let the user enjoy zooming the image as much as possible without losing definition, take pictures of the details that might be important ... It all adds to the user experience. If you can, add videos to further enrich your data sheet.
- How to make the best online product catalog ever -
In the examples we are analyzing, Media Markt has used the official videos distributed by the manufacturer, however Phonehouse opted for videos posted by users on YouTube that teach you how to configure some of the Smartphone features. If you choose this option, choose your videos carefully. They have to be useful, add value and give a good image.

5. Practical Payment and Shipping Information
The purchase decision will also be taken based on the shipping costs, payment systems, transaction security, the delivery time or return policies. Keep this information in sight, either in the data sheet or very visible on the website.
6. Display the Shopping Cart
This explanation is unnecessary. On your data sheet the shopping cart or the word 'Buy' should be visible to the user at all times. And oddly enough, this does not always happen...
7. Social Networks and Comments
Consider the social aspect because this will help achieve several goals, two of which are very important. For example, if we include links to social media, we will help our products reach more people. Sometimes the invitation to share appears on the data sheet and other times it appears after the purchase so that the users can share their latest acquisition.
Another interesting social aspect is to have feedback from other users, where they talk about their experience with the product in question, give it a rating and share usability advice... Such opinions are very useful for customers and in many cases it helps the customer to make a purchase.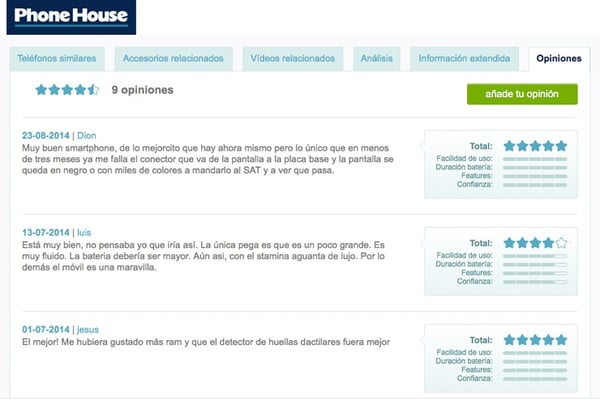 8. Count on Cross-Selling
We have a lot to say about Cross-Selling, so soon we'll dedicate a post to this topic, but for the moment I'll just say that the system of cross-selling can yield very good results.
In the Smartphone case that we're analyzing, it's possible that the user may also want a holster, a memory card ... If you have these products, why not offer the opportunity to acquire them along with the phone?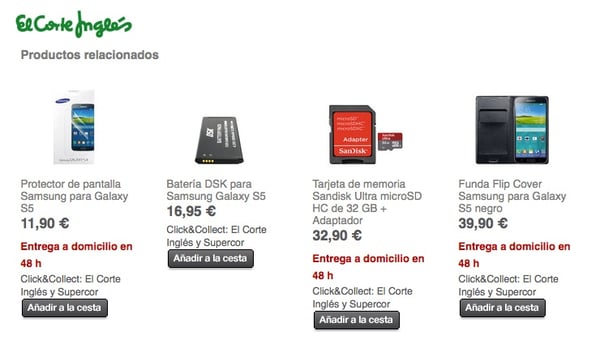 Now after all these tips and examples you should start preparing your product info sheet template. This will help you to remember the most valuable information, will give a better image of your products and services, and for sure, it will make you achieve better sales numbers.
- The latest checklist to ensure success for your next product launch -