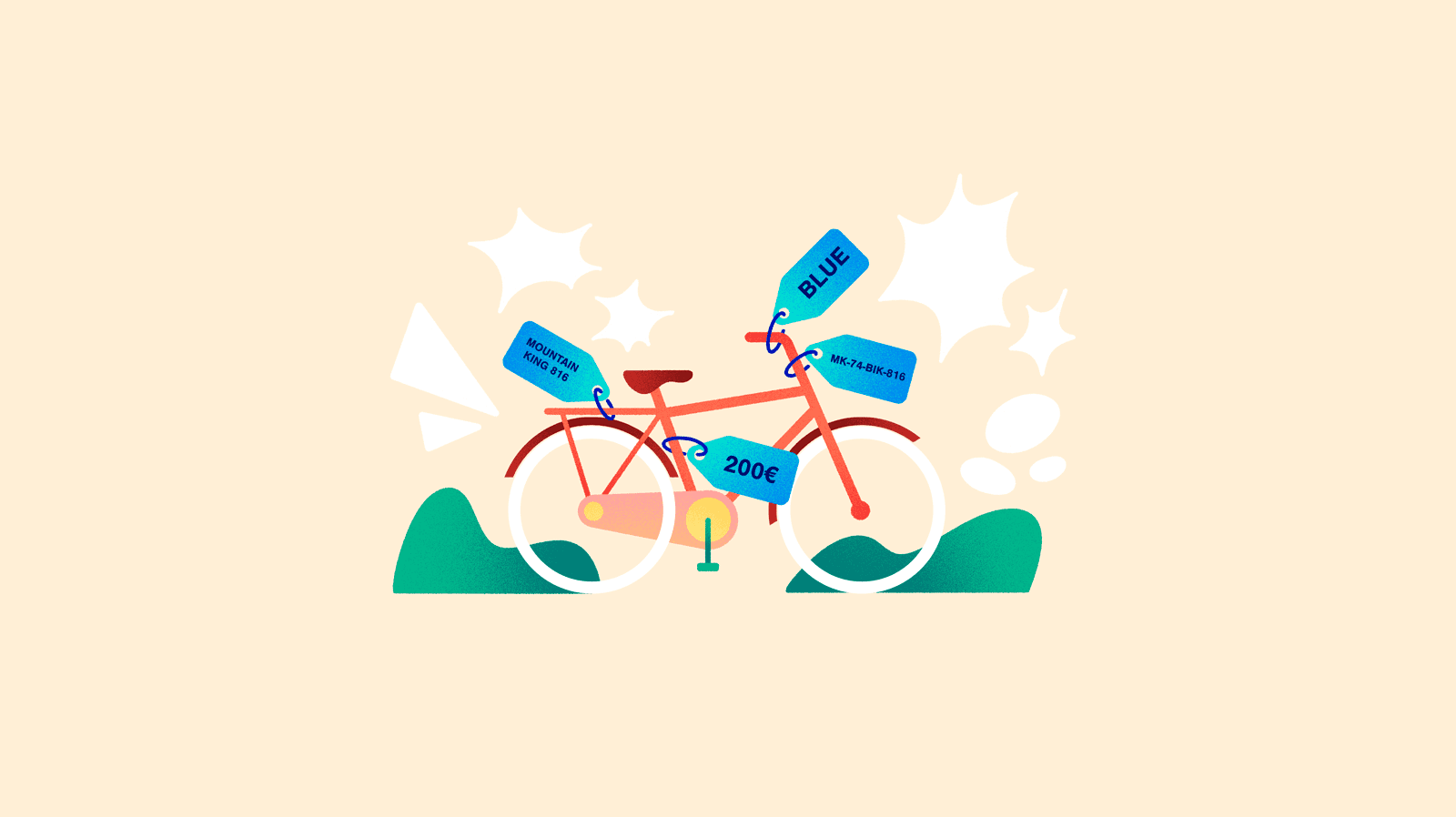 At first glance, it seems that all products need to have the same information.
However, nothing could be further from the truth for manufacturers, retailers and customers: each product requires specific data that serve a dual purpose.
On the one hand, they need to offer specific information on their composition, use and industry, since in some cases this information is legally required. On the other hand, customizing and enriching each product's features strengthens its position in both the eyes of potential buyers and the search engines.
This is where "product attributes" come in. These small bits of information are collated together and aggregated to form a comprehensive profile for each product. When implemented correctly, these can help to drive customer interactions and sales in any catalog and on any digital channel.
What are product attributes?
Product attributes are the tangible and intangible characteristics of any product. They differ from product descriptions or benefits in that they are offer a more technical, objective focus of a product profile, as opposed to the marketing content used for personalization.
Both types of product content are equally essential in forming the catalog's information and making sure your products stand out in any channel. However, when it comes to product attributes, you'll need to take a step back and leave marketing language aside.
Examples of basic e-commerce product attributes:
Name
Brand or manufacturer
Size or dimensions (in different units of measurement, depending on the geographic region)
Weight (also featuring different units of measurement)
Variants (colors, styles, scents, flavors...)
Components, materials or ingredients
Technical characteristics (depending on the product, such as energy consumption, nutrition information, sizing...)
Quantity (if several units or components are included)
Country where it was designed or manufactured
Price (and possible discounts)
Safety measures
Why are product attributes important?
By providing a full profile of the attributes of the product, you can help inform your customers of whether the product is or isn't what they're looking for.
Today, buyers in both the B2C and B2B sectors are presented with hundreds of options when shopping for a product. Searches are then narrowed down by including the specific product related attributes the customer is looking for. Many selling platforms even have filters that can be selected by the customer to refine the list of suitable options. By managing an accurate product attribute database, you can enhance the following:
Product quality
Many technical features actually serve as a seal of manufacturing quality for buyers and ensure product longevity. For example, a garment may be made of silk or organic cotton, a cell phone case may have high-impact protection, or an oven may have an automatic cleaning function.
Safety in the use of the product
The more details that are provided about the composition of the product, the more convinced the customer will be that manufacturing protocols have been followed to ensure safe use. For example, flame-retardant materials, food prepared in plants without cross-contamination, or reinforcements in the installation of furniture.
Product innovation
Although certain words are often used as claims, it is important to highlight and specify any real innovation within the product to emphasize that it features the latest technology. An example of this is OLED technology in a television.
In short, although product attributes can appear technical, cold and objective in a product description, they are absolutely essential. E-commerce product attributes are the perfect way to not only have your products stand out as suitable options for your customers, but to set yourself apart from competitors for those comparing options.
Including as many product attributes as possible in your catalog has an immediate positive impact on the shopping experience. Research has shown these attributes increase purchases and satisfaction levels, decrease returns caused by erroneous or incomplete data, and improve brand image in every channel where they are shared.
How to easily manage product attributes: PIM software
Of course, maintaining a product attribute database for 1000s of products is easier said than done for many businesses. However, there is a way to catalog and bulk edit product attributes, ensuring that all information is maintained and optimized. A PIM (Product Information Management) platform is the perfect software to centralize all product content, including product attributes, as it allows you to locate them from anywhere and export them to any channel quickly.
Additionally, some marketplaces require specific product attribute formats, or you may need to customize the attributes of your catalog depending on the country of sale. A PIM allows these choices to be made automatically, without having to review and copy the data by hand. This ensures that your product information is always correct for anyone on the team who needs to access and implement it.
Another advantage is that PIM can manage an almost infinite amount of product attributes, so it doesn't matter how large or complex your catalog is, or if your product information is very complex. Sales Layer PIM can manage any volume of products easily and adapt to the needs of your business. Try it for free with your catalog right now and leave spreadsheets behind forever.