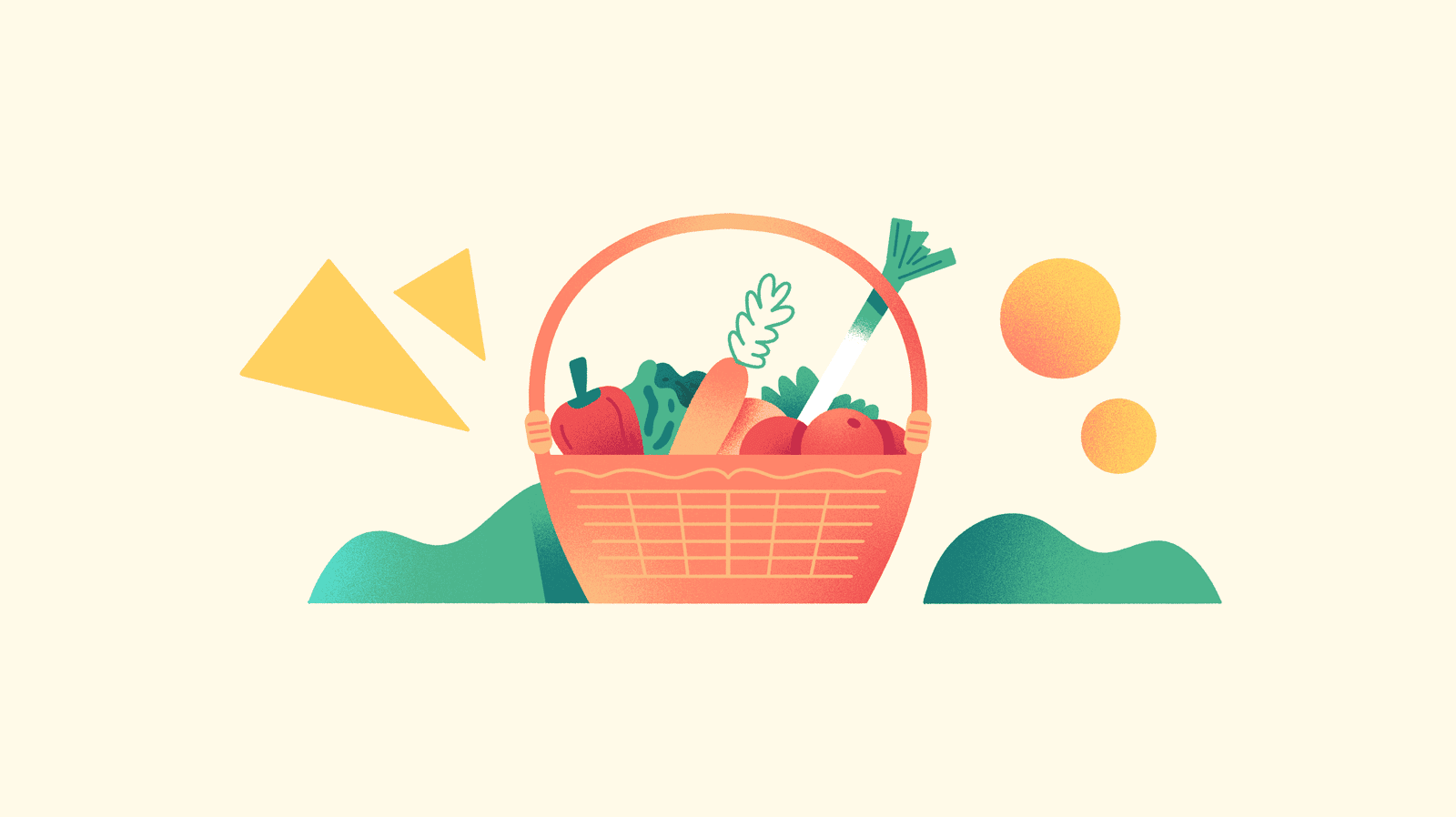 Chia seeds, aquafaba, kombucha, taro slices, maca powder....
Without a doubt, one of the ecommerce niches that has become most specialized in recent years is the food niche. With the increased interest of consumers in vegetarian and vegan diets and sustainable and local products, now is a good time to pay attention to this sales opportunity.
Ecommerce with vegan and ecological products: A trend or a bubble?
Judging by figures that don't stop growing in terms of people who adopt a vegetarian or vegan diet, the movement doesn't seem to be a joke. Having said that, in terms of services and products geared towards a healthy lifestyle, the worldwide sales of beauty products are still on top, followed by fitness accessories and nutritional products. Despite that, vegan foods are becoming more and more popular in large supermarkets and specialty shops.
The recent global crisis has brought people's worries about a more healthy diet to the fore. In many countries, an increase in local food products that are ecological and more transparent in terms of their sustainability policies has been observed.
Still, it is true that, at the moment, these products are more expensive, and the worldwide crisis could slow down the expansion of the industry – consumers may simply start to seek more economical alternatives. Nevertheless, interest will not disappear and a slow in sales will simply be a conscious response to the health crisis.
→ Related: the rising of online grocery sales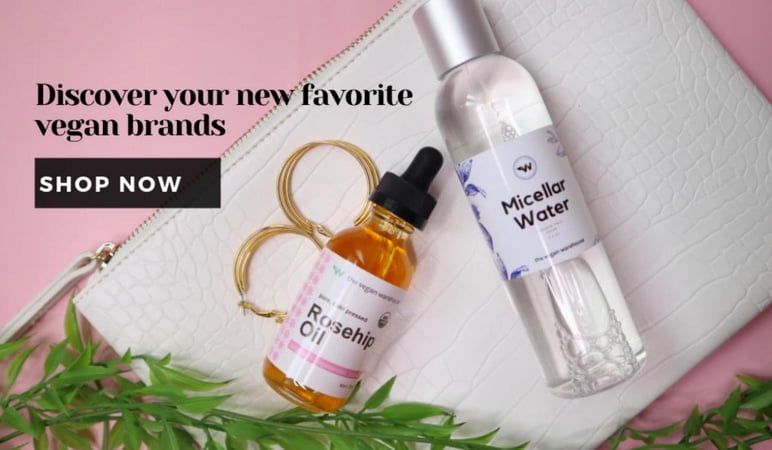 Ecological and vegan food ecommerce niches
Amongst the variants of this branch of the food industry, we can find herbal remedy shops, dietetics shops, organic food shops, vegan food shops, food free of certain ingredients (especially for those with celiac disease), and plant-based foods.
Those very categories can also be distinguished in other areas of consumption, such as in cosmetics — a niche that really must be taken into account as sales of organic beauty products have grown by 74% in the last five years.
Currently, food shops cannot forget about offering products for vegans and vegetarians: drinks and TV dinners, vegan snacks, meat analogues, vitamin supplements, fair trade coffee, tea, and chocolate, and even handcrafted alcohol (whisky, cider, beers, etc.), pet food, organic cotton fabrics, etc.
As a result, there is also starting to be a growth of complementary products, like small appliances. In recent months, consumers have begun to cook more at home and to be more aware of being careful with the foods they prepare.
→ Hand in hand: new trends in small appliances ecommerce
We mustn't forget that the trend appears Western to us; however, the epicenter of this movement is really in Asia: Singapore, Thailand, Japan, and Korea are the new markets that are open to an increasing demand of these products.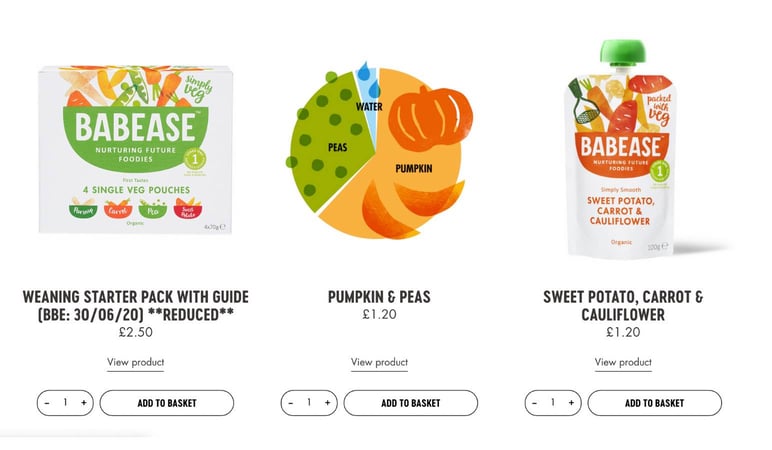 Keys for the online sale of vegan products
Honest and transparent messages
An online store geared towards dietetics, veganism, and organic products must have all the seals and certificates to guarantee its authenticity. For example, in the case of cosmetics, public approval from PETA is of utmost importance to prove that experiments with animals have not been used in the product's manufacture.
Customer reviews are also a very important resource in vegan ecommerce. Opinions from other users allow one to discover how the same product affects different types of people. For example, on product pages for Lush organic cosmetics, impressions about the way different types of skins react to the creams are shared, or about the effect of a shampoo on different types of hair.
→ You might be interested in this: How to get more reviews in your shop
It's not a brand, it's a lifestyle
A brand that specializes in ecological, sustainable products and vegan products must base its discourse on health and a commitment to the environment. But, above all, that company policy must be reflected in the actions undertaken to prove that the team also shares that vision with the buyer.
Supporting exploitation-free production, watching out for the origin of raw materials, and ensuring that all products are an investment in oneself and the planet are paramount.
Inspiring language
We always insist that the language of your product contents must be very well crafted. Thus, key vocabulary must be included for this target audience and the information has to highlight more benefits and features than just hard and straight nutrition facts, which is what you would expect to find on an online pharmacy.
Many product pages for food tend to appear to be lacking and incomplete because they do not include information on the nutrients, allergens, origin of components, packing materials, enough photos, and other basic product data for the customer to make decisions.
To optimize and enrich product content, a PIM (Product Information Management) solution is increasingly more sought by food product manufacturers and vendors as it helps to make digital catalogs more uniform for a sector that has traditionally been more focused on offline sales until now.
Specialized SEO
The marking language in these product sectors is constantly on the increase with the appearance of new ingredients, techniques, and trends. It is a positive thing for keywords to be so specific, as this avoids the use of concepts that are too general and very competitive in terms of online ads.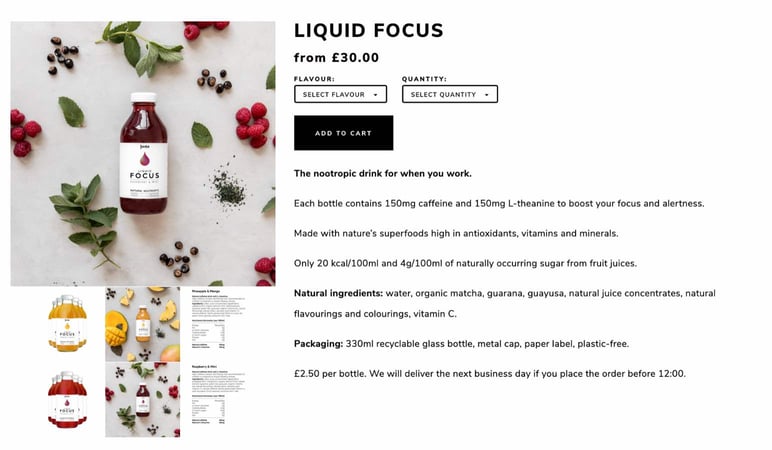 To get a good rank in Google, use key adjectives in all your headlines, sections, categories, product pages, and descriptions. 'Vegan,' 'organic,' and 'dietetics' should not just be words that are stuck behind a brand description; instead, they should be a seal that accompanies the entire catalog. In the dropdown menu, don't write "Shoes." Instead, use "Vegan Shoes."
→ Get the first place in Google results with a PIM system
Videos and tutorials
Just like for cosmetics and exercise, tutorials are also vital for food products. It is recommendable for an online shop to have a blog or video channel with a section on tricks, tips, recipes, and guides.
In this way, not only are products being seen but also complementary contents that are useful for the consumer. A key: include links to the pages for each product mentioned in a recipe or video, as well as in the photographs that you share on social networks.
→ Another fresh trend: show your products via live streaming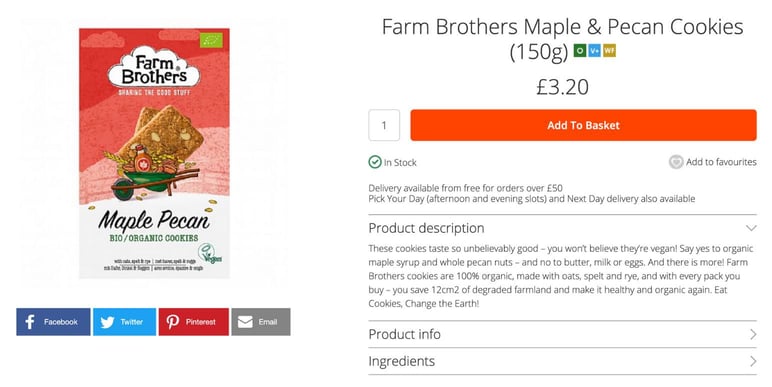 Local commerce
The great trend in terms of vegan and sustainable foods these days involves subscription boxes. This success can be explained by how hard it is to access this type of product, especially in small cities, and the savings in terms of time that customers don't have to waste going from store to store to find the right products.
These clients understand that the selection of products is going to be linked to the season, especially when talking about fresh foods like fruits and vegetables.
Options to subscribe must be easy to find on the online shop. It is also useful to show the different options; for example, if there is a discount for volume sales or for subscribing for several months at the same time, where the renewal date can be chosen, and how to cancel.
And, of course, be careful with how your shipment is packaged, as this is a point that can bring about much criticism. Some organic brands who promote sustainable consumption send their products wrapped up in a lot of plastic and cardboard — something that goes very much against customers who are more aware of environmental problems.
→ Insider: Why people is shopping more local
Conclusion
We are seeing the consumer's evolution toward lifestyle habits and buying habits that are more concerned with excess and environmental impact. The recent health crisis has confirmed just how urgent it is for us to review our customs and being to opt for more sustainable products for everyone over the long term.
The sector is facing a great increase in interest and an expansion of online sales, making it vital for vegan and ecological food product manufacturers and retailers to turn to technology that will help them make the digital leap.
Make the healthiest possible decision for your business. Try the Sales Layer PIM system for free for 30 days to be able to get your product information up to snuff without loosing track of increasingly sustainable (and virtual) trends.