We know that choosing a PDM (Product Data Management) solution can be a bit difficult for many companies. That's why it's important to know which things you should take into account to ensure the success of your decision.
Just to refresh your mind, a PDM system is a structured and collaborative solution that helps manufacturers control, access and share crucial product data. Because of that, choosing one PDM system or another can have a large impact on productivity, product success and profitability.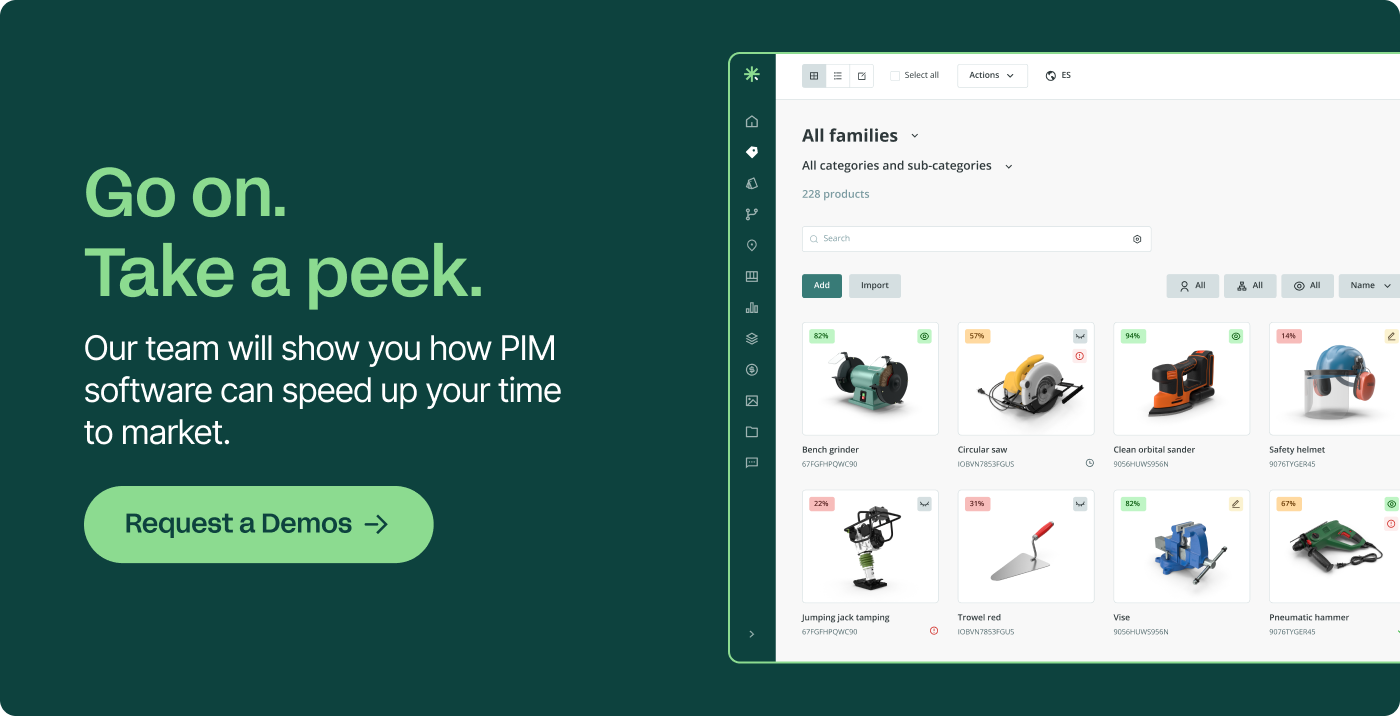 - This is the best PDM for you -
The aim of a PDM is to guarantee that product data is error-free, centralized in one place and easily accessible for all the teams involved in the process, from design to sales department. A Product Data Management software ensures a secure data storage and the privacy of the enterprise.
If you think that this kind of system is only conceived for marketers, let us point out something. A PIM system is what best suits a marketing department. Although some marketers believe that a PDM system is the Holy Grail, the truth is that many Data Management software solutions are focused on the daily activity of engineers and aren't tailored for marketing needs.
We could say that Product Data Management software guarantees peace between graphic designers and engineers, and saves them from managing horrible spreadsheets. Because of this situation, nowadays more companies are demanding solutions that will give a boost to both the individual and the team work.
- Which are the differences between PLM and PDM? -
Now it's the moment to tell you the five simple steps needed for selecting a PDM system for your company. Are you ready?
STEP 1 - Ensure collaboration
Product Data Management software is mainly used to centralize data storage, but also to maintain it updated and to control access. Because of that, you need to distribute your data information from a central location to all your working folders, and vice versa.
One point to take into account is that the PDM you choose should have the ability to manage conflicts. For example, you can test your CAD system version and sample your data.
STEP 2 - Complexity of computer-aided design
CAD (Computer-Aided Design) data is usually really complex because it contains drawings and other features of the design process. That's why it's important to select a PDM software that's capable of managing all these situations and characteristics without damaging the previous CAD designs.
It is important to consider that if your company is using a single CAD system, the CAD/PDM pack solution from the same vendor will be the best option. However, if your company doesn't have a CAD system yet but plans to adopt one in the future, you should take into account which CAD software solutions are accepted by your PDM vendor.
STEP 3 - Important configurations
CAD systems can be implemented in different ways from PDMs, which makes it necessary to review how a PDM system would enable you or your engineers to manage your CAD configuration in order to adequately manage this information in a PDM environment.
STEP 4 - Design elements
Another possibility is that a PDM captures other related information from a CAD project, such as simulation or manufacturing data. For better results, you should validate your PDM system's ability to capture this data and integrate it separately with CAD/CAE.
STEP 5 - Plus function: BOM
One of the main benefits of using a PDM is the ability to generate design BOM (Bills of Material structures) that you can share automatically with your suppliers. Forget about spending your time manually updating large spreadsheets of bills. Don't you think that's a great idea?
- Data Management software: All you need to know -
Now that you feel encouraged to include a PDM system in your company, it is time to consider if this solution would put an end to all your product management problems. If you are a marketer, your answer will probably be that it is not. A different software solution such as a Product Information Management (PIM) system might be a better option for you.
If you want to try all the benefits of Product Data Management with extra functionalities, our PIM is all you need! Why? This is what a PIM can do for your team:
A Product Information Management will help you to easily centralize all your product content in an unique place.
Make automation happen! Publish and update all at once your content in all your platforms and channels.
Analyse in an easy way the quality of all your content.
Avoid problems, duplicated content and incoherence product descriptions.
Manage and automate your product descriptions in all the languages you want to.
This is just a short description of all the advantages a PIM software can offer you. APIM is a complete solution for companies that are looking for a PDM system but want further functionalities and extra services. Would you like to discover more about this wonderful system?
Get started in the fantastic world of Product Information Management with our free 30-days demo!