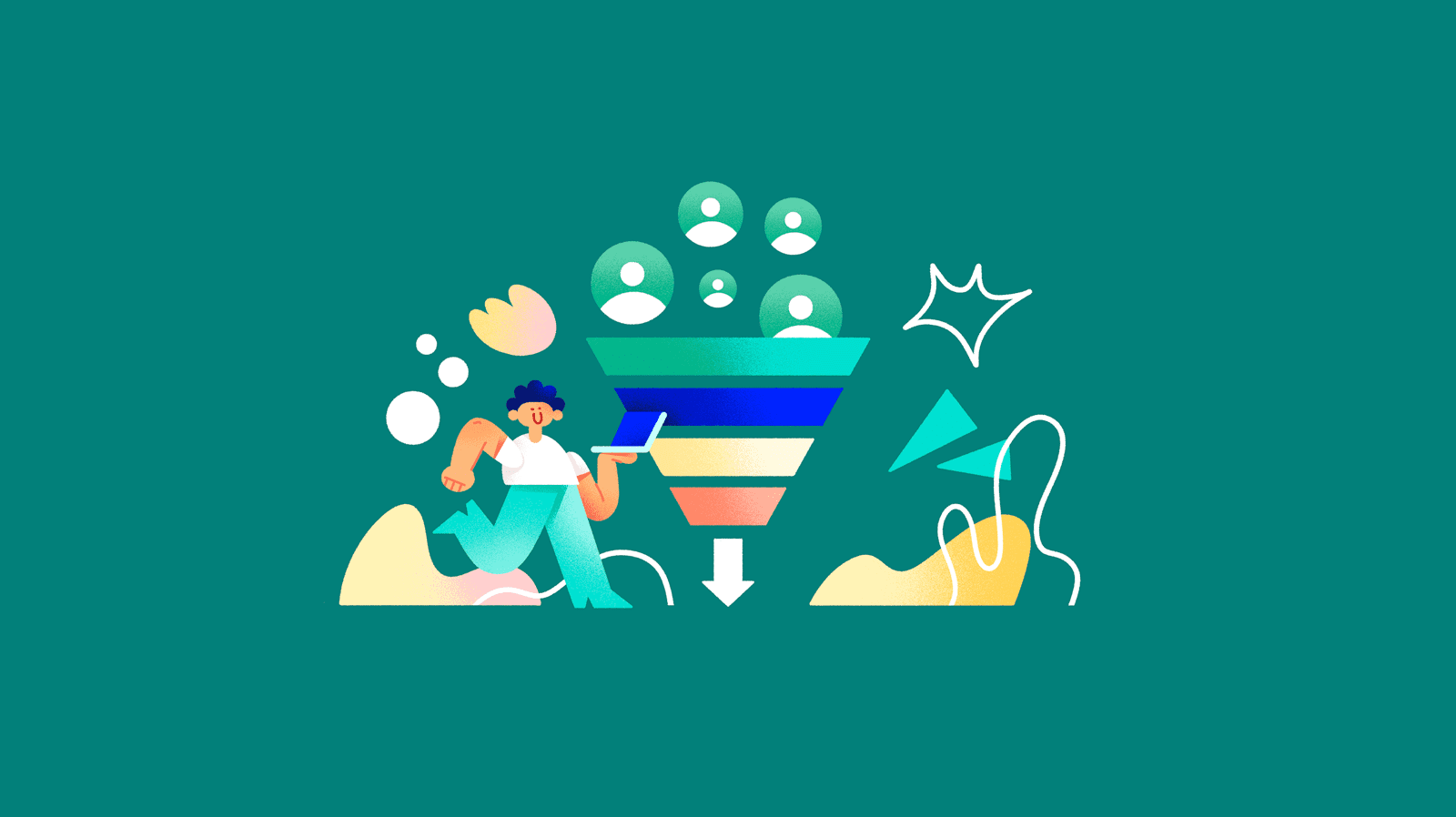 What is a conversion rate in ecommerce?
The conversion rate is the percentage of visitors to a website that have done a specific action. In the case of ecommerce, conversions are measured by the number of visitors who make a purchase.
Conversion rate = (conversions / visitors) x 100
The specific actions that the ecommerce conversion rate measures depend on the aims of each business, as this is a formula that can be applied to a variety of actions undertaken by visitors to a website or app, doing so to better understand the flow of the purchase process:
Specific products added to the shopping cart.
Specific products added to a wish list.
Final purchase.
Content shared on social networks.
Subscription to mailing lists or newsletters.
In addition, we must remember that the conversion rate varies depending on factors like the device being used and, in general, conversion rates from computers are 55% greater than they are from mobile devices.
This is due to the problems that many users have when looking at online shops or apps from their smartphones: there isn't much information about the site's security, product information is less visible or less detailed, the loading speed is slower, browsing is more difficult, and it is hard to compare several browser tabs with a mobile device.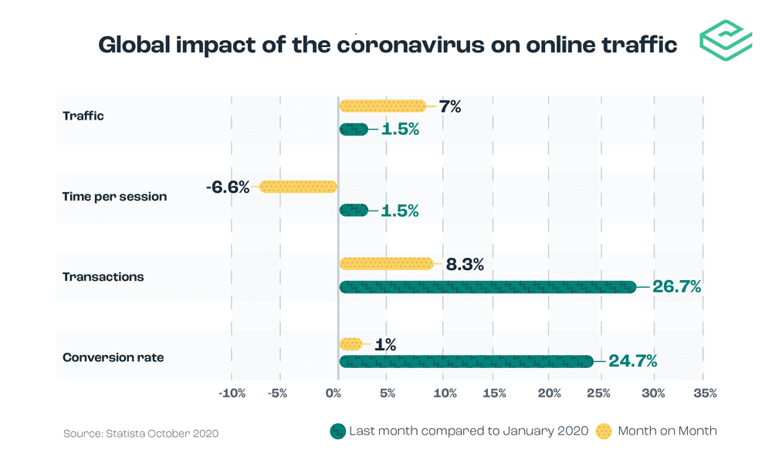 These are some clues about how to improve the conversion rate. Remember, there is no general "cooking-cutter" strategy but instead each strategy should be personalized depending on the unique aims of the company, the type of consumer, the country, and how the purchase is being carried out.
→ CRO: Your new best friend. Strategies to optimize conversion rates
How to measure ecommerce conversion rates
First and foremost, we mustn't be surprised when calculating the average ecommerce conversion rate, as the normal figure is for a website to convert between 1% and 2% of all its traffic.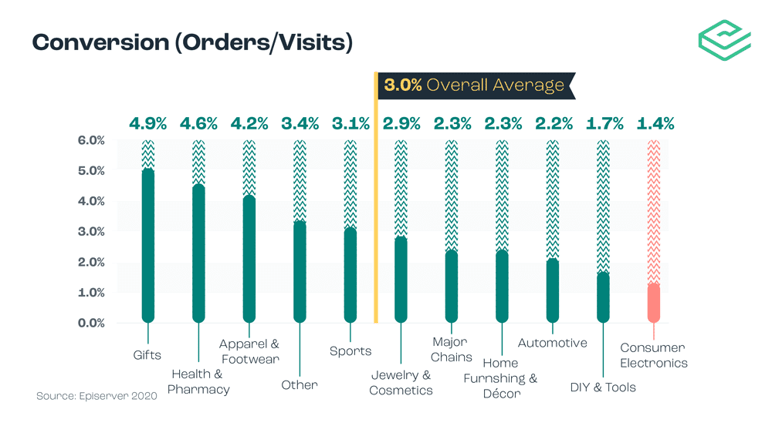 When measuring conversion rates, we analyze the total number of sessions, followed by sessions on product pages, sessions in which a product was added to the cart, and sessions with a final purchase. Obviously, the percentage shrinks in each phase but the important thing is to see that a proper level of conversions is being maintained for the total volume of traffic.
The basic formula for conversions is not the only way to measure and monitor this parameter on an ecommerce site. In addition, said formula can be applied to measure different phases of the shopper's journey:
Users who are arriving for the first time or repeat visitors.
The channel from which users arrive to your site.
The type of search that has brought them to your site.
The product category.
If the user is coming from a discount or special sales campaign.
The conversion rate can also revolve around the business area:
General conversion rate.
Marketing conversion rate.
Conversion rate for individual pages or products.
Conversion rate for campaigns.
Conversion rate for search keywords.
Once the conversion rate has been analyzed, optimization tasks will always be necessary for any process or page on your site in order to optimize the conversion rate. This means that you'll have to undertake tests, make changes, and perform a new analysis of landing pages, the catalog structure, keywords, text, design, user experience, etc.
Other methods to measure ecommerce conversion rates
Average purchase value: this is the average of all sales made through your ecommerce site. This provides some clues about if orders via your shop usually have a very low amount and if it is necessary to improve any part of the experience to encourage a higher purchase price.
Bounce rate: this is the percentage of people that leave your website quickly without visiting any additional pages. This means that what they are looking for and what your site has to offer doesn't match, and you should analyze why that is in order to improve it.
Heatmaps: these are tools that show visitors' scrolling behavior and where they click on a page. They provide valuable data to understand if your visitors are missing something that is stopping you from getting conversions.
Google Analytics: this is the basic platform for collecting analytics on the places where you are getting traffic from, the length of the sessions, the country from which visitors come, if they are new or repeat visitors, if they are from any of your campaigns, etc.
→ Do you want to give them a try? We explain how heat maps work
Checklist of things to do to increase the conversion rate on an ecommerce site
Improve the loading speed of your website.
Offer product information that is free of errors, complete, and homogenous on all your sales channels (this is easier to achieve with a PIM system).
Use quality product images.
Add content with added value: videos, tutorials, etc.
Include reviews by other shoppers on your product pages.
Include a fully functioning filter for your digital catalog, with faceted navigation.
Add clear CTAs, like "add to your cart," "pay later," or "pay now."
Personalize the shopping experience as much as possible to align with visitor data.
Offer free delivery.
Allow simple and free returns.
Reduce friction during checkout by not requiring registration and by having few steps.
Display the security certificates for your website and the payment page.
Offer a variety of payment methods.
Pay attention to the competition and make competitive price adjustments.
Offer 24/7 customer support with a chat or chatbot option.
Take action against abandoned shopping carts through correspondence.
Apply retargeting strategies for visitors who leave your site.
Undertake A/B testing and continuous analysis to improve conversion.
Conclusion
The ecommerce conversion rate is the most important metric for a business that sells things, whether it be a manufacturer or retailer. Strategies to attract traffic to a website or app must be accompanied by optimization to convert part of that traffic into sales. You should prefer quality traffic over high volumes without conversions.
Increasing the conversion rate of an ecommerce site is a task that requires some effort but it is easier to get if you strive to improve the shopping experience, the navigation of the site or app, and the quality of product content. That is, everything that a consumer values when deciding whether to make payment or not.
With a PIM solution, you can begin to control one of the key factors for conversion on an ecommerce site. Organize and enrich your catalog so that your products stand out and your customers are more sure of their purchase. Try the Sales Layer PIM for free and discover all the untapped potential of your ecommerce site.