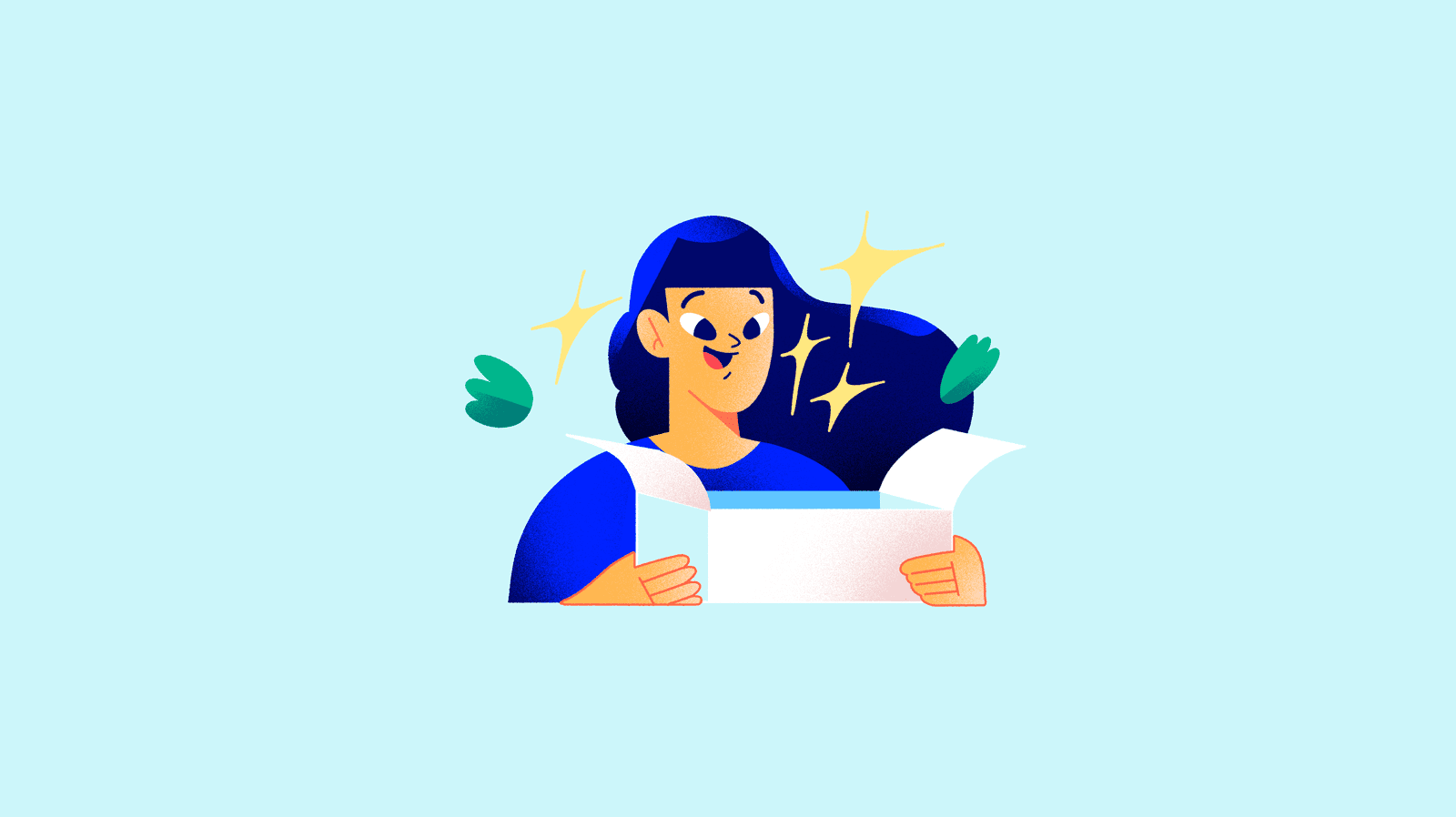 The cosmetics industry has watched in surprise as this year has held on (and even grown) in terms of personal care product demand.
The initial conclusion is that personal hygiene and wellbeing are basic for most buyers' physical and mental health – even during the most difficult of times. Instead of the traditional view of cosmetics being something superficial, this year the sector is standing out as something that is necessary for our daily life, comfort, and personal happiness.
Without a doubt, this is a sector that is growing and one that is quite competitive. And the key to standing out in this sector, whether you are a manufacturer or a retailer, is by offering a superior customer-focused shopping experience with extraordinary product content.
In this article, we'll tell you how to accomplish all of that with 5 great examples of cosmetics product experiences that are really shining through in the online environment.
Lush
This British line of vegan cosmetics has a long history of good digital positioning. It offers full integration of the physical and online shops and there is great uniformity in terms of aesthetics and message over all of their channels.
And on the home page of their online shop, Lush combines highlighted products with complementary content that is of interest for their target audience and changes with the season of the year. For example, in the winter tips (and products) for skincare during cold weather stand out, as well as products and information to prepare a nice bath at home.
The site's navigation emphasizes the company's seals for ethical, organic, and vegan cosmetics which back up the brand and which their audience looks for when making their purchases.
Each product page starts with video content to show the product in use: why leave the key cosmetic product content for YouTube and the bottom of the page?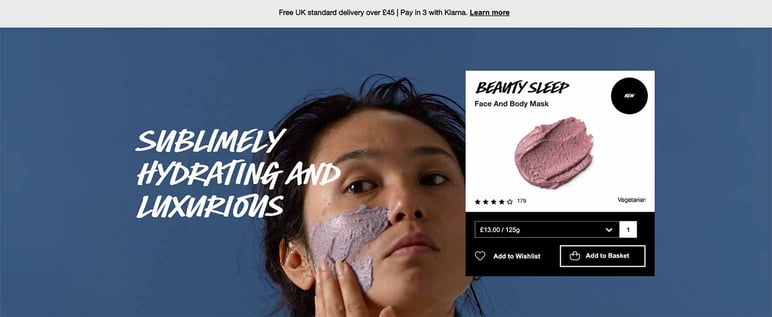 In addition to inspiring phrases, the start of each product page has a quick buy button and notes the free shipping option, price, variations in terms of size and weight, average rating, and, again, the seal for vegan cosmetics.
For shoppers interested in getting more information, the pages at Lush follow a good strategy of highlight a 5-star review and then listing all the benefits, ingredients, and related products and tutorials.
How to gather and organize all this content so effectively? PIM (Product Information Management) software is becoming the key tool for product catalogs that need a marketing boost, such as cosmetics, enriched with complete and attractive content.
In short, the product experience at Lush is excellent because it adapts completely to the target audience, mixing full product content and carefully designed messages about the philosophy and practices of vegan cosmetics.
Gillette
Men's cosmetics are becoming more and more prominent in terms of sale and product demand, and that is also evident in the way the contents of these lines are organized and shown.
From the very start with their landing pages, Gillette shows video content that starts playing automatically. Video is the star resource in this digital age, and it is able to captivate people's sight and attention instantly. These images already reflect the product's intention, the way it is used, and the demographics to which it is targeted.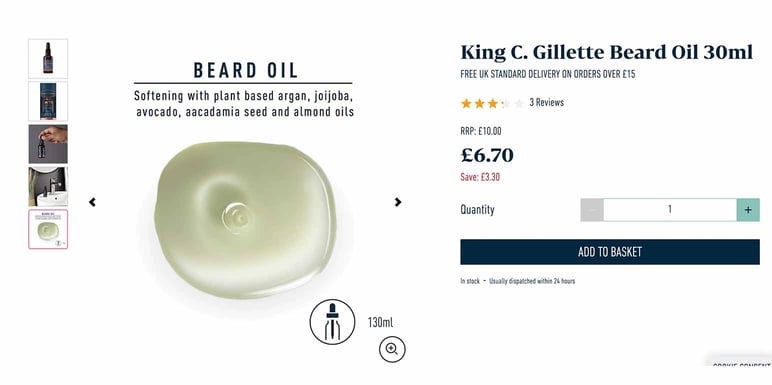 More on this digital journey in detail: the site shows a view of the entire product collection before honing in on the categories (trimming, shaving, and personal care), testimonials from professionals, and presentations that note the exclusive nature of the product.
On each product page, the experience is equally satisfactory: a unique description that has been well written and introduces the key product ingredients to answer common questions that most target customers have. High-quality images that show the size of the product, steps for its use, other accessories, and even a graphical representation of the ingredients so that it's not just the typical list that nobody reads.
In short, this is a product experience that fully takes into account the branding, strategy, and needs of the target audience. In fact, although this is a manufacturer's catalog, it is a great example of what a well-done ecommerce site for men's cosmetics could look like.
Drunk Elephant
This alternative cosmetics brand came in so successfully that in no time at all it was acquired by the Shiseido group. And the fact of the matter is that Drunk Elephant offers a different shopping experience right from the very start, with different bold colors and slogans specifically designed for the company's youthful audience.
Despite its bold contents, the site is clean and simple to navigate, and when the user hovers the mouse over a product image, a quick preview is shown with the key information: price, average rating, and product type.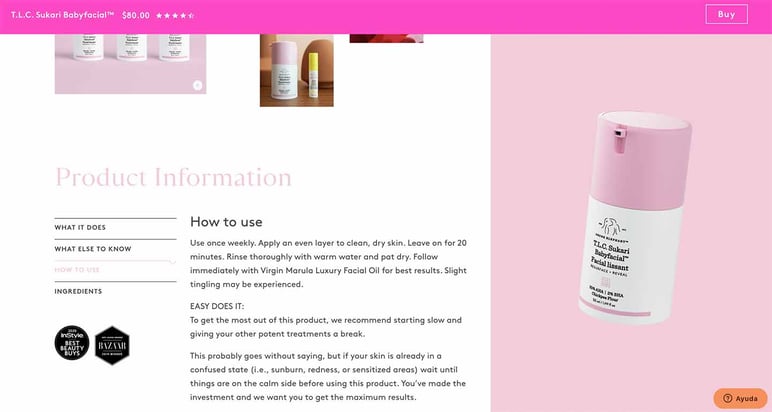 Instead of the typical product photos, a floating effect adds a three-dimensional feel to the products – something that is key for today's online shopping experience.
In addition, the product pages use animated transitions for each block of information (ingredients, usage tips, reviews, etc.) – and this encourages the user to scroll around. The buy and help buttons are visible everywhere, and we all know that these are the two most important things when shopping online.
Apart from organized, perfect product information, Drunk Elephant includes basics of today's digital shopping experience: testimonials from influencers and customers, hashtags to be used on social networks, and infographics on the brand's values.
→ Whatever you're selling: Everything that you should include on a product page
Glossier
The Glossier cosmetics brand has become one of the most renowned amongst influencers, especially in terms of makeup lines. Its ecommerce experience reflects its online aesthetics, which align with what its customers are looking for (in the end, a lot of buyers fell in love with the company's products in an Instagram photo).
Simplicity and pastel hues: Glossier's online experience is direct and represents that feeling of a search for clean, minimalist, and high-quality cosmetics. The brand focuses on highlighting the products and, secondly, on its production values and the seals from publications that back it up, like the magazines Vogue and Time.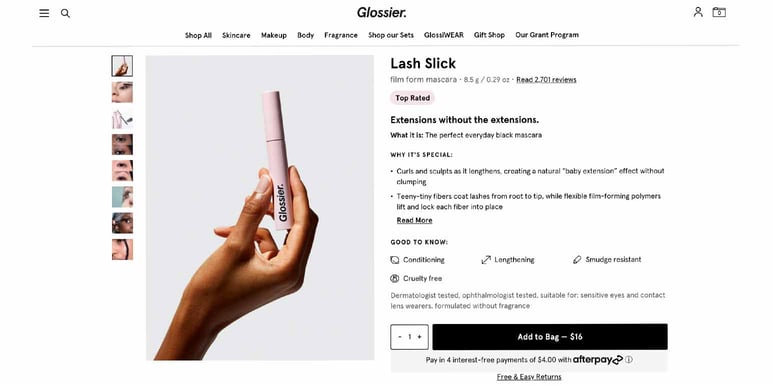 Now let us turn to the keys of the product page: we can find product pages that are simpler than the last few examples. But we must remember that each brand has its approach and its target audience: Glossier is geared towards a classic experience, but with contemporary aesthetics. Cosmetics with secrets, as reflected in the product pages that go straight to the point: photographs, a description, icons to explain the product's uses, opinions, ingredients, and a quick buy option.
In addition, they include a variety of models and skin colors to foster inclusiveness and reflect all possible customer types.
Glossier is an example of how sometime rethinking the product experience doesn't require radical changes but instead an excellent product information base combined with the aesthetic feel that the target audience loves.
MAC
This American makeup brand is another example of a digital experience that combines classic shopping with a design adapted to the company's brand image (in this case, with more aggressive colors).
Nevertheless, behind that traditional appearance, there is much work in terms of product catalogs. The product lines' organization is clear and each collection and page has complete and accurate information along with extra options that are quite interesting for the digital experience.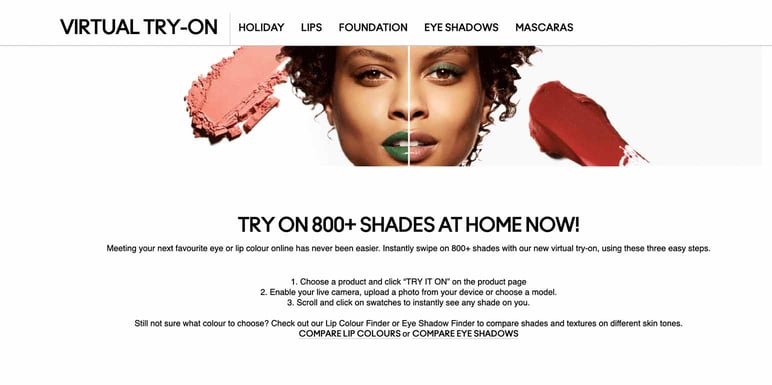 The Mac virtual makeup try on tool is one of the examples of new technology applied to an online shopping experience to recreate the experience of a physical shop. Cosmetics manufacturers and retailers have great difficulties to this end: how can you convince someone to buy products that they cannot see, smell, or touch?
Virtual reality doesn't provide the complete solution to this problem, but it helps the shopper to trust the product and brand he/she is choosing a little bit more.
→ Do you want to give it a try? Discover augmented reality for products
Specifically, the Mac product pages maintain that minimalist strategy that places all the emphasis on the product, featuring detailed photos, an easy buying process, related products, and reviews.
Of course, the ideal cosmetic product experience would be to include everything: very complete, varied product content and virtual options that provide added value. But sometimes it's not possible to do it all and even more important is the fact that each brand must analyze the priorities for its customers: is it better to recreate product try on conditions like in a physical shop or do customers prefer a lot of visual materials and text about the product?
Conclusion
The cosmetics industry is in a golden age in which the digital product experience is key in order to stand out.
All cosmetic product manufacturers and retailers must invest in offering the consumer what he/she is after: complete product information, a fast and easy process to find the products and buy them, and an attractive, well-defined brand that is omnichannel.
With a PIM solution, any brand can quickly and easily offer their customers a fantastic cosmetic product shopping experience: all product information from the catalog in a single place, with review and editing options to get enriched content on all the different channels (online shop, Google Manufacturer, Amazon Seller or Vendor, etc.).
Try the Sales Layer PIM solution for free and see how, while you are "making up" your product pages, the effects will be much longer lasting than even the best cosmetic product.