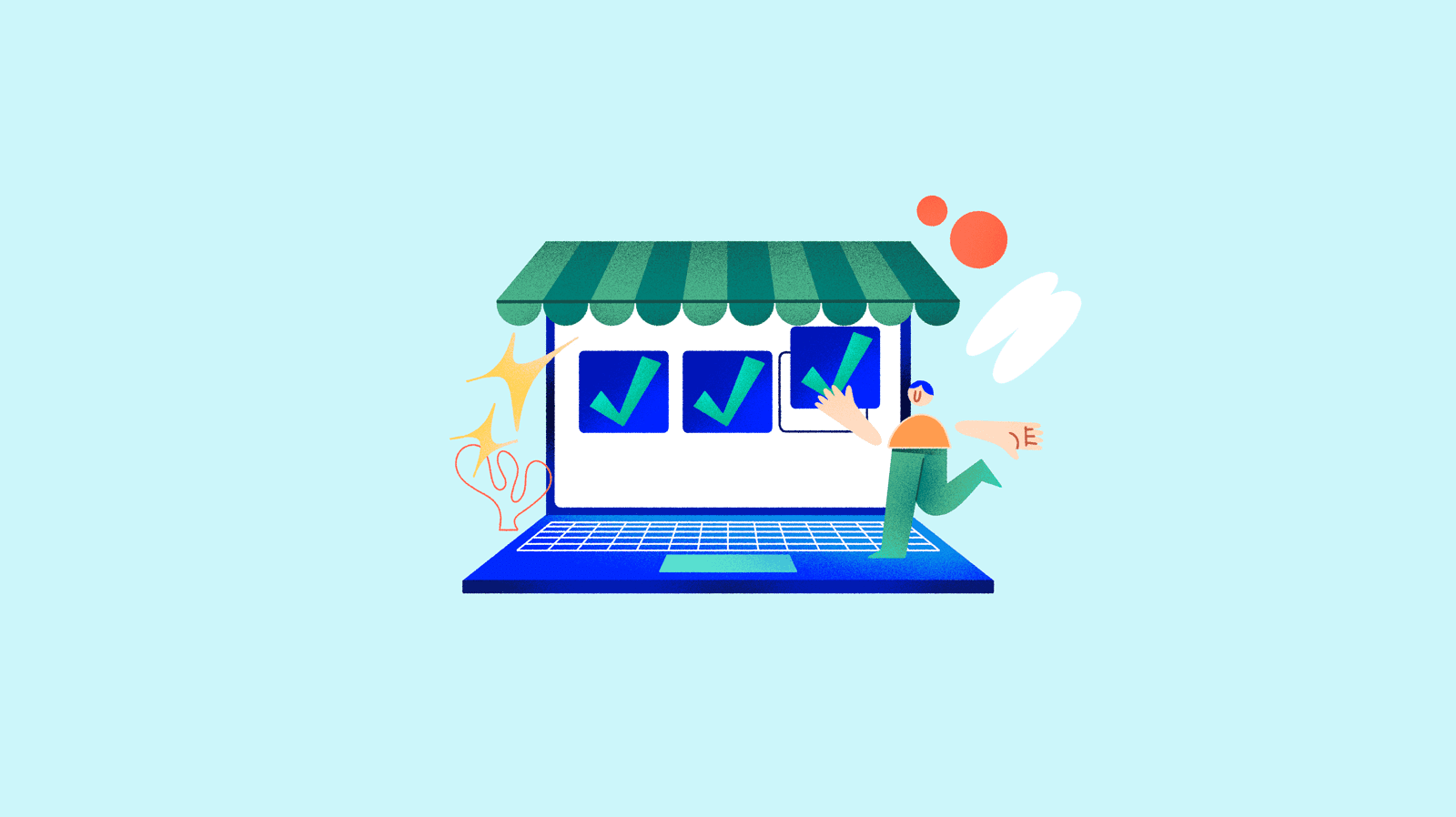 Why surveys can be valuable tools for your online store
Human beings, and particularly customers, can be complicated. On the one hand, they feel uncomfortable being asked questions by a stranger. On the other hand, we all love to feel interviewed.
ecommerce surveys are an analytic tool often overlooked in modern strategies which prefer to "spy" on shoppers' actions from behind the scenes. However, the value of tried and tested traditional methods should not be underestimated, as customers often appreciate straightforward and honest brands and sellers.
Including a satisfaction survey about the shopping experience, the quality of the products, or the customer service provided is a fantastic way to get to know your average customer better, creating profiles and improving your business.
Listening is the first step to offering an unforgettable shopping experience. Often, your customer will know better than anyone what's missing from your catalog, online store or service.
You don't need to subject your customers to a full Proust questionnaire to get to know them well. You'll see that with a few key questions, asked at the right time, you'll obtain highly valuable information – quickly and at no cost to you.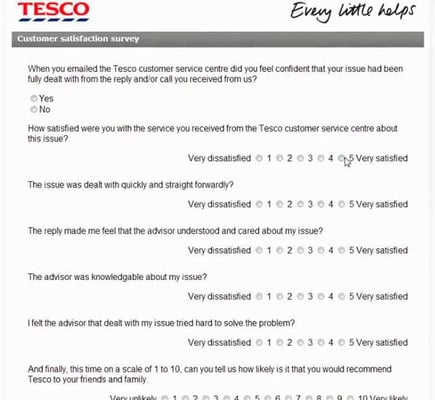 The benefits of using surveys for ecommerce pages
These allow you to get to know your customers' positive and negative impressions, first hand.
They help to improve buyer profiles for your brand or online store.
They can identify difficult issues and give you the chance to make up for negative experiences.
You'll offer an attentive image of a brand or seller that listens to its clientele.
You'll reveal failings or errors in your product information. This is the key to a good shopping experience, and changes can be quickly incorporated using a PIM system.
They can help you to implement more informed optimizations and improvements for products and processes.
They offer extra information to your customer service team, allowing you to improve your service.
They locate issues in your online store's navigation, and in purchasing and delivery processes.
They can be used as a marketing argument, offering concrete figures on your customers' opinions and satisfaction levels.
→ The silent customer: how to detect and get to know them with effective techniques
How to use surveys on your online store
In the age of ever-increasing digital consumption, the only way to get to know your customers well is through the internet. Your best smile, gratitude and friendly manner will instead be conveyed through tools like a satisfaction survey.
Creating an online questionnaire couldn't be easier, and there are a range of tools available for creating forms linked to an online store or included in a post-purchase or post-delivery email.
From free options like Google Forms, to services like SurveyMonkey: these automatically collect all responses, and can generate conclusions and extract patterns of the most common answers.
→ Segmentation in email marketing: strategies to reach more customers.
You have two options when it comes to applying surveys in your ecommerce business:
Open-answer questionnaires: Give users more freedom to write what they want, although you can also indicate a maximum character count. These are more useful for you, although they may discourage buyers who don't have the time or simply don't want to write out their answers.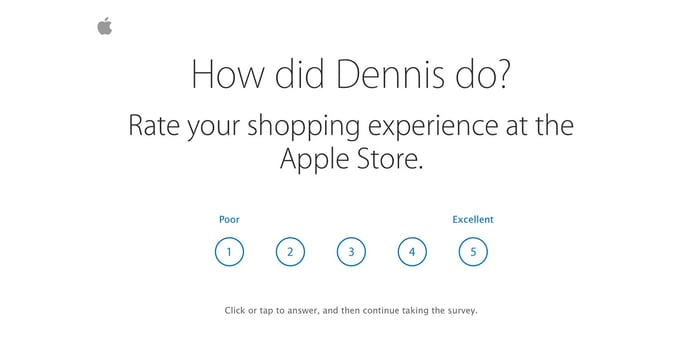 Multiple-choice surveys: Like a test, these allow users to choose their answer from several alternatives. They are very common for 0-10 rating questions, like the NPS (Net Promoter Score). These are more appealing for buyers, as they're quicker to fill in.
The best tip: make a brief survey with a very simple design.
These means selecting questions well and applying A/B testing if you want to study which type of surveys your customers respond to best and ensure greater participation.
Tips for an effective and attractive online survey
Where should you feature your survey?
At the end of the purchasing process. For example, a button inviting users to fill in the survey on the order-confirmation window. Always use links rather than pop-ups, as these can be annoying for many users.
When confirming the order's shipment. This can be attached to the confirmation email.
After receiving the order. Likewise, you can include this in an email if your orders are tracked and you receive confirmation of each delivery. Satisfied buyers who have already received their products are usually more willing to take part.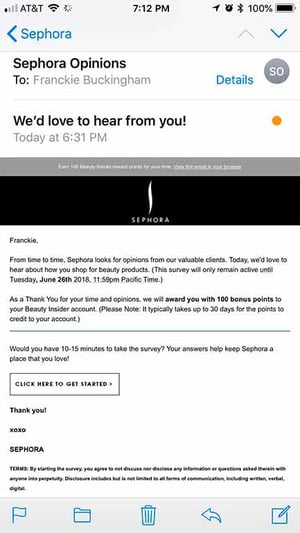 You don't need to offer any incentive, like a discount coupon, for completing the survey. At times, this can result in rushed results from users who are only interested in the prize.
Extra tip: they might not seem very serious, but surveys on social media can be a great strategic tool. What launches does your audience expect? What's trending? What colors, images or accessories do they prefer? Gamify surveys for your ecommerce site!
Who should prepare the questionnaire?
This should be a collective effort: listen to what information will be useful for your customer-service and sales teams, and let marketing prepare a proposal to be evaluated by other departments.
There are also specialist professional services available to provide surveys for brands, but as these are such a cheap and easy-to-prepare resource, you can get started on a small scale by yourself.
→ Another valuable resource for all: ecommerce reviews as a key factor
How can I use the data collected from an ecommerce survey?
Of course, this is a tool that offers conclusions for internal use, but you shouldn't underestimate the value of using this data for your customers.
You can share results through an informative email, if the survey tackled a specific, seasonal topic, and make the most of this information for marketing actions such as social media posts, reports and press releases.
Our template for an ecommerce survey that works
Below, we'll suggest a series of useful survey questions that you can use for your online store, combining these according to your chosen method and the aim of your questionnaire.
Open-answer questions for customers
How satisfied are you with the shopping experience?
Have you found the selection and variety of products on offer sufficient?
Did you find all the information you needed on our site?
How would you rate your order's delivery time?
Did the product you received meet your expectations?
What type of information and updates would you like to hear about our products?
How can we improve our service?
Multiple-choice questions for buyers
On a scale of 0 to 10, how likely are you to recommend our online store to friends or family?
On a scale of 0 to 10, how likely are you to buy from our online store again?
How would you rate our customer service? (From very useful to not at all useful.)
How did you discover our online store? (Through a recommendation, search engine, social media, news article, etc.)
What was the reason for your purchase? (For me, a gift, a special occasion, for work, etc.)
How would you prefer to resolve shopping queries and receive stock notifications? (By email, chat, telephone, in person, etc.)
Which payment method do you prefer and feel most comfortable with? (Bank card, Apple Pay, PayPal, Stripe, transfer, etc.)