Using a PIM (Product Information Management) system to organize all your product information can be a huge step towards efficiency and improving your brand image.
After choosing the perfect PIM system for your company (and if you're still not sure how to do that, we'll tell you everything you need to know here), you'll need to prepare all the 'fuel' required by the software in order to centralize your catalog. With our tips, this initial workload will be much quicker and worthwhile, allowing you to access all the benefits of a PIM system as soon as possible:
Centralize all your product content in a single place, accessible from any device.
Edit with ease, including translations and image management.
Connect information to different channels (web, ecommerce, marketplaces, printed material, etc.).
What will you need to do to import product information to a PIM system?
It couldn't be easier to import information to a PIM system, from initial set-up and at any time thereafter (whenever you need to add new products or items).
Even if you already have Excel, XLSX or CSV spreadsheets, you can upload these files to the PIM, which will then interpret these and include them in your centralized database. It is also possible to send information from an ERP, if your company has one and has used it until now to collect catalog content, manufacturers and distributors, etc.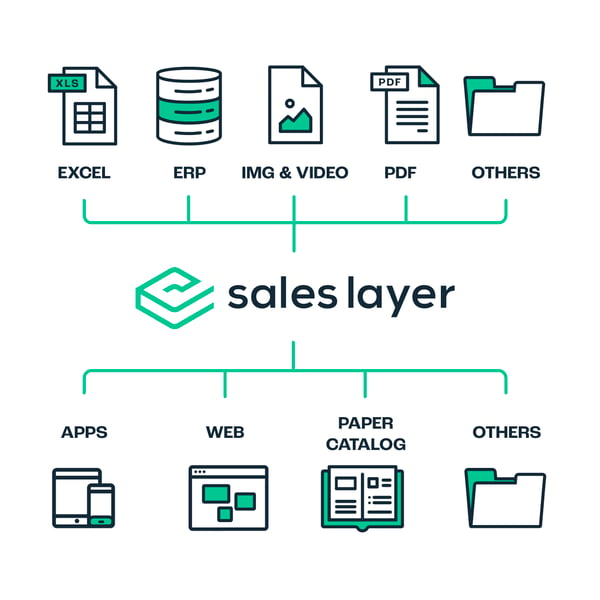 A PIM system is an incredibly versatile tool, as it adapts to your company and project right from the start and evolves with your needs as they change over time. However, we recommend a little bit of preparation to ensure that your onboarding goes as smoothly as possible:
Ensure that you have a project manager, with an overall vision of the catalog structure and experience in PIM software. This is not essential, but can be very beneficial – saving you from any issues preparing and importing data.
Prepare your catalog structure. To ensure that the importing of your data is as agile as possible, your product-information structure should follow an appropriate model for your sector. In Sales Layer, we offer a tree-structure template, with families, categories and fields of information, so you can see how to prepare your information: normally, this will be very similar to the structure with which you are already working. Download a free sample template from the button down below, and we will discuss how to use it in the next section.
Correlate images. Given the importance of visual content in ecommerce and catalogs, you'll need to ensure that you give your files the same name as that indicated in your corresponding product or variation (including capital and lower-case letters, accents, etc.) in order to successfully upload your product photos.
Organize metadata. You'll need to add product content such as alt text for images separately, as a PIM will not automatically generate this.
Plan your lead times. Remember that the length of time required for the preparation and importing of your information will depend on the volume of your catalog. It's important that you analyze this in advance so you know exactly how much time you need, avoiding any future frustration.
Carry out tests. This is vital before the launch of any software, including a PIM. Plan a preparation and testing period, which will also depend on the volume of your catalog. This way, you'll be able to check that all information has been correctly imported.
Example of product information prepared for a PIM system
In this table, you'll find a selection of electronic products, with fields prepared for importation to a PIM system.

As you can see, key information columns are prepared in a spreadsheet, with a product reference in each row.
Each product must be associated with its basic information, as shown in this spreadsheet:
Family (for electronics, a family could be 'Computers', 'Monitors' or 'Towers', etc.)
Reference (identifying code, such as the SKU)
Name
Category (branching out from each Family, such as 'Desktop computer', 'Laptop', etc.). It's important to create a separate spreadsheet for your category structure: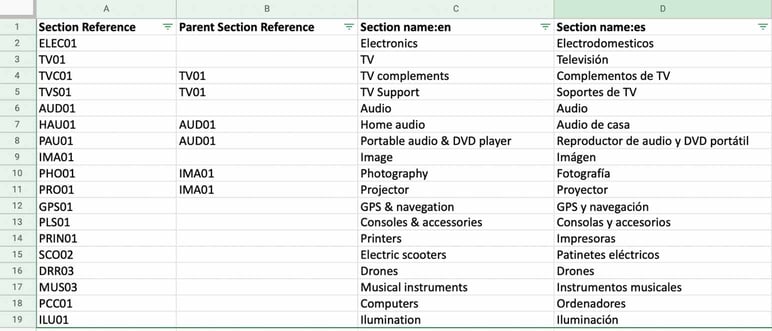 Description (in different languages, if necessary)
For the catalog's basic structure, you should create a spreadsheet including the reference and the 'parent' and 'child' section (in this case, prepared in different languages)
Image file
Variations (columns for information such as color, sizes, weight, etc.)
Technical specifications
Price
For variations, a tab has been prepared with columns for the product reference information and its variations such as color, sizes, style and capacity, along with the related images an prices: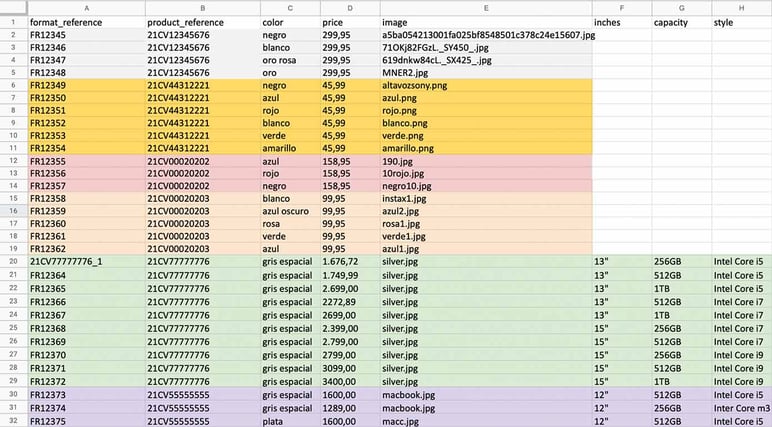 Your first steps before using a PIM
Now that you've decided to incorporate a PIM system within your company, don't hesitate to take these first steps.
You'll obtain access to a host of PIM-software advantages, such as connection to multiple platforms and channels, API, specialist connectors, easy editing via formulas and a mass-change option, change history, backups, quality reports to improve your product information, and a help center at your disposal, offering various support materials.
Try it for free with Sales Layer and get started with confidence, in a trial environment allowing you to upload your own catalog information. And if you need any examples from your industry or a personalized tutorial, you'll find it all here.