When a company decides that it is time to keep organized its contents and materials, sometimes the marketing team will receive the advice to install a DAM (Digital Asset Management) system and sometimes they'll hear that they should install a PIM system. Is a DAM and a PIM system the same thing or do they have the same purpose? Where does this confusion come from?
Here we clarify the differences between a DAM and a PIM system for marketing and content management, including images, videos and databases, and what functions each one performs and why they are important.
What is a DAM System?
DAM is the acronym derived from the words Digital Assets Management. It covers a huge process, involving storing, cataloging and managing all the digital resources of a company.
As soon as any company begins to manage a large volume of images, videos, audios, logos and files shared on different channels and platforms, a DAM system is useful to maintain control of all those materials and ensure that it shows a uniform image to the world. However, many companies are in this situation and may need a DAM ... but they do not sell products.
Discover all the benefits of Digital Asset Management
What is a PIM System?
PIM is the acronym derived from the words Product Information Management. It is a software tool that manages and organizes all the product content of a company that sells catalog products, either through one or several distribution and sales channels, including printed catalogs, mobile apps, websites and social media.
Product Information Management is powered by the information provided by the Enterprise Resource Planning (ERP) of the company. They usually store all the data in the cloud, like some cloud DAM systems.
Based on all that raw product information, Product Information Management is responsible for enriching and harmonizing content in all the channels in which the products are sold, and synchronizing the resources linked to the products (pictures, descriptions, text translations, categories, fields and families...).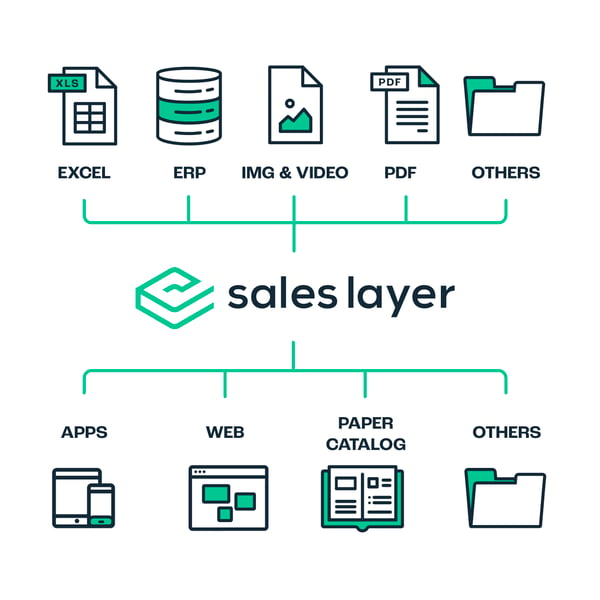 In short, Product Information Management ensures that all information and product content of a company is in order, updated and without errors or gaps that can be detected by customers and online search engines, and that will negatively affect traffic and sales conversion.
Do you need both a PIM and a DAM System?
It depends on the needs of your company. A PIM and a DAM system are not replaceable or mutually exclusive, since they do not meet the same objectives.
A PIM system is responsible for organizing and managing all the product content of the company and all materials related to the products on sale, from SKUs, pictures and translations to marketing campaigns.
But a DAM system does not take care of the product information. A company also has other materials not related to the products, but linked to other departments and the company's marketing and branding. A DAM system must organize those materials.
If all or part of your company's activity consists on the cataloging and sale of products, it is very likely that you will need a PIM system to achieve the highest quality levels of content management, impossible to achieve by hand. If your company does not sell any products, but handles many materials with other purposes (in social networks, fairs, congresses, content for clients… ), then a DAM system will be the most appropriate solution for you.
Can you have both things, a PIM and a DAM system, at the same time? Of course, given that a PIM system manages product content and a DAM system would be responsible for other types of corporate and marketing materials.
When it comes to achieving effective, updated and one hundred percent controlled e-commerce product content management, a PIM system is the best solution, since its functions are not performed by any DAM system.
Do you want to check it by yourself? Try our 30-day free trial and we will show you all the power that Product Information Management has in store.