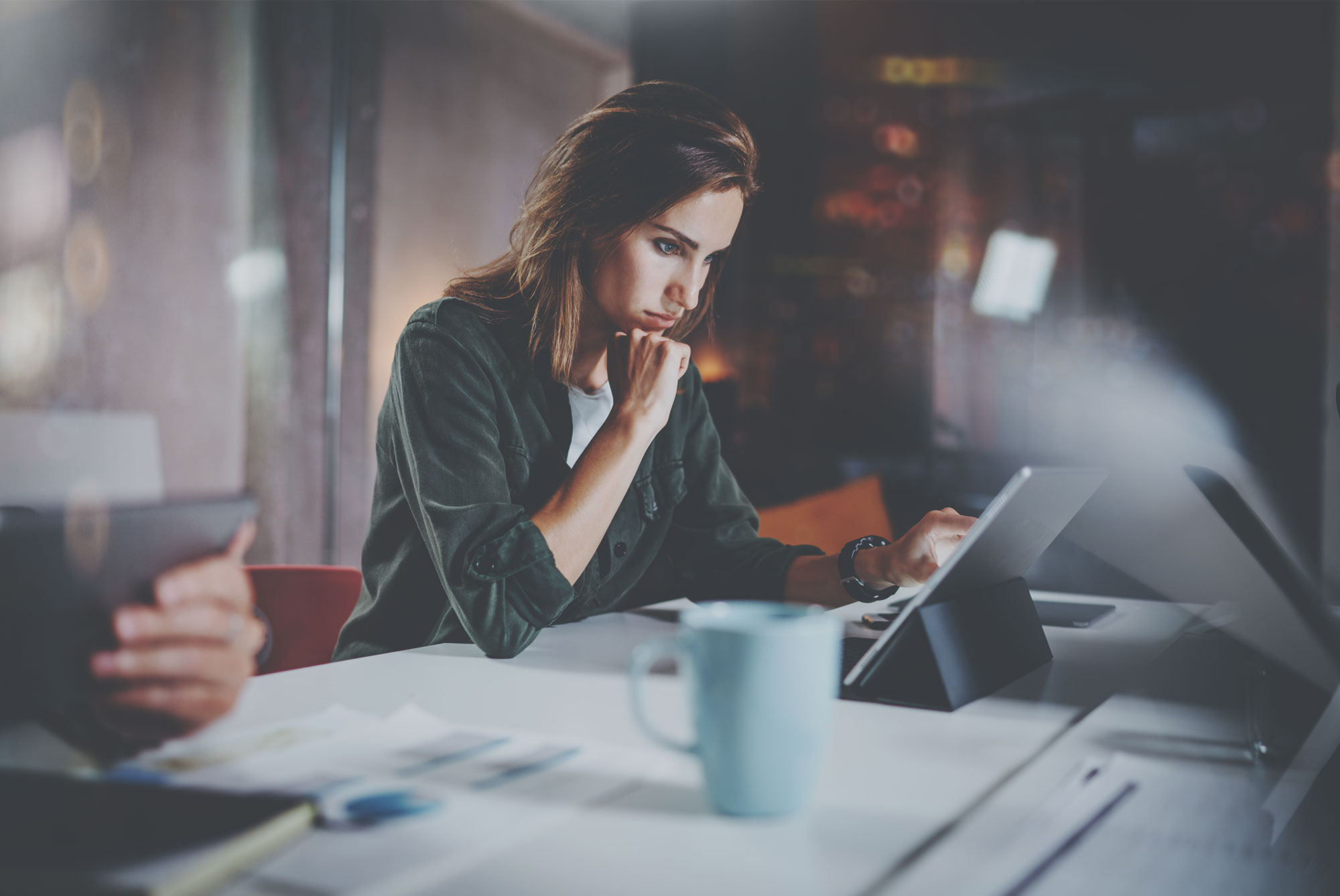 When an e-commerce business begins to grow, manually adding the orders received through multiple channels, the shipments sent and the changes made on product information becomes an impossible task.
The risks of something going wrong are high and it's vital to keep a good integration between the e-commerce platform —a CMS like Magento, Shopify, PrestaShop or WooCommerce— and the central data repository, which is the role of ERP in e-commerce.
If you keep a management system based on traditional methods, you'll need to add every new input by hand and in each system separately. With an integration between your e-commerce platform and your ERP system, you'll only need to add information once.
This kind of e-commerce ERP solution gives you total freedom when it comes to keep information centralized and avoid mistakes and errors between different systems inside your company. This way the data concerning products, inventory, orders, shipments, customers, payments and taxes is accesible from one single source that keeps everything updated in almost real time (depending on the type of integration you choose).
The main disadvantage of an e-commerce ERP integration is the initial high cost, but it's worthy if you compare that to the time, resources and energy that are being lost by performing synchronization tasks by hand. Also, it saves a company from hiring new recruits in the future, when the business grows and the volume of updates, products and orders increases.
So better keep an eye on the benefits of an ERP e-commerce integration for any company:
Avoiding classic manual mistakes: incorrect product information, order and shipment details, prices, stock levels, duplicated data

Total control over the online sales funnel

More efficient workflows

Higher productivity & benefits

Better customer experiencia and customer loyalty
In order to perform an ERP e-commerce integration you'll mostly need a third-party integration supplier or a plugin offered by your CMS. Third-party software that gives support to the role of ERP in e-commerce might seem expensive, but it's the best option to guarantee a seamless integration and benefit from other valuable perks like technical support and training.
→ First things first: What is an ERP system?
The 7 essential tips for e-commerce ERP integration
1. Look for a complete integration process
Connecting an e-commerce ERP solution isn't just like switching on the lights — you'll need a smooth frame that takes care of everything that will be needed inside the company. Take into account that the integration is not just for the present, but for the future, and your software system should be already prepared for any feature you'll need if the business grows or your multichannel strategy expands.
These are the processes that must be included by your integration when you connect the ERP to the e-commerce platform.
Data automatically updated and sent from your e-commerce site to your ERP:
Orders

Payments

Customers & shipments information (new and updated)

Changes on inventory stock levels on each channel
And this is the data that must be automatically updated and sent from your ERP to your e-commerce site:
New and discontinued products

Product information changes (including prices)

More stock added to inventory

Promotions and offers
2. Choose a two-way integration
There are several ways to integrate an ERP and e-commerce platform, depending on the systems, channels and number of repositories a company was previously using.
"An ERP system does not organize your product information: you'll need a PIM for that."
Maybe you'll need to just migrate all your data to the new intermediary tool, or send it from one single depository to several systems.
A bidirectional integration is always advisable, because that way you can update data both ways in real time, and even choose if you want to show the changes in your e-commerce platform or save them for later (like prices updates for some promotional day, country or season).
3. Consider a SaaS cloud system
The best way for an ERP integration to work is through APIs, which are broadly used by SaaS systems that save a lot of time during the integration process, make it fast and easy to use for the team.
Also it works with real time updates and you can add unlimited synchronizations to these kind of software.
→ Read more: The Top CMS for your catalogs
4. Talk to your partners
It's obvious that you'll need a third-party system, and having some reliable partner as an intermediate is crucial to achieve a successful integration.
Look for partners with real and high level expertise in the ERP e-commerce integration system of your choice, and schedule enough meetings to make clear what are your company's needs and limits, and insist on knowing how the integration will be exactly performed and what are the risks, challenges, obstacles, costs and deadlines that must be expected.
5. Always plan a testing phase
Some companies tend to forget to include this vital stage to their first schedule, and the integration can be delayed if you don't count on having to perform some test and, of course, finding some problems on the way.
These tests are always valuable and should be performed by your own team, in order to see if they really know the tool and find it useful, if the software has been correctly integrated, and to identify synchronization errors between the ERP and the e-commerce site (sometimes data is not properly displayed at the first time, or it's noticed that the updates are not as fast as they should be).
6. Training & Support
The e-commerce ERP solution must include training and technical support, although some software companies offer that as some extra hours that you can hire as a monthly or annual plan.
It's highly recommended to train the team that will use the software on a daily basis beforehand, because they're the ones who are going to ensure the proper synchronization between the centralized database and the e-commerce site and other channels. As the tool is going to be a daily partner for them, they should be familiar with it before any definite integration and launching.
7. Prepare an integration framework
Finally, the role of ERP in e-commerce integration might be enough for some companies, but in the end every business will need to add more pieces to this integration scheme. That's why your integration framework should have in mind other software systems like Order Management, Inventory Management or a PIM (Product Information Management) system.
This kind of complementary software is important to ensure that the correct stock, shipment and product information is being swapped between the company's ERP and your e-commerce site. Remember that this integration doesn't magically order your product content — it ensures that it's properly connected between your central database and your channels.
But you still need to give proper fuel to this integration and manage perfect, smooth and updated information every day. Product information, category structure and pricing without errors, warehouse information, changes in product availability, order cancellations and returns, and notifications that should be sent to customers.
→ Read more: What's the difference between ERP & PIM?
And that's another completely different chapter of the story that you can read here, or you could begin testing the PIM that you need before dreaming of the perfect e-commerce ERP integration.