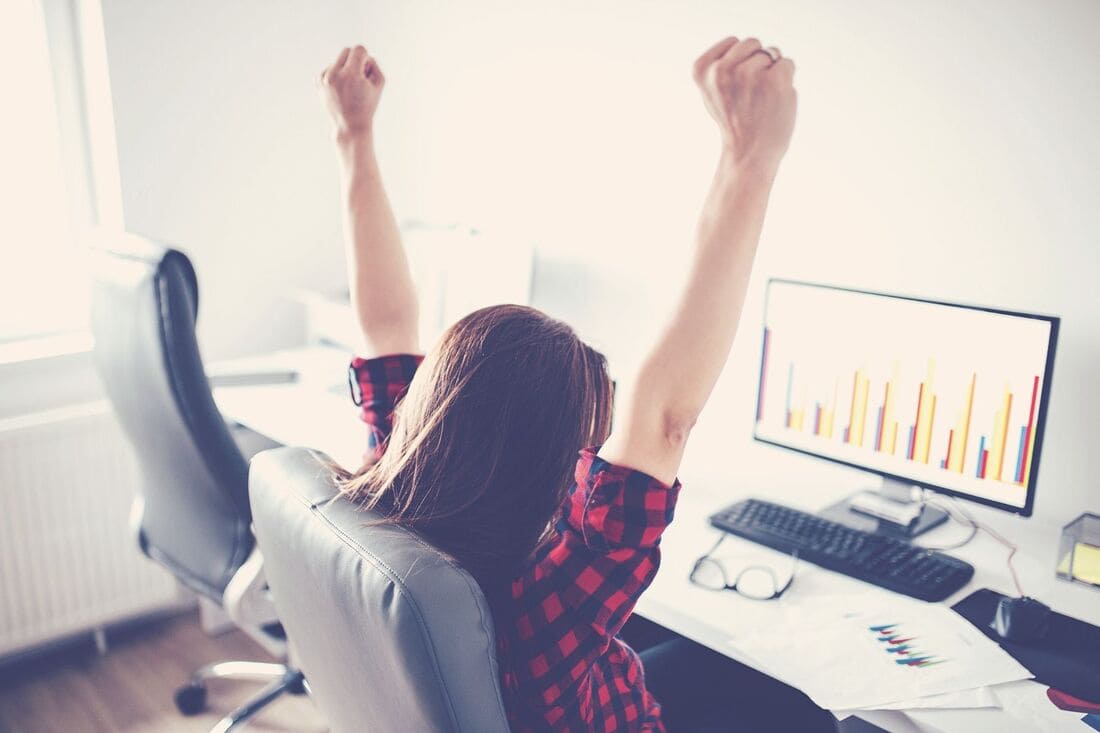 Table of contents
So maybe you've already created your online store, or you've decided to invest in an impressive ecommerce platform like Magento or Shopify.
Congrats! But soon the surprise will come: you're going to need more tools than you had at first realized.
From inventory management to payment gateways, we'll reveal which of the ecommerce tools your daily action kit should not be without.
→ This may interest you: A step-by-step guide to making an online catalogue
Advantages of ecommerce tools
As we've already mentioned, to have an ecommerce platform is among the wisest and most popular decisions when it comes to selling with an online catalog.
However, these platforms are not a utopia. You'll still have to continue completing your software kit with other complementary tools, whether as plugins or as stand-alone programs. Your goal is to avoid leaving any loose ends of your ecommerce process without being modernized or automated.
Don't be afraid of investing in these ecommerce tools (in fact many of them are free) and consider their advantages:
They automate processes and save time
They facilitate the launching of your omnichannel strategy
They speed up the creation and launch of new products and catalogs
They integrate all your independent ecommerce processes more easily
They enable a flexible and global communication
→ This may interest you: 100 essential marketing tools for ecommerce

Types of ecommerce tools
Here we'll set out the essential equipment for any company that will be taking its venture into ecommerce (very) seriously.
Although we could choose to distinguish simply between free and paid tools, we'd like you to look further: from the tools that'll prove indispensable for you to 'hit the ground running' to the programs you'll need for expanding your strategy.
Basic tools
Clearly, if you're selling on the Internet you'll need a website.
To achieve this, there are two main alternatives:
Website builders: Build your own website, either from scratch if you are adept at code, or by using a free management system like WordPress.
Ecommerce platforms or CMS (Catalog Management System): These are services that allow you to create an online store or link your website to ecommerce functions. They can be free in open source, such as Prestashop or WooCommerce, or configured and paid for, such as Shopify or Magento.
→ This may interest you: Integrate BigCommerce as your ecommerce platform
But let's not jump the gun: in preparation you'll need to have gathered your product information and related materials (images, videos, PDFs...) together, somewhere. Although it's best to use a centralized system, such as PIM (Product Information Management) software, you can also start with the basics:
File hosting systems: These range from cloud storage services like Dropbox (where you'll have to pay for unlimited storage) to DAM (Digital Asset Manager) systems that organize your audiovisual resources.
Product data organization systems: Excel spreadsheets remain the favorite for gathering product information into tables. It's not a bad system, but soon we'll tell you about a much better one.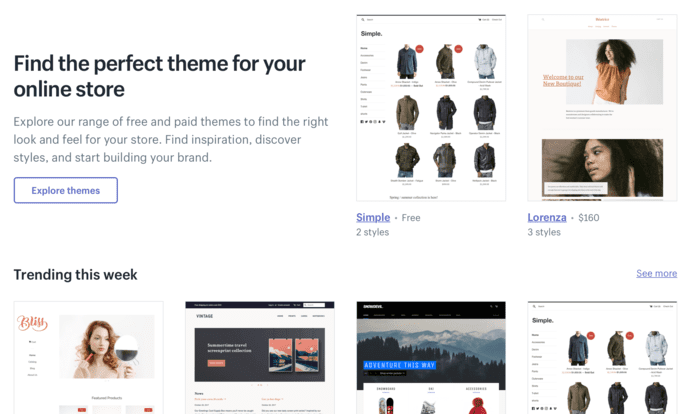 Free ecommerce tools
You can, of course, start selling online without investing a lot of money, but in return you should expect many limitations.
Disadvantages: Free tools for ecommerce are numerous and varied, but they either require a great deal of technical knowledge (to use open source and customize it according to your needs), or they have limited functions that will soon fall short of your needs.
Advantages: If your business is quite small and you only have a small catalog of products or services, which you're updating just once or twice a year, we recommend starting with the most basic, free tools. They will allow you to get to know the terrain, gain experience and, above all, identify which areas you'll really need to invest in.
Tools for product information
Remember we mentioned Excel spreadsheets earlier?
Well, Excel isn't bad in itself, but it isn't an online catalog tool as such. Once you are ready to start managing a more complex product catalog, one that's growing in size and able to be shared and sent to different platforms, you'll need a tool that's been created with ecommerce catalogs in mind.
And this is where a PIM software like Sales Layer comes in: a system that allows you to work from a centralized database in the cloud, accessible from anywhere and on any device, and available to all users who have received your permission.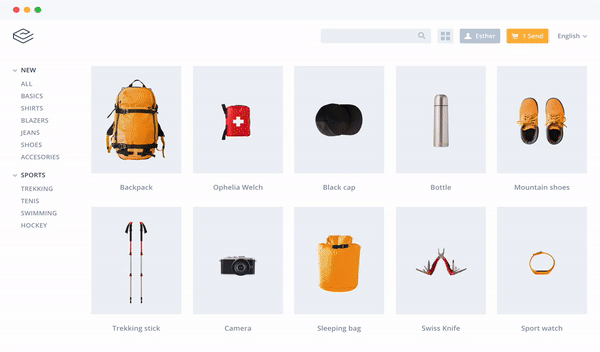 With a PIM you'll be able to:
Edit product information on a friendly interface
Detect data errors and omissions
Enrich your content
Update items simultaneously everywhere in the world or in only one region
Translate into other languages
Link in complementary materials and sales platforms
Use custom plugins to connect to other ecommerce tools Import and export to multiple channels and file formats in a couple of clicks
As you can see, these are some very useful functions for ecommerce that an Excel spreadsheet won't provide for you.
→ This may interest you: Why you shouldn't use Excel to make your product catalogs
Tools to improve customer loyalty in ecommerce
The most effective way to stay in touch with your existing customers and attract new ones, is via a communicative marketing strategy tailored to their needs.
You can try the following kinds of tools:
Email marketing: Send newsletters with news and promotions and special or personalized discounts, with free systems as simple to use as Mailchimp or JangoMail.
Lead tracking: Find potential customers and take action that's specific and targeted using landings, pop-ups or giveaways with analysis provided by tools like Wishpond.
Social networks: Publicize your brand and catalog across your customers' favorite social networks according to their profile (automating your posts with Buffer or Hootsuite); integrate product-sharing buttons on your website; and include instant-shopping options from social media channels such as Instagram.
A/B Tests: Compare which resources and options work best among your audience with tools that test the results of two variants, such as Optimizely or VWO.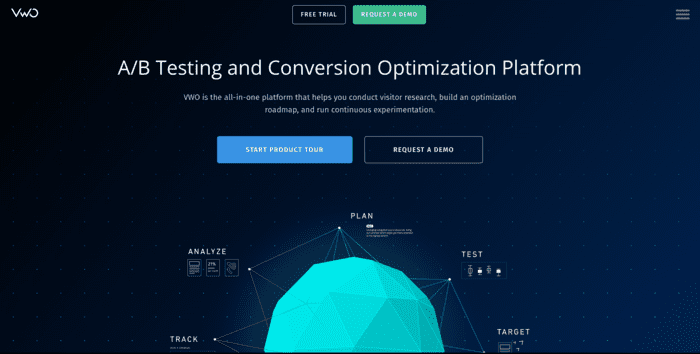 CRM tools for ecommerce
Excellent customer service is the greatest pillar of success in ecommerce.
To ensure your team addresses your customers' doubts and problems correctly, and that customers are satisfied with the attention received, you can use Customer Relationship Management (CRM) tools such as Salesforce, SAP or Zoho (these being the most popular, but also more expensive for beginners), and slightly less expensive ones such as Pipedrive (from USD 12 a month).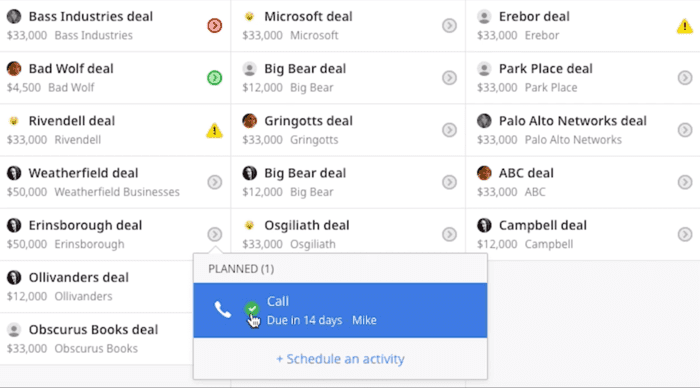 SEO Tools
Continually improving the quality of text on your sales platforms is a must if you are to avoid becoming outdated in the face of your competition.
In this area you won't need to invest a large amount of your budget, as very complete tools exist that are in reach of everyone, such as the basic Google Ads or alternatives like WordStream, SEOBook or Mergewords. It's best to bring in a specialist who can distinguish keyword trends and those searches which are most relevant to your product or service. There are also paid services designed to help you with your positioning, such as SEMrush.
And this need for constantly refreshing your written content also affects product information: the keywords you include in the descriptions, metadata, titles, categories, and other essential ingredients of your product catalog. Save time on researching, with a PIM system that also includes SEO analysis and enrichment features for your product information.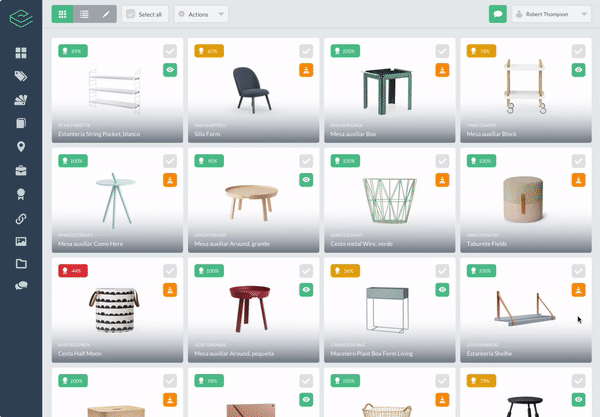 Shopping cart tools
A clear, fast and secure payment process is one of the essential features you'll need in order to gain the trust of buyers.
If you create your own website, you can resort to an open source shopping cart system. Some, such as Vendio, work on a monthly fee and others only take payment according to purchases made through your website, such as Cashie.
If code is not your strong point, or if you don't have an IT team that can ensure the correct functioning of online payments, we'd recommend you choose a platform that offers preconfigured payment gateways.
Be careful though! Not all payment gateways on ecommerce platforms are free. Platforms may include the most popular ones by default, or they may make you install an extra plugin for payment, as well as fees for each credit card transaction.
→ This may interest you: How to avoid shopping cart abandonment
Tools for CRO
Boosting online sales conversions will be one of your constant goals. To achieve this you'd have to invest in some collateral aspects (good products, great customer service, SEO adapted to your audience…), but the use of certain tools can give you extra pointers and clues.
For example, analyzing your website and the behaviour of users on it using heat maps (areas where visitors stop or click the most) will allow you to infer which aspects interest your customers and thus what areas you should strengthen.
Tools like Hotjar, Crazy Egg or Kissmetrics include features for tracking, results analysis and reports, that you'll find very useful for analyzing the performance of your online store.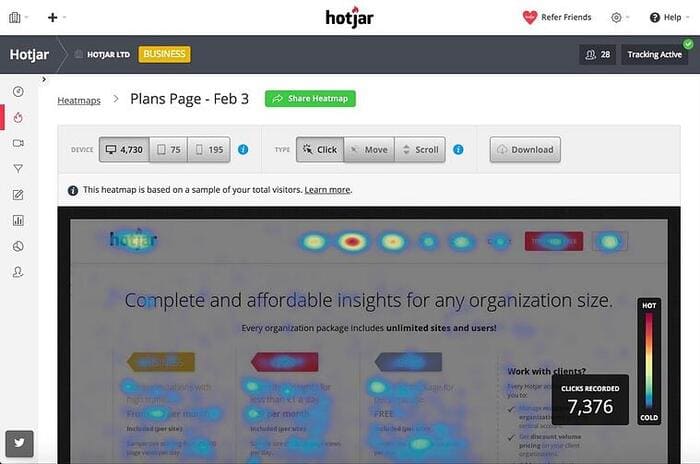 Design tools for ecommerce
In the online world, first impressions count and it's essential you take care of the visual presentation of your resources.
At the outset, selecting a template suited to your product or industry niche will earn you points from your audience, and for this you can choose from many templates that are compatible with the main ecommerce platforms, and some, such as BigCommerce, include assistance with the design of your online store.
To maintain a consistent brand image across all your channels and achieve a solid multichannel strategy, use tools that help you unify the design of your images from catalog to social media, such as Instasize, communities of original designers such as Dribbble, or collaborative design tools like Invision.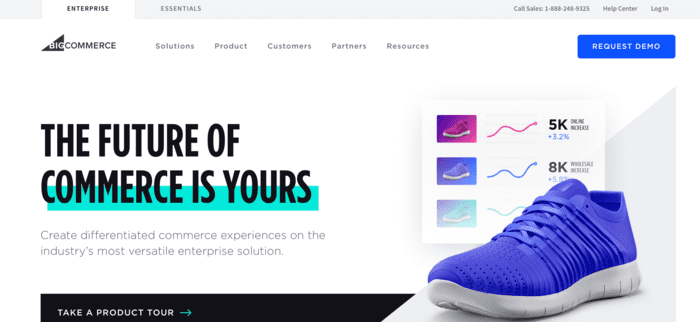 Inventory management tools
Here comes the most overlooked phase: the warehouse inventory.
Having a tool for inventory management is indispensable in ecommerce, to ensure that you make the right shipments, that stock figures are up to date across all your channels, that perishable products do not expire and that you maintain organized communication with your suppliers and/or distributors.
Don't neglect your inventory: and include in your strategy a management tool like Delivrd (which is free) or TradeGecko and Veeqo (more complete and offering payment plans).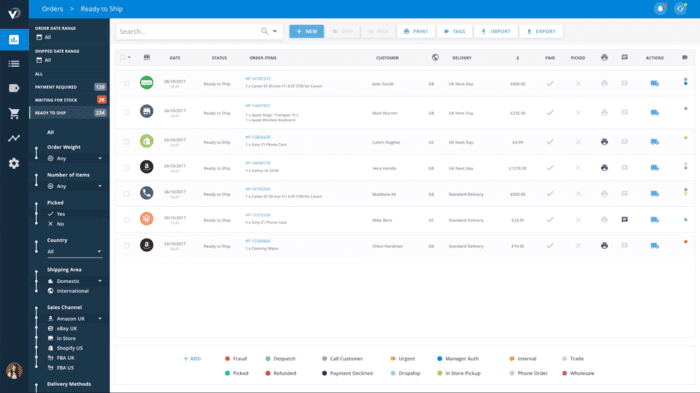 Start your basic ecommerce toolkit today by trying Sales Layer's free 30-day demo, and lay the foundation for your online success: a brilliant and well organized product catalog.