Although this is a type of contemporary consumer, in fact the local customer is the oldest one of all. Traces of the old days still persist, when acquiring a product or service meant to rely on the recommendations of others, to inspect the business and merchandise in person, and to discover if the seller inspires or not some almost magical confidence.
Some time ago, Google replaced the local term with visit-in-person, referring to those users who make an online consultation with the intention of making a subsequent visit in person. Among the keywords to determine when a search is local, or visit-in-person, Google includes near me, gas stations, restaurant, cafeteria, bar, class (eg yoga), cinema / billboard, dentist, workshop or ATM. The SEO for this category of user must be considered, especially if your business depends more on physical visits than on final online sales.
Why do they turn to local businesses?
Most people think locally for quick responses to immediate needs, and for services that require greater trust than a digital consultation. For this reason, the largest volume of local searches is due to planning leisure activities, usually carried out in the client's area, followed by the references of acquaintances, and advertising or media with which the consumer has crossed over in their area.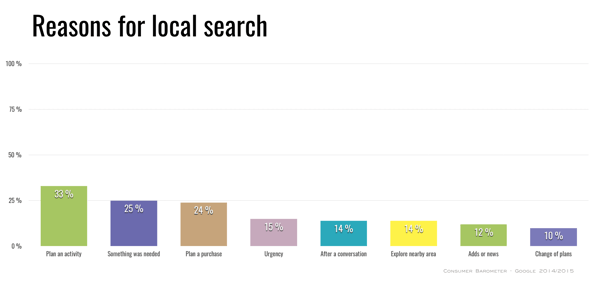 To what degree of immediacy do they need local information?
Because local business inquiries often follow unexpected changes in plans or a matter of urgency and time saving, most users make their investigations within a short time - days or weeks. However, the number of queries made by simple curiosity or in order to compare is the same as the searches performed urgently.
When marketing your local business, it should be noted that approximately half of the visitors will have come for a reason opposed to the other half: with patience or haste.
Curiously enough, the number of comparisons in the local area are greater than in an overall online search: almost always 2 or 3 businesses are compared before the decision.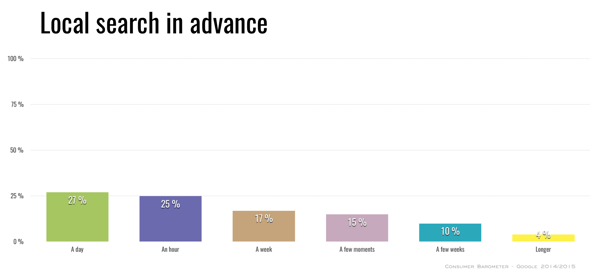 What kind of information are they looking for?
All data that has a functional nature: address, ways of access, opening hours, the stock of products or services, as well as reviews, reference images and menus in the case of restaurants. In addition, the economic factor is the most decisive, in terms of final prices and possible discounts or special offers.
These elements do not explain customer behavior, which is totally logic. They point to the importance of product information, which must be always as complete and up-to-date as possible: even the type of traffic or influx is valuable data, as Google has demonstrated in its function of consulting local opening hours.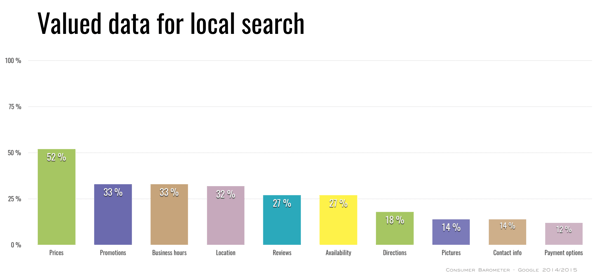 How do they get the information?
Although local businesses are easier to consult in person, most users combine online and offline search, or even just online sources. The times of trusting only the appearance of a store and the opinion of a relative have passed, and online consultation is imperative to discover the average impression on any local business.
As for offline media, personal recommendations from acquaintances and previous experiences remain a strong point, which still imposes the need for a mouth-to-ear strategy in the local area. Loyalty in local businesses is much greater than in online stores, where the market is larger and the criteria can vary quickly, depending on new releases and counter-offers. Print advertising, media and salespeople on the street are the next most common channels of access, facing the near extinction of other old methods, such as local business directories.
To gather local information in online media, most users still turn to the computer, followed by smartphones, and tablets. The king is still the search engine, followed by business websites, websites or apps that recommend business and discounts by area, digital maps, blogs, and forums. In short, they collect information directly from the source, or from a large number of reviews.
You should take a great deal of care over the positioning of your business. If your store does not exist on digital maps, it will be as if it did not exist on any real avenue. In order to achieve this homogeneous presence in all your available channels, think about the convenience of a PIM system that correctly distributes the information of your business among all the decisive channels.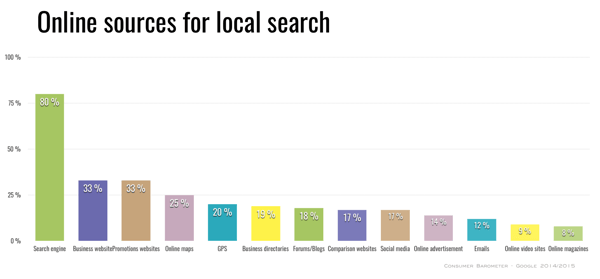 What factor is most influential in their final decision?
While price is still the main factor, the value, quality and experience of the product or service is also important to the local consumer. Appreciating what is done with care is important for local shoppers, especially when looking for restoration options, services, and handicrafts, but even for the experience of advice and warmth that does not offer an online store.
Other more practical criteria such as proximity, discounts, variety of the stock, opening hours and payment options are the following strong factors for local shoppers during their searches.
And don't miss all you need to know about...