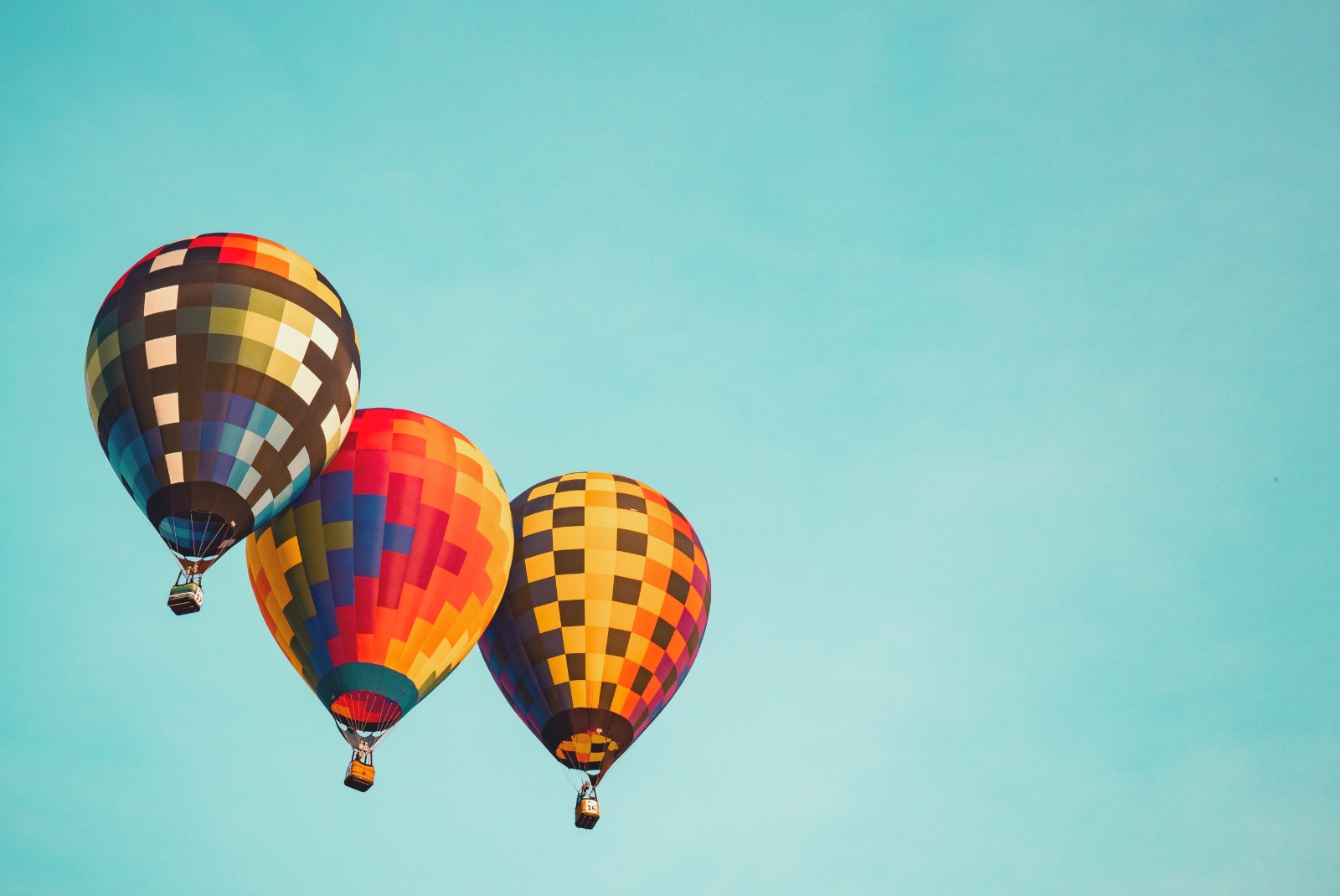 Between your online store and Sales Layer there are only 3 steps to take so that managing the information of your products for e-commerce, market places, mobile apps or paper catalogues, becomes a really simple task and although you it's hard to believe it, even an enjoyable one.
So you're very close to changing the way you work, gaining simplicity and recovering a lot of the time lost in using your traditional products management system.
Step 1: Customize Sales Layer according to your needs
The first thing we will ask from you is to choose the languages you need to work with for your products. It all depends on where your markets are. If you sell in the United States, France and Russia, just choose English, French and Russian. The possibilities even include Chinese.
Then, you need to enter the groups of products on sale, for example, if you sell clothes, bags and jewellery, you would create three groups, one for each type of product.
These large groups have categories and subcategories, which also are included by our tool that lets you organize the information in your e-commerce as it suits you best.
All right! We assembled and structured our shop, now what? On to step 2!
2. Let's get rid of those Excel sheets
Next we enter all that data into the Sales Layer system for all the products we manage. The most common method is to have them in Excel or CSV files. That is, we have a number of fields in which all the information of the products that we have to work with appears.
The appearance of these Excel sheets is something like this:

Well, what we do is to import all the data so that with one click, it is converted into aesthetic pages that include fields that appeared in our Excel, and is also editable so we can modify, include or exclude anything as it may be necessary. If the products were assigned an image link, this is also entered in the records and the tool generates different image sizes which can be useful for different applications. You can also create your own custom size according to the needs of your sales platforms or promotion. The process would be this: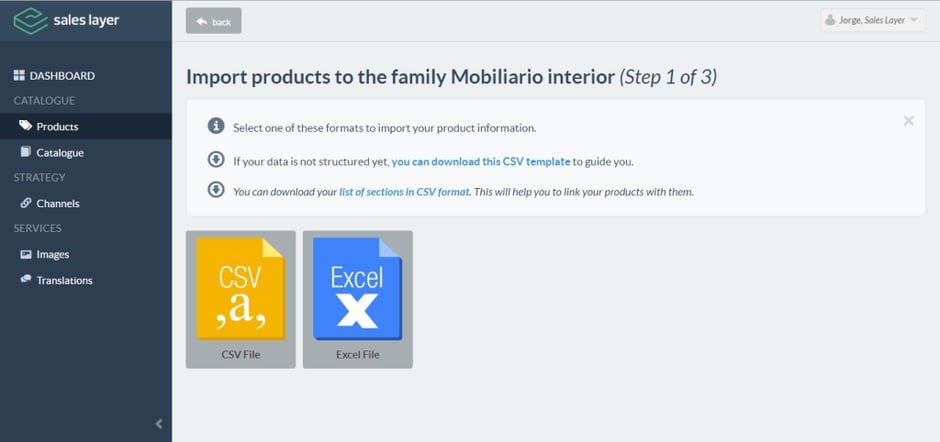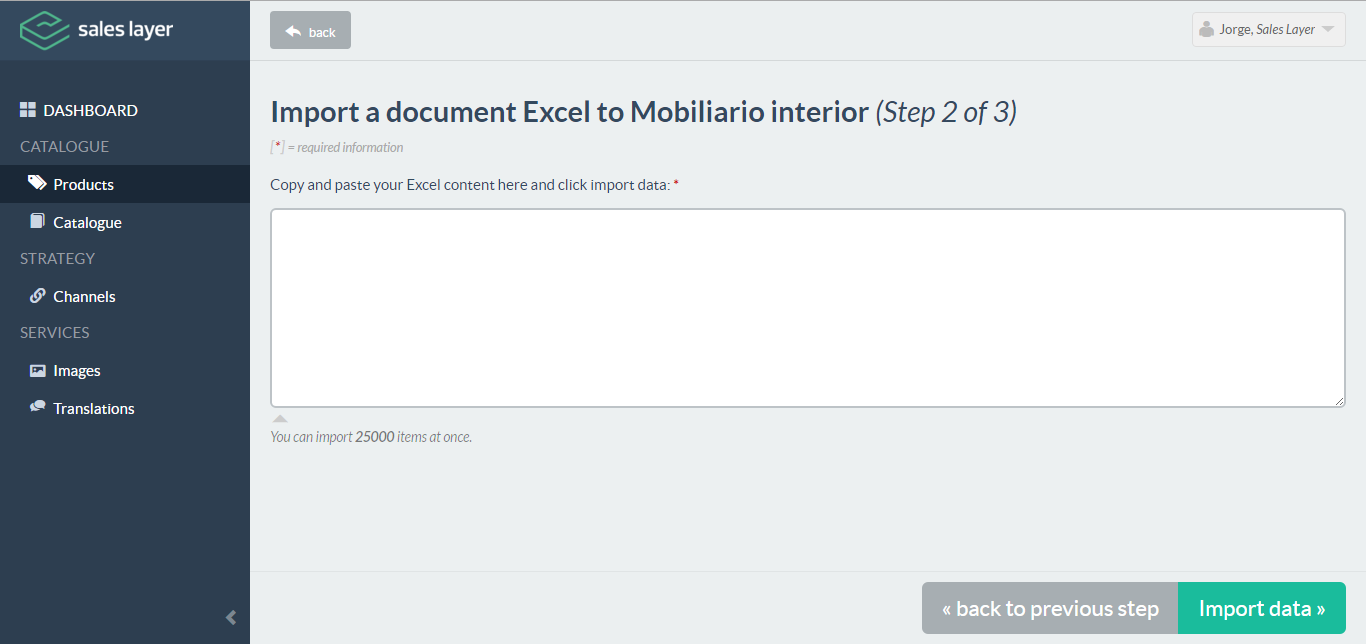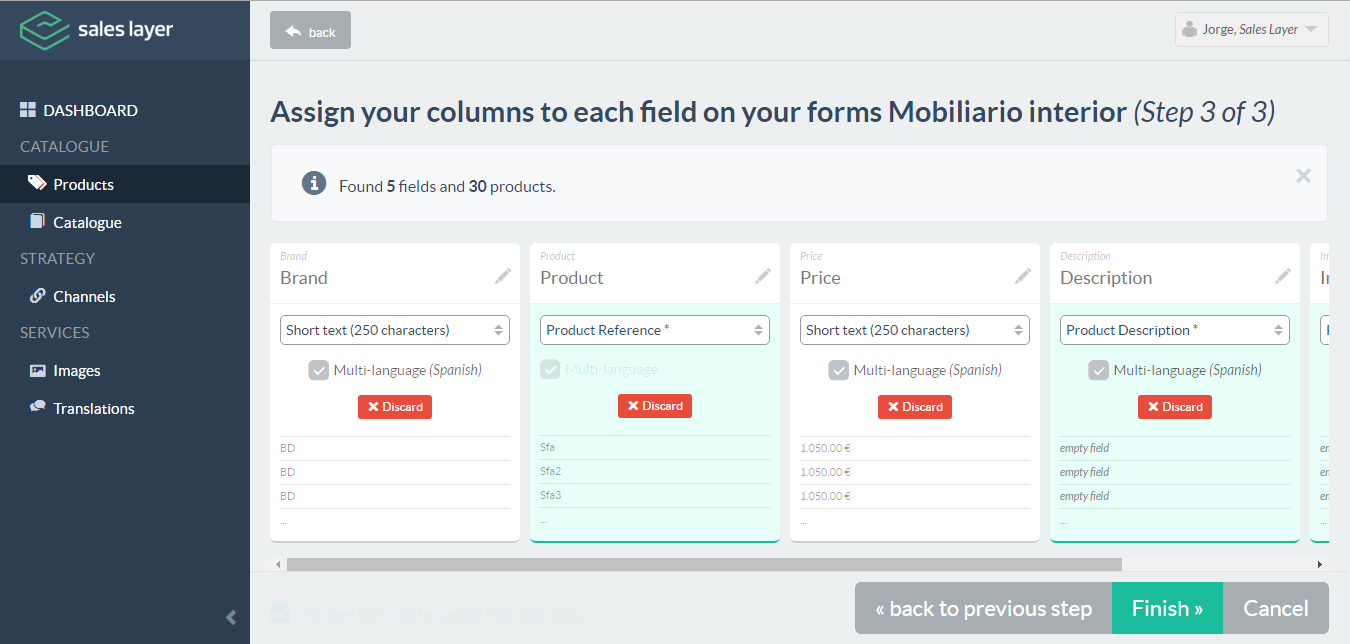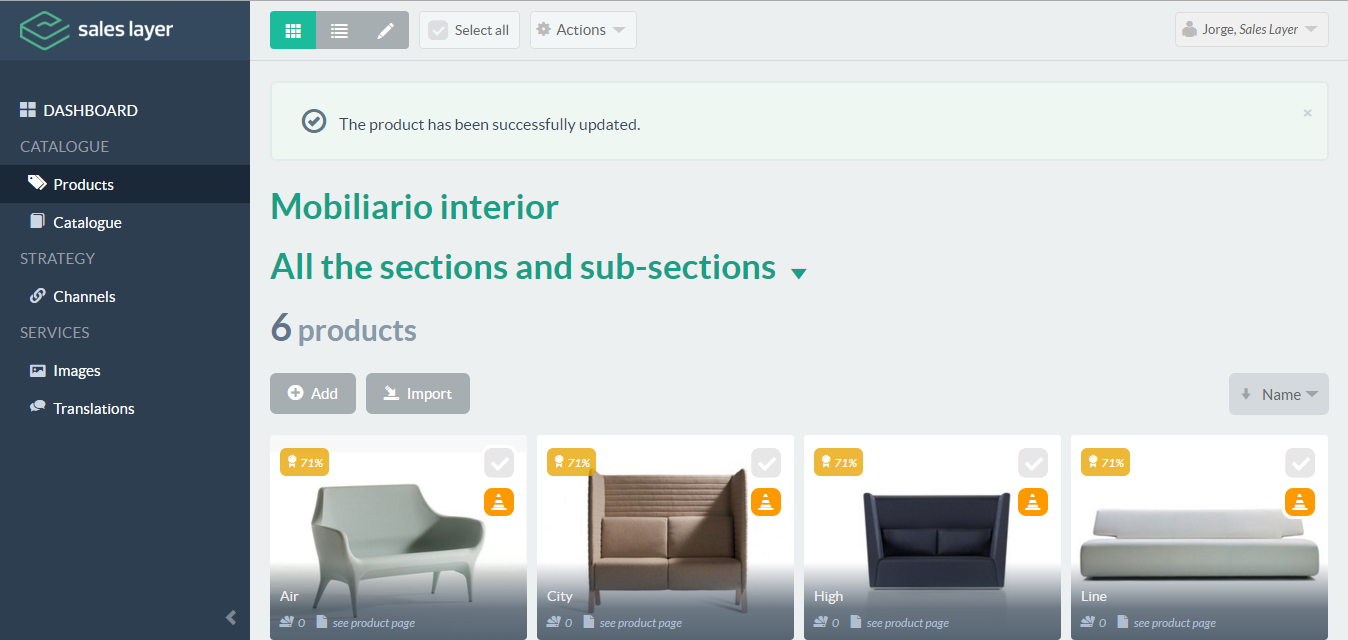 This step will serve to gather information about the products we want to appear in different sales channels and switching from working with excel sheets to working with these data sheets, it's a lot nicer, don't you think?
If you work with catalogues, e.g. for offline sales, you can also configure all the data for inputting it into the paper catalogue from our tool because Sales Layer is connected online with InDesign, the software of choice for designing catalogues.
3. And the icing on the cake! Image editing and translations
Sales Layer provides some additional services to enrich the customer experience and make life easier: photo retouching for product images and translating texts. These are two very important aspects if we want to provide a good image and if our intention is to reach an international market.
Thanks to our partner ProRetoque, from Sales Layer, touch-ups to our images can be automated. For example you can sharpen the image and replace the background with a white or colour background. Image is an essential part of online sales where the user relies on pictures as one of the most important elements of decision making when it comes to the purchase. In this way we ensure that all images managed through Sales Layer have the highest possible quality without the user having any knowledge of retouching, as ProRetoque does it for us in less than 24 hours.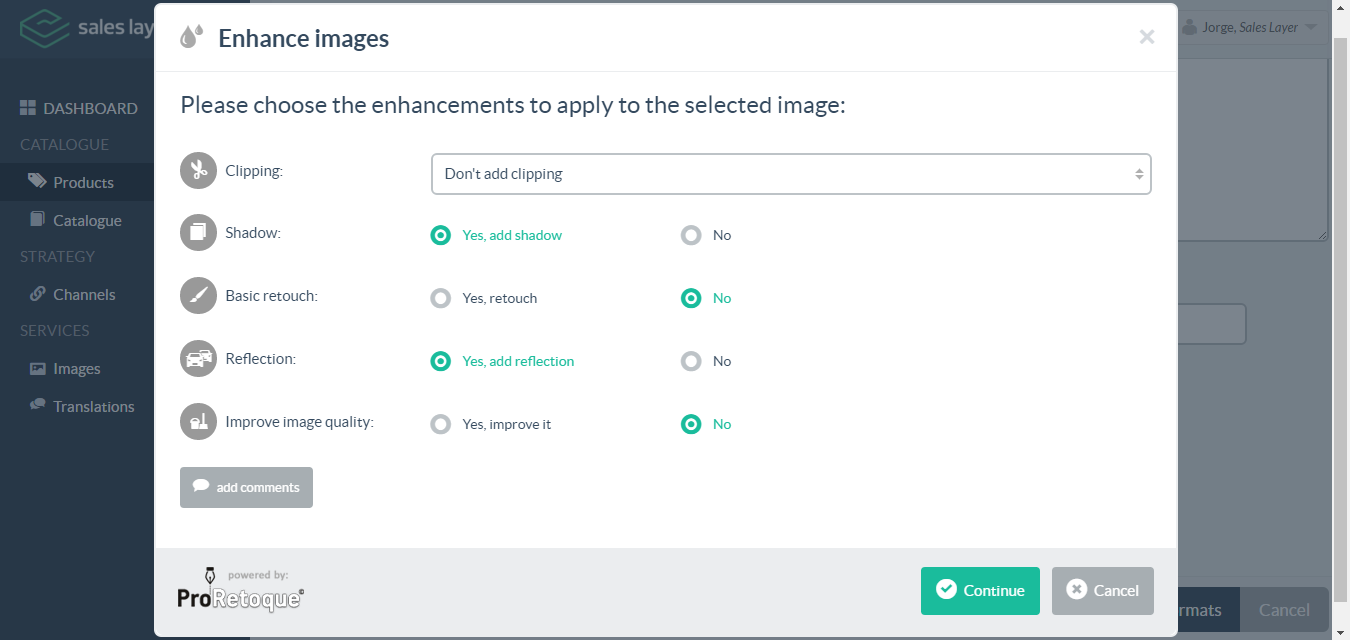 For translating texts into other languages, our partner Gengo has a lot to offer, as it has over 13,000 translators around the world that are available to our Sales Layer customers thereby ensuring product information is correctly translated in the language we need for our potential market, and all without leaving the platform.
Once all this information is ready, you only have to connect Sales Layer with your online sales channels (shop, marketplaces, apps) something that Sales Layer manages automatically and in one single click. From this moment, it only remains necessary to keep the product sheets updated, but even this process will be much more agile, simple and practical than you may think thanks to Sales Layer.
Any questions? We have many ways to help you. We have video tutorials and online assistance from the platform, by telephone or by mail. We are at your disposal to help you manage your different sales channels and make it an enjoyable experience.