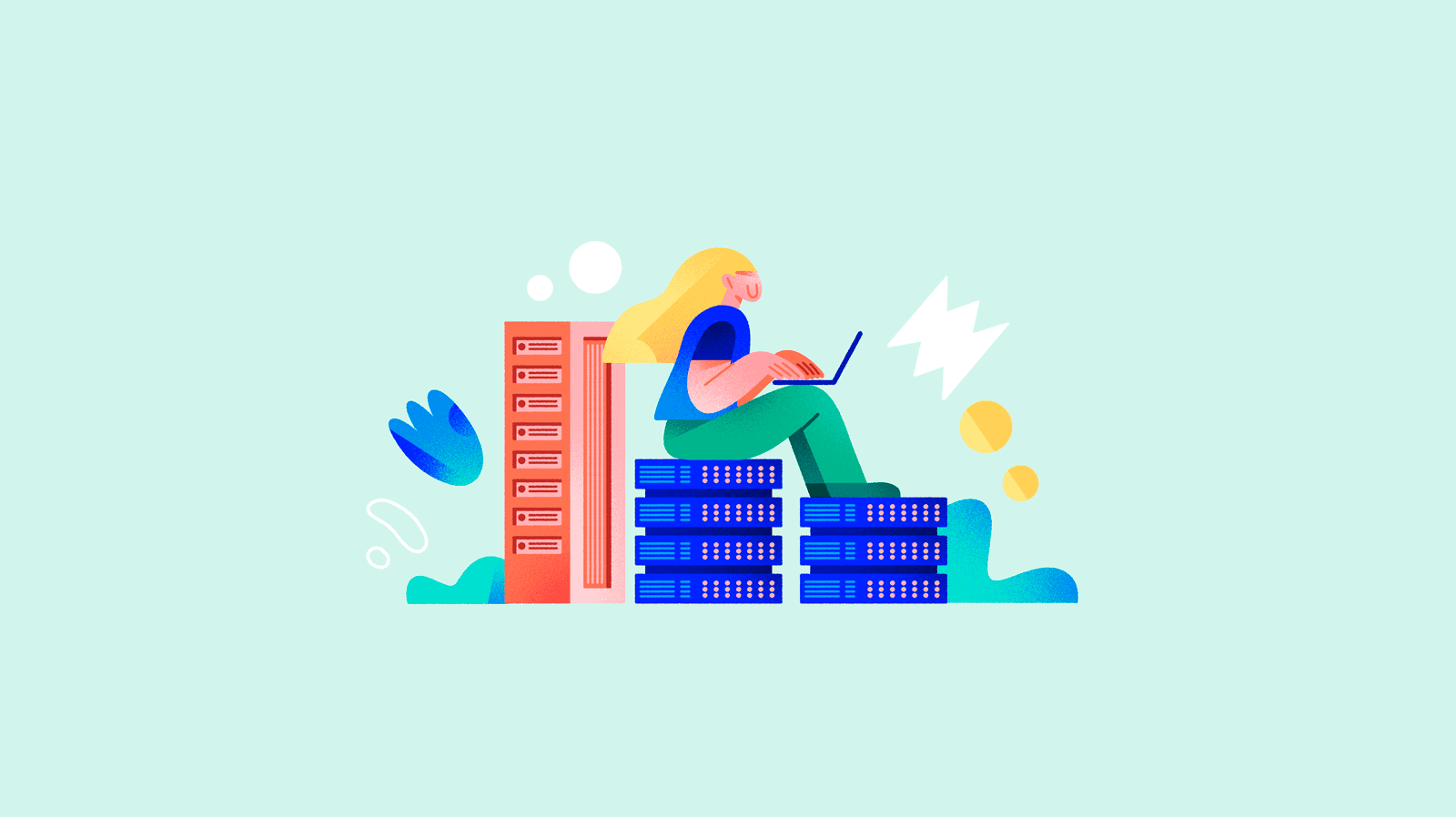 What is ecommerce hosting?
One of the most delicate topics when creating a shop online or a website for a catalog is to choose your hosting package.
Ecommerce web hosts provide services to store (or host) your website. You can think of it like renting a virtual space for your online shop.
Choosing the right hosting plan and adapting it to your needs as your shop or catalog grows is key for your site to work correctly, for you to keep having good traffic, for your customers to be satisfied, and for you to get good brand positioning.
Up to 80% of online consumers never go back to a website if they've had a bad loading or browsing experience. Make sure that you have quality hosting that fits your type of shop or ecommerce platform to avoid greater problems in the future.
Types of ecommerce hosting
First and foremost, we have to distinguish between two big types of hosting:
Self-managed: With this type of hosting, you're in charge of configuring and maintaining your hosting plan. This is usually a less expensive option, but it requires a technical team and systems administrator who are quite prepared and dedicated to this matter each day.
Managed: In this type of hosting, the hosting provider also includes the onboarding, configuration, maintenance, and monitoring of your site – both in terms of performance and in terms of the security measures necessary on a daily basis for your site. This is the most recommendable option for an ecommerce site as it will save you time.
And, in addition to the management scheme of your hosting plan, you can choose from 3 types:
Shared hosting
This is the most popular and cheapest hosting type for ecommerce and websites. It consists of a server that offers parts of its storage space to different websites. Therefore, you'd be renting a little piece of storage on that server.
The problem with this type of hosting is that in reality you share the same IP and a big space with a lot of other websites, which can bring about speed issues.
Advantages:
It is much more affordable.
It is easy to configure.
It can be multi-domain and several websites can be managed at once.
Disadvantages:
You share the same IP with the rest of the websites on that server.
The space is limited because you share it with other users.
There is a greater likelihood of loading problems and errors.
It can negatively affect SEO.
→ Take note: How to create an online shop that instills trust
Dedicated hosting
This is the most expensive option but also the most recommendable for a 100% secure and high-performance ecommerce site.
With dedicated hosting, you are hiring exclusive space for you, and this gives you more control over speed, storage, and privacy. This is also the most recommended method if your online shop is hosted on an ecommerce platform or CMS like Magento or Shopify, where you connect many pieces of product data.
Virtual Private Server (VPS)
With VPS hosting, you also get server space whose size depends on how many gigabytes you want to contract.
Unlike shared hosting, VPS hosting is private and works independently.
How to choose the best hosting for your ecommerce site
When choosing your hosting plan, it's not just a question of taking a look at your pocketbook and the degree of preparation of your technical team.
Analyze all these factors to determine the best hosting plan for your ecommerce site:
Features included
Even in the same hosting category, each provider may include different packs that depend on the size of your catalog or online shop.
Bandwidth: The traffic to your website not having loading problems with your page depends on your bandwidth. Depending on the number of visitors you get per day, you'll have to transfer more information or less information. Be careful because some providers may penalize you if you surpass the bandwidth contracted.
Domains: If you want to host more than one website on your plan, check to be sure that it includes this possibility. This is a useful option for manufacturers or retailers who handle several brand or different shops.
Space: An ecommerce page needs a lot of space because it serves up a lot of product images – and even more space is needed if those images are high resolution. Depending on the number of images that your catalog has, you'll need between 1 and 4 gigabytes of hosting. This is different from saving your product images and data: you could easily store them in the cloud with a PIM system (Product Information Management).
→ Improve your website: How to use heatmaps to analyze your traffic
Speed and performance
As we have already mentioned, the key to good hosting is for it to guarantee speed when loading your website. The majority of online users don't wait more than 3 seconds per page and this is a dangerous way to lose potential customers.
In addition, Google also values sites with a good load speed more positively. A good hosting plan includes performance alerts that tell you in real time about any loading and speed problems so that you can take care of them as soon as possible.
Other aspects that influence in terms of the speed of your ecommerce site are:
Solid state drives (SSD): Using this type of latest generation hard drive guarantees better speed.
CDN (Content Delivery Network): having a CDN increases load speed. This red has different local storage points to save your contents from the servers in cache.
RAM: The more RAM memory, the better performance.
Hosting location: It is preferable for your hosting to be in the same country as where the majority of your online traffic comes from.
→ More tips: How to improve the speed of your online shop
Security
Another basic pillar of your hosting is the perfect security defenses to avoid vulnerabilities. If a user receives a security alert when trying to access your website, you can be sure that he or she will never come back.
Having the necessary security measures ensures that your shop or website is not attacked by hackers, malware, spyware, spam, and other problems that affect your performance, reputation, and SEO.
Therefore, make sure that your hosting plan includes:
Backup copies: You may need them to be made daily, weekly, or monthly. In any event, having copies of your data and pages is key to avoid losses or unwanted changes that cannot be undone.
SSL certificate: This is the fundamental stamp of security online. This allows you to encrypt data and use 'https' in your site address, guaranteeing utmost security for browsing and especially for paying online.
Firewalls, DDoS protection, anti-spam filters, and antivirus utilities.
Technical support
No matter how good it is, your hosting will surely give you a little trouble at some point. That's why it's important to ensure that it includes a technical support service; preferably one that works 24/7, because errors and faults can happen at any time of the day.
In terms of more personal preferences, check to see if your hosting service offers support in your language and if you can contact them via chat or telephone.
→ Are you thinking about using PrestaShop? How to import your products
Customization
As your online shop or ecommerce project will surely grow with time, you're going to want a hosting plan that is scalable and can be customized in terms of the CMS modules you may need.
Choose a hosting plan that won't be a nightmare to increase space and features if you need to do so in the future, or one that is designed for developers if they are going to have to optimize it for whatever platform you need (WordPress, Ubuntu, HTTP/2, etc.).
Some CMS solutions require more complex integration and you may need a hosting plan that specializes in working with Shopify, Magento, or WooCommerce.
Conclusion
As with every service necessary to create or improve an online shop or ecommerce page, there are multiple hosting options available depending on your needs and budget.
Nevertheless, unlike other things that you can adapt little by little or change if you regret your initial choice (like your website's design), your ecommerce hosting plan is a fundamental piece of the puzzle from the very first moment onwards.
Choosing the best hosting option for your ecommerce site will guarantee you security, good performance, and better page conversion rates. Analyze your options well and remember to choose one that is scalable and can be increased as your catalog or business grows.