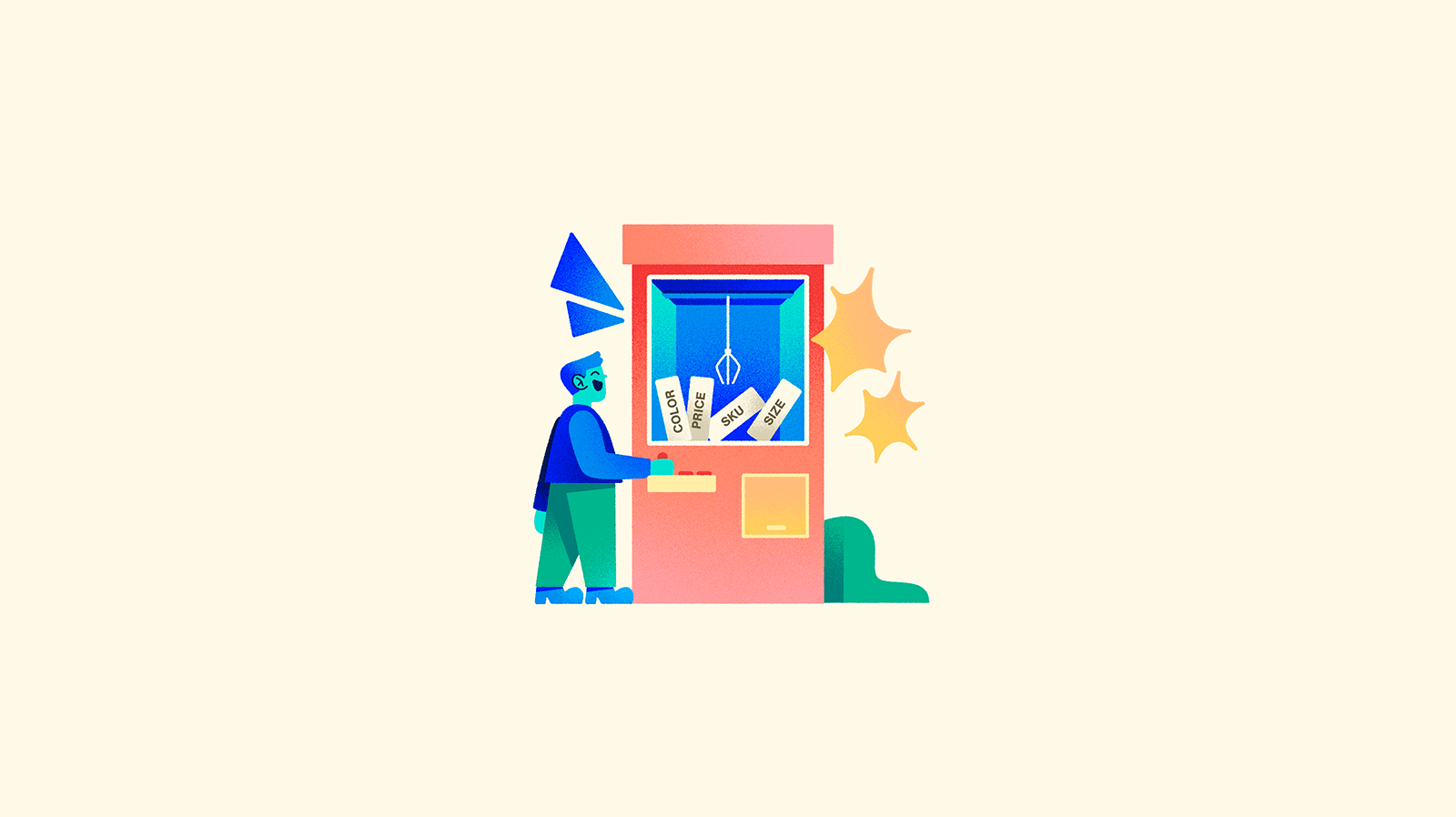 What are product attributes?
The properties used to describe a product are called product attributes. While online stores use Stock Keeping Units (SKUs) as product identifiers, consumers use natural language to define the characteristics of products they seek to buy.
Thus, product attributes influence the customers' buying decisions. They assist online shoppers in finding, comparing, and choosing the product that fulfills their needs.
For example, if a potential customer is searching for stylish office handbags with many compartments, they may find multiple products claiming to meet this need. However, the product descriptions could reveal that one has three compartments while the other has five. Although both claim to have numerous compartments, the quantity attribute provides an objective value and influences the purchase decision of the shopper that they buy the one with five compartments. That is how attributes act as virtual sales representatives on e-commerce platforms.
Our guide defines the various types of product attributes and provides examples, as well as offers advice on how to manage product details and specifications more effectively in e-commerce.
Types of Product Attributes
Product data matters, and it ought to be informative and accurate. There are two different attribute categories: tangible and intangible.
Tangible product attributes define physical characteristics (size, weight, color, etc), while intangible product attributes denote non-physical traits such as prize, quality, aesthetics, etc.
Discussed below are vital aspects of product attributes.
Quality
Product quality is not an attribute that is to be merely highlighted but rather one that must be there in product details. The manufacturing data in the product content would help the retailers to show the target market the quality of items they are selling.
However, only positive reviews, good customer experience, and service would validate the claimed product quality.
Descriptions in the likes of consumer choice, long-lasting, top-rated, etc., are a few examples of quality-related attributes.
Marketing claims
Product features can be used to market and popularize the product among the target audience. But the marketing claims must be genuine. Although fancy marketing statements might capture the customer's interest at once, if the product doesn't live up to customer needs and expectations, retailers could run out of business in the long run.
Negative reviews would mount up, customer loyalty will deteriorate, and repeat business will be lost. E-commerce businesses must write compelling copy without any false statements.
Consider the example below. The marketing claim attributes of the Dettol Handwash are that it is dermatologically tested for the right pH balance and that it renders protection against 100 illness-causing germs.
Innovative attributes
Products such as shoe polish, combs, and many others have been around for generations. But if an e-commerce business wants to stay ahead of the competition, it should innovate these products to generate more online sales. For example, even a simple toothbrush that needs to be manually used can be transformed into an electric rechargeable toothbrush.
To differentiate your product from the rest and attract new customers, focus on attributes such as increased reliability, new product design, extended shelf life, etc.
Verifications
A product's safety credentials are as important (and sometimes, more important) as the product's color or size attributes. These details must be recorded in the product catalog because customers value products that are trustworthy and safe to use.
Descriptions in the likes of organic, GMO-free, ISO certified, clinically approved, etc., are a few examples of verification-related attributes.
Examples of Product Attributes in E-commerce
As mentioned already, all product categories have two types of attributes—tangible and intangible.
Characteristics that can be seen or experienced by the shopper are called tangible. Some of the tangible product attribute examples are as follows:
Color
Size
Weight
Height
Quantity
Material composition
On the other hand, characteristics that are subject to change based on market trends and consumer preferences are called intangible product attributes. Examples include:
Aesthetics
Model
Style
Quality
Durability
Price
Tips to Manage Product Attributes in E-commerce
E-commerce retailers must optimize their product information and specifications because they inform the buyers extensively about their products. This way, you can convert lookers into buyers.
The following are some actionable steps to manage product attributes in e-commerce and online stores.
Collaborate with your team
Product catalog management is a tedious task. It requires data modeling, market research, product knowledge, and documentation. Instead of a single person being responsible for managing the product attributes, taking help from different departments of the retail organization can help maintain the integrity of data.
Build a product attributes list
A product specification list can help retailers discover the most salient attributes of their product categories. When doubts arise while feeding or updating data to a Product Information Management (PIM) system, the attributes list can help record the right information.
Group attributes together
Grouping attributes based on their specificity or characteristics can make attribute management easier. It also helps to find missing pieces of product details.
It's a good practice to group attributes while curating them in the repository itself since most e-commerce platforms also group information to display to visitors. The following are a few examples of attribute grouping:
Physical attributes: Size, color, weight, etc.
Technical attributes: Material composition, water-resistant quality, etc.
Marketing attributes: Product description.
Logistics attributes: Packaging type, estimated delivery time, etc.
Utilize attribute types and rules
To prevent data entry errors even before the first attribute value is keyed in, retailers can define the product data type that a particular attribute can accept. If the entry deviates from the input data type, the field would refuse to accept it. This will prevent data entry errors.
Following attribute data types can be used to maintain data integrity in a data entry exercise:
Text
Number
Boolean
Date
Decimal
Formatted text
Integer
Location
Etc.
Incorporate a PIM system
Relying only on spreadsheets to manage product attributes is unadvisable. There exists every chance for retailers to lose spreadsheets or duplicate another by mistake. Moreover, when retailers have to feed the product catalog to the acceptable product data standards on multiple marketplaces, the data alteration becomes a cumbersome task.
However, with a PIM system like Sales Layer, retailers can import all their documents and files (Excel, CSV, etc.) to a centralized database. They can intuitively edit, manage, and coordinate thousands of variants, fields, tables, and product pages.
In just one click they can share or export product attributes and connect to other marketplaces and get the data populated in the required format. Check out this demo video to see how Sales Layer PIM works.
Read product reviews
Unlike brick-and-mortar stores, where customers get to see the product first-hand, the product images and descriptions act as sales representatives in the e-commerce realm.
One way to measure customer satisfaction and displeasure is by reading the product reviews. If comments mention how the product descriptions are falling short of customer expectations, consider tailoring them to set customer expectations right. Otherwise, these negative reviews will impact your sales negatively.
Suppose a retailer sells sports shoes, and many customers complain about disappointing size and fit. The best way to address this issue is by updating the product data with the brand's size chart against region-specific size charts like in the example below.
Study your competitors
If your company is receiving customer feedback or reviews that negatively focuses on product descriptions, it's wise to take a look at how your competitors are describing their product features and identify any areas for improvement.
Standardize product attributes across platforms with Sales Layer's PIM
Product attributes influence shoppers' purchase decisions by providing exhaustive details regarding the products. There are different types that ought to be managed properly to ensure data integrity.
Sales Layer PIM makes product attribute management easier and better. It gives a centralized database where retailers can create, update, collect, and distribute product data across connected marketplaces. It handles all digital assets and serves as the single point of truth for retailers, distributors, and consumers.
Brands such as BdB that used to take two months to create catalogs are now able to do so in two weeks with Sales Layer PIM.
With that in mind, why not start your free 30 day trial today?