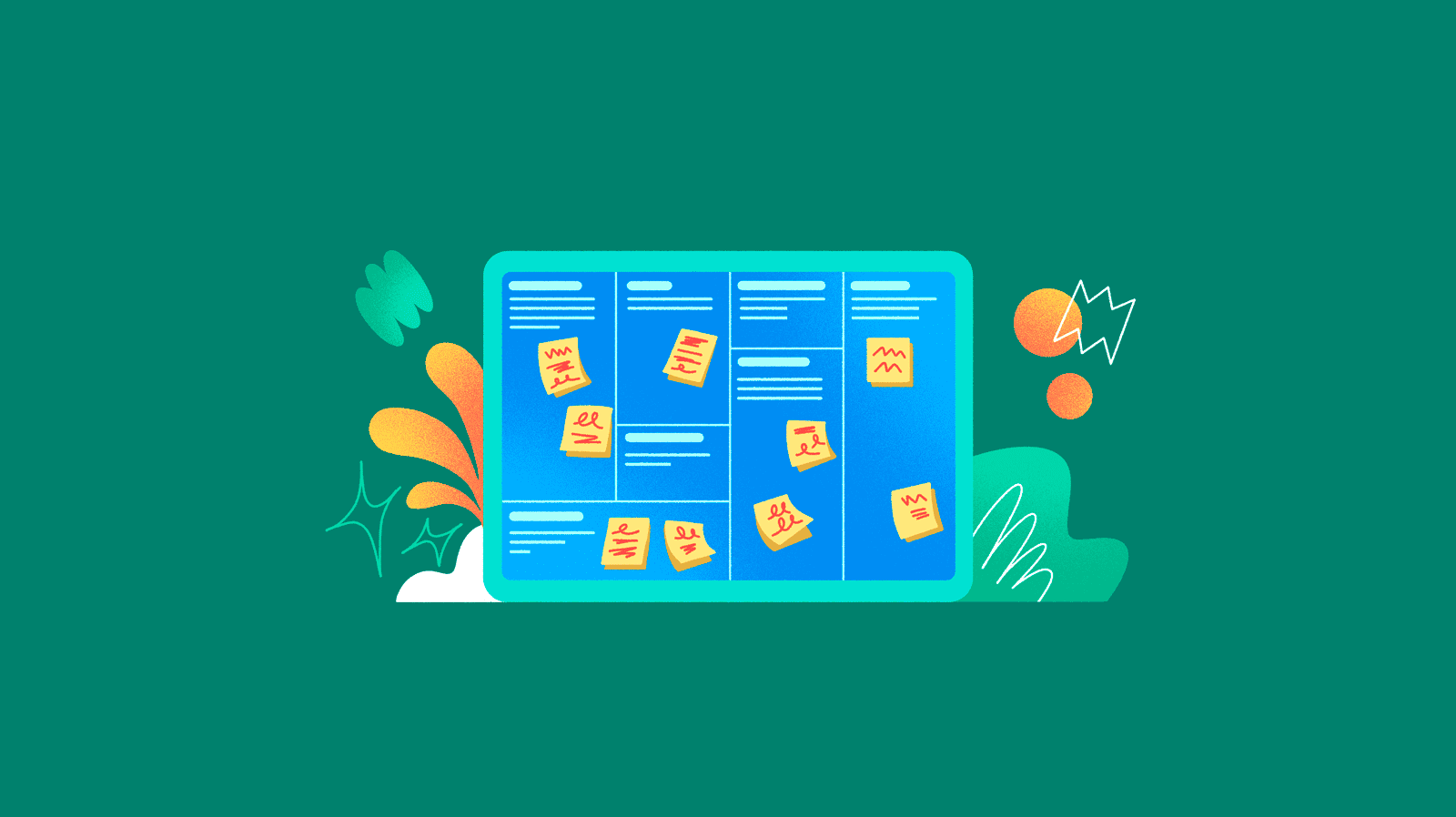 What is the business model canvas?
The business model canvas is a strategic approach that is applied to developing new businesses or analyzing the state of an existing business.
It consists of a template with 9 building blocks to be completed and compared on the value proposition of the company's products, its infrastructure, finances, and clientele.
The business model canvas was defined by Swiss theorist Alexander Osterwalder in 2005, and since then it has continued to inspire new strategic models for business analysis. Amongst others, the business model canvas has also been useful to develop ecommerce businesses.
The building blocks of the ecommerce business model canvas
The business model canvas scheme is so versatile that it can be adapted to the nature of any business; however, it is especially interesting for companies that sell products and focus on ecommerce.
Using a business model canvas template, it is possible to analyze the current profitability of a business and the opportunities that exist to expand it to other channels like ecommerce.
→ The full guide for Ecommerce business models
The 9 building blocks of the business model canvas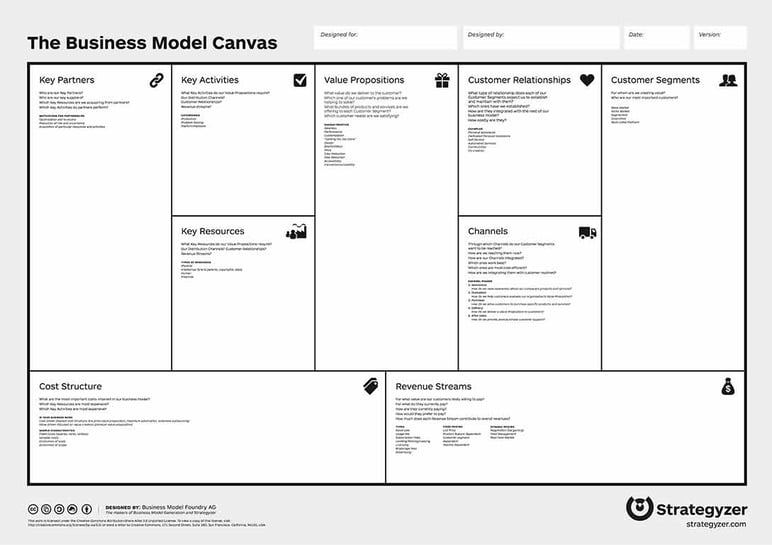 Key activities: The activities that the company should undertake to achieve its value proposition and company objectives. For example, increasing the efficiency of production or distribution and reducing costs. Or, in ecommerce, strengthening product information to improve the shopping experience and drive up the conversion rate.
Key resources: The human, technological, and financial elements necessary to offer value to the customer. This includes all the physical infrastructure (warehouses, offices, shops, etc.), the technical equipment (hardware and software), the staff along the entire chain, the intellectual property, and the financing.
Key partnerships: The alliances formed with partners to strengthen the services the business offers. These can be strategic partners or partners linked to the supply chain, like distributors or providers.
Value proposition: All the services or products offered by the company, the way in which they are offered, and how they meet the needs of the customer on a quantitative (price and function) and qualitative (shopping experience) level. For example, in ecommerce the value proposition is not just the product but also the ease with which the customer can find and buy that product.
Customer segments: What buyers is the company aiming to reach and how are those buyers divided into groups? This improves the effectiveness of business actions. An approach can be massive in nature (aimed at a large market), based on a niche (a specialized market), segmented by sociodemographic groups, or it can be a varied approach with multiple groups, markets, and platforms.
Customer relationships: Maintenance of clientele to encourage loyalty through customer service. The business can offer anything from fully individualized, custom assistance to helpful materials, self-service guides, or even generate a customer community in which resources are shared among the members.
Channels: Through what channels is the product offered to customers? These can be the business's own channels or those of the partner network. This also involves the brand's communication channels when cultivating its image and sales proposals – from social networks and advertising to articles in the media and user reviews and ratings.
Cost structure: The financial structure that will be applied by the company. What are the fixed and variable costs of the strategy and is the aim to reduce costs or pursue value despite the costs incurred?
Revenue streams: The ways by which the company earns money with its customer segments. The models for obtaining revenue can be the direct sale of services or products, fees based on use, subscriptions, renting or assignment of resources, commissions, licenses, and advertising.
How to prepare an ecommerce business model canvas
Preparing your own business model canvas is as easy as printing out or putting the base template on a large panel and filling in all the necessary information.
As it involves a lot of different departments of the company, the normal thing is for a business model canvas to be developed collaboratively, with contributions by all assigned participants that guide the company to the final plan.
As this is something quite visual, the business model canvas offers a clear strategic view that can act as a starting point for expanding upon more specific issues.
And the fact of the matter is that this original model with 9 building blocks can be personalized according to your business type in relationship with issues that are closer to your industry and sector. For example, you can emphasize online sales channels, an omnichannel approach for ecommerce, the supply chain to distribute the products you make, and obtain the products you offer in your retail catalog from providers.
The ecommerce business model canvas allows you to consider specific scenarios like launching a product or dealing with an online positioning problem.
→ Case study: Here is how Bobux improved its online strategy with Sales Layer
An example of an ecommerce business model canvas
We are going to briefly develop the main points of a business model canvas for a hypothetical ecommerce business selling tennis products.
Key activities: The brand needs to position itself digitally as one of the leading manufacturers in its sector. To achieve that proposal, it needs to improve its positioning in Google, diversify its presence on several online marketplaces, increase its catalog at a good pace to stay competitive, and improve its customer satisfaction. Its main activity to achieve all that will be to implement a PIM solution (Product Information Management) to automate catalog management, enrich product content, and stand out on all channels and for buyers.
Key resources: To apply this ecommerce strategy, the brand needs to invest in the right management software (or start by trying it out for free with Sales Layer). That software may require, apart from the PIM solution, a good ERP, CRM, or CMS system (an ecommerce platform like Magento or Shopify). Also, there should be staff members who are trained on these systems or the resources necessary to train them.
Key partnerships: The manufacturer will have to analyze what distribution and retail partners are the most interesting for its products to reach the maximum geographical scope and the most customers. As these are tennis-related products, the company will seek distribution partners with a broad warehouse network in the target market and which target key retail chains like Foot Locker or Sports Direct.
Value proposition: To shine in its business model, this tennis brand has to offer product quality and a solid, trustworthy brand image. It will need to build its public strategy (design of all online resources, including a website and social networks) and ensure that the user experience is uniform from an initial post or the online store to the final purchase.
Customer segments: Let's say the manufacturer has decided that its market of interest is the national market, but there could have been a study revealing the autonomous communities in which tennis is most popular or which have more training academies. The brand can aim its goals towards those segments and also towards customers of the gender, age, and region that, on average, are most interested in tennis products.
Customer relationships: This manufacturer does not sell directly to the end consumer but it can develop help and query channels online, as well as materials to establish a community. For example, inspiring tutorials and videos alongside great national tennis figures or academies.
Channels: As it is focusing on an ecommerce strategy, the brand will surely decide that it needs its own online shop. It could also need marketplaces like Amazon and even native purchases through social media platforms like Instagram and Facebook. For promotion channels, the brand will study which ones are most used by its customer segments.
Cost structure: The company analyzes the costs stemming from implementing a technical structure that is aligned with the development of an omnichannel ecommerce strategy. It also analyzes if it will need to hire new, specialized employees or if it is more profitable to train its current team in new tools. With ecommerce, it is important to study the maintenance costs and the costs associated with generating enough inventory to supply the market.
Revenue streams: The brand hopes to obtain profits from all the online sales channels, but it can foresee which ones will be more profitable and, therefore, where it should concentrate most of its efforts. If there is more traffic on marketplaces than on social networks about tennis products, the chances are that the brand's greatest revenue stream will be from positioning its products well with Foot Locker and Google rather than writing posts on Twitter.
→ From zero to hero: Why is digital the future of manufacturers and retailers?
Conclusion
Like all strategic approaches, the business model canvas has its pros and cons. Amongst its advantages, it is a very visual and synthetic model that all company departments can use to have a reference on the business's development, its objectives, and the means that are being used.
It is important to choose well the participants who will provide information to the business model canvas to avoid a saturation of proposals. Also, contributions must be kept brief. A business model canvas aims to highlight key ideas, not to develop each one of its stages in depth.
An ecommerce business model canvas can be a good starting point if you want to analyze the multichannel strategy to create, the online sales channels to develop, and how to take the rights steps towards your business's digitalization.