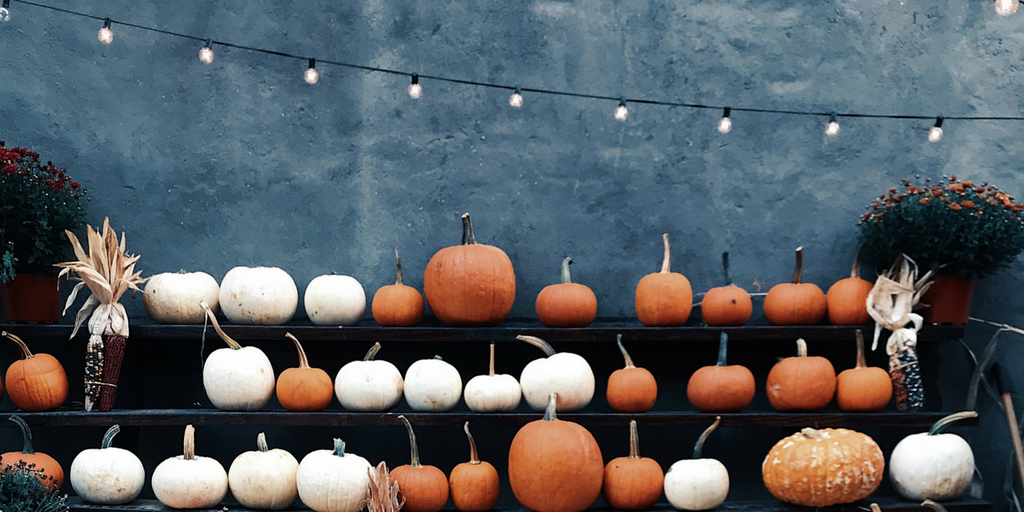 We're going to give you the scare of your life, but don't worry, we're not going to put on a Donald Trump or a vampire mask! It's time to get ready for Black Friday! Think it's too soon? In e-commerce, you should know by now that you need to start preparing for a new season well ahead of its launch dates.
The number of searches about Black Friday starts increasing around the 23rd of October. They intensify between the 30th and the 31st of October and they peak on the key date in November. Don't be afraid of beginning to plan now - why not launch a Halloween-themed campaign meanwhile, if you want to try out a few strategies?
Since we don't want to scare you any more and we certainly don't want to scare your customers as you fine tune your online store, we thought we might remind you about the different steps that are absolutely vital if your autumn campaign is to triumph on Black Friday. And we're going to provide you with a costume that everybody can afford - no complicated cosplays that are exclusive to elite companies: PIM is useful for every e-commerce and any type of business (you can start with our free trial period!). Don't let them mistake your costume for laziness, sweep away the cobwebs from your catalogue and take the lead in the season that has the most online sales of the year!
What is Your Campaign Goal?
The first thing you need to do is to set your campaign target. Each goal requires different actions, even if you think that everything will be fine if things have gone well so far.
You want to top last year's sales: great, but how are you going to do it? Add numbers to it, so it's easier to measure how much your effort and investment should grow, what actions you need to take, and then compare your predictions with the results.
What is the most promising niche for you? What's your next challenge? It may be a demographic group, a geographical area, a type of product that's happening this year or something new you want to promote.
Your marketing target will also have to be aimed towards these goals, and it is best to study and prepare it now so you can launch it as soon as Halloween is over: in the online shopping world, there are no hangovers anymore, just one continuous party, just like the famous 12 pubs challenge in Ireland.
Your Campaign's First Steps
Tackle your next stage one step at a time: What products are you going to promote in your Black Friday campaign, how much stock do you have, what do you need? You need to think both about tangible things (your products, the distribution network, maybe you'll need extra backup for all those deliveries you're going to have to make) and intangible things: your way of promoting the catalogue, the online shop and the discounts linked to Black Friday.
Study the SEO of that proposal, because trends and Google searches change each season. Last year's analytics won't work, but the truth is that this summer's analytics won't work either.
When you've done your homework, you can create the visual and graphic content: newsletters, emails, banners, pop ups, coupons, illustrations for the social media, blogs, agreements with influencers, paper catalogs…
Are you going to incorporate e-commerce trends? For example, can you imagine offering an Augmented Reality app in which the customer can test how something fits on them… but before they get that far, a little ghost appears on screen by way of a Halloween joke? Or shoppable videos or photographs with influencers in your niche, or with some material of your own if you have a big enough budget? Think about what sort of sensation and image you want your brand to be associated with, and what media most of your audience use (depending on age and purchasing power).
Finally, all that's left to do is schedule the dates and times, consider whether you will concentrate your sales effort in one single day as an exclusive or if you are going to extend Black Friday through the weekend (until Cyber Monday) and, very importantly, how are you going to study sales growth and purchase satisfaction during those days afterwards?
Your Priorities
How do you avoid a paperwork overload filling in all those product sheets, or discovering your catalogue is full of cavities - all those horrible content gaps and errors?
Don't lose time the way you did in previous years or campaigns. By planning and centralizing everything with a PIM system, you avoid having to once again spend time on minor tasks and you can differentiate between what is repetitive and what can be automatically resolved, while you dedicate the bulk of your effort to new tasks.
To achieve this, any company with an already large or growing catalogue volume can rely on a product information management software. That is, a PIM system, such as Sales Layer. With a PIM you avoid having to collect, sort and process the information on each product and having to add and synchronize last-minute updates.
If a product runs out of stock before or during Black Friday fever, a warning will appear instantly, and you won't have frustrated customers buying something that you can't sell them anymore. If you are organized with file-sharing systems and if each department is clear about its duties, you'll have hundreds of properly synchronized product sheets and technical data.
Activate permissions and put someone in charge of information in each department, to maintain order and know who's responsible for filling in each field. Without needing to share Excel spreadsheets and losing fields during the process!
With enough time in advance, have your visual improvement and translation teams already assigned, whether through external or your own in-house services. The important thing is to meet dates and delegate coordinated tasks, so that not only does everything arrive on time, it's ready even earlier.
Keep track of quality throughout your entire product catalogue work pyramid, in each field, section, channel and team member, with tools such as Quality Report.
In the end, all that's left will be the review of what state the online catalogue and products are in and whether the person responsible for each task has given the go-ahead for everything and the strategy can be launched. Either all at once, at a scheduled time and opened and announced to the general public, or in phases, first to exclusive clients or people who have gone through some manner of signing-up process or customers who have a coupon. The PIM automatically activates all this on the different channels and countries in which each product is put on sale.
Measuring Your Results
Quality is what differentiates every business, but you should never lose sight of the numbers (sales, visits, completed and abandoned purchases, returns, reaction seconds on your online store). Constantly keep track of them with your favourite tools (link to SEO apps). Do this before you launch your Halloween or Black Friday campaign, to see the interest that is generated gradually, and keep analysing your figures during the campaign and also when it's over, to compare them and draw conclusions.
It doesn't matter if sales decrease during your Halloween or Black Friday campaign: the important thing is that you have all the information, so you can analyse why it happened and how you can fix it next time… which is already just around the corner… Can you hear Mariah Carey and those sleigh bells ringing?