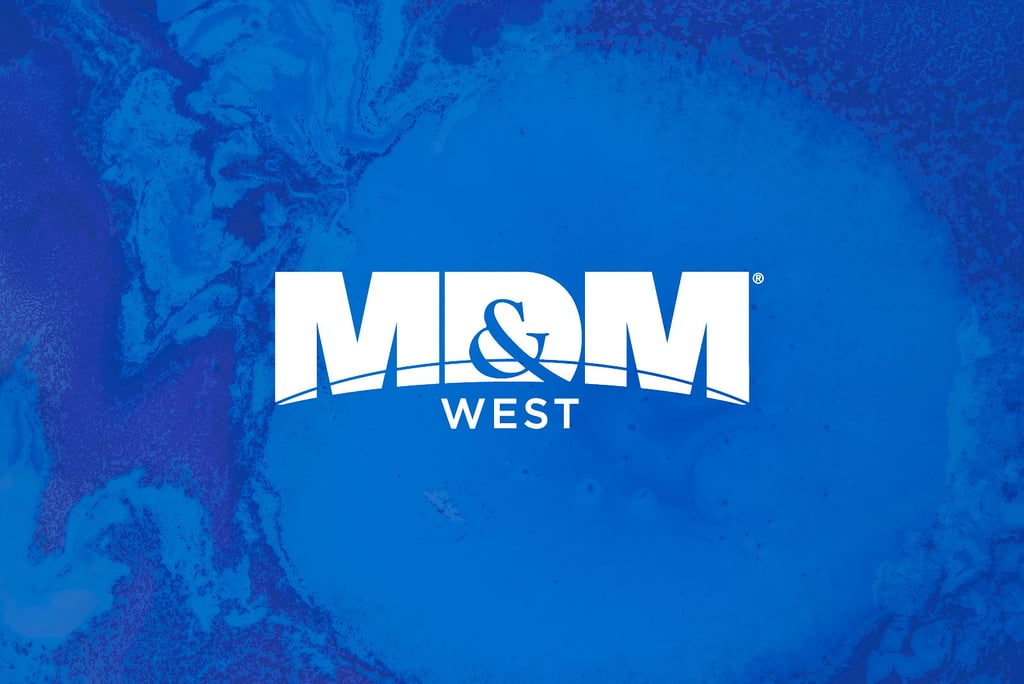 One of the key dates in the calendar of any company dedicated to medical technology or medical supplies is approaching. MD&M are the most well-known acronyms in the medical trade shows sector, and for good reason: MD&M West is the largest medical supply trade show in the United States.
Have you thought about your company attending MD&M as a participant again or are you thinking of going for the first time? Then you need to know everything about the most important trade show for companies in the medical technology and medical supplies sector, and that's why we provide you with the key tips so you do not miss anything as an exhibitor or as an attendant:
When and where does the MD&M take place?
In 2018, the MD&M will be held from February 6-8 at its usual headquarters in Anaheim, California. The opening hours of the venue will be from 10 in the morning until 5 in the afternoon, continuously and intensively. The price per booth depends on the size you want to hire, starting at 5,650 dollars.
The MD&M trade show is open to any company in the technology and medical supplies sector, and its attendees are a diverse bunch, from small companies to big international brands such as Medtronic, Johnson & Johnson, Phillips, BD Medical or Siemens.
Who is MD&M for?
The main focus of attention of MD &M West is medical technology, so it is a very interesting medical supplies trade show for companies specialized in medical equipment, medical supplies or in the development of new medicine technologies, from the prototype phase to new manufacturing processes.
MD&M is a unique opportunity to meet both direct competitors and professionals and experts in the medical technology sector, as it brings together more than 20,000 engineers and executives who share their experience and discoveries in roundtable discussions, debates, presentations and numerous activities for attendees of the MD&M trade show.
According to MD&M West figures, 90% of the attendants buy a product or service at the trade show, and it is an excellent opportunity to expand your business network on the west coast of the United States, since 74% of the attendees are from California.
- Interested in visiting any other medical trade shows? Discover the best fairs in 2018! -
What is the exhibition area of the MD&M trade show like?
The MD&M West trade show evaluates the credentials of any company interested in hiring a booth or space in its exhibition area, to discover the latest and most cutting-edge ideas both for the attending public and visiting professionals. The exhibition area is divided into 3 areas, where you can hire a booth (and be as creative as possible with your booth: here we show you how!).
If you are interested in presenting prototypes of technology or medical devices that your company has developed, offer demos and tests to potentially interested customers, find distributors or partners for production supplies in the United States, the MD&M trade show is the perfect setting. No company is missing the opportunity to be up to date in the medical technology and medical supplies field. Discover new research and business directions in each sector: new materials and medical components, solutions and security systems, smart sensors, packaging...
MD&M encourages companies in the exhibition area to be as participatory as possible, and you can give presentations to the public, with any interactive activities and fun marketing initiative that comes to mind.
In addition, if your company goes to MD&M as a participant with a booth in the exhibition area, you will also have free access to learning activities for professionals: educational sessions at the Tech Theater, where experts have the latest medical technologies, project presentations, with draws and other more informal and relaxed events.
What's new in MD&M?
Expect excellent conditions for companies participating in the medical technology and medical supplies exhibition at MD&M West. The MD&M organizes 5-minute express meetings and a process to allow participating companies to establish deeper contact with other companies that may be of greater interest to both parties, both when exchanging knowledge and experience and to cultivate possible professional relationships. Nervous? You will be supremely well prepared with our tips for effective networking at business trade shows.
The top theme in the medical technology and medical supplies trade shows is 3D printing, which takes center stage at the MD&M West. Conferences, exhibitors and prototypes that can be tested by attendees revolve around this new 3D technology, so if your company has incorporated this technology into their processes or is interested in it, MD&M is an ideal place to share your experience and findings.
- Get your marketing checklist ready before MD&M begins! -
Ready to attend the best technology and medical devices trade show of the year? We make it easy for you by helping you have your product catalogue organized and to be able to save time to devote to the preparation for your next MD&M.