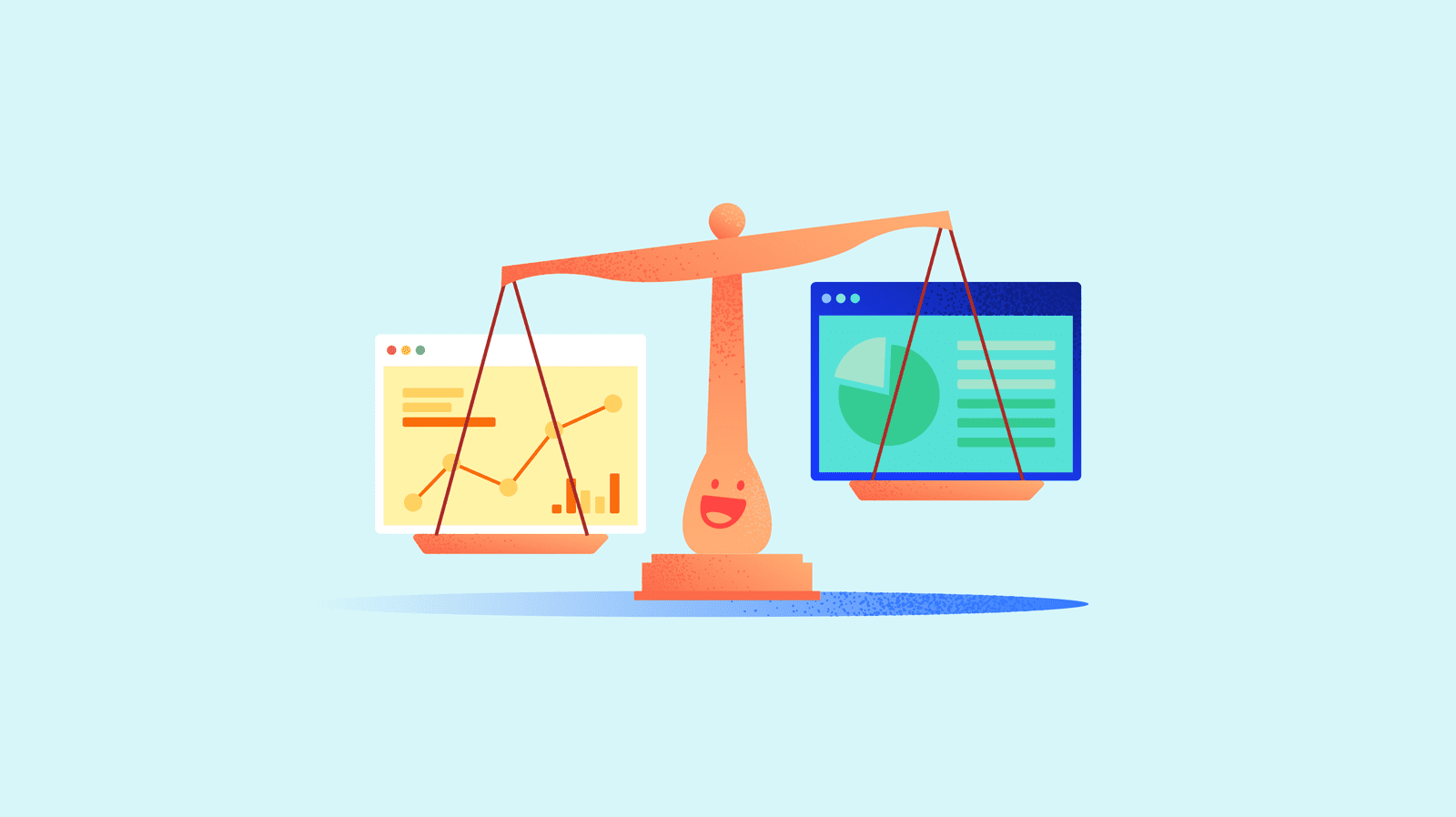 Even after carefully investigating what a PIM (Product Information Management) tool is all about, you may still find it easy to confuse PIM with other company programs, especially if it's the first time your marketing team is preparing to use PIM software.
How does a PIM differ from other information and data storage systems used on a daily basis in an ecommerce business?
Here we'll explain everything about the features of the various product information resources for ecommerce, to prevent confusion.
PIM vs. ERP
First of all, we must point out that a PIM is not the company's ERP (acronym for Enterprise Resource Planning).
Each of these systems has different functions, even though they are part of the same business network and share some common data. The PIM needs to obtain from the ERP important content related to the products that a company sells, or to the brand identity in the case of marketing materials (logos that can be used to create a catalog, app, web page, etc.)
Therefore, although via integration the PIM feeds from the ERP, it can also obtain data and content from several other sites: spreadsheets, FTP, external repositories...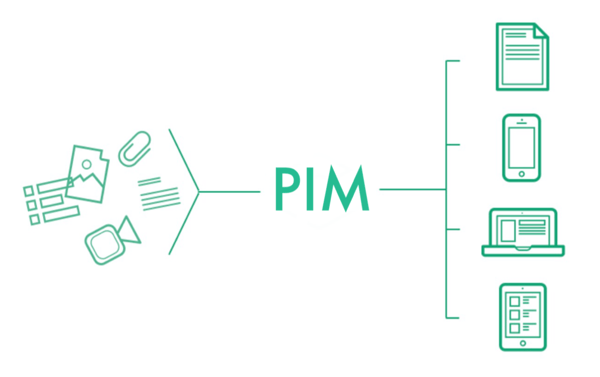 The ERP system carries out all the central management of the company and is connected to all the other services, processes and software in the company, including the PIM.
That is why the ERP is the heart of your company, receiving all the information from all departments. It's a system that allows a total integration with all stages of the business, automating the data management processes as well as analyzing and obtaining reports.
PIM, on the other hand, is a system focused exclusively on product content. It can also obtain data from the ERP in an integrated and automated manner, and it ensures your catalog information is always kept up-to-date on any channel, without any errors.
Data hosted in an ERP
Product manufacturing
Inventory
Warehouse and distribution network
Human resources (employees and recruitment processes)
Company accounting
Customer database (the key to CRM or Customer Relationship Management)
Big Data and business performance analytics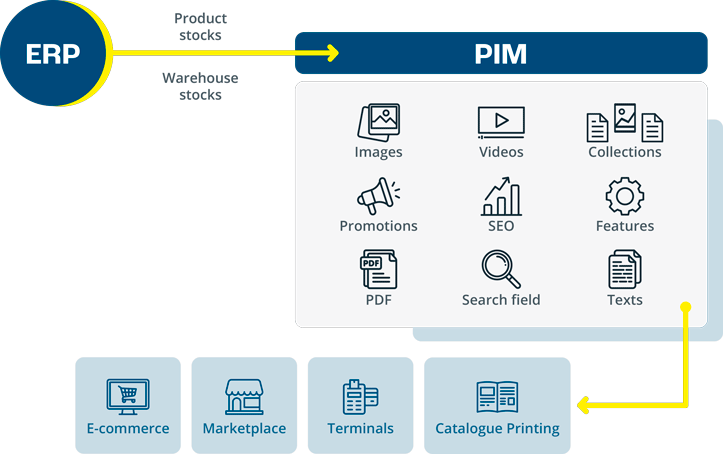 Other management systems that should not be confused with PIM
A PIM is NOT an Inventory Manager
An Inventory Manager is responsible for overseeing the warehouse materials, supplies and catalog stock levels.
The Inventory Manager will send updated information about product stock and the current status of orders and warehouses, a very important class of information for the purpose of keeping product availability data updated across all the physical stores, online store, marketplaces and other sales channels.
A PIM is NOT a CRM
Customer Relationship Management covers the administration of the customer database, a basic system for customer service teams.
This section deals with the management of buyer data. However, the PIM also plays an important role in customer acquisition and loyalty, as the quality product information and content you can get from using a PIM will positively influence the browsing and buying experience, and therefore the traffic generation and sales conversion of your business.
→ Learn more: How a PIM can help your customer service team
A PIM is NOT a DFM
Finally we have the Data Feed Manager, a cousin of the PIM, an extension that's responsible for spreading a presence of the company's catalog across the various shopping platforms and search engines, as well as servicing e-marketing campaigns.
A PIM is able to provide information to DFM and it synchronizes product information, orders, sales and stock across different marketplaces.
For example, suppose you are a publisher of children's books. Through a DFM you get your titles to appear correctly on Amazon, Waterstones or Google Shopping.
Making sure the information is appropriate and of good quality in all of these is a prime accomplishment of the PIM. Moreover, a good PIM system already includes pre-configured connectors for marketplaces, which will make your implementation of a multichannel sales network more streamlined.
Automating your product information is the big advantage of PIM. With your whole catalog hosted in the cloud, you can edit as a team, set permissions and share your products to anyone, anywhere.
Advantages and functionalities of a PIM
Now that you know how different a PIM is from other business resource management tools, and how important it is to provide a high-quality product catalog, start counting all the benefits it will bring to your company from day one:
Automated product information management
Management of related product content: audiovisual resources, graphics, text files, media assets...
Unidirectional or bidirectional connection with other systems
Direct connectivity with digital and printed catalog design programs
Export of selected data fields in various file formats
Automated connection with online marketplaces (Amazon, AliExpress, Walmart...)
Automated connection with CSM or ecommerce platforms (Shopify, Magento, BigCommerce...)
Creation of instant catalogs with public or private access (an innovative feature available in Sales Layer)
Data quality analysis and detection of errors and omissions
Translation of product information
Still not sure if PIM technology is right for you? We can help clear up any doubts you might have, with a guided demo, or a free 30-day trial.