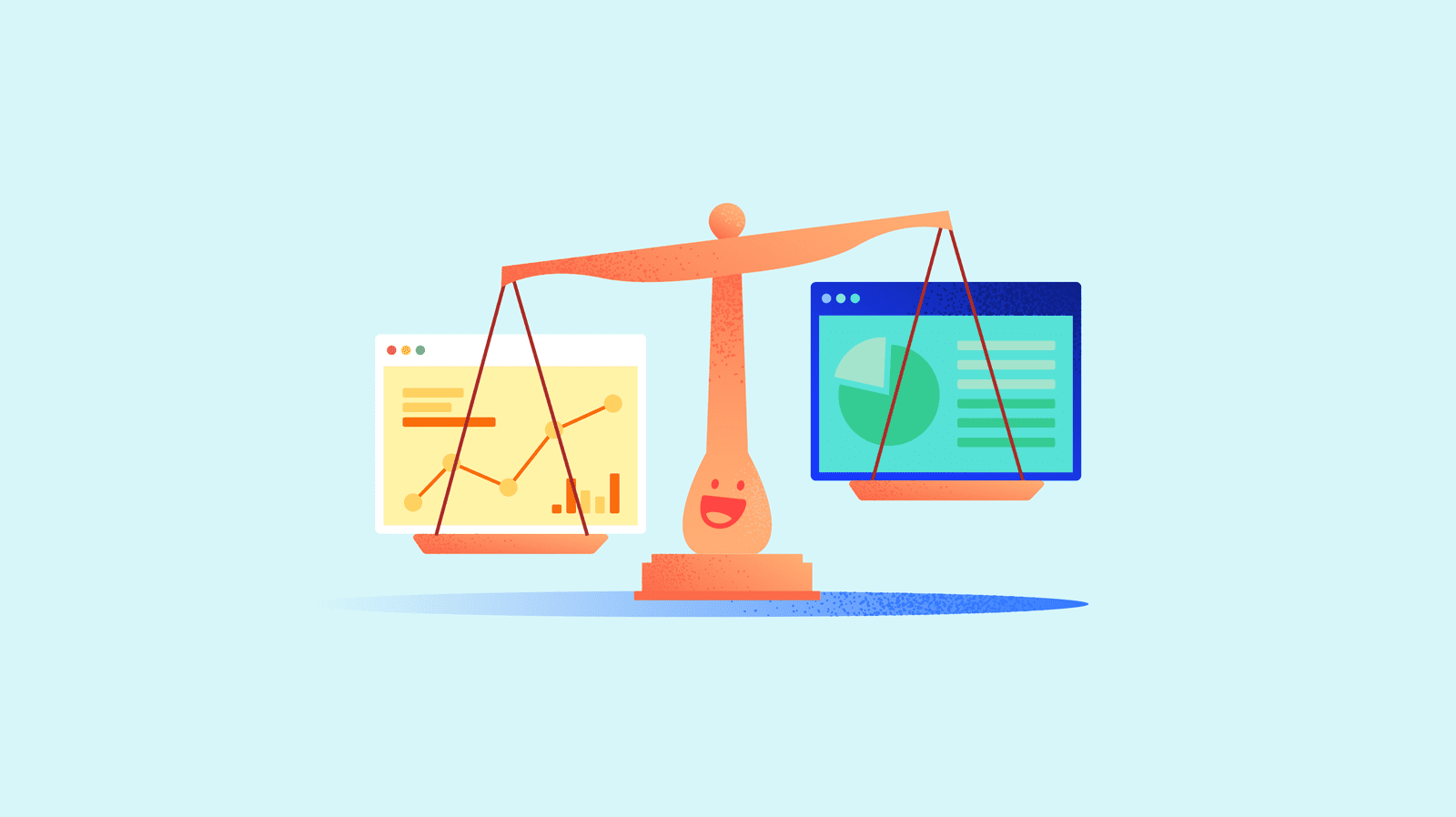 When researching systems to implement, it can be easy to mistake a PIM (Product Information Management) for a range of other tools, particularly if your marketing team hasn't used one before.
By understanding the unique capabilities of a PIM in comparison to other information storage systems, such as an ERP, it's possible to demystify the differences and make an informed decision on which system best suits the needs of the business.
PIM vs. ERP
A PIM and an ERP (Enterprise Resource Planning) have distinct functions that differentiate them from one another, despite being part of the same network and sharing some common data.
What is an ERP?
An ERP (Enterprise Resource Planning) system is software that manages and automates a company's core business processes. This can include financial, supply chain, and inventory management. It acts as a centralized hub for all the information and processes within your company and can connect with all other systems and software you use.
What is a PIM?
A PIM (Product Information Management) platform is solely focused on managing, optimizing and distributing product data. It can be integrated with an ERP to automate and streamline the process of obtaining product data from multiple sources and external repositories. Sales Layer PIM ensures that your product data is accurate, consistent and up-to-date across all distribution channels.
How are they different?
While an ERP system manages and automates your company's core business processes, a PIM system is a specialized software that focuses on the optimization and syndication of your product data and content. Sales Layer's PIM ensures that product information across all channels is high quality and error-free, enhancing the customer experience and increasing sales.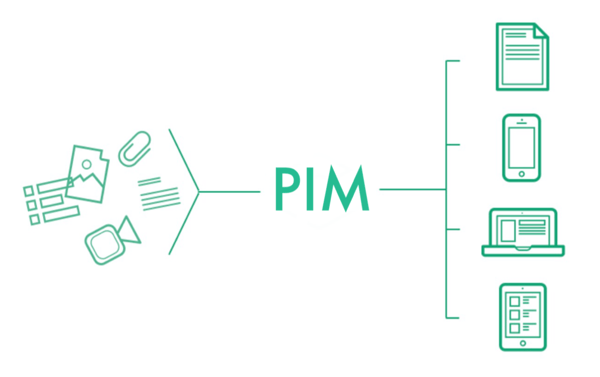 Both systems manage huge quantities of data, with different key focus areas.
Data hosted in an ERP:
Product manufacturing

Inventory

Warehouse and distribution network

Human resources (employees and recruitment processes)

Company accounting

Customer database (the key to CRM or Customer Relationship Management)

Big Data and business performance analytics
Data hosted in a PIM:
Product data such as name, SKU, pricing, weight

Images and videos

Product attributes such as size, color and material

Categories and hierarchies

Product variant information

Related products and cross-selling

Specifications and technical data

Certifications and compliance information

Inventory and stock levels

SEO and metadata

Reviews and ratings

Warranty and support information

Packaging and shipping information

Marketing and promotional materials

Industry-specific materials such as nutritional information or safety data sheets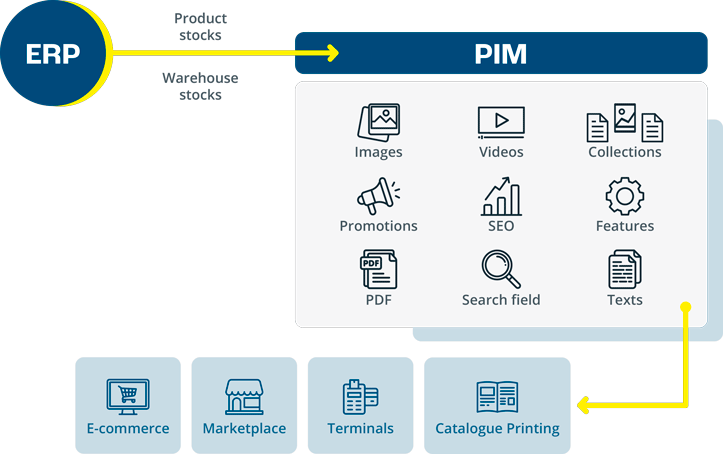 PIM vs Other Management Systems
There are several other data management systems that are distinct from a PIM.
What is an Inventory Manager?
An Inventory Manager plays a crucial role in ensuring the smooth and efficient running of a company's warehouse and inventory systems. They are responsible for overseeing materials, supplies, and catalog stock levels, and for communicating updates on stock and order status across all necessary departments and channels.
What is a CRM?
Customer Relationship Management (CRM) is a vital company function that enables companies to manage their interactions with customers and prospects. CRM systems are responsible for the administration of a customer database, providing customer service teams with a centralized view of customer data. It can also play a crucial role in customer acquisition and retention by leveraging the quality product data provided by a PIM system. Using a PIM and CRM together enables businesses to improve the browsing and buying experience for customers and effectively drive growth.
What is a DFM?
The Data Feed Manager (DFM) is an extension of a PIM system. It is responsible for distributing a company's catalog across multiple platforms and search engings. DFM utilizes information from your PIM to synchronize product information, orders, sales and stock across different marketplaces. A good PIM system will already include pre-configured connectors for marketplaces, making it easy to implement a multichannel sales network.
Automating your product information is the key benefit of PIM. By hosting your entire catalog in the cloud, PIM allows for collaborative editing, setting of permissions, and easy sharing of products with anyone across any location.
Advantages and functionalities of a PIM
Now that you understand the unique capabilities of a PIM system and its significance in maintaining a high-quality product catalog, you can start counting the numerous benefits it can bring to your company from the moment of implementation.
Automated product information management

Management of all related product content such as audiovisual resources, graphics, text files and media assets

Unidirectional or bidirectional integration with other systems

Direct connectivity with catalog design software

Ability to export selected data fields in various file formats

Automated connection with popular online marketplaces such as Amazon, AliExpress and Walmart
Automated connection with eCommerce platforms such as Shopify, Magento and BigCommerce
Creation of instant catalogs with public or private access

Analysis of data quality to detect errors and omissions

Translation of product information across multiple formats and languages
Don't miss out on the benefits that a PIM system can bring to your business.
Get started today with a 30-day all-access trial of Sales Layer and experience the difference it can make in managing and distributing your product information.