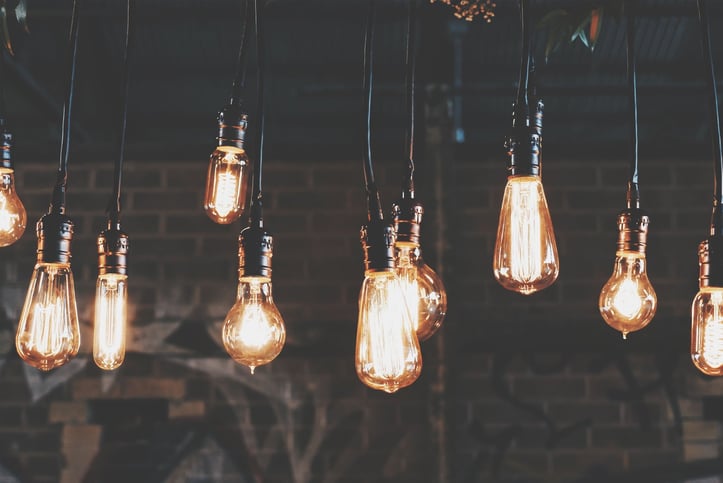 Trade shows can remind us a lot of the experiments or the drawings we did in school as children. How can we grab the attention of customers in a sea of booths that are all quite similar to our own? How do we ensure that our fantastic business or our great idea doesn't go unnoticed among all the other business and ideas in the exhibition? How did that team of marketers make the most attractive booth, like the miniature volcano spitting lava that all the teachers applauded in school?
We can share the secret of the successful booth at any fair: it all comes down to effort. Copy what everyone else is doing with little or no creativity and the only certainty will be that nobody will stop at your booth. You don't want to be that classic 70's salesman, smiling and shouting about the benefits of an amazing vacuum cleaner: don't brag too loudly on social networks. You have to show a certain level of mystique and appeal so your booth attracts attention and is distinctive.

Here we outline the key trade show booth ideas that will make you the star of the next trade show your company attends.
Augmented Reality
Virtual or augmented reality glasses and booths are expensive but well worth the investment for a good design exhibition booth. Customers walking through a fair are tired of reading posters and pamphlets: give them something to do that's exciting and requires interaction, and you will stand out from the crowd. Replace your catalogues with iPads and monitors with videos that catch the attention of passersby. Have printed materials or USB keys with premium material (an eBook or white papers) as a gift for the clients who have shown interest in your company.
Showcasing your product or service using augmented reality is more effective because customers will underbooth it more easily, they are more likely to be convinced of its functionality and advantages, and it has the plus that is fashionable and everyone wants to try virtual reality glasses.
Elegant Design
Forget about the materials pretty much every booth uses — they don't work and merely serve to irritate those passing by. For example, the platforms that can trip the customers who come to see your booth, or posters and cardboard figures that are likely to end up on the floor after the slightest of nudges.
Put your marketing team to work and come up with the most creative, engaging and simple presentation possible for your booth, so you are immediately more striking to any visitor who is interested in approaching. Don't be afraid to use humour: trade shows are serious enough as it is.
What's another key detail almost nobody thinks about? Lighting and fragrance. Create a warm lighting and find a welcoming air freshener, for which you want to be recognised that's also pleasing to passersby. It's easy to recall the smell of the cinema or of certain boutiques, isn't it?
Games and Promotions
Technology reigns supreme. Don't install a video game console with any random game, but have a fun app or interface for visitors and one where they can get a gift or promotion if they complete it (better still if the gift is related with your product or service).
Do you sell services and not a product that can be touched and played around with? Create an activity based on your service. For example, imagine you are an eCommerce courier company, how about a panel full of mailboxes where the visitor has to distribute a bunch of letters in 30 seconds?
People are competitive and participative and love to get rewards, not only freebies just for the sake of it. With a game like this, you can distribute materials in the fair venue that promote your business (an enamel pin or a bracelet the client can show as proof of having participated) and collect data from visitors who come to your booth. You can also add them to your database of potential customers.
The Best Host in the Building
How many times does a client come home from a fair with a bag full of useless crap? T-shirts with huge logos they will never use, hard drives that end up in a drawer and keychains that go straight to the bin.
Stop spending your budget on gifts that won't make anyone remember you, and offer experiences in return. For example, something like a small bar where an aperitif is served to any client who wants to approach and learn more. At the end of the day will they really remember a free tote bag? No, but sure they will remember your glass of wine and toast. Opportunities for people to take a moment, relax and enjoy good food are really appreciated at fairs. And your booth could end up being the most photographed on Instagram.
Private Area
Designing an open booth where everyone wants to approach is great. But, once inside, the client may need a little more privacy.
Reserve a small space to build a corner for clients only, perhaps with a small table, a couple of comfortable seats and fresh coffee. Here you can explain to them in a more personal way, with a little bit of privacy away from the hustle and bustle of the fair. This gives the client an immediate sensation of receiving a personal and customer focused experience, instead of being spoken to boothing up and in public like any other visitor.

Conclusion
They say that at any event you must be the first to arrive and the last to leave; but, above all, you must be as creative as possible with your trade show booth ideas (and during all your trade show time — here you have 20 tips for a succesful trade show).
Keep abreast of the latest trends, get to know your competitors so you are not copying their strategy and show that your company promotes itself in a way that is fun and original for everyone involved. We help you with that and, if you have any doubts, here you can find why a PIM is your secret weapon for a succesful trade show.